"Where is Komodo?": Student-tailored E-books for Indonesian EFL Learners
Nicole Lam is an undergraduate student majoring in English Language Education at the Education University of Hong Kong in Hong Kong. She took part in projects that explore how e-books could enhance the learning effectiveness of struggling Hong Kong ESL learners. As part of the team, she designed several English e-books and used them with a group of these learners in lessons.
Ju Seong Lee is an Assistant Professor in the Department of English Language Education at the Education University of Hong Kong, where he teaches courses on Integrating ICT in the ESL Class and Sustainable Development of E-learning in Schools. His research interests include informal digital learning of English and communication behaviours.
Introduction
The e-book project aimed to address two needs of EFL education in Indonesia. First, there has been a call for more locally contextualised materials. Most Indonesian schools have been relying on textbooks for teaching English in the preparation for lessons (Malia, 2008). GoridusSukur et al. (2018) also indicated that the textbook content generally fails to meet Indonesian students' needs due to a lack of local context. Similarly, Cahyono (2013) also acknowledges the need for more relevant English teaching materials with local characteristics and culture in their design for teaching in Indonesian EFL contexts. Second, Indonesia EFL teachers tend to adopt the traditional practices of English teaching such as memorisation and form-focused instruction (Wang & Hill, 2011). The essential purpose of learning and teaching English learning should be to equip learners for effective communication with other English speakers, both intra- and internationally (Ur, 2010).
With these understandings of the EFL situation in Indonesia, the first author has been motivated in creating this student-tailored e-book, "Where is Komodo?", a resource that promotes the contextuality of EFL materials in Indonesia, with content, situations and characters that are highly familiar and relevant to Indonesian students' real-life experiences. It is also set on the topic "giving directions" that presents to Indonesian EFL students one of the many scenarios in which they communicate instructions and assistance with other English-speaking people.
The International Encyclopedia of Information and Library Science (cited in Landoni, 2003) describes e-books as the result of the integration of the classical book structure with the features that are made available within an electronic environment. They often take the form of an interactive document that could be composed and read on a computer. Their unique characteristics, such as enabling the searching of keyword within the book, integration of hyperlinks to other outside resources and the inclusion of multimedia objects such as simulations, sounds, visuals and animations, are what traditional print books fall short of providing (Vassiliou & Rowley, 2008). They advance language teachers' pedagogy and supports them to better handle teaching-related issues, like catering for diverse teaching and learning styles (Miftachudin, n.d.), resulting in learners' language improvement while responding to curriculum requirements (Beatty, 2003; Hagen, 1993).
E-books are believed to have a good potential of enhancing ESL students' learning outcomes. Studies conducted by Lin (2010, 2014) have revealed positive effects e-book bring to ESL learning from students' perspectives. They are positive as they promote enjoyment, students' self-confidence and interest in reading, as well as an enhancement of the 4 language skills. Specifically, Huang's (2013) study suggested students' appreciation of the audio capacity and computer functions in e-books that help improve their reading ability and content comprehension.
Project: e-Book
"Where is Komodo?" (link: http://tiny.cc/ovz9az) is an e-book that is designed to have the potential in addressing the English learning needs of Indonesian ESL students. The book takes the form of Powerpoint and sets basis on the local Indonesian context that Indonesian students are highly familiarised with. For instance, both the settings and the main character were inspired by the geography of and animals in Indonesia respectively. It tells the story of a Komodo Dragon, a typical reptile found in Indonesia, that escaped from the zoo accidentally and went into the city. As the zookeepers found out what had happened, they step on this journey of finding it, inviting readers to look at maps, read out the instructions of direction in the book and trace the lost dragon. All the street names, locations and the characters are specifically designed based on students' home country, which are relevant experiences that better engage Indonesian students into the reading process.
Given that it sets in an authentic context, the book is also ideal in demonstrating authentic English usage. The story of having to find the lost Komodo Dragon serves an authentic purpose for the use of actions and prepositions of direction, the target language of the unit "Giving Direction". They have been integrated into the storyline especially in the conversation between the zookeeper and the readers in the second half of the book where the trace for the dragon took place. Such an arrangement cleverly enables readers to visualise the meaning the target language is making, which is crucial for communication and exchange of ideas to take place that Indonesian student readers should be aware of with the learning and usage of English. Below are some snapshots of the book: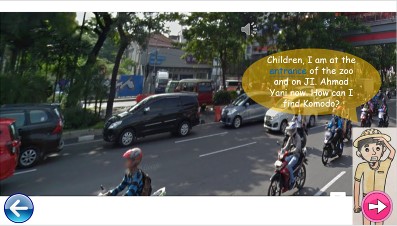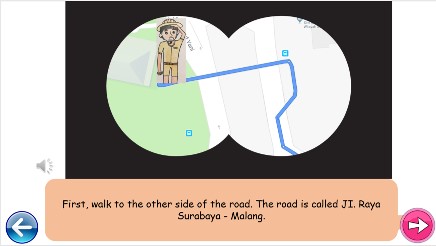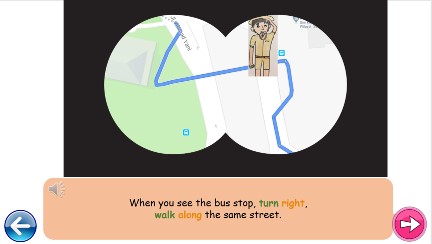 An overview of the IT plan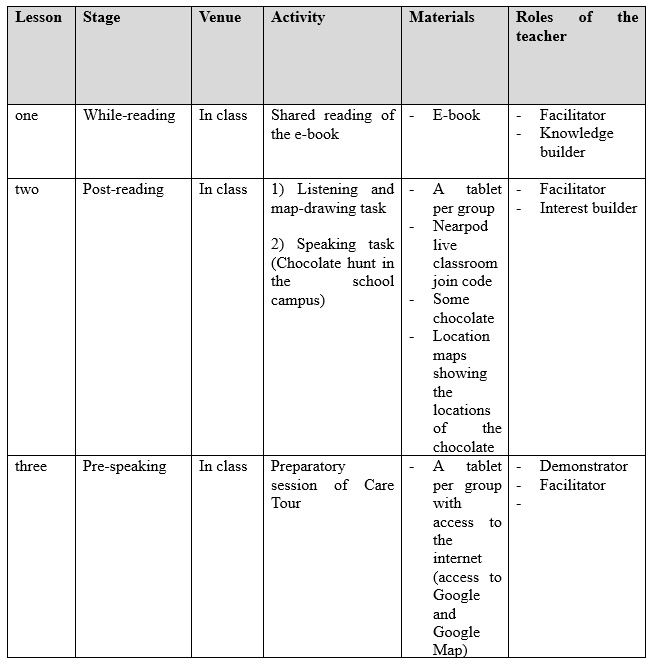 The unit is comprised of an e-book, which is the main ICT resource, followed by 3 listening and speaking activities both inside and outside the classroom, with the utilisation of other ICT resources like Nearpod and Google Map. They have been carefully implemented into the lessons to promote students' mastery and application of the target language items in giving directions, while providing teachers with platforms to assess students' linguistic outcomes.
In the first lesson, the e-book is presented to students that expose them to the target language items as language inputs. Comprehension of their meaning is enhanced through shared reading and the multimedia available in the book. The plot itself and the shared reading process led by the teacher, support and foster students' understanding of the meaning and usage of the target language. This is also facilitated through multimedia like visuals of the map, animations showing the direction of movements to complement the literal description.
In the second lesson, students work in groups on the map-drawing task in lesson two that consolidates their learning of the target language items from the e-book. In this task, students work in groups and listen to the verbal directions given by the main character of the book describing the route he takes. Subsequently, the students draw it out on the map and identify his destination using Nearpod (link: https://nearpod.com/student/;code to join: QKPLT). Nearpod is a cloud-based application that enables students to interact with the teacher and other students in real time during lesson (Perez, 2017). The map-drawing task is supported by the "draw-it" function (see Appendix B and C).
It provides students with opportunities for meaning-focused controlled practice with the target language items, as students follow the instructions heard, decode the meaning communicated and present their understanding in their drawings. This task also encourages students to use English in their daily lives with the purpose of fulfilling their own needs which is how network-based technology and CALL enhance the effectiveness of second language learning (SLL) (Lee, 2000). It does so by engaging students in experiential learning and by providing them with motivation in using the language. For instance, students gain hands-on experiences on how the target language items can be used in real life (i.e. describing locations). The consolidation is further enhanced as students take part in the chocolate hunt task and transform their understanding into production. Not only do they practise listening to instructions and the target language, more importantly, they are producing the target language as they become the one to give verbal instructions to their partner in hunting the chocolate (see Appendix D).
In the last lesson, students apply the knowledge learnt in a real setting, as students access Google Map using tablets and help tourists on the street to go to different places in Indonesia (see Appendix E, F and G). The use of ICT resources like Google Map and tablet supports students' authentic usage of the target language items with an emphasis on practice (Reinders & White, 2010), as they work with authentic information - authentic locations and places on Google and Google Map, with an authentic purpose of teaching tourists how to get to the destinated places.
Here, students are connecting what is learnt inside the classroom to the outside world by applying the prepositions and action verbs learnt to solve real problems faced by tourists. At the same time, they can recognise the practical importance and meaningfulness of the target language items or English in general (Liu et al., 2002). Going back to the very start, it resembles authentic learning that encourages students to make meaning from their learning through taking part in experiences that mirror the complexities and ambiguities of real life that require them to use what they have learnt (Pearce, 2016). What is more, such learning often appears encouraging and motivating for students (Reinders & White, 2010). For the detailed lesson plan, please see appendices provided.
Reflection
This paper has introduced a student-tailored e-book that is potentially beneficial to EFL teaching and learning in Indonesia by addressing the field's several needs. It has also illustrated how the book could be implemented as part of a unit, with post-reading activities that promote Indonesian students' mastery of the target language and allow teachers to evaluate the learning progress.
The making of the e-book and the IT Plan is indeed time-consuming. Therefore, it is not hard to understand the degree of implementation in real classrooms varies subject to time constraints, as well as teachers' lack of technological training and knowledge (Lai & Kritsonis, 2006; Hagen, 1993). The first author had no clue about Nearpod when designing this plan before actually trying on. Hence, it is high time that Indonesian teachers takes the time to explore, stay hands-on and try out the ICT resources and become technology-literate teachers.
References
Beatty, K. (2003). Teaching and Researching Computer-Assisted Language Learning. London: Pearson Education Limited.
Cahyono, B.Y. (2013). Teaching English by Using Culture Contents. Malang: State University of Malang Press.
GoridusSukur, S., Madya, S., & Bismoko, J. (2018). Contextuality of the English Textbooks Used by Senior High Schools in Indonesia. International Journal of Mechanical Engineering and Technology (IJMET), 9(11): 995-1002.
Hagen, S. (ed.) (1993). Using Technology in Language Learning. London: City Technology College Trust Limited.
Howard & Major (2005). "Guidelines for designing effective English language teaching materials." Proceedings of the 9th conference of Pan-Pacific association of applied linguistics. Retrieved from http://www.paaljapan.org/resources/proceedings/PAAL9/pdf/howard.pdf on September 16, 2016.
Huang, H. C. (2013). E-reading and e-discussion: EFL learners' perceptions of an e-book reading program. Computer Assisted Language Learning, 26(3): 258-281. doi:10.1080/09588221.2012.656313
Landoni, M. (2003), "Electronic books", in Feather, J. and Sturges, P. (Eds), International Encyclopedia of Information and Library Science, 2nd ed., Routledge, London, pp. 168-71.
Lee, K. (2000). English Teacher's Barrier to the Use of Computer-Assisted Language Learning. The internet TESL journal, 4(12). Retrieved from: http://iteslj.org/Articles/Lee-CALLbarriers.html.
Lin, C. C. (2010). E-book flood for changing EFL learners' reading attitudes. US-China Education Review, 7(11): 36-43.
Lin, C. C. (2014). Learning English reading in a mobile-assisted extensive reading program. Computers & Education, 78: 48-59.
Liu, M., Moore, Z., Graham, L., & Lee, S. (2002). A look at the research on computer-based technology use in second language: A review of literature from 1990-2000. The Journal of Research on Technology in Education, 34(3), 1-54.
Malia, E. (2008). The use of textbooks materials in teaching English to young learners. UPI: Unpublished Paper.
Miftachudin. (n.d.). The Role of Computer Assisted Language Learning (CALL) For English Language Learning of Elementary and High Schools in Indonesia. Manchester: The University of Manchester.
Pearce, S. (2016). Authentic learning: what, why and how? e-Teaching, 1(10), 1-3.
Perez, J. E. (ed.) (2017). Nearpod. Journal of Medical Library Association, 105(1), 108-110.
Puspandari, N. W. (2008). Lesson plan analysis from the constraction to the implementation. UPI: Unpublished Paper.
Reinders, H. & White, C. (2010). The theory and practice of technology in materials development and task design. In J. Rechards & N. Harwood (Eds). English language teaching materials. (pp. 58-80). Cambridge: Cambridge University Press.
Ur, P. (2010). English as a Lingua Franca: A Teacher's Perspective. Retrieved on May 8, 2013 from www.letras.ufrj. br/anglo_germanicas/.../122010/.../ cl301220100penny.pdf
Vassiliou, M., & Rowlet, J. (2008). Progressing the definition of "e‐book". Library Hi Tech, 26(3): 335-368.
Wang, H., & Hill, C. (2011). A Paradigm Shift for English Language Teaching in Asia: From Imposition to Accommodation. The Journal of Asia TEFL, 8(4), 205-232.
Appendices
Appendix A: E-book "Where is Komodo?" (.ppt)
Link:
https://drive.google.com/file/d/1QkTHjnJiMvIfi6BuCyegDyYSCd3hBXkp/view?usp=sharing
Appendix B: Map-drawing activity on Nearpod
Link: https://nearpod.com/student/ ; code to join: QKPLT
Appendix C: David's recording and the script of his speech
Please double-click the icon to access the recording.
I walk along JI. Ngagel. I walk past PT. Tigaraksa Satria Book Store and Bank Panin.
Then, I turn left and walk along the street. I walk past ATM BRI and PT. Berkat Keselamatan.
After that, I cross to the other side of JI. Mustika Baru and walk along the street and walk past the bus stop and the post office.
Next, I turn right and walk along JI. Ngagel Kebonsari.
Last, I turn right and walk a few steps on JI. Ngagel Tirtosari. The place that I need to go to is on my right now. Do you know what this place is?
Appendix D: 2 Sample maps for students to read during the chocolate hunt (Map A & Map B)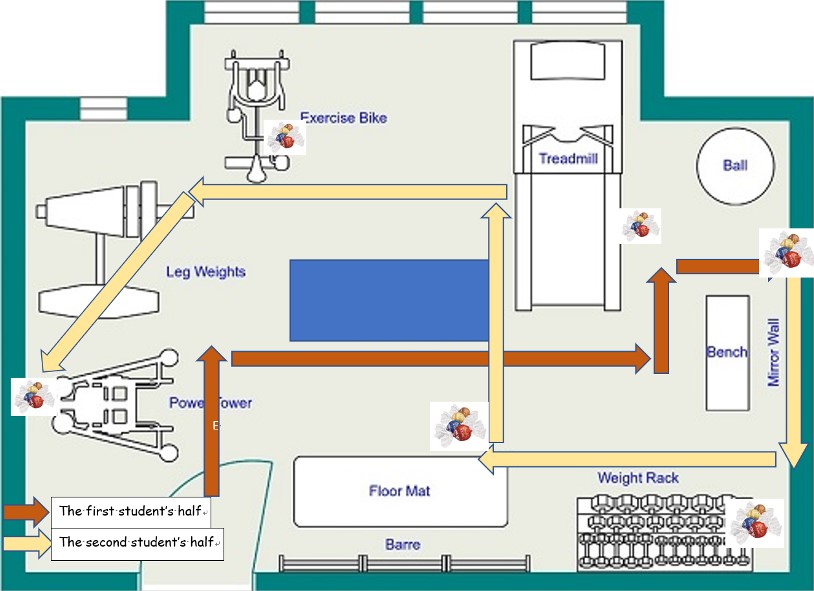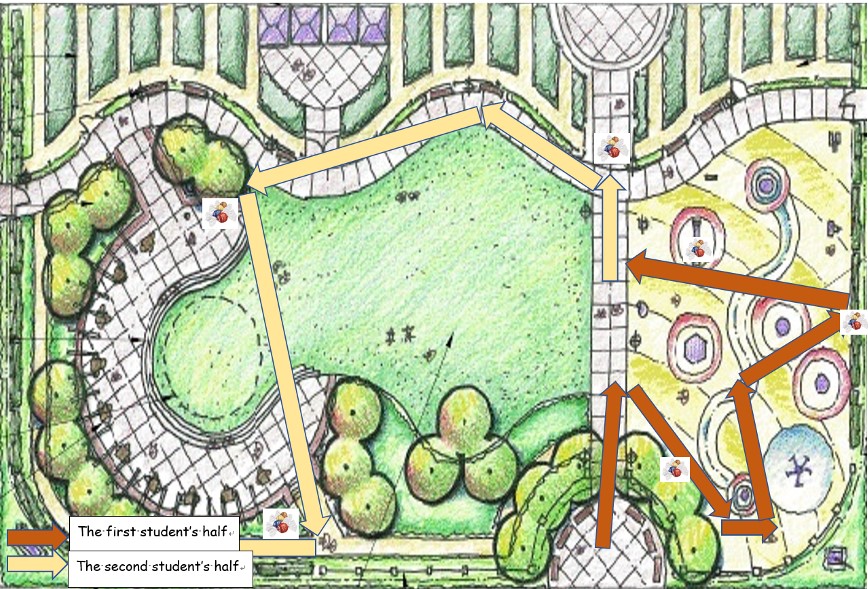 Appendix E: Pre-outdoor speaking activity preparation worksheet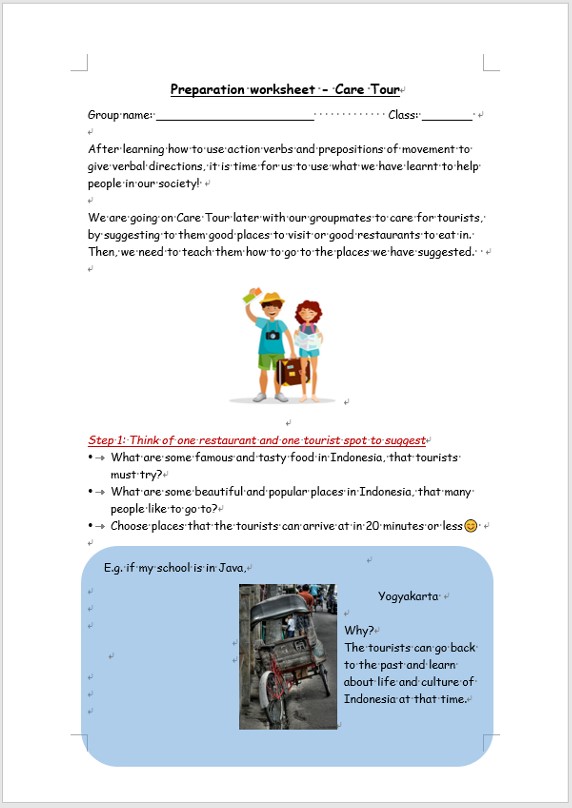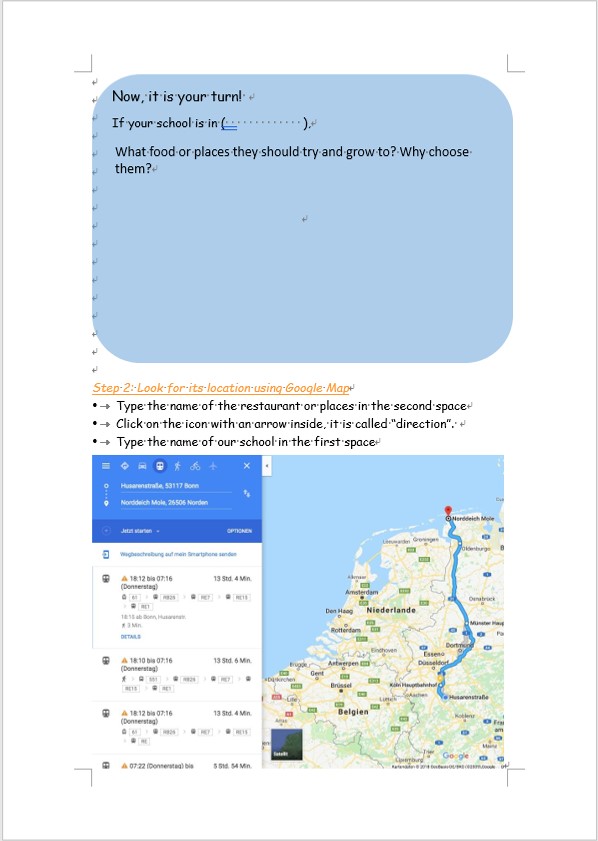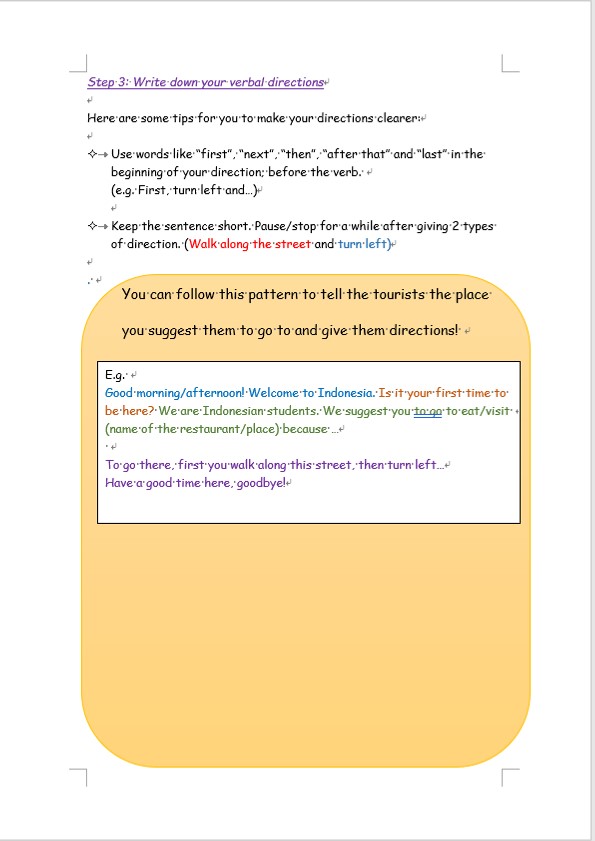 Appendix F: Self-evaluation form for students after the outdoor task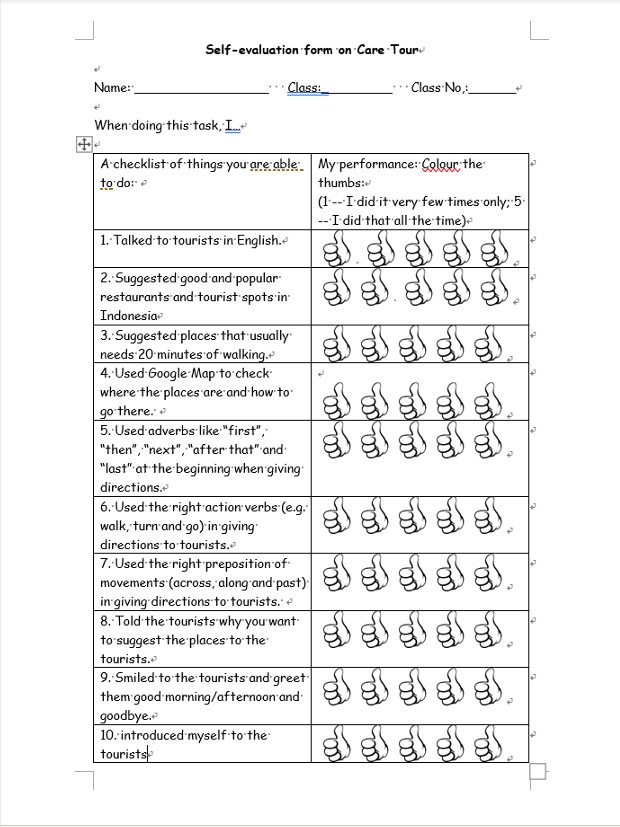 Appendix G: Tourist's feedback form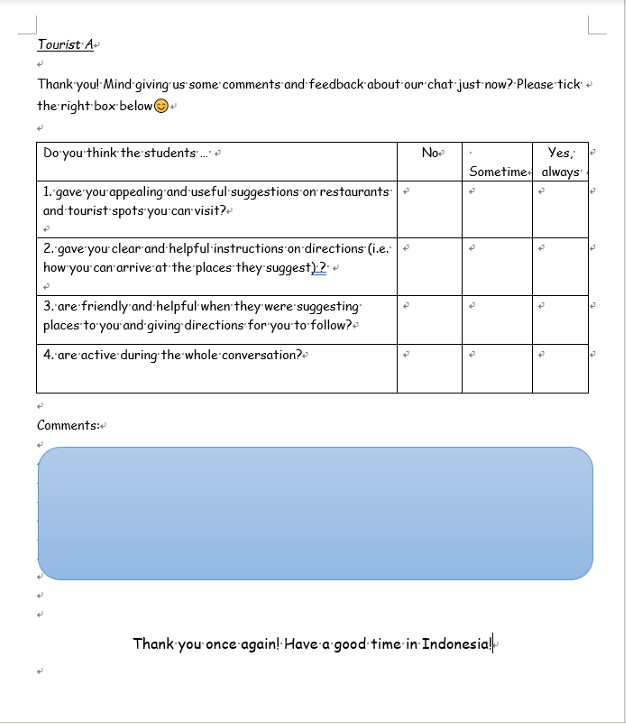 Please check the Methodology and Language for Primary course at Pilgrims website.
Please check the Methodology and Language for Secondary course at Pilgrims website.
Please check the Practical uses of Technology in the English Classroom course at Pilgrims website
Lesson Ideas: Discussing Religious Values in English Classrooms, In an Intercultural Way
Fenty Lidya Siregar, Indonesia

To-Too-Two, Price-Prize, See-Sea
Johanna B. S. Pantow, Indonesia

Bilingual Short Story for Translation Class
Junaedi Setiyono, Indonesia

"Where is Komodo?": Student-tailored E-books for Indonesian EFL Learners
Ju Seong Lee, Hong Kong SAR, China;Nicole Lam, Hong Kong SAR, China

A Private Reading Lesson: A Story with Cia
Sandi Ferdiansyah, Indonesia

Impressive First Class Meeting: Jigsaw Technique Oriented
Siti Mina Tamah, Indonesia

"Switching" to Critical Reading: Reading within the Four Resources Framework
Endang Setyaningsih, Indonesia

Teaching Students on How to Summarize Journal Articles
Dyah Sunggingwati, Indonesia