Some Ideas to Use Teacher Qualities by Alan Maley
Hanna Kryszewska is a teacher, teacher trainer, trainer of trainers. She is a senior lecturer at the University of Gdańsk, Poland. She is co-author of resource books: Learner Based Teaching, OUP, Towards Teaching, Heinemann, The Standby Book, CUP, Language Activities for Teenagers, CUP, The Company Words Keep, DELTA Publishing, and a course book series for secondary schools: ForMat, Macmillan. She is also co-author of a video based teacher training course: Observing English Lessons. Hania is a Pilgrims trainer and editor of HLT Magazine. E-mail: hania.kryszewska@pilgrimsteachertrainig.eu
Here are some activities for teacher training or mentoring sessions based on Alan Maley's beautiful text. You could also use them with high level learners in a module on education.
For the full text go here.
1. Present the first part of the poem for the teachers/learners to enjoy
How I can be –
playful without being frivolous,
energetic without being frenetic,
spontaneous without being anarchic,
friendly without being pally.
dramatic without being farcical,
optimistic without being euphoric,
enthusiastic without being fanatical,
confident without being brash,
cheerful without being effusive,
self-aware without being self-centred,
Invite some reactions and reflections, and discuss the underlying pattern.
2. Ask the teacher/learners to predict the hidden adjectives in these lines: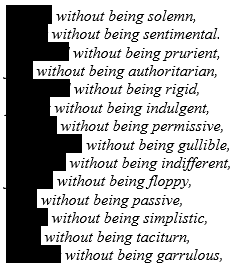 Discuss their various options, then reveal the original text
serious without being solemn,
caring without being sentimental.
interested without being prurient,
firm without being authoritarian,
organised without being rigid,
patient without being indulgent,
tolerant without being permissive,
sympathetic without being gullible,
impartial without being indifferent,
flexible without being floppy,
calm without being passive,
simple without being simplistic,
silent without being taciturn,
eloquent without being garrulous,
Variation
When you give the blotted out text you can write the hidden adjectives on the board in random order to help with the language work. You may also add some distractors, too.


3. Give a list of adjectives and ask the teachers/learners to write their own lines to go with the words
critical
knowledgeable
expert
open-minded
well-read
holding strong views
having ideas
resilient
resolute
Ask them to follow the pattern: _____________/adj./ without being ___________/adj./
Discuss the teachers' options and then compare with the original.
reflective without being intellectual,
critical without being destructive,
knowledgeable without being smart-ass clever,
expert without being exhibitionist,
open-minded without being empty-headed,
well-read without being pedantic,
holding strong views without being opinionated,
having ideas without being ideological,
resilient without being resistant,
resolute without being obdurate, etc.
Variation
To help with the writing you may write some adjectives on board e.g. intellectual, smart-ass clever etc.
Also encourage the use of a Thesaurus to research words / near synonyms for finishing the lines.
4. Invite the teachers/learners to write their very own 2-3 lines to carry on with the poem
Display them and discuss.
5. Ask the teachers/ learners to write a mirror poem about students.
More on this idea coming from Alan Maley you can find here and here .
Please check the Pilgrims f2f courses at Pilgrims website.
Please check the Pilgrims online courses at Pilgrims website
Teacher Qualities: Something to Think About
Alan Maley, UK

Some Ideas to Use Teacher Qualities by Alan Maley
Hanna Kryszewska, Poland