To the Editor
Letter 1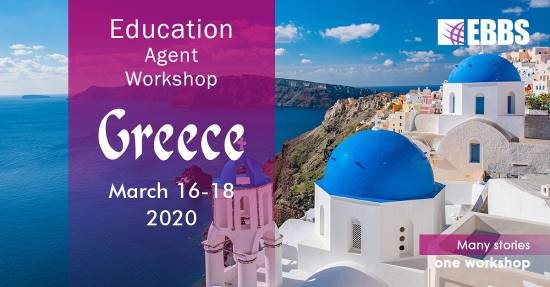 Dear Colleagues,
I hope you are having a wonderful day.
We would kindly like to invite your institution to participate in the upcoming spring EBBS events (Bulgaria - Greece):
• International fair "Education Beyond Borders", Bulgaria, Sofia, National Palace of Culture, March 13 – 14, 2020 (international student fair)
• EBBS Education Conference & Agent Workshop, Greece, Thessaloniki, March 16 – 18, 2020 (student recruitment agents at a networking event)
Welcome to EDUCATION BEYOND BORDERS!
• EBBS Students Fairs & EBBS Agent workshops
Meet your students and your new agents in Bulgaria and Greece!
This spring we are going to organize our EBBS student fair in Sofia and The EBBS Agent workshop in Greece. Both events will provide you with a chance to meet thousands of students at the fair in Sofia and to find new business partners through the EBBS Education networking event in Greece.
You can find out more details on the links below:
• Information about the student fair in Sofia
• Information about the EBBS workshop in Greece
• Dates and places (2020-2021)
• Prices
• Sponsor packages
Join us at our leading student fair in Bulgaria and the EBBS education agent networking event in Greece. Meet potential students and make new partnerships with education consultants in two amazing destinations.
Find out many comments from educators and agents and see why it is a must-visited event in March.
Make your registration as soon as possible.
Reserve your spot today.

WHO WILL ATTEND IN MARCH?
We expect participants from more than 25 different countries in March 2020.
» Government and non-profit institutions responsible for the promotion of study destinations
» Educational institutions (schools, colleges, universities, vocational schools, boarding and language schools, and others)
» Agents from across Europe, Russian-speaking countries, Asia, and Africa
» Education professionals who wish to improve their international contacts and strengthen brand recognition in the world education sector
» Educational experts interested in globalization and internationalization
» Service providers of services for international students which are offered by education institutions or education agents

EBBS Fairs & Workshops/ DATES AND PLACES
https://www.edufair.info/places-dates.html
With kind regards from beautiful Sofia and best wishes for the new year.
Elina Louise Biery
Senior Event Manager
Letter 2
At last. At least one reason to study grammar students found it interesting
-:)
Marta Rosińska
You can read more here.
Letter 3
Hi Hania,
Hope All is Well.
Find attached information about the oldest game Assyk. I think it'll be interesting for teachers.
Best wishes,
Zaure Kulchikenova
Assyk - the oldest game of nomads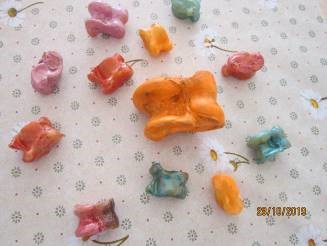 1. In this picture you can see Assyks (Aljchiki). Assyk is a bone from a sheep or ram's knee – joint, which as a rule is coloured in different coloures. Depending on its size assyk has different value. One of the favourite entertainments of kazakh children remains a traditional game Assyk.
Besides every participant of the game must have his own bitok ( saka). The aim of the game is that throwing his own bitok to beat out assyks of the playing participants put with a round. That, who managers to do it takes the beaten out assyk for himself. The game continues till assyks remain on the kitty.
2. Youtube Kazakh traditional Assyk games https://www.youtube.com/watch?v=ssxBdC2fNDM
3. Assyk game helps develop cognitive and physical skills, promoting friendship and rapprochement of cultures regardless of ethnicity among the younger generation. As a symbol of childhood, the game plays an important role in strengthening the social cohesion of the Kazakh people and creating a sense of unity and identity.
During the 12th session of the UNESCO Intergovernmental Committee for Safeguarding of the Intangible Cultural Heritage (ICH) Kazakhstans " Kazakh traditional game Assyk" was entered on the ICH Representative list.
Reference
1. Kazakhstan, Culture, UNESCO, game 2017 December
2. Youtube Kazakh traditional Assyk games UNESCO 2017
3. Photo Z. Kulchikenova's home collection of assyks 2019
Zaure Kulchikenova Email: zauretulegenovna@mail.ru
Letter 4
As 2020 starts
How are human hearts?
To Global Peace are they committed?
To the Land of Dignity are all persons admitted?
Will people everywhere treat each other well?
About spiritual improvement
What will religious leaders tell?
As 2020 starts
Who will play peacebuilding parts?
Will violence be effectively reduced?
Will a global sustainable Peace be educationally produced?
Francisco Gomes de Matos,
a peace linguist, Recife , Brazil
Letter 5
Hi Hania,
I'm following up on my colleague Sophie's email regarding the launch of 'Epic Word Adventure', the educational mobile game from Mrs Wordsmith. If you're interested in covering the story, we have images available, as well as the possibility of setting up a try-out of the app for you? We could also potentially offer additional comment from founder Sofia Fenichell. I've popped the introduction and press release below again for ease. Do let me know if you're interested!
'Epic Word Adventure' from multimedia publisher Mrs Wordsmith is a game parents will actually want their kids playing. A word game like no other, this app helps kids learn the words that will increase their reading age and help them ace their exams, all while completing epic missions and mastering cool scooter tricks. Parents can hand-pick the word playlist that their child needs - and the game does the rest.
'Epic Word Adventure' has been developed by a crack team of experts, including members of the teams behind 'Call of Duty' and 'Subway Surfers'. It's also powered by AI and backed by data scientists and word-leading specialist academics from the UK's top universities.
The embargo on 'Epic Word Adventure' lifts next Monday, 16th December.
Best wishes,
Tori
Letter 6
Dear Hania,
(…)
Here is a piece of news about HLT studies and practices in Japan. I started a study-group in the field of Humanistic Language Teaching with about 20 English teachers in Japan. We are holding our 2nd meeting on 22 March this year. We will be very happy if you will kindly carry the meeting information on your magazine. I am attaching the schedule on this mail.
We have our webpage at :
https://humanistic-language-teaching-japan5.webnode.jp/
Thank you very much for your interest. I will keep in touch with you.
Best Wishes,
Takashi Miura
President, Humanistic English Education Study Group Japan
Humanistic English Education Study Group 2nd Meeting
Date: March 22, Sun. 10:30-16:20
Site: JICA Chubu Nagoya Chikyu Hiroba Seminar Room B1~B3
Fee: 1,000 yen (venue and printing cost)
Participation: Open to anybody interested in English education with emphasis on nourishing humanity
Program:
10.00~Registration
10:30 Opening
10:40~11:30 Presentation -1 'Report from the discussion at English Teachers' Forum'. Hidehiko Inaba (Junior High School, Shizuoka-ken)
11:40~12:30 Presentation - 2 'Practice of Expressing Activities for Nourishing Students Humanity'. Hiroyuki Ishii (Kanagawa Prefect. Yokosuka-Ohtsu S.H.S)
12:30~13:20 Lunch break
13:20~15:00 Lecture 'Person-centered Approach: Its Essence and the Contemporary Significance' by Professor Masayoshi Sakanaka, Nanzan University
15:00~15:50 Presentation - 3 'A Practice of SDGs at S.H.S Using Soft CLIL for Nurturing Global Citizens'. Koji Yamamoto (Aichi Pref. S.H.S) and Aya Yanagida (Ohka Gakuen Univ.)
16:00~16:20 Business Meeting
16:20 Closing
Letter 7

Welcome to your Pavilion ELT newsletter

In this instalment we bring you three new blogs from English Teaching professional's Chiara Bruzzano, Modern English Teacher's David Dogdson, and Pavilion ELT blogger Gerhard Erasmus.
New from English Teaching professional

Blog - Unexpected twists and turns: giving
spontaneous interaction a try

As teachers, we are trained to plan our classes and, especially when we're new to the job, sticking to our lesson plan seems vital. But what happens when students interrupt the class you had so thoughtfully planned and take the conversation onto a completely new and unpredictable path? English Teaching professional''s Chiara Bruzzano reflects on the benefits and drawbacks of relinquishing some control and deviating from the lesson plan to allow for spontaneous student interaction in the classroom.

Read now
New from Modern English Teacher

Blog - 20 Things I've Realised in 20 Years of

Teaching

20 years is a long time in English Language Teaching. To mark two decades since taking his Trinity Cert TESOL, Modern English Teacher's blogger David Dodgson shares 20 ideas and reflections he has had in that time. From the need to experiment and reflect to the importance of considering different points of view and challenging established ideas, whilst not forgetting some classroom basics, he has compiled a thought-provoking list. What would you add?

Read now
New from Pavilion ELT

Blog - Road to management – Is there a map,
please?

Pavilion ELT blogger Gerhard Erasmus aims to help future and current managers develop their own road map to help them develop the skills and expertise needed to transition effectively into management. This post looks at skills that teachers have developed that can transfer into management, qualifications that can support the development of management skills, and how to utilise your current role as a teacher to develop the skills you will need as a manager.

Read now
Coming soon! ETpedia Teacher Training

500 ideas for teacher training in English language teaching

by Beth Melia-Leigh and Nicholas Northall

Suitable for both new and experienced teacher trainers working in a variety of contexts, each unit of 10 tips is easy to use and will aid or inspire you whether you are dipping in for a quick idea or looking for more comprehensive guidance.

Pre-order now