Quirky Grammar Vignettes
Franca Turrin worked before in visual communications but now teaches Academic English at UTS Insearch. Contact her on franca.turrin@insearch.edu.au or www.instagram.com/franca_turrin
Background
I come from a background in Visual Communications so my approach to teaching and learning is naturally visual. Using visual literacy, a universal language, to teach a spoken language was an instinctive progression for me, accelerated by my young media savvy audience. By using all the skills I had available to me I was able to not only create a connection with my students but engage them on a relatable platform.
The project came about as I found myself in a shy, monolingual class that needed encouragement to overcome embarrassment and a cultural reluctance to participate in a classroom environment. How better to engage than relatability and humour, combined with storytelling so as to make the concepts memorable?
The idea
Grammar on the written page can be dry material for a learner and grasping what it means is far more accessible if you understand how it works.
My instinctive approach was to teach this "how" through a method of personalised visual learning which would allow each student to "see" him or herself using the language in an everyday context. To achieve this goal, I decided to incorporate images of the students into my lessons - specifically their heads!, in quirky vignettes to elicit grammar or to reinforce or prompt a grammar concept, I was telling grammar's story. Immediately they were engaged in this interactive activity.
I found that over time and different levels this method had different applications:
For the beginner it would elicit functional grammar; tenses, sentence structure, clauses etc….
For a more advanced student it would facilitate concept checking. It would recall or cue the language skills required for the term.
The Execution
At the beginning of each term I take a class photo this forms the basis of the student images I use for the excel vignettes. Here is an example from one of my student's Instagram posts.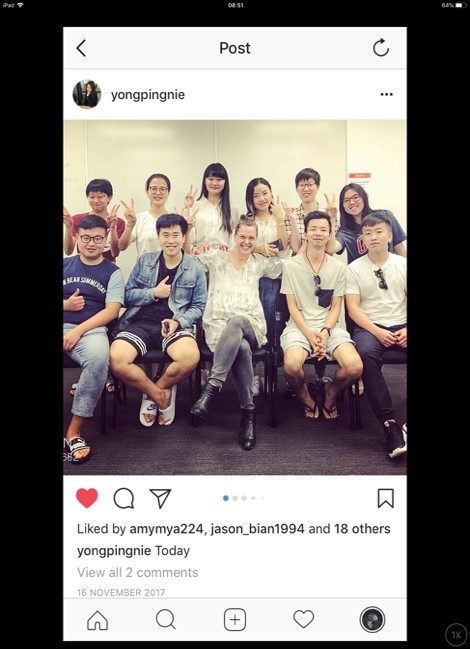 It is important to photograph the students against a clean unencumbered background as this will make the removal of their heads, digitally speaking, a much easier and faster process in Photoshop
To create my slides I use Adobe Photoshop and Microsoft Excel. There are other alternatives to Adobe Photoshop that allow you to remove the background (deep etch) from an image and on other platforms not only a pc but also tablet. The links below offer the alternatives.
This is the finished result of a quirky grammar vignette.
The process
Below follows a step by step description of how I put the slides together.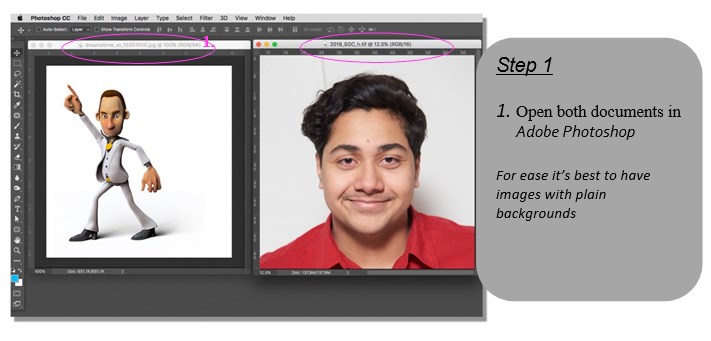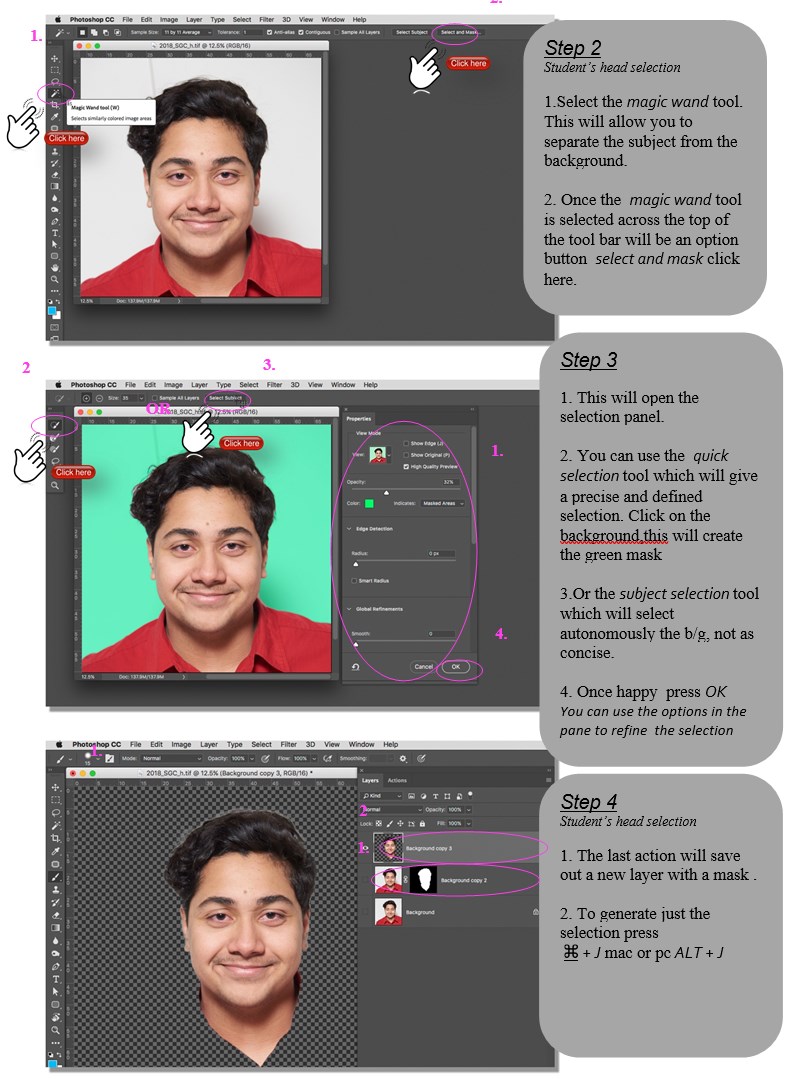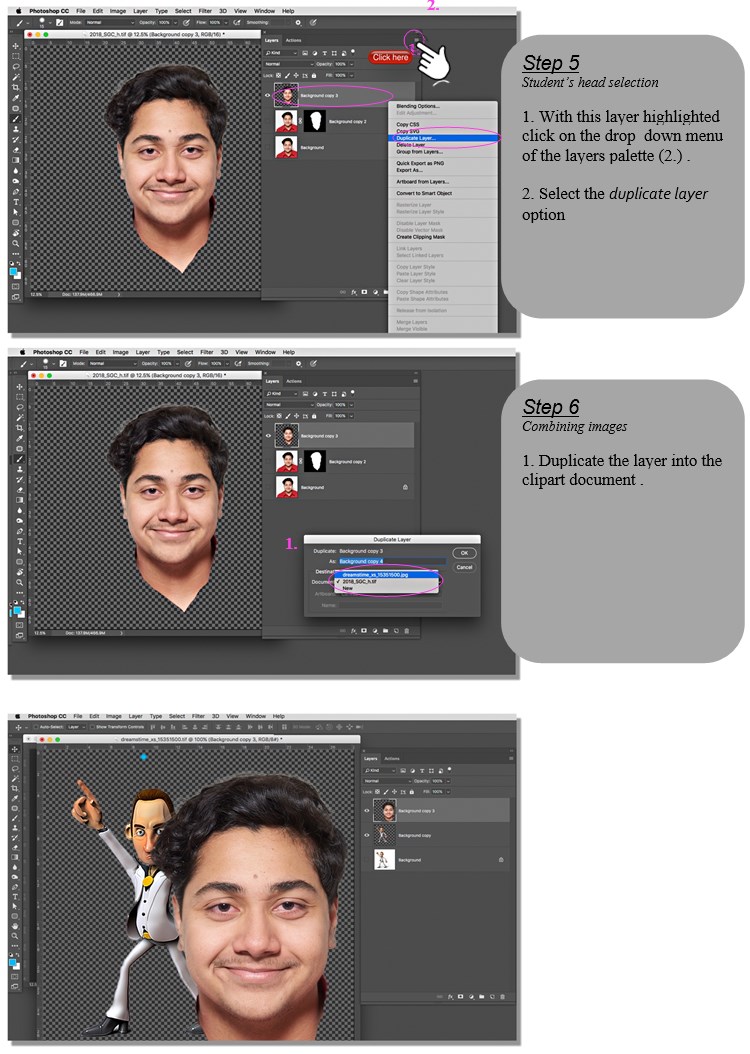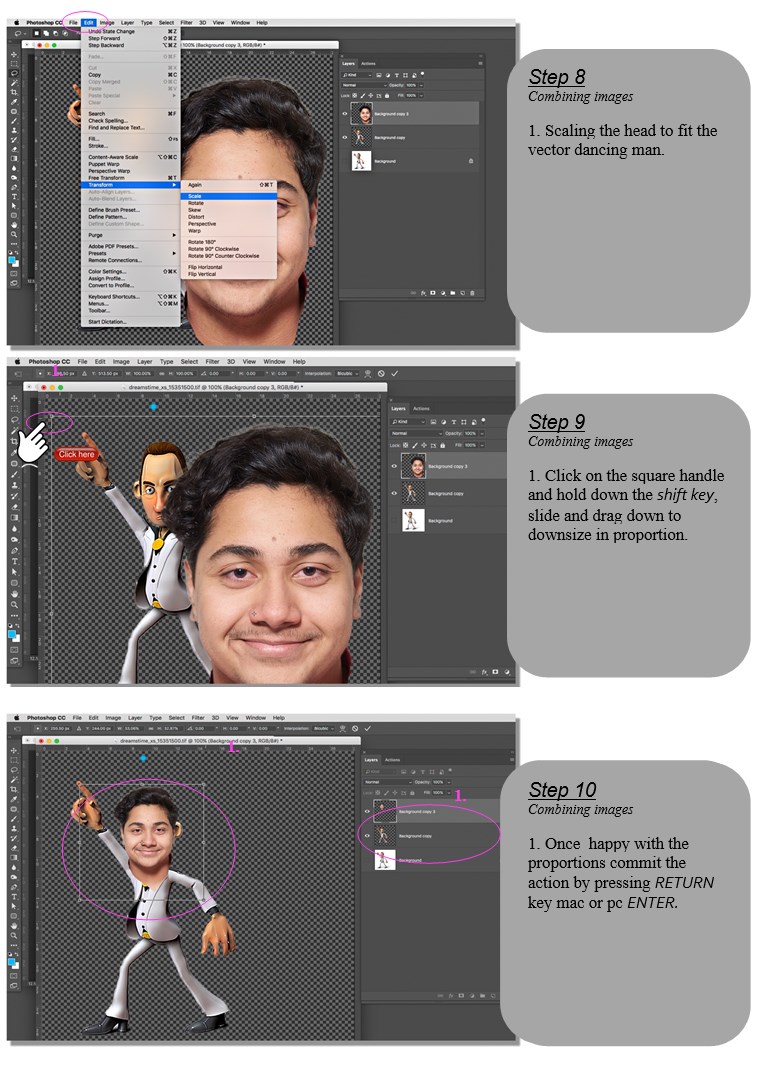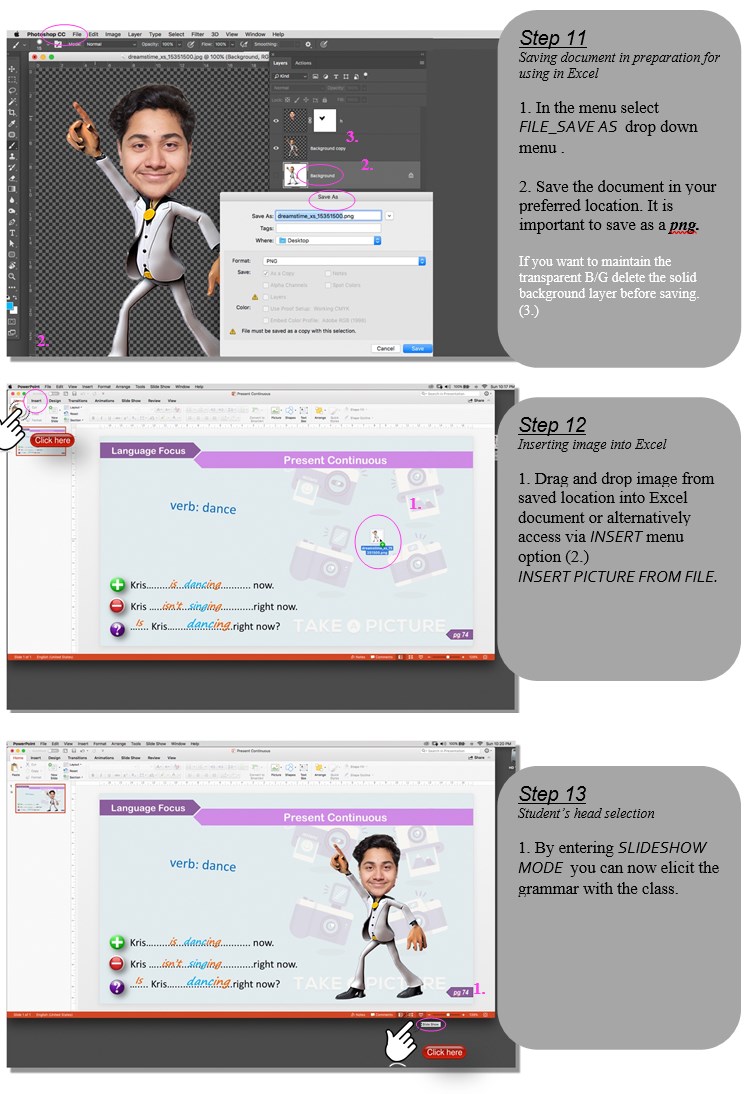 Following is a demonstration of how I have used this technique with higher levels to engage, concept check, prompt and recall a particular skill, this example is for cause and effect language in academic writing skills.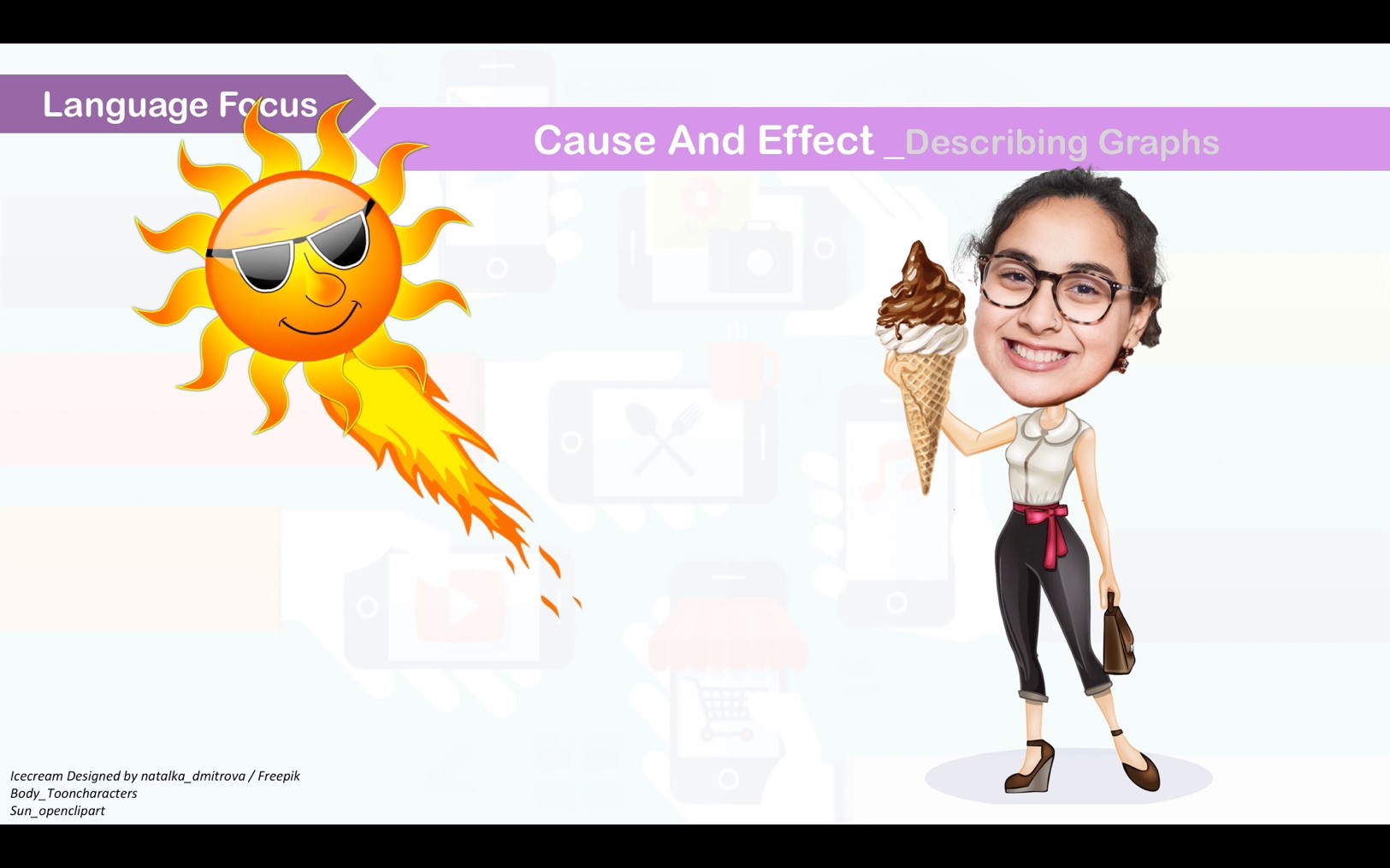 There are 2 matters that need to be addressed in regards to this project.
It is important to be conscious of photo consent. There may be provision for this within the institution and student agreement. I have found that if a student doesn't want to participate in the class photo it's important to be respectful and not to alienate them as this is an attempt to be inclusive and light hearted. I would only use the images for that class and it would not go beyond our classroom.
In regards to my examples for this paper, the class photo supplied is in the public domain as it was published by my students on social media. I also have consent to use the images of the two participants in the above slides.
Another important matter for consideration is the use of images from the internet for educational purposes. It's worthwhile familarisng yourself with the copyright law specific to your country to ensure that you are not infringing the rights of the owners of the images you are using. In my classroom work I tend to use Canstock and Dreamstime for a small fee and Freepik with acknowledgement for clipart. Generally if I need a photo I use my own or photograph it. I think it is important to acknowledge and pay artist/photographers as it is their job and they need to pay their bills too!
Here are websites that deal directly with copyright images used for educational purposes, in Australia.
https://www.copyright.com.au/licences-permission/educational-licences/schools/
https://www.copyright.org.au
Here are links to royalty free and small fee image resources:
(many of the images on these sites are free however you may need to credit the author)
https://www.freepik.com
https://openclipart.org
https://www.canstockphoto.com.au/images-photos/vector.html
https://www.dreamstime.com
https://thegraphicsfairy.com
https://www.flickr.com/commons/
https://commons.wikimedia.org/wiki/Category:Images
A final question you may have is whether this teaching approach has resulted in any verifiable improvement in my students' learning of the language. It's very difficult to provide quantifiable data as to how effective this process is, and at this stage I'm only able to provide an assessment based on my own observations. I can say that that the students seem to really enjoy seeing themselves "up in lights". When a student appears on the whiteboard they will generally take a picture of the vignette on their phone. I think it forms part of this "selfie" driven generation's narrative. No doubt these images are posted and disseminated and this repetitive viewing and commenting of the image may help to reinforce the lesson learned in class. In the class itself, there is also a lot of laughter and a rush from all the students to complete the marker sentence which indicates to me that the students are switched on and focused on the lesson at hand. By using this technique it becomes a greater collaborative environment, humour is a great leveller and hopefully through the age old method of storytelling there is comprehension and retention. I have found that when I have used this technique students visibly have the aha moment as it is relatable as opposed to analysing only the grammar structure in a coursebook. When it has come to revision time at the end of term by displaying only the vignettes it has prompted student recall of the grammar studied. My aim is to create a classroom environment that is collaborative, sparks interest and prompts the joy of learning for the sake of learning.
If you would like to receive the animated visuals contact the author or HLT editor.
Please check the Creative Methodology for the Classroom course at Pilgrims website.
Please check the Methodology and Language for Primary course at Pilgrims website.
Please check the Methodology and Language for Secondary course at Pilgrims website.
Please check the Practical uses of Technology in the English Classroom course at Pilgrims website.
Quirky Grammar Vignettes
Franca Turrin, Australia