Short Book Reviews
Hanna Kryszewska is a teacher, teacher trainer, trainer of trainers. She is a senior lecturer at the University of Gdańsk, Poland. She is co-author of resource books: Learner Based Teaching, OUP, Towards Teaching, Heinemann, The Standby Book, CUP, Language Activities for Teenagers, CUP, The Company Words Keep, DELTA Publishing, and a course book series for secondary schools: ForMat, Macmillan. She is also co-author of a video based teacher training course: Observing English Lessons. Hania is a Pilgrims trainer and editor of HLT Magazine. E-mail: hania.kryszewska@pilgrims.co.uk

Helbling Readers Fiction. Next Door. (A1) R. Campbell. (2019) Helbling Languages. ISBN-978-3-99045-902-7, pp 88. The Cat's Paw. (A1) G. Biggs. (2020) Helbling Languages. ISBN-978-3-99089-212-1, pp 80. Zadie's Last Race (A2) M. Hobbs. (2020) Helbling Languages. ISBN-978-3-99089-219-0, pp 64. The Black Owl. (A2) G. Biggs. (2020) Helbling Languages. ISBN-978-3-99089-214-5, pp 96. Dan and the Hong Kong Mystery (A2) R. MacAndrew. (2020) Helbling Languages. ISBN-978-3-99089-237-4, pp 76, Summer School. (A2) G. Biggs. (2020) Helbling Languages. ISBN-978-3-99089-213-8, pp 92. Here come some more Helbling readers in the Fiction series. Each story is a good read, pitched at the given level and has a message for the readers and promotes different values around the theme of travel. There is travel in time, travel in space, and travel in time and space. These travels involve meeting new cultures, understanding them, finding your place in them, and finally, making friends and surviving. As for the language input, the learners first become familiar with some lexis in the pre-reading tasks. Then as they read the story they can see the new words marked with a dot (and explained at the bottom of the page). They can also listen to the whole story and do some activities available on an accompanying audio CD. Finally, there are some additional after reading activities and other activities can be found at http://www.helbling-ezone.com/. The illustrations are pleasant to the eye and I am sure the new titles like the other ones in the series will be popular among young learners as additional reading material and extra language practice.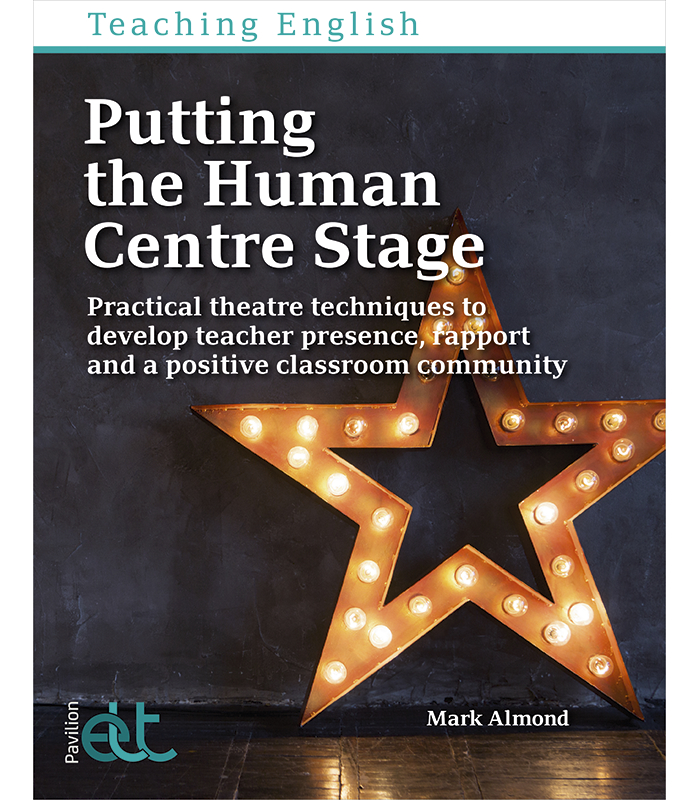 Putting the Human Centre Stage. Practical theatre techniques to develop teacher presence, rapport and a positive classroom community M. Almond. (2019) Pavillion ELT. ISBN-9 781912 755288, pp 200. This book looks at teacher's skills which are often overlooked or marginal in teacher training. According to the author they include "interpersonal skills, classroom presence, classroom atmosphere and group dynamics, teacher's voice, non-verbal communication, the general affective aspects of teaching, motivation, rapport, teacher's energy and motivation, improvisation, and preparing for the unexpected". However, seasoned teachers know that these skills are as important as the ability to teach grammar, vocabulary, the four skills or pronunciation, if not more important as they are vital components in the making of a good teacher. Some might say that the former cannot be taught while the latter can, hence this emphasis in TT on the 'teachable' rather than the 'unteachable' skills. In order to develop teachers' interpersonal skills, presence, rapport, body language, spontaneity etc. we need different tools and shift focus to the less tangible. The author proposes to use theatre and drama techniques, as well as reflection. In the first part of the book the author presents the theoretical underpinning that influenced his approach. His thinking has been influenced among others by NLP, Flow Theory, theatre and improvisation. Naturally he talks about what feeder fields have influenced his ideas and does not attempt to map out the whole field and list all the possible sources that could be of use to achieve the goal he outlines. In the second part the author presents 36 activities which focus on voice, interpersonal skills, improvisation, awareness of relationships and first impression, giving praise, empathy and many others. Some of the activities are suitable for in-service teachers, some for both pre-service and in-service teachers; they could be used on a short teacher development course or as part of broadly understood classroom management module of a pre-service teacher training course.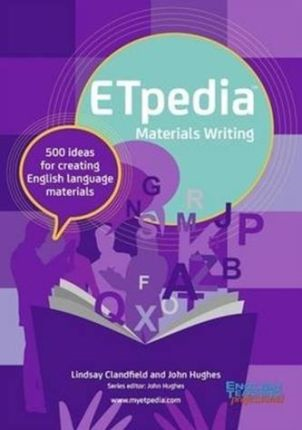 ETpedia. Materials Writing. 500 ideas for creating English language materials. L. Clandfield and J. Hughes (2017) Pavilion Publishing and Media. ISBN 978-1-911028-62-8, pp 184. This book is one of the earlier titles in the Pavilion and Media / English Teaching Professional series called ETpedia. The series is growing fast and each and every title is noteworthy. It is a series of supplementary resources which usually contain a wealth of teaching ideas, ready activities and useful tips. One could say that this title is different as it does not offer ready to use materials but teaches the readers or shows them how to develop their own materials writing skills. In the introductory part the authors look at 10 reasons why teachers might want to or have to start writing materials, 10 qualities of a materials writer, 10 key terms including concepts like classroom materials, self-study materials, language reference, teacher's notes, worksheets, photocopiable resources, tests, digital/online materials, audio and video, and methodology resources, and finally 10 types of materials that teachers most often start writing. Then follow 5 sections of varying length on 1. writing language exercises and different types of questions (the longest), 2. writing materials for teaching the 4 language skills, 3. writing complete lessons and worksheets, 4. writing supplementary materials, and 5. writing materials for other teachers (the shortest). The authors, who are seasoned materials writers map out the field very well and make writing and publishing sound very easy. But when you read carefully the section on 10 qualities of a materials writer and the closing section on developing your material writing skills it becomes obvious that it is not so easy; being a successful publishing materials writer takes a lot of time, effort self-discipline and talent, while taking your materials to a publisher (addresses on pp 158-159) is for the selected few, mainly native speakers of English. In my mind the authors do not pay enough attention to writing resource materials as found in resource book series, to the issues of adapting authentic texts and copyright issues when one does. It is a good dip in book when one has to or wants to produce a certain kind of material, but I am not sure who would have the time to read the book cover to cover.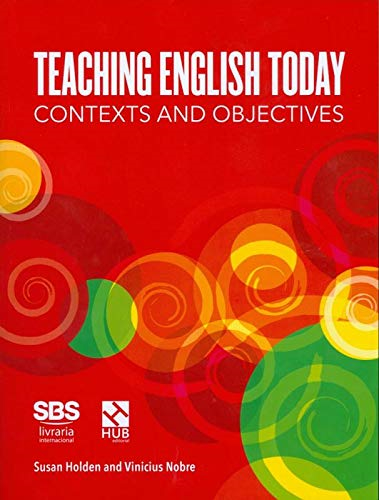 Teaching English Today. Contexts and Objectives. S. Holden and V. Nobre. (2018) ISBN 978-8580763478 pp.152. The book is a new title which aims at mapping out the various aspects of teaching English as a foreign language which a future or practising teacher needs to be familiar with. There are other titles on the subject available on the ELT market but this new title is very refreshing as it takes on board the contexts in which teachers are delivering their courses and relates to the developments in language teaching and changes in the learners' needs. The book is about a compromise between the well tried and tested methods and the need to address the new and to be flexible. The book leaves much scope for personalisation, which is achieved through regular reflection slots on how each chapter in the book relates to individual contexts. In a sense each user of the book modifies its content through individual reactions and ideally through discussions with the trainer and peers. These are encouraged and triggered by the questions in the margins and this space could be used by the users of the book to record their thoughts. The areas covered in the book reflect the syllabus of a standard teacher training course: teaching and learning contexts, teachers and students, the classroom, skills teaching, integrating grammar, integrating vocabulary, testing and assessment, music and song, role-play and drama, using literature, evaluation and selecting published materials and teacher self-help. The fact that the authors come from different ELT backgrounds, different continents, had different career paths and, I understand, one is a native and the other a non-native speaker of English gives the book a special feel and perspective. This is a refreshing TT book which could be a whole course delivered to pre-service teachers, while in-service teachers would benefit from it on a dip in basis. More at
https://www.newroutes.com.br/ingles/interview-with-vinicius-nobre/
https://www.youtube.com/watch?v=LB40557-sEo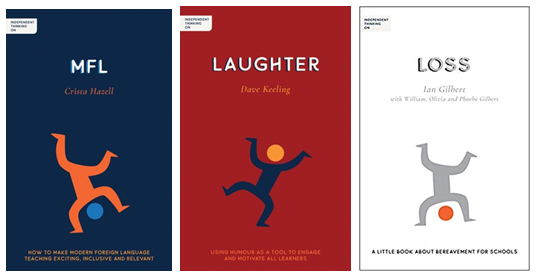 Independent Thinking on…
This is a new series presenting the voices of the Independent Thinking Associates. It is part of the movement's way to rethink the aims and essence of education. The authors are among the most inspiring and erudite thinkers and practitioners in the UK.
MFL. C. Hazell (2020) Independent Thinking Press. ISBN 978-178135337-0, pp 240. MFL stands for Modern Foreign Language and the aim of the book is hot to make MFL exciting, inclusive and relevant. But bear in mind it is not just about ELT (English Language Teaching) or EFL ( English as a Foreign Language), it is about teaching modern languages to learners who are demotivated by the fact that their mother tongue is spoken all over the world. The author has been a teacher and a head of department for many years, and now she shares her tips and inspirational ideas. First of all teachers need to build their confidence and start to enjoy their profession more in order to make it better and more effective. One of the key elements is to recognize learner differences and engaging the disengaged. She goes through productive language skills including oracy, the receptive skills, creativity through drama, music, art and film, revision, assessment and testing, and other related topics. The ideas in the book refer to teaching any modern language so teachers who teach English as a foreign language could benefit from this book by getting a wider perspective language teaching in general.
Laughter. D. Keeling (2020) Independent Thinking Press. ISBN 978-178135341-7, pp128. This book takes you on a short but enlightening journey on the importance of humour in life in general and in education in particular. It also looks at humour as a tool to engage and motivate all learners. The book falls into two parts. The first one looks at the world of humour and comedy like sense of humour, playfulness, elements of science and humour, humour tricks, secrets of stand-up and finally the importance of humour in improvisation and teaching. Part two looks at improving learning and making everything better through building up rapport, spontaneity, triggering creativity, being silly and messing about. My favourite are the sections on humour activities, improvisation games and how to make students think, wonder, laugh and learn. The author finishes the book with some tips, food for thought or ideas for further development: twenty reasons to use laughter in class, twenty objects in your comedy kitbag, ten great apps for comic effect, some jokes and other fund bits and bobs. Great fun.
Loss. I. Gilbert (2020) Independent Thinking Press. ISBN 978-178135353-0, pp 81. This is a very powerful book which addresses the issue of dealing with bereavement at school. Every year 45 000 children and young adults in the UK experience bereavement of a parent or a sibling. This is a traumatic experience for the person who suffers loss but it is also a challenge for those around them, especially at school. Teachers are unprepared to deal with such circumstances, don't know how to speak to the children or may be insensitive around Mother's day when all children get ready to celebrate. The author of the book lost his wife in tragic circumstances. He talks not only about emotions but also research on bereavement at a vulnerable age; his three children share their experiences and emotions. The book ends with fifteen lessons for teachers on how to deal with bereavement.
Please check the Methodology and Language for Primary course at Pilgrims website.
Please check the Methodology & Language for Secondary course at Pilgrims website.
Please check the Body Language and Gesture Techniques in the English Classroom Course at Pilgrims website.
Please check the NLP and Coaching for the English Classroom course at Pilgrims website.
Please check the Advanced NLP and Coaching for the English Classroom course at Pilgrims website.
Please check the Creating an Inclusive School Environment course at Pilgrims website.
Please check the How to Motivate Your Students course at Pilgrims website.
Please check the Drama Techniques for the English Classroom course at Pilgrims website.
Please check the Advanced Drama and Improvisation Techniques for the English Classroom course at Pilgrims website.
I REALISE - A Collection of Stories for Coaching
Emmanuelle Betham

Short Book Reviews
Hanna Kryszewska, Poland

Form, Use, Consciousness, by Thomas Szende, Peter Lang Publication