Short Book Reviews
Hanna Kryszewska is a teacher, teacher trainer, trainer of trainers. She is a senior lecturer at the University of Gdańsk, Poland. She is co-author of resource books: Learner Based Teaching, OUP, Towards Teaching, Heinemann, The Standby Book, CUP, Language Activities for Teenagers, CUP, The Company Words Keep, DELTA Publishing, and a course book series for secondary schools: ForMat, Macmillan. She is also co-author of a video based teacher training course: Observing English Lessons. Hania is a Pilgrims trainer and editor of HLT Magazine.
E-mail: hania.kryszewska@pilgrims.co.uk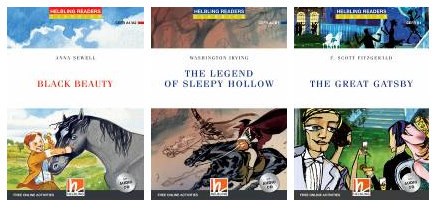 Helbling Readers Classics. Books with Audio CD and Online Access Code Helbling Languages (2020). The new titles include: (A1/A2) Black Beauty. A. Sewell. ISBN-978-3-99089-233-6, pp 92, Anne of Green Gables: Anne Arrives. L.M. Mongomery. ISBN-978-3-99089-232-9, pp 96(A2) Gulliver's Travels. J. Swift ISBN-978-3-99089-218-3, pp 80 (A2/B1) The Legend of Sleepy Hollow. JW. Irving. ISBN – 978-3-99089-232-9, pp 80, Great Expectations. Ch. Dickens. ISBN-978-3-99089-234-3, pp 108 (B1) The Great Gatsby. F. Scott Fitzgerald. ISBN –978-3-99089-141-4, pp.122. The Canterville Ghost. O.Wilde. ISBN –978-3-99089-221-3, pp.80. Books in this series of graded reading materials come at five levels – 3 KET levels (colour coded in red) and at two PET levels (colour coded in blue). In this selection of five titles, some are aimed at younger learners, and some at more mature ones. The books are adaptations of well-loved classics which are popular among native speakers, so obviously the stories are interesting and a good read. First language learners become familiar with the author, the story behind the book, and then the characters. Next they do some vocabulary activities which introduce key lexis in the book. Then as they read the story they can see the new words marked with a dot (and explained at the bottom of the page). They can also listen to the whole story and do activities available on an accompanying audio CD. As they read the story they can do some short while-reading mini tasks which usually involve answering some content related questions or require interpretation of the story or events. Finally, after the readers have finished reading of the story, they can do some post-reading activities referring to the content, the learning experience, and elements of grammar and lexis present in the book. The readers are pleasant to the eye thanks to good illustrations and careful page design, and each book is illustrated in its own individual style so it has a feeling of uniqueness about it. This series of graded readers is well-established and popular among language learners as additional reading and CLIL material. More free online activities are available from www.helbling-ezone.com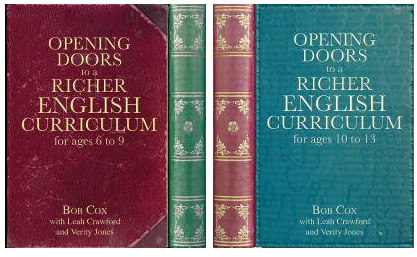 Opening Doors to a Richer English Curriculum for ages 6 to 9. B. Cox with Leah Crawford and Verity Jones (2019) Crown House Publishing. ISBN 978-178583398-4, pp 258. Opening Doors to a Richer English Curriculum for ages 10 to 13. B. Cox with Leah Crawford and Verity Jones (2019) Crown House Publishing. ISBN 978-178583397-7, pp 242. These two books present creative and stimulating ideas and strategies for developing a deeper and more creative and holistic English language curriculum for learners aged 6-9 and 10-13. The authors do that through the use of challenging texts which in turn lead to developing the learners' creative thinking and creative writing. The authors base their approach on hands-on experience and what they know works in the classroom. They choose the texts very carefully and make sure thy will be a springboards for creativity and a trigger for thinking processes, and developing understanding and reacting to the text. The authors also put great emphasis on reading aloud, observing how language flows and the musical aspects of spoken language. Among the poems they use are "Wind" by D. Brand, "Cat' by E. Farjeon, "The Door" by M. Holub, "Song of Old Time" by E. Cook, while the reading passages come from among others, from " The Frost, the Sun and the Wind" – a Russian folk tale, " Little Women" by L.M. Alcott or "The Door in the Wall" by H.G. Wells. The activities in the book promote creativity through flexible and imaginative exploration and exploitation of quality literary texts. The activities are wound around the texts and the visual material provides a stimulus to create high quality writing. The books are originally intended for native speaker children, but teachers working with learners of English will find in the books a lot of inspiration for work on the four language skills, vocabulary, language appreciation of language, improvisation and creativity. You can tell that Bob Cox, Leah Crawford and Verity Jones are a very experienced team of teachers as the sequences of activities created around a given text have a very good flow and development, their rationale is clearly explained and laid out, where necessary with the use of diagrams or flow charts. A very inspiring resource. Note: You may also want to look up Opening Doors to Quality Writing: Ideas for writing inspired by great writers for ages 6 to 9. and Opening Doors to Quality Writing: Ideas for writing inspired by great writers for ages 10 to 13. B. Cox (2016) Crown House Publishing. ISBN 978-178583013-6, pp 198. ISBN 978-178583014-3, pp 214 (respectively).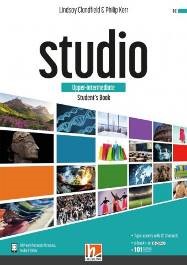 Studio Upper Intermediate. Student's book. L. Clandfield and P. Kerr. (2020) Helbling Languages. ISBN-978-3-99045-911-9, pp 160. This course book is one in the new six level course for adult learners. At least this is what the publisher says, but, in my opinion, it would be also suitable for young adults. The book gradually develops all four language skills but offers extensive opportunities for developing listening skills through audio and video recordings. The productive skills and receptive skills are grouped together while vocabulary is introduced and recycled throughout the whole book. The course is supported by on-line resources: Studio Digital Zone (extra listening and reading, student's workbook vocabulary practice and videos), e-online practice (cyber homework, projects and exam bank) and Helbling Media App (audio and video, pair work activities and vocabulary practice). The pie chart below sums it up really well:
This is a truly modern course making use of the potential of learning online and mobile technology; the authors and publishing house have clearly made sure of that. It is a great shame though that the course does not take on board recent developments in teaching in Europe, especially clearly implementing mediation as defined by CEFR (2018). More information about the course at https://www.helbling.com/studio/ and
https://www.helblinglanguages.com/int/en/studio/studio-upper-intermediate
Please check the Methodology and Language for Primary course at Pilgrims website.
Please check the Methodology and Language for Secondary course at Pilgrims website.
Please check the CLIL for Secondary course at Pilgrims website.
Please check the Creative Methodology for the Classroom course at Pilgrims website.
Sociocultural Theory and the Pedagogical Imperative in L2 Education: Vygotskian Praxis and the Research/Practice Divide, reviewed by Ke Ma, Australia
Ke Ma, Australia

Dynamic assessment: A Vygotskian Approach to Understanding and Promoting L2 Development, reviewed by Jisoo Kim, Australia
Jisoo Kim, Australia

Short Book Reviews
Hanna Kryszewska, Poland