Methodology in Teaching – Special Needs Education: Presentation at IATEFL – Hungary
Note
This is a summary of the auhtor's presentation delivered in her workshop at IAETEFL Conference 30+1 in Veszprem, Hungary on 8-9 October in 2021.
Tamara Bradonjic was born in 1981 in Kragujevac. She graduated in English language and literature from the Faculty of Philology in Belgrade in 2005 and is also a translator. She has been teaching for 16 years at the primary school "Milan Blagojevic" in Natalinci. In her work, she combines various techniques, such as teaching with music and teaching with graphic novels.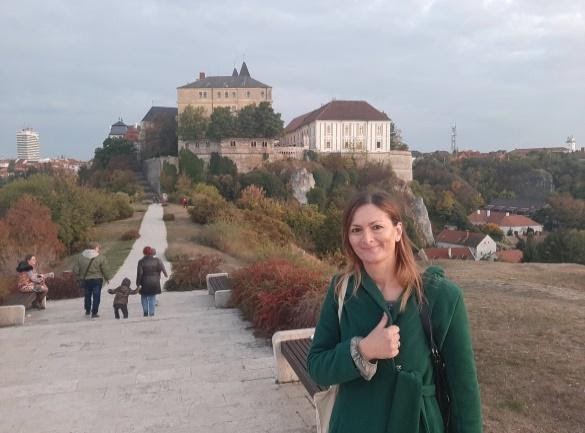 A teacher's role in the classroom should not only be focused on teaching and passing knowledge on students. The more important roles are focused on motivating students and developing methods for fostering their critical thinking. Thus a teacher is a motivator, facilitator, educator, psychologist, etc. There are so many different perceptions of our profession. If we observe our students in the classroom, we may identify four groups of students in heterogeneous classrooms. Somehow the majority of teachers first notice high achievers, the students who are usually leaders of the discussions, who know answers to all the questions and who do well in tests. On the other side, there are low achievers, students who are usually shy, they do listen in classes but they don't raise their hands, perhaps being afraid of not making mistakes. They also have low achievements in tests. Medium achievers are somewhere in between these two groups of students, seemingly passive in classes but doing well in tests. The fourth group of students is special needs students. They can belong to any of the previous three groups and in the majority of cases they can be high achievers. Nevertheless, it much depends on the role of the teacher in class.
Special needs education refers to the practice of educating students in order to provide the accommodation for their individual differences, disabilities and special needs. When talking about disabilities, we refer to learning disabilities, emotional and behavioral disabilities, developmental and physical disabilities and many other disabilities. Today special needs education is integrated in the regular school system, but it used to be different. Thus there are four periods of this kind of education. Initially, children with disabilities were excluded from schools and they attended specialized schools. Gradually care for the disabled children was established, but still they were segregated into homogeneous groups. After introducing the principle of normalization and integration, educational equality and equal educational services were established and inclusion has become a part of the regular school system.
Speaking of disability, there are two definitions both relevant for special needs education. In medical terms, disability is regarded as the necessity of a person to adapt to the society and disabled people need to be made more normal. On the other hand, social definition emphasizes the necessity of the society to change the point of view and regard the disabled people almost as equal as the others. In social context, disability is mainly a consequence of discrimination, prejudice and exclusion. Inclusion is based on social definition. The right to a more inclusive education is covered in several significant international declarations:
Universal Declaration of Human Rights (1948), 2. UN Convention on the Rights of the Child (1989), 3.World Declaration for Education for All (1990), 4. Standard Rules on the Equalization of Opportunities for Persons with Disability (1993), 5. UNESCO Salamanca Statement and Framework for Action (1994), 6. Dakar Framework for Action (2000), 7. UN Convention on the Rights of Persons with Disabilities (2006)
Did you know that the 3 December is celebrated as the International Day of persons with disabilities? There are many famous people with various disabilities who prove the theory that disability does not mean a defect. Frieda Kahlo, Stephen Hawking, Helen Keller, Stevie Wonder and Chris Brooke were all people with various disabilities who achieved great success in their fields.
Special needs education requires the process of adaptation. The first step is identifying a child with special needs. In order for the inclusion program to be successfully integrated the social environment in the classroom must be involved. Successful implementation of the inclusion is dependent upon the modifications that should be based on the individual needs. Modifications are part of the instructional techniques besides accommodations. Modifications are changes or adaptations of the materials to make it easier to students' needs. It affects the change of what is learned according to the difficulty of the material and the way students are assessed or what they are expected to learn. There are numerous examples of how teachers can modify their teaching materials like skipping subjects, simplifying the assignments or shortening them. They could offer extra aids or extend time in flexible settings for taking tests. Speaking of accommodations, we sensibly adjust to teaching practices so that the student is able to learn the same material but in a more accessible way. It can be achieved with response accommodations (instead of writing homework we can ask a student verbally), presentation accommodations (audiobooks, text to speech software, talking calculator), setting accommodations (changing setting for assessment) or scheduling accommodation (giving rest breaks or extending time during tests)
Judging by the fact that special needs education is based on a student's individual needs, a teacher is expected to design an individual learning plan. There is no specific form; still there are patterns to be followed. The patterns are based on first selecting the topic out of which the activities are further developed. Each activity in the plan should contain the expected change with the objectives from the topic. Implementers are the teachers with the help of a parent or assistant (if a special needs student needs an assistant). The teacher decides on time or duration of the selected topic and number of activities). Finally, models of accommodations are applied with various activities and according to the individual needs. Having designed and applied the individual learning plan, each teacher needs to evaluate it in three or six months' time. When evaluating it, teachers should emphasize the expected changes and explain whether they were partially or completely accomplished and how effectively the accommodations were implemented. It is significant to note that when writing comments about students, teachers should write initials only avoiding the full name of a student and emphasizing the positive achievement with suggestions what could be improved.
Special needs education is highly beneficial both for students and for teachers for numerous reasons. Introducing students with disabilities into the classroom improves diversity and the classroom becomes strengthened. They can help in creating a healthy climate in the classroom where other students can learn how to be human. Students with disabilities can make far better progress when being in regular class then when being in "specialized" classrooms. Finally teachers are challenged to work with all kinds of students and develop various ways of teaching.
Here are some glimpses of the presentation.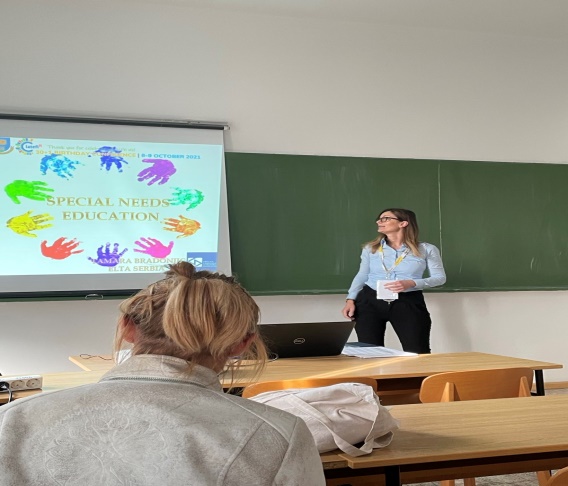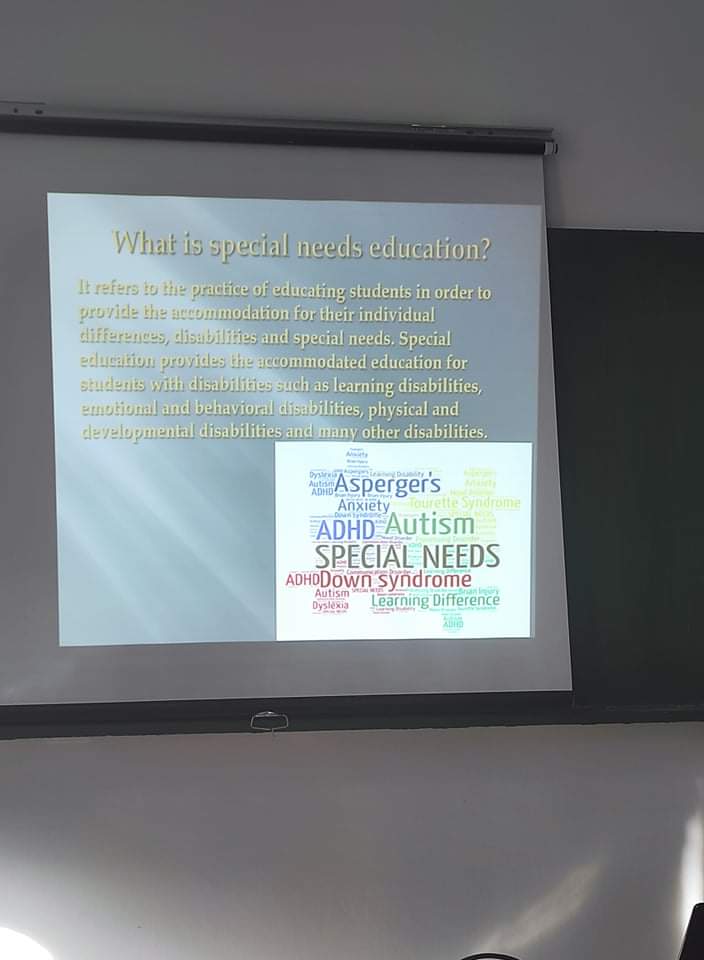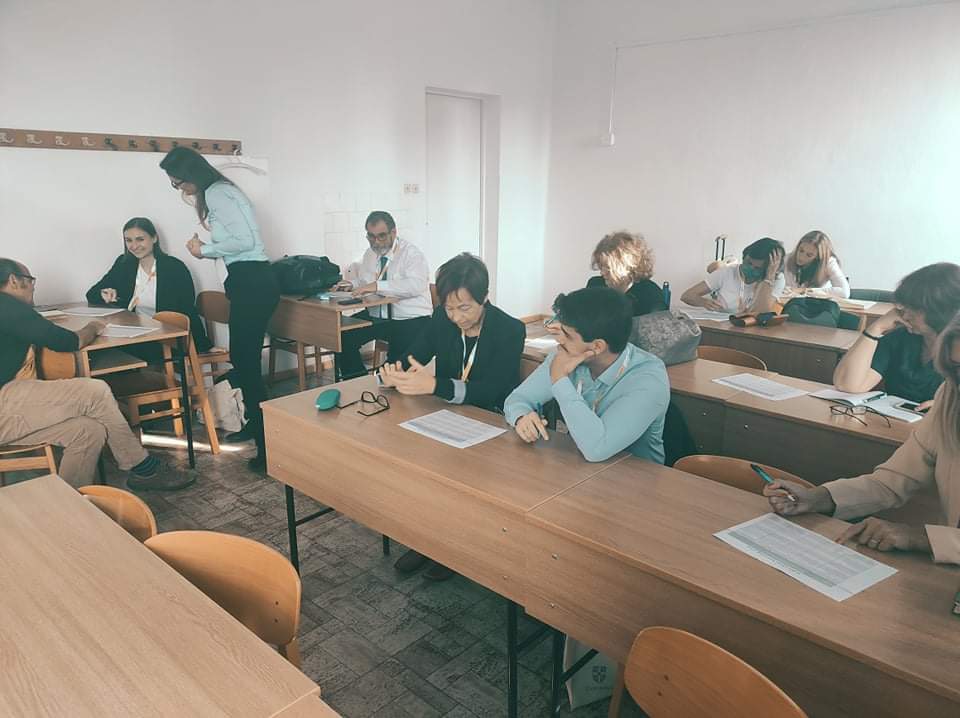 Teaching English Language to SEN Students with Autistic Spectrum Conditions
Bojana Nikic Vujic, Serbia

Methodology in Teaching – Special Needs Education: Presentation at IATEFL – Hungary
Tamara Bradonjic, Serbia