Teaching English Language to SEN Students with Autistic Spectrum Conditions
Bojana Nikic Vujic is an English language teacher and teacher trainer, author of the accredited professional development ELT seminars, course book author and accredited educational adviser. She is currently working in Iva Andric Primary School teaching young learners. She is interested in exploring various aspects of ELT methodology. She is a member of ELTA Serbia.
Introduction
The goal of each teacher is to help the students develop their full potential not just regarding the subject we teach, but the life skills students need, as well. Although it is an interesting and inspiring adventure, teachers sometimes struggle with certain challenges. One of the challenges I faced as a young teacher was how to encourage students with SEN (Special Educational Needs) to learn English. Since the teachers in Serbia have no training on SEN during our formal education, I felt compelled to explore the question in order to gain the insight into this aspect of teaching. I have learned that the SEN area is very complex, but our students deserve to have equal opportunities. We can start with the activities that include all students in a class.
Create supportive environment
We as teachers should use and encourage the use of affirmative communication in the classroom. The goals we and the students set should not be seen as a problem, but as a chance for further development. Therefore, the mistakes that are made should be considered as a guideline for further steps so the students can develop their full potential. All students in the classroom should be encouraged and guided to develop supportive atmosphere with the emphasis on empathy. We can achieve this by introducing Social Stories and using them as a starting point for discussion. It is important for all student to understand that their action and words can influence other people.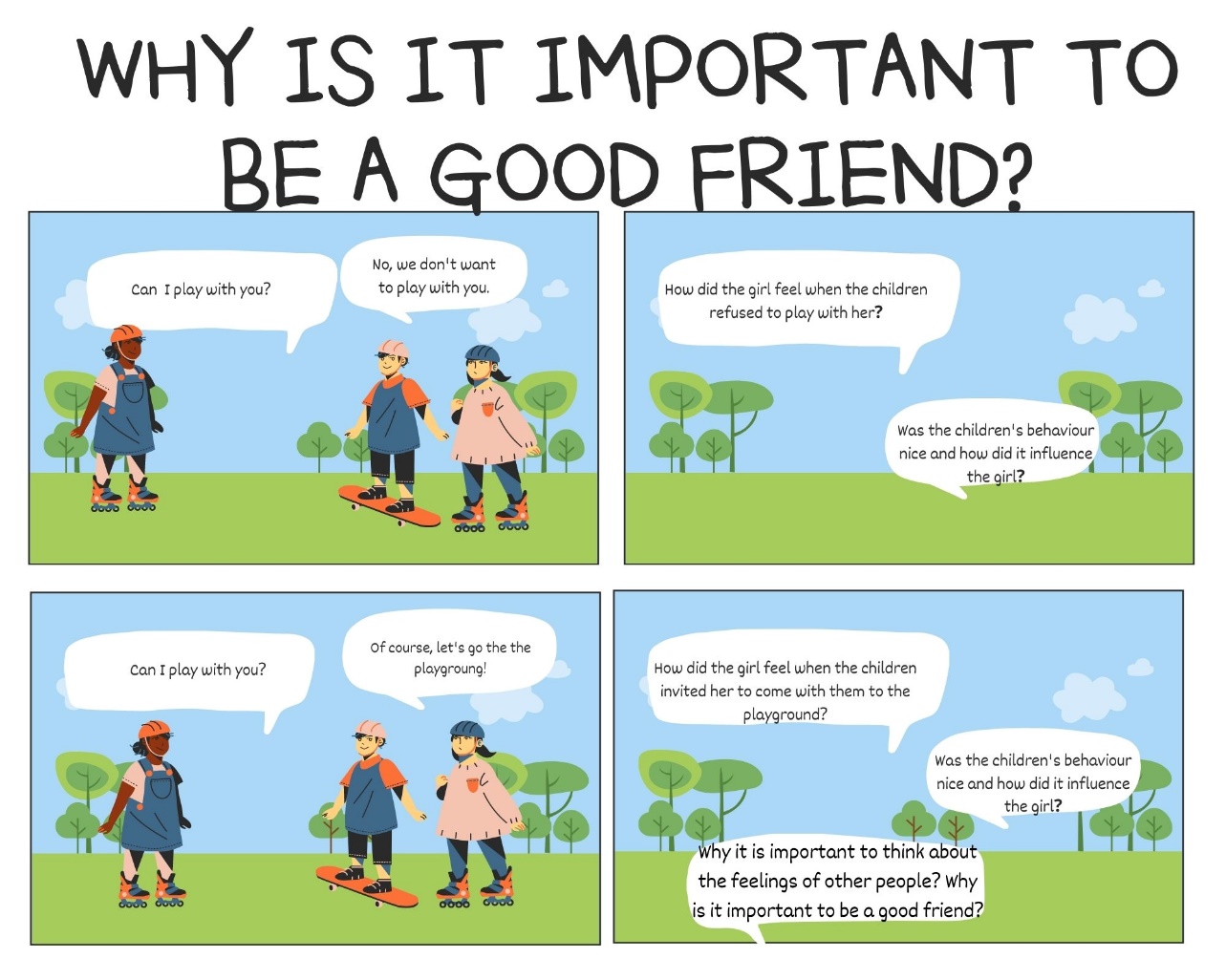 Link to the story: https://tinyurl.com/c7krjju8
Celebrate differences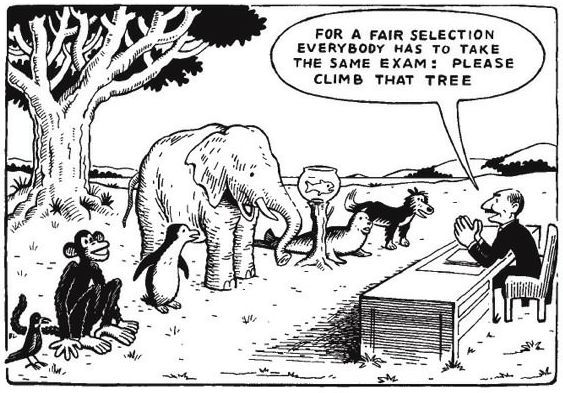 Students should see their class as a team where each member contributes with their strong sides. We can compare the class with the football team where each played has their role in team making it better and stronger. In order to emphasize the strong points of each student students can stick a blank sheet of paper on their backs. The students browse through the classroom and write a note on the sheet to each student telling them what they really like about them. Not only that this helps students overcome the prejudice they have, but it also builds up the self-esteem.
Activities for students with ASC
The Student with ASC (Autism Spectrum Condition) often have challenges to communicate in their mother tongue and communication in a foreign language can be a difficult task for them. ASC is a complex developmental challenge which reflect through three main aspects of development in the following areas:
Communication
Social interactions
Imagination
Difficulties in the field of communication are most often reflected in the lack of desire for any communication, communication solely for the purpose of expressing needs, speech difficulties or slower speech development, poor nonverbal communication (eye contact, gestures, facial expression, body language), and stereotypical speech.
Difficulties in social interaction are displayed through the lack of desire to interact with other people, interest in other people only for the purpose of satisfying one's own needs, misunderstanding of unwritten social rules, emotional reaction inappropriate to place or time, limited interaction in unknown circumstances and with unknown persons.
Imagination is limited and reflected in the inability to use imagination during play or writing, easy memorization but without understanding, resistance to change, rigid following of rules and misunderstanding of exceptions, inability to see things from other people's point of view and inability to understand humor and jokes.
Visual timetables and lesson outlines
Visual timetables and lesson outlines proved to very useful support in daily school life of ASC students. They help them associate the general content of a subject with the picture used in the timetable. Students feel more relaxed when they know the sequence and duration of activities during a lesson. The students appreciate if their need for following routines is recognized, and they feel much less stress during a school day or a lesson.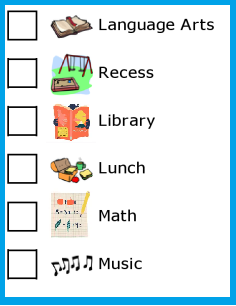 Flashcards
Sometimes the ASC students find it easier to communicate by using flash cards instead of speaking. The teacher can make a set of cards that can be regularly used during the lessons in order to ease the communication. The teacher or the student should just raise the card to convey the message.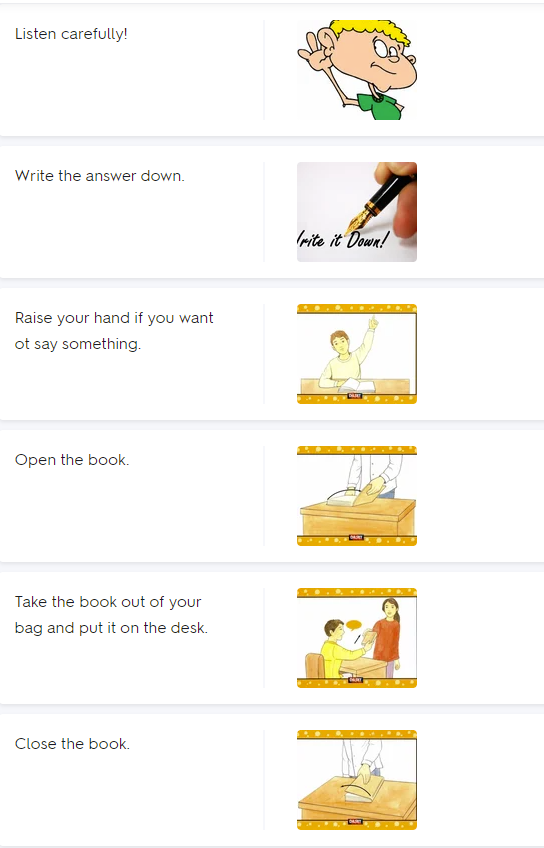 Link to the flashcards: https://quizlet.com/_adf8cl?x=1jqt&i=1rjo69
Model posters
Due to challenges in social interaction, some ASC students can have problems expression their emotions and communicating the message they want to convey. Sometimes posters with step-by-step instructions can help them in having successful communication.
Conclusion
The area of ELT methodology for SEN students is a complex and vast one. However, this should not discourage the teachers to strive to boost the students' self-confidence and guide them through the process of developing their academic and life skills. We as teachers can learn a lot from our students and their parents and from each other, as well. The first step is to embrace the differences and avoid trying to put a square peg in a round hole. As Alexander Den Heijer said: "When a flower doesn't bloom, you fix the environment in which it grows, not the flower."
References
Delaney M. (2016). Special Educational Needs. OUP
Dexter P. (2018.). Special Educational Needs Course. Pilgrims
Mitchell D. (2004). Special Educational Needs and Inclusive Education: Inclusive education
Nikic Vujic B. and Bozic S. (2021). Vodič kroz inkluzivno obrazovanje. OKC
Online resources:
Please check the Pilgrims f2f courses at Pilgrims website.
Please check the Pilgrims online courses at Pilgrims website.
Teaching English Language to SEN Students with Autistic Spectrum Conditions
Bojana Nikic Vujic, Serbia

Methodology in Teaching – Special Needs Education: Presentation at IATEFL – Hungary
Tamara Bradonjic, Serbia