Conferences

is an international conference for English teachers. The conference is a joined effort of the Bridge – English Language Centre, Pilgrims – teacher training, LAMSIG and the Slovak association of language schools.
ELTFORUM is a two-day event with an audience of about 300 participants. It takes place on 7th- 8th June in Bratislava and the topic is "Humanising our language teaching". Since 2011 our goal has been to bring together great minds that have influenced our ELT community to give talks that foster learning and inspiration. The key note speakers for 2019 are Mario Rinvolucri, Hania Kryszewska, Judit Fehér and Chaz Puglieze.
For more info please check a short video from ELTforum 2018
and the website http://eltforum.sk/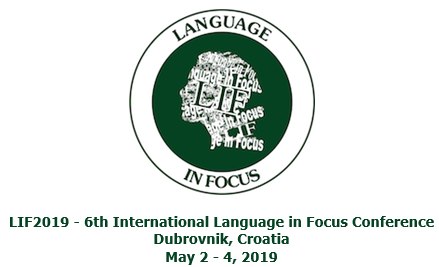 LIF2019 – Language in Focus Conference will be organized by Cukurova University - Turkey, The University of Sheffield International Faculty, CITY College - Greece and the South-East European Research Centre (SEERC) in Dubrovnik, Croatia in May 2 - 4, 2018.

PLENARY SPEAKERS
• Guy Cook, King's College London, UK
• Susan Hunston, University of Birmingham, UK
• Suzanne Romaine, University of Oxford, UK
• Nina Spada, University of Toronto, Canada
• Penny Ur, Oranim and Haifa University, Israel

GUEST OF HONOR
• David Singleton, Trinity College Dublin, Ireland, and the University of Pannonia, Hungary

CONFERENCE THEME
LIF2019's theme "Language, Research, and Teaching in the 21st Century" aims at providing a forum for researchers, teachers, and educational representatives.
CONFERENCE VENUE
LIF2019 Conference venue is Importanne Resort, Dubrovnik, Croatia.
(https://www.importanneresort.com/en/)

FURTHER INFORMATION
Website: www.languageinfocus.org
E-mail: lif2019@languageinfocus.org

LIF2019 - Organization Committee
Cem Can, Cukurova University, Turkey
Paschalia Patsala, Arts and Humanities Research Council (AHRC), UK
Zoi Tatsioka, The University of Sheffield International Faculty, CITY College, Greece

LIF2019 - Conference Secretariat
Sibel Aybek, Cukurova University, Turkey
Fatih Unal Bozdag, Osmaniye Korkut Ata University, Turkey
Tugba Simsek, Cukurova University, Turkey

5th International Conference on Higher Education Advances
June 26 - 28, 2019. Valencia, Spain
http://www.headconf.org
twitter: @headconf
Scope
After the great success of the previous HEAd conferences, which received submissions from more than 50 countries, we are pleased to announce the Fifth International Conference on Higher Education Advances (HEAd'19). This conference is an excellent forum for researchers and practitioners to exchange ideas, experiences, opinions and research results relating to the preparation of students, teaching/learning methodologies and the organization of educational systems.
The HEAd'19 conference will be held on June 26-28, 2019 at the Faculty of Business Administration and Management of the Universitat Politecnica de Valencia (UPV), which has been recently ranked as the best technical university in Spain by the Academic Ranking of World Universities (ARWU) 2018.
Topics of interest
The program committee encourages the submission of articles that communicate applied and empirical findings of interest to higher education professionals.
Topics of interest include, but are not limited to, the following topic areas:
Innovative materials and new tools for teaching
Teaching and learning experiences
Educational technology (e.g., virtual labs, e-learning)
Evaluation and assessment of student learning
Emerging technologies in learning (e.g., MOOC, OER, gamification)
Scientific and research education
Experiences outside the classroom (e.g., practicums, mobility)
New teaching/learning theories and models
Globalization in education and education reforms
Education economics
Entrepreneurship and learning for employment
Education accreditation, quality and assessment
Competency-based learning and skill assessment
About the venue
Valencia is the third largest city in Spain and is located on the shore of the Mediterranean Sea. It embraces culture and tradition from the past combined with singular architecture, exciting gastronomy, nightlife, and beautiful white sand beaches. Valencia is the capital city of the Comunitat Valenciana region, which is major tourist destination in summer. More info at:
http://www.headconf.org/venue/about-valencia/
The organizing committee looks forward to welcoming you all to a fruitful conference with open discussions and important networking to promote high quality education.

20 Years of HLT
Jim Wright, Principal of Pilgrims, UK

Native Vs Non-native Debate at IATEFL Poland, Wrocław 2018
Hanna Kryszewska, Poland

Conferences