Interactivity Multimodal Learning Environments to Teach English: Best Practice in Teaching English Online
Devia Yasinta Hariadi is a student at Islamic University of Indonesia, Yogyakarta. Her teaching experience during the pandemic includes online teaching in one of High School in Yogyakarta, Indonesia. She is interested in online teaching and interactive multimodals to teach online. Email: 16322086@students.uii.ac.id
Introduction
COVID-19 pandemic has caused schools across the world shut and students could not attend the classroom. This situation changes education dramatically with the adoption of online learning where teaching practices are conducted distantly and learning platforms are employed digitally. Similar to other countries, most of Indonesian teachers also apply for online learning during this pandemic situation. Before COVID-19 pandemic, I had a chance to observe offline teaching practice in one of the Islamic Schools in Yogyakarta. This observation was an essential activity as a part of my preparation to practice teaching in that class. However, the outbreak of COVID-19 came and I needed to switch my teaching practice from offline to online. Discussing the situation with my teacher supervisor, I acknowledged fundamental issues that students were less interested in the learning process and the materials and the way they were delivered seemed unattractive. To anticipate these problems happening in the online teaching that I would practice, my teacher supervisor and I agreed that I would use WhatsApp as the teaching platform. The considerations of using this platform among others were students could not access platforms such as Google Classroom, and Zoom. Additionally, students' devices did not support high technology tools, quota to access the internet was insufficient, and connection was poor. Therefore, using WhatsApp was the best option as it could accommodate all the challenges. However, I need to create a more interactive and interesting learning design using this application. Different from offline learning in which teachers could directly approach the students to be more active, and could develop the materials more attractive and well-delivered, online learning was much more challenging. Drawing on discussion recap with my teacher supervisor, I would try to create a multimodal-based teaching through WhatsApp. Considering Moreno and Mayer's (1999) the modality principle of instructional design, I believe that "the most effective learning environments are those that combine verbal and non-verbal representations of the knowledge using mixed-modality presentations" (Moreno and Mayer 2007, p.310).
Therefore, I would develop interesting activities in Whatsapp using some multimodal activities, such as video, audio, picture, and Powerpoint. In addition, through these activities I would also create activities that could enhance students' engagement when they are involved in this online learning. This paper offers alternative activities by making use of interactive multimodal tools to provide the 12th grade of the Islamic High School students with more meaningful learning activities. In this section the researcher describes steps of learning activities and the implementation of interactive multimodal learning in one meeting. The activities that I did are under the framework of interactive multimodal learning by Moreno & Mayer (2007).
Types of interactivity in multimodal learning
According to Gijakjani, Ismail & Ahmadi (2011) multimedia can be used to increase a better inclusive curriculum which is attractive for visual, aural, and kinaesthetic learners and also suitable for students' different performance that may have different learning styles. This should be a suitable approach for the students in online learning. There are some conceptualizations on what and how interactivity should undergo during multimodal learning. Moreno & Mayer (2007) described five types of interactivity in multimodal learning environments. Those are:
1 Dialoguing: learners get feedback or responses of her/his input. For example, find help from an option bar, click hyperlink to get additional information,
2 Controlling: learners decide the speed or the presentation arrangement. For example, while watching a narrated video, use the pause or play key button to continue the video,
3 Manipulating: learners decide the parameter for a simulation or zoom in and out or move objects around the screen. For example, to know what happens in a game, set and run the parameter in the simulation,
4 Searching: learners find new content material by entering the program, receiving options, and selecting an option. For example, find some information in an internet search,
5 Navigating: learners move to some different content by choosing from various available information sources. For example, click on the menu to move from the internet page to another page.
It explains that there are 5 characteristics of interactivity in multimodal learning that purpose is to make the online learning process become more interesting and attractive. However, between teacher and students should be active and play the roles to make the learning environment become more interactive. Students need to be engaged in interactive multimodal learning by dialoguing, controlling, manipulating, searching and navigating, and the teacher needs to guide them to do it appropriately.
Previous study of multimodal learning in teaching English online
Currently, Online learning has become a new way to teach and learn. There are new ways to approach online education for teachers and offer new ways of learning for students with multimodal compositions (Bourelle, Bourelle, Knutson & Spong, 2015). Various multimodal designs give potential for language learners to get a more effective way of facing the new information presentation (Gijakjani, Ismail & Ahmadi, 2011). From the previous study, Sankey, Birch & Gardiner (2010) found that the students perceive the new information knowledge by using additional representation or multimodal to help students' comprehension, understanding, and their retention of the content and it is also interesting and enjoyable to use.
Instructional procedures
Multimodal learning that I used during my teaching internship were PowerPoints, PowToon Video, and Quizzes. The reason why I chose this multimodal is that they have a chance to be interactive multimodal. One example of this interactive multimodal is students could control the video by playing and pausing the video. So, if the video went fast, they could pause it to see the material clearer. This interactive multimodal' purpose is to make the material delivered well and understandable. In this section, the researcher describes steps of learning activities and the implementation of interactive multimodal learning in one meeting. The activities that I did are under the framework of interactive multimodal learning by Moreno & Mayer (2007), which are controlling and navigating types. In my design, I create two activities for controlling because controlling is one of three interactivity types under Moreno and Mayer's (2007) model, which could develop students' learning autonomy. Turn now to the description of each activity.
Students's Control Multimodal Learning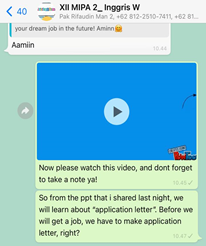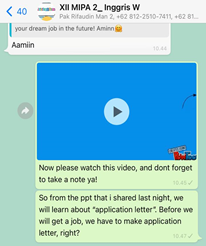 Suggested by my teacher supervisior, I uploaded my Powerpoint in the classroom WhatsApp group the night before I taught my students. This is as a matter of preparing the students before attending the class. In this activity, the teacher shared a video about the subject, which is about application letters through Whatsapp and asked the students to watch it. The students could control the video by pausing or playing to continue the video by themselves. Moreno & Mayer (2007) found that pacing principle is another challenge activity of learning from interactive environments that is a dynamic visual appearances process including instructional animations and video. Thus, it is one example of controlling the type of interactivity that they found in their research. However, students could also decide whether they wanted to watch it or not, and the teacher's role was to make sure they watch it or not by reminding them to take a note. Besides that, the purpose of this activity is to make the students more understand the material and enjoy the learning process.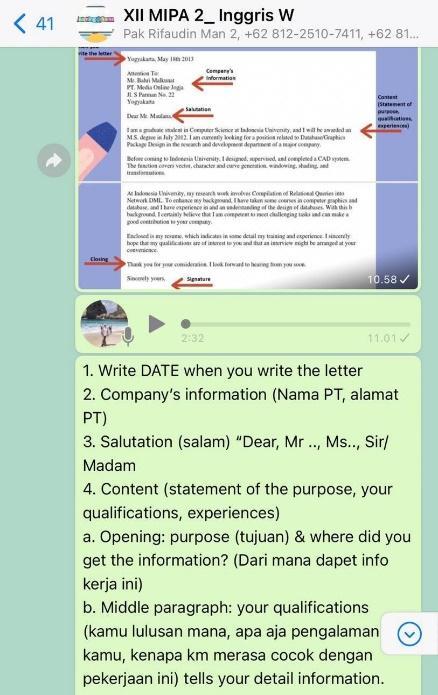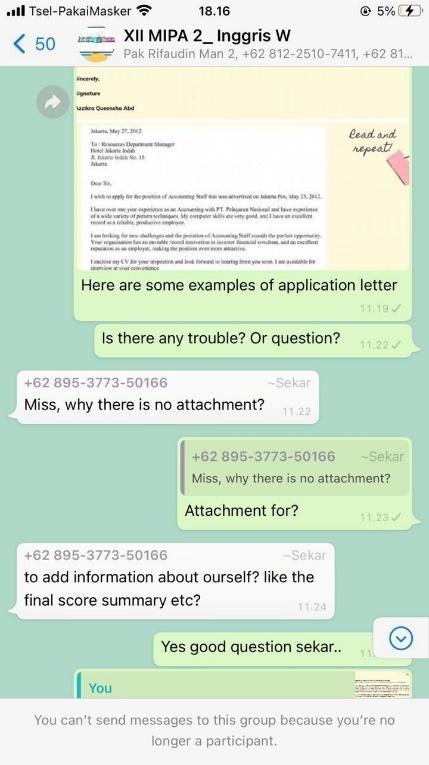 In this activity, the teacher shared and explained the material by Powerpoint that had been shared the night before. The teacher shared the Powerpoint slide by slide while explaining the material through chat also Voicenote. The purpose was to make sure that the material was delivered well. Using Powerpoint as one of the multimodal learning should be interactive, besides the material appearance was interesting and attractive it also because the students could close and re-open the material when they want to re-read and they can zoom in or out the slides to see the material clearer. This is also similar as suggested by Moreno & Mayer (2007) which is a controlling type.
Students started to navigate resources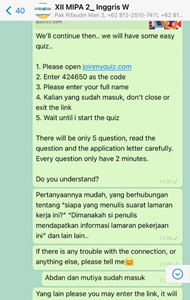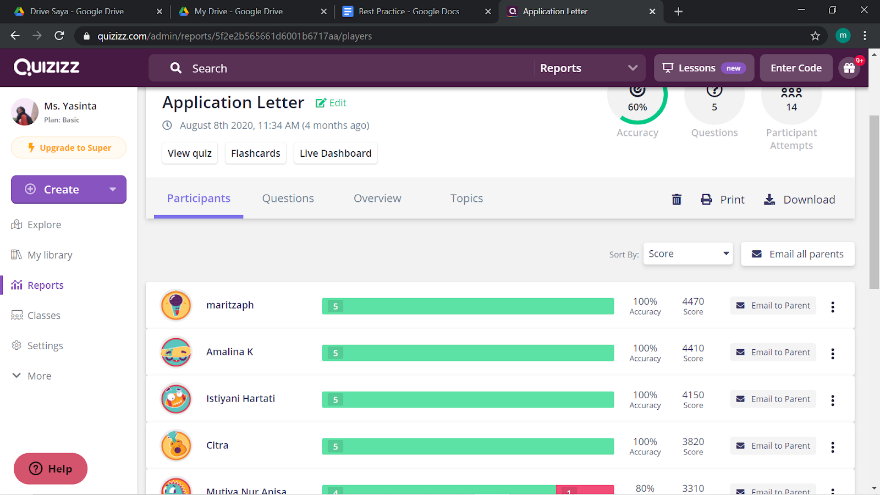 The last activity was practice. In this activity, the teacher shared a quiz link through chat in Whatsapp and expected the students had already understand the material and the instructions of the quiz. Teacher also asked the students to click the link and did the quiz together. This activity was interactive because students could navigate their own platform from Whatsapp to another link and platform on their devices (Moreno & Mayer, 2007). However, this was the last activity in the first meeting with MIPA class and because the time was limited on this activity, the teacher couldn't wait for all the students to join the quiz one by one and should start the quiz sooner, thus this quiz only has half more of the active participants.
I found that creating an active-interactive approach to students in online teaching is challenging. This interactive multimodal in online learning gave benefits for providing students with an effective learning in which students show a well-participate behaviour and enjoyable moment during their involvement in online class activities. More importantly, students were enthusiast to interact with the given materials.
Conclusion
Activities designed for teaching during my internship program give me a chance to reflect that using interactive multimodal is one of the effective and interesting ways for online learning. Through this interactive multimodal, students could practice their controlling and navigating skills; particularly in reviewing and re-reading the materials they wanted. Furthermore, by experiencing the use of interactive multimodal, students could understand the materials as it was well-delivered. This design is also promoting an alternate and fun learning atmosphere. Exploration of other practices in using interactive multimodal for teaching in online learning will share practical contributions to the field.
References
Bourellel, A., Bourelle, T., A. V., & Spong, S. (2016). Sites of multimodal literacy: Comparing student learning in online and face-to-face environments. Elsevier Computers and Composition, 39, 55-70. doi:doi.org/10.1016/j.compcom.2015.11.003
Gilakjani, A. P., Ismail, H. N., & Ahmadi, S. M. (2011). The Effect of Multimodal Learning Models on. Theory and Practice in Language Studies, 1(10), 1321-1327. doi:10.4304/tpls.1.10.1321-1327
Moreno, R., & Mayer, R. (2007). Interactive Multimodal Learning Environments. Educ Psychol Rev, 19(3), 309–326. doi:10.1007/s10648-007-9047-2
Sankey, M., Birch, D., & Gardiner, M. (2010). Engaging students through multimodal learning. Proceedings ASCILITE 2010, 852-863. Retrieved from http://ascilite.org.au/conferences/sydney10/procs/Sankey-full.pdf
Please check the Pilgrims f2f courses at Pilgrims website.
Please check the Pilgrims online courses at Pilgrims website.
Interactivity Multimodal Learning Environments to Teach English: Best Practice in Teaching English Online
Devia Yasinta Hariadi, Indonesia

ELT at Pandemic Times – Making Impossible Possible
Sujani Balasooriya, Sri Lanka

Using Quizizz as a Formative Assessment for Junior High School Students
Surati, Indonesia