Alex Wright's Book Exhibition: A Positive Example of 'Special Needs'
Meet Alex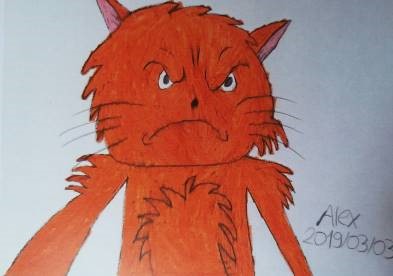 Alex has exhibited her books in: Slovenia, Germany, Hungary, Portugal, Serbia and Slovakia. Apart from helping Alex to feel part of society her book exhibition potentially offers a huge boost to society in helping teachers and parents see that people with special needs can find a path to walk on and can make a positive contribution to the richness of society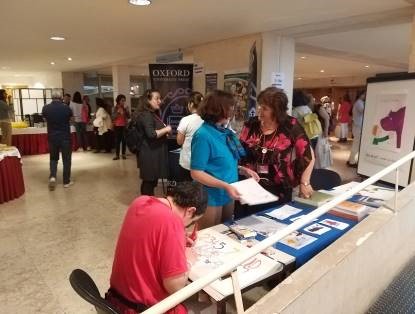 Here is Alex at work during the APPI teachers conference in Lisbon in 2019. Some of Alex's books and all her story post cards are on the table. Julia is talking to a visiting teacher. A nice touch is that Alex's exhibition is next to OUP who publish some of my books!
Early Alex
Alex is twenty two and has autism. On 'the spectrum' she is about half way up…whatever that means! We really don't think she could have gone to university nor even have survived a normal secondary school syllabus. Alex went to a school dedicated to children with autism in Budapest and we will be eternally grateful to the school for fostering her belief in herself. She loves her teachers still and sends them postcards.
Alex was diagnosed with autism when she was five. Until that time she had not spoken which is a bit unnerving for parents and siblings. She taught herself to write before she could speak!
How did she teach herself to read and write?
We can only hypothesise about how Alex taught herself to read and write. In her early years she cherished a pack of cards of animals. At the bottom of each picture card was the animal's name in Times Roman 20 point. Our guess is that she went through the stages of de-coding the notion of writing all by herself which took Homo Sapiens 100,000 years to create.
Our hypothesis
1 She noted that each black shape (word) at the bottom of her picture cards was a different overall black shape for each animal.
2 She noted that 'Elephant' was big with ascenders at the beginning, a descenders and an ascender in the middle and an ascender at the end. Cat was small with a big letter at the beginning and an ascender at the end. (How important it is to offer lower case letters to children! And on road signs!)
3 Some time later she noted that each black shape was made out of individual shapes.
4 And these individual shapes sometime appeared in different words. Cat shares 'a' and 't' with elephant.
5 She then began to speculate that she could represent an animal with such abstract shapes as well.
6 Huge jump! One day she realised that the colourful, three-dimensional magnetic letters on the fridge door left behind by her sister were similar to the black Times Roman letters on her picture cards. One day she moved the magnetic letters and spelled 'cat', 'monkey' and 'horse' on the fridge door! Her mother saw her and was stunned. Alex had never spoken a word and nobody had ever tried to teach her to read. Alex had leapt from babyhood through 100,000 years of Home Sapiens' development!
Gosh! What the human mind can do! A human mind classified as 'special needs'.
From 5 to 8
During these years Alex began to speak and like all children she loved to listen to stories and to look at the pictures in story books, for example, 'The Elephant and the Bad Baby' and to watch videos for example 'Spot the Dog' and in Hungarian 'Vuk The Fox'.
The first signs of her being a story writer were the texts and pictures she wrote and drew on the walls of the rooms she was in. Drawing and writing on walls goes back to Lascaux and paleolithic times and reached its climax in the Sistine Chapel with MichelAngelo…Alex was working in an ancient tradition.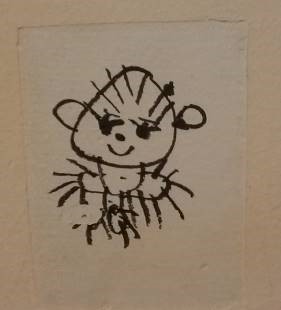 Sorry! I can't date this drawing but it is from Alex when she was about 5.
It is on the wall in our bedroom. When re-painting the room we have always painted around the drawing. We have never taught Alex anything. Her explorations have been treasured. She has no idea what a mark or a grade or a gold star is!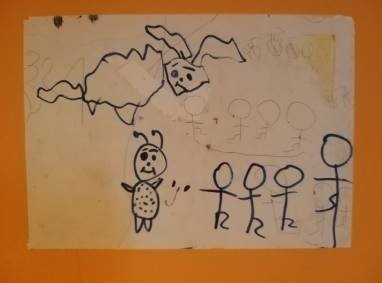 Another early mural drawing treasured by us and painted round when we re-decorated the room.
One of Alex's earliest bits of writing which is on the wall in our 'back' bedroom. We have repainted the wall several times, each time leaving her writing in its original place.
Look how she is playing with letter shapes. They are treasures of meaning and combine individuality with the safety of ubiquity of essential letter shape. The 'a' is in danger of leaving the recognisable form of that version of 'a'.
I introduced Alex to the idea that she can make books. Alex made the story poked along by my questions. I had NO hidden story of my own; my questions were according to my curiosity about what was in her mind. I made the zigzag book and typed out her story and stuck the text on the page and she added the pictures and some words of her own.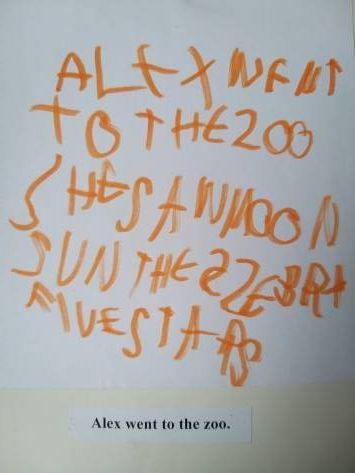 Alex went to the zoo. She saw moon sun the zebra five stars.
Interesting her choice of upper case letters. Note the absence of punctuation. In her early years she went through the stage of writing like the early Romans who did not leave spaces between words! Then the Romans and Alex began to realise that from the reader's point of view it was helpful if each chunk of meaning could be easily identifiable.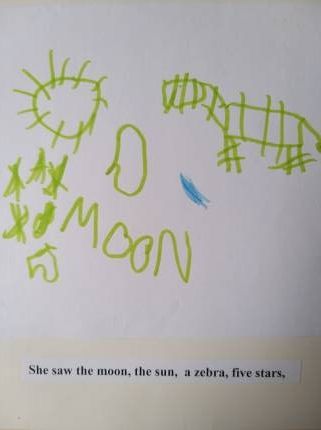 Some time after the above early writing experiments Alex typed out on the computer (self-taught) and then stuck on walls around the house…some of them are still on the walls 15 years later. This acceptance of her work and products as part of life rather than a mere pastime which is cleared up and cleared away is central to her driving and sustained development.
The monkey is hiding in the bath!
What a house!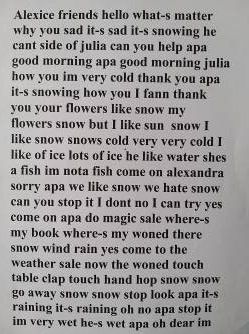 Alex came to love typing and now she touch types and her fingers whizz in a blur! Here is some of her early typing. Now is the time to tell you that English is her second language. Her mother tongue is Hungarian. Look at this text and see how she is trying to represent the English word sounds she hears in her mind.
The first word, 'Alexice' is surely her attempt to write what we would write ie Alex's? And half way down the text, 'im nota fish'…'I'm not a fish'. Alex has now got gaps between most of the words but still does not think in sentences. But what a joyous river of jostling verbal fish! There are four pages in this book which she wrote on January 28, 2007 when she was 10.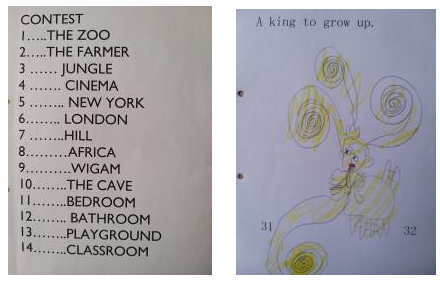 This is an example of her fascination with the whole character of a book. Nobody told her about the contents page nor about the copyright and publishing information but she began to include such things in her books based on her study of books.
Alex began to base her stories on the stories she loved and this one is derived from one of the Bagpuss stories. Several things to point out.
At this stage she was only beginning to copy out whole chunks of text from other books. On this page she has written a sentence of her own…not so easy to follow.
Alex noted that double page spreads have two pages. She has always written two page numbers on each one of her pages.
She has illustrated every page in her 2 or 3000 books. As an illustrator myself I am sometimes overwhelmed by the originality of her image making and the way the shapes are distributed on the page. Isn't this illustration a delight?
Disturbingly for a conventional thinker her illustrations often do not seem to relate to the text!
Alex's teenage years
And so the teenage years went by….and Alex wrote stories, typing like the wind and illustrating every page. We stopped counting the books after 3000. And some were 400 pages long and her books are in one of three languages: Hungarian, English and German. We believe that Alex was driven to write stories and to fill them with all the friends she didn't know how to have!
We can't publish Alex's books because they are too derivative or too eccentric in their story lines.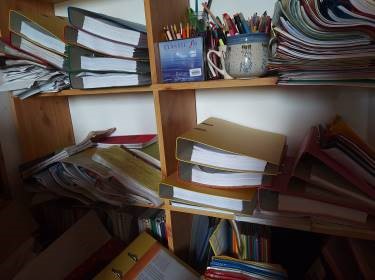 And here are some of her 400 page books typed and illustrated and written in English, Hungarian or German: the big fat ones. And on the top right are some of her shorter books 50 to 150 pages. See below for examples of her page designs.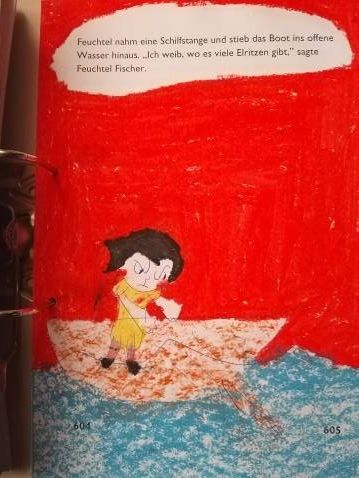 This page is near the end of a 300 page book written in German. The medium here is oil pastels, hence, the very intense, thick red background. Note how she has turned the pastel on its side for the boat and for the sea and dragged it across the surface creating a totally different texture. My guess is that this was driven by economy of effort but who knows perhaps she did appreciate that it enriches the picture.
Every page of every book has its own illustration! 2000 books averaging 100 pages means 200,000 illustrations. Gosh!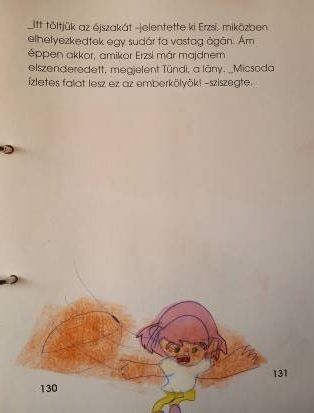 A book in Hungarian and a very different style of drawing. I have always loved her economical sweeps of colour approximating only the shape the colour is related to.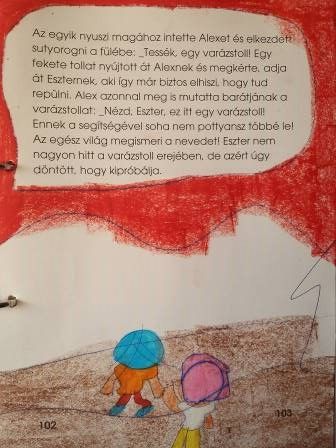 This is one of Alex's books in Hungarian. I have chosen this page as another example of her breathtaking page designs and simple and rapid use of the oil pastels.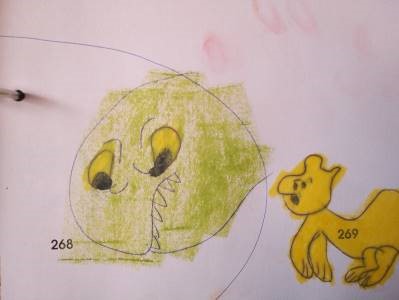 Alex's page designs are often fresh and powerful but so too are the individual illustration. The contrast between these two styles of illustration is a delight and I love the simple sweeps of colour on the ferocious shark.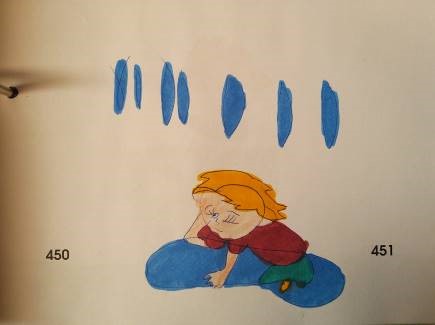 Alex told me that the blue shapes are heavy rain drops coming down.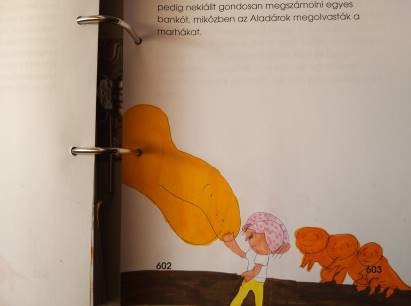 Here we are at 300 pages! I chose this page because of the illustration. She has chosen to work with coloured pens. Note how the simple brown earth shape connects to the sides of the page and being dark shows up the yellow trousers and creates a luminosity in the background.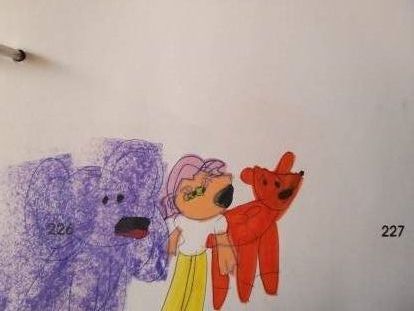 And what a wonderfully confident use of colour, particularly in the sweep of purple oil pastel over the elephant.
Story pictures and story picture cards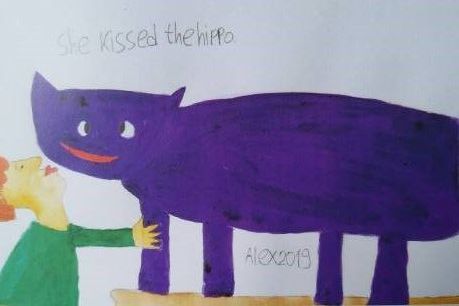 In the last six months or so (of 2019) she has written much less but she has started to paint or draw large story pictures.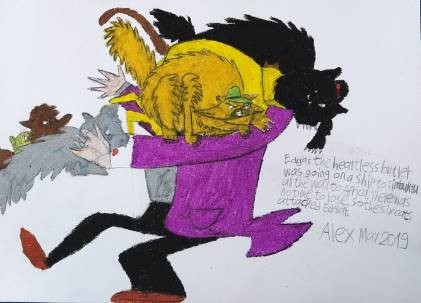 Here is one of my favourites. The idea is derived from another book but she has made it her own. The text reads: Edgar the heartless butler was going on a ship to Timbuktu all the way to Africa there was no time to lose so the six cats attacked Edgar.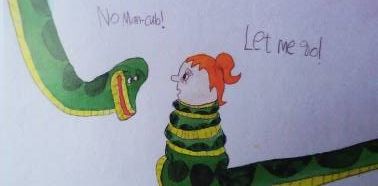 Alex has been fascinated by snakes. I think The Jungle Book is the source of this fascination and the way Kaa mesmerises people.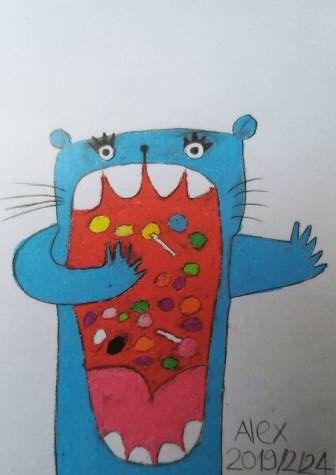 One of my favourites…and she has sold hundreds of these as cards.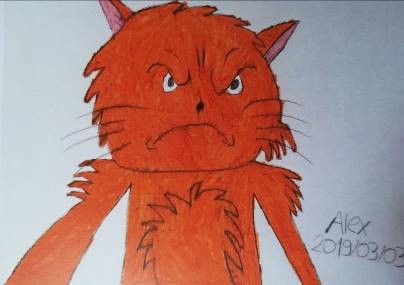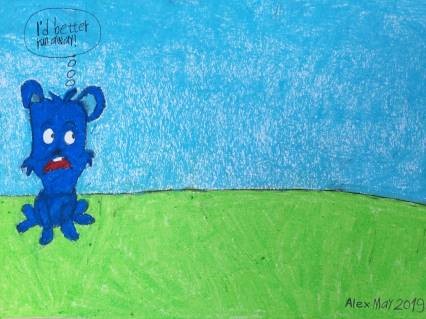 Her placing of the dog on the far left of the picture leaves a large space which our imaginations fill with an impending attack. This is top picture story telling!
We have made about 10 postcards based on these strong story pictures and she has sold about 300 copies. Money profit minimal, emotional benefit to Alex beyond dreams.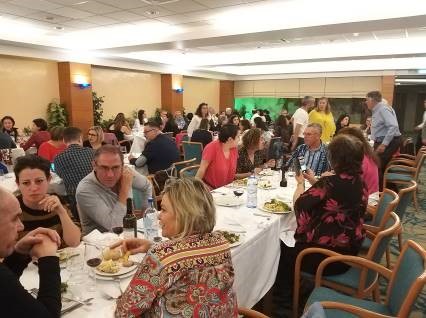 Alex feels, we think, part of a community when she is at a teachers' conference. Here she is in Lisbon right in the middle of things, leaning forwards and taking part.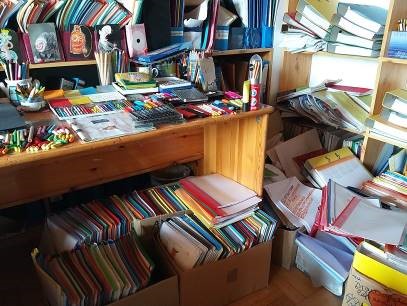 Here is her drawing table as it used to be…more of her books!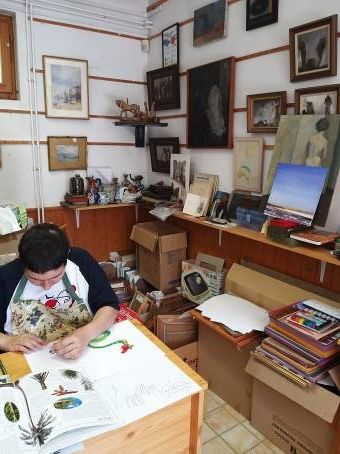 But here is where she likes to work now: in the family studio. My pictures are around her, her grandfather's, great grandfather's and great great grandfather's pictures too.​​​​​​​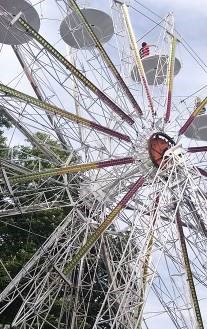 Who knows where Alex will go next but her writing and her pictures and her exhibitions and acceptance in society mean that she may have all kinds of paths ahead of her.
We can only hope they will bring her happiness…
Please check the Special Needs and Inclusive Learning course at Pilgrims website.
The Rights of the Learner, The Rights of the Teacher
Chaz Pugliese, France

Alex Wright's Book Exhibition: A Positive Example of 'Special Needs'
Andrew Wright, Hungary