Short Book Reviews
Hanna Kryszewska is a teacher, teacher trainer, trainer of trainers. She is a senior lecturer at the University of Gdańsk, Poland. She is co-author of resource books: Learner Based Teaching, OUP, Towards Teaching, Heinemann, The Standby Book, CUP, Language Activities for Teenagers, CUP, The Company Words Keep, DELTA Publishing, and a course book series for secondary schools: ForMat, Macmillan. She is also co-author of a video based teacher training course: Observing English Lessons. Hania is a Pilgrims trainer and editor of HLT Magazine.
E-mail: hania.kryszewska@pilgrims.co.uk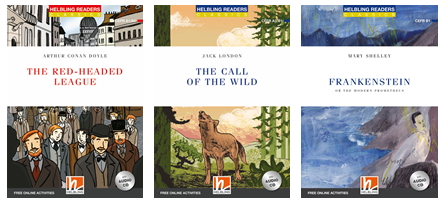 Helbling Readers Classics. Books with Audio CD and Online Access Code Helbling Languages (2020). The new titles include: (A1/A2) The Red-headed League. Arthur Conan Doyle. ISBN-978-3-99089-145-2, pp 76, (A2/B1) The Call of the Wild. Jack London. ISBN – 978-3-99089-143-8, pp 116, (B1) Frankenstein. Mary Shelley. ISBN –978-3-99089-136-0, pp.92. Books in this series of graded reading materials come at five levels – 3 KET levels (colour coded in red) and at two PET levels (colour coded in blue). In this selection of five titles, some are aimed at younger learners, and some at more mature ones. The books are adaptations of well-loved classics which are popular among native speakers, so obviously the stories are interesting and a good read. First language learners become familiar with the author, the story behind the book, and then the characters. Next they do some vocabulary activities which introduce key lexis in the book. Then as they read the story they can see the new words marked with a dot (and explained at the bottom of the page). They can also listen to the whole story and do activities available on an accompanying audio CD. As they read the story they can do some short while-reading mini tasks which usually involve answering some content related questions or require interpretation of the story or events. Finally, after the readers have finished reading of the story, they can do some post-reading activities referring to the content, the learning experience, and elements of grammar and lexis present in the book. The readers are pleasant to the eye thanks to good illustrations and careful page design, and each book is illustrated in its own individual style so it has a feeling of uniqueness about it. This series of graded readers is well-established and popular among language learners as additional reading and CLIL material. More free online activities are available from www.helbling-ezone.com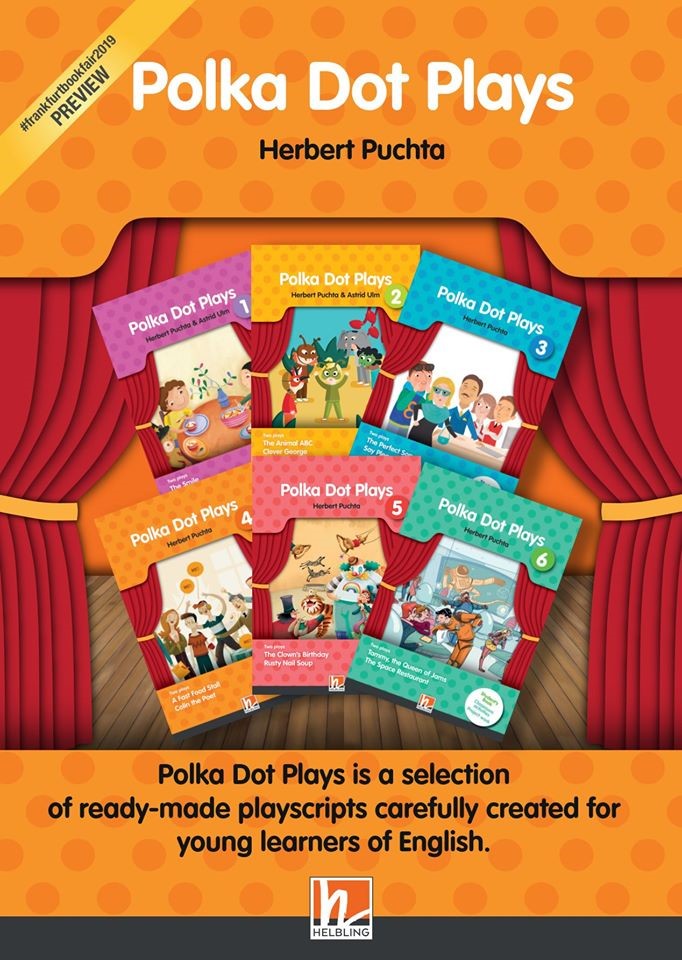 Polka Dot Plays 1-6. H. Puchta and A. Ulm. (2019) Helbling Languages. The Smile. The Maths Test. ISBN-978-3-99089-122-3, pp 72. The Animal ABC. The Maths Test. ISBN-978-3-99089-123-0, pp 72. The Perfect Son. Say Please. ISBN-978-3-99089-124-7, pp 72. The Fast Food Stall. Colin the Poet. ISBN-978-3-99089-152-4, pp 72. The Clown's Birthday. Rusty Nail Soup. ISBN-978-3-99089-126-1, pp 72. Tammy, the Queen of Jams. The Space Restaurant. ISBN-978-3-99089-127-8, pp 72. The collection consists of 12 plays – ready made graded playscripts which young learners can read but above all can perform for each other in class or for an audience consisting of other students in the school, peers or parents and other adults. These publications are a fantastic way to introduce drama into a young learner's language class. The students books at lower level first introduce the characters, some key vocabulary, then the text of the play itself, followed by language practice: comprehension questions, elements of CLIL (e.g. numbers, information about caterpillars and butterflies), focus on some useful language and fixed expressions used in speaking, sequencing events, expressing opinions, themed work, games and puzzles, project work, and a memory test. At higher levels needless to say the language in the plays is more complex, the follow up language work has some grammar focus, and there may be some reading or singing involved too. The books are accompanied by teacher's notes with tips how to make the most of the publications and there are audio recording available too which will be of great help in pronunciation and voice projection work. This is a great publication which is reminiscent of Drama with Children by Sarah Philips OUP (1999), but it is much more ready to use instantly than the older publication which requires more preparation and structuring on the part of the teacher.
Please check the Methodology and Language for Primary course at Pilgrims website.
Please check the Drama Techniques for the English Classroom course at Pilgrims website.
Please check the Advanced Drama and Improvisation Techniques for the English Classroom course at Pilgrims website.
Short Book Reviews
Hanna Kryszewska, Poland