Short Book Reviews
Hanna Kryszewska is a teacher, teacher trainer, trainer of trainers. She is a senior lecturer at the University of Gdańsk, Poland. She is co-author of resource books: Learner Based Teaching, OUP, Towards Teaching, Heinemann, The Standby Book, CUP, Language Activities for Teenagers, CUP, The Company Words Keep, DELTA Publishing, and a course book series for secondary schools: ForMat, Macmillan. She is also co-author of a video based teacher training course: Observing English Lessons. Hania is a Pilgrims trainer and editor of HLT Magazine.
E-mail: hania.kryszewska@pilgrims.co.uk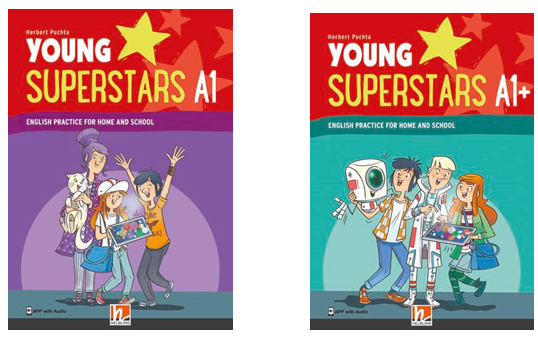 Young Superstars A1. English practice for home and school. H. Puchta. (2020) Helbling Languages. ISBN-978-3-99089-133-9, pp 52. Young Superstars A1+. English practice for home and school. H. Puchta. (2020) Helbling Languages. ISBN-978-3-99089-13-6, pp 52. These books, which I believe are a beginning of a series, are not typical coursebooks. They are supplementary materials - a bank of additional fun activities to be used in class (e.g. to give more practice, as a source extra tasks for early finishers or to be used for remedial work), or outside the class (e.g. extra homework, keeping kids busy after school in the common room or at home working with family members to provide extra practice). There are reading comprehension and vocabulary tasks, listening and writing skills activities, and activities with elements of grammar. The topics include among others: (A1) numbers, family school, clothes, body, (A1+) food, shopping and feelings. At the end of each unit you can find challenge pages with self-evaluation task; there is also a reward system. Additionally, the extra components include teacher's support, extra activities in the e-zone, and the Helbling Media App. They are useful books to have on standby if you need extra materials instantly.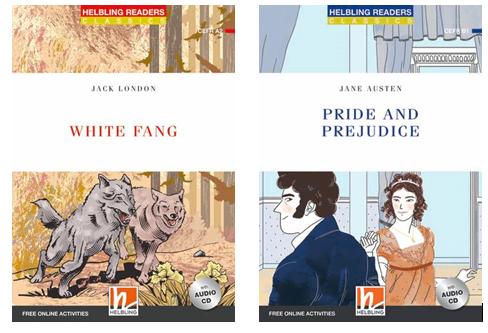 Helbling Readers Classics. Books with Audio CD and Online Access Code Helbling Languages (2021). The new titles include: (A2) White Fang. R. Kipling. Adapted by A. Hill ISBN-978-3-99089-413-2, pp 84, (B1) and Pride and Prejudice. J. Austen. Adapted by E. Rawstron. ISBN-978-3-99089-410-1, pp 100. Books in this series of graded reading materials come at five levels – 3 KET levels (colour coded in red) and at two PET levels (colour coded in blue). In this selection of two new titles, one is aimed at younger learners, and one at more mature ones. The books are adaptations of well-loved classics which are popular among native speakers, so obviously the stories are interesting and a good read. As for working with the readers, first language learners become familiar with the author, the story behind the book, and then the characters. Next they do some vocabulary activities which introduce key lexis featuring in the book. Then as they read the story learners can see these new words marked with a dot (and explained at the bottom of the page). They can also listen to the whole story and do activities available on an accompanying audio CD. As they read the story they can do some short while-reading mini tasks which usually involve answering some content related questions or require interpretation of the story or events. Finally, after the learners have finished reading of the story, they can do some post-reading activities referring to the content, the learning experience, and practise elements of grammar and lexis present in the book. The readers are pleasant to the eye thanks to good illustrations and careful page design, and each book is illustrated in its own individual style so it has a feeling of uniqueness about it. This series of graded readers is well-established and popular among language learners as additional reading and CLIL material. More free online activities are available from www.helbling-ezone.com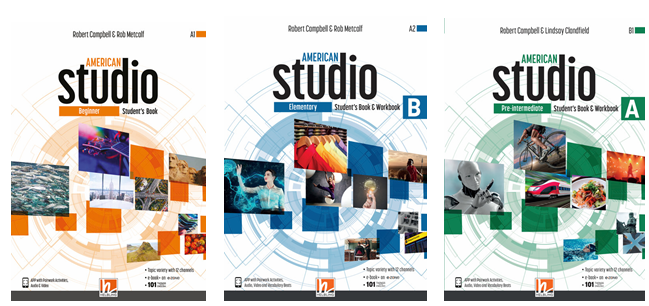 American Studio Beginner. Student's book. R. Campbell and R. Metcalf. (2020) Helbling Languages. ISBN-978-3-99089-164-3, pp 128. American Studio Elementary Student's book. R. Campbell and R. Metcalf. (2020) Helbling Languages. ISBN-978-3-99089-166-7, pp 158. American Studio Pre-Intermediate. Student's book. R. Campbell and L. Clandfield. (2020) Helbling Languages. ISBN-978-3-99089-168-2, pp 158, American Studio Intermediate. Student's book. L. Clandfield and P. Kerr. (2020) Helbling Languages. ISBN-978-3-99089-170-4, pp 164. This is a six level course which is a variation on the Studio course. In the words of the publisher it is aimed at adult learners but it would also be suitable for more mature young adults. The topics are predictable: the arts, entertainment, people, life stories and food. The innovative approach lies in the recurrence of the topics e.g. life stories in unit 1c, 2c, 3c, or people in 4c and 8a. (These recurrent topics are called 'channels' and are labelled with relevant icons in the contents page and throughout the whole book). The book gradually develops all four language skills but offers extensive opportunities for developing listening skills through audio and video recordings. The productive skills and receptive skills are grouped together while vocabulary is introduced and recycled throughout the whole book. The course is supported by on-line resources: Studio Digital Zone (extra listening and reading, student's workbook vocabulary practice and videos), e-online practice (cyber homework, projects and exam bank) and Helbling Media App (audio and video, pair work activities and vocabulary practice). The pie chart below sums it up really well:
This is a truly modern course making use of the potential of learning online and mobile technology; the authors and publishing house have clearly made sure of that. It is a great shame though that the course does not take on board recent developments in teaching English, especially implementing mediation as defined by CEFR (2018). Also it is hard for me to tell in what way it is American compared to the other version of the coursebook, and how much the two courses differ - Studio and American Studio. More information about the course here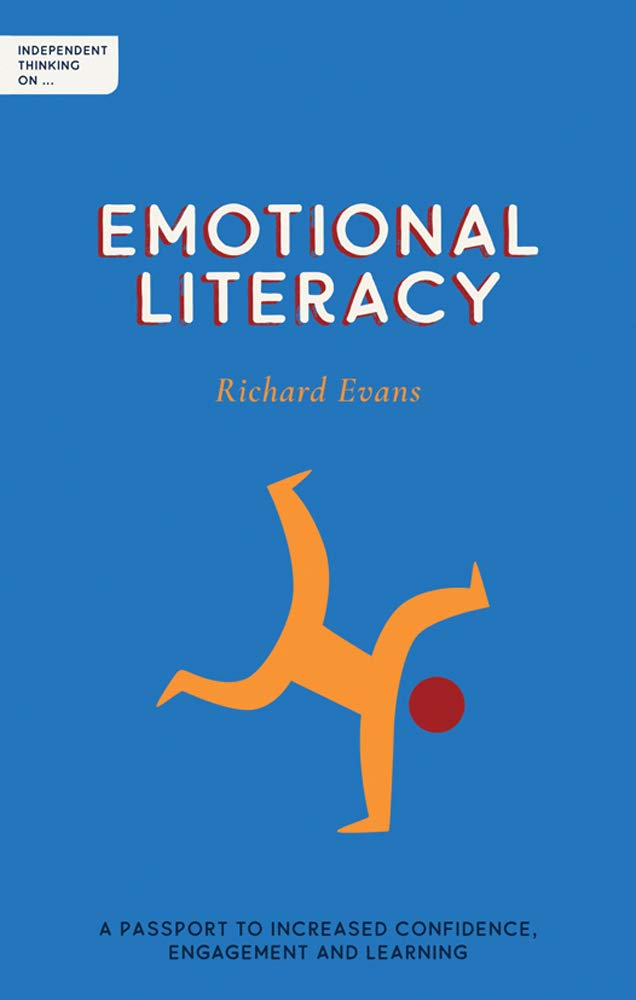 Independent Thinking on…
This is a new series presenting the voices of the Independent Thinking Associates. It is part of the movement's way to rethink the aims and essence of education and the challenges it faces. The authors are among the most inspiring and erudite thinkers, educators and practitioners in the UK. The handy pocket size of the books makes them ideal for carrying around and reading whenever you have a free moment.
Emotional Literacy. R. Evans. (2020) Independent Thinking Press. ISBN 978-178135373-8, pp 173. The author of the book is an experienced secondary school teacher who has a passion for teaching and helping learners with literacy and with their learning in general. The observations he made during his work has been turned into this book which is, in a sense, the outcome of his cooperation with his learners. His observations led him to the conclusion that the answer to helping learners with their motivation lies in emotional intelligence. Disadvantaged learners, disadvantaged for various reasons which are additionally reinforced by lockdowns and the pandemic, fall behind, and the educational gap between them and their peers widens. This is so because they have no tools to deal with various issues, sometimes seemingly trivial, and ways to overcome their problems, which may result from having not slept well, forgetting to take or eat lunch, failing internet connection or worries which preoccupy them. How to go about all this and how to identify the problems? First of all through genuine interest and dialogue with learners. Working through small steps is another way. But there is a need for a 'procedure', and the one the author developed is very inspiring. He developed a 'passport system'; after selecting a student to work with, the teacher needs to do the following: declare their interest, teach the learner to self-asses, identify needs, work out how to go about the needs, record the learner's feeling and impact of the actions, evaluate and decide what to do next. The areas to work on are among others confidence, resilience, organisation and attitude. The author presents his ideas very clearly and uses diagrams to help teachers work with their learners. The ideas bear echoes of cognitive behavioural therapy and NLP, but they can easily be used by a teacher who has no therapeutic background. Very interesting reading. You can ask the author a question here.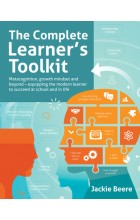 The Complete Learner's Toolkit. J. Beere. (2020) Independent Thinking Press. ISBN 9781781353172, pp 186. This book is about a toolkit every learner needs, but it is not about books, resources, IT, but about personal development. Passing exams may be important and it is a short term goal. However, the long term goal is laying foundations for the right mindset and this is what every learner should receive in the course of their education. These tools for personal development include habits of reflection, metacognition and emotional intelligence. The author refers to the 21st century skills, which few may know were originally identified and defined by the World Economic Forum (see details here). She takes on board the various areas by designing 36 lesson plans to be used with learners aged 7-16. The plan, which come in batches between 3 and 5, are grouped around the following topics: learning strategies, complex problem solving, critical thinking, creativity, leadership and social influence, emotional intelligence, judgement and decision making, service orientation, negotiation, and cognitive flexibility. The lesson plans are inspiring and the procedures are easy to follow. Although the plans are intended for native children, an ELT teacher will easily find ways to adapt then for a foreign language class.
Please check the Methodology and Language for Primary course at Pilgrims website.
Please check the Methodology and Language for Secondary course at Pilgrims website.
Please check the Creating a Motivating Environment course at Pilgrims website.
Please check the 21st Century Skills for Language Teachers course at Pilgrims website.
Please check the Creating an Inclusive School Environment course at Pilgrims website.
Plase check the NLP and Coaching skills for the English Classroom course at Pilgrims website.
Please check the Advanced NLP and Coaching Skills for the English Classroom course at Pilgrims website.
Please check the The Art and Skills of the Humanistic Teacher Trainer course at Pilgrims website.
Autonomy in Language Education: Theory, Research and Practice by Manuel Jiménez Raya and Flavia Vieira
Brian Welter, Canada

Short Book Reviews
Hanna (Hania) Kryszewska, Poland

Tune into English
Fergal Kavanagh, Italy

News from Pavilion ELT


Free Resources from DELTA Publishing


The Spring 21 Virtual IP Exhibition – A Publishers' Event organised by International Publishers