Interaction and Engagement in Virtual Environments
Grazzia Maria Mendoza Chirinos, M.Ed.,M.A. ia a passionate teacher trainer committed to contribute to ongoing professional development. She has been in the field of education for 28 years and currently education specialist at USAID Honduras. She has written about CALL in ELT, Competency Based Language Teaching, Leadership. Grazzia enjoys working with teachers and educators to promote ongoing professional development.
Email: grazziem01@yahoo.com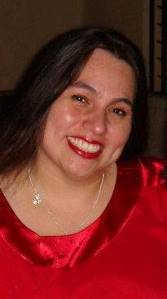 Juana Espinoza de Ayestas, M.A. is an English professor at Zamorano University and works with students from over 15 Latin American countries developing their English Academic skills. She is interested in writing about methodology in the language classroom. Juana enjoys working with learners at the higher education level and training teachers.
Email: jdeayestas@gmail.com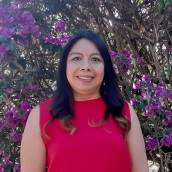 Introduction
Online learning is not a novelty and as it was harshly put by Maeroff back in 2002 that online learning "…was rendering time and place irrelevant in schools and colleges…", 2020 really brought its relevance front and center as the only way to keep education going during worldwide lockdowns due to the COVID-19 pandemic. Never like know had technology become the most used tool for teaching, and it is here to stay. In addition, ensuring interaction and engagement becomes an additional element in planning, especially since this is 100% an online teaching and learning context.
This article will discuss specific examples and brief descriptions of proven tools used in online classrooms in Honduras, to successfully engage educators in professional development focusing on allowing them to experience the tools prior to implementation. In addition, addressing learning itself and catering to learning needs. It includes tools that can be used for quick assessment of a topic, for complete engaging and interactive lessons, and for critical and analytical discussion in small or whole groups. We offer a brief description of the tools, brief examples on potential uses, and alternatives for adaptation to any context, as well as considerations on use when teachers don't have sustained access to the internet. Do note that all the tools mentioned here have free to use versions that are sufficient for the purposes of the classroom, but there is also the option to buy specific plans if planners of activities consider they have a need for more advanced parts of the tool.
Tools for assessment
Mentimeter, provides an intuitive, easy to setup platform where users can ask questions about the lesson towards the end of the session or use it to gauge understanding at the beginning as a review. We used it in both ways by alternating the different displays in the tool: multiple choice, graphs, word cloud, scales, ranking or open-ended. The way we used the tool was a way to review the learning from previous sessions.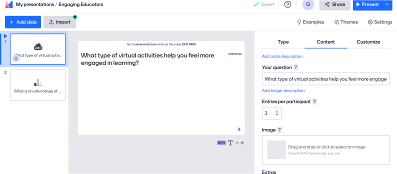 Poll Everywhere provides a similar concept to mentimeter, except it provides options for setup depending on the objective, corporate or academic and for each it provides its own setup of options to respond to polls. We see this as an advantage because the setup will be appropriate to each teacher/learner/user context and it validates the quality of creating a lesson or session that meets users' needs and interests, as well as levels. Just like mentimeter it can be used for a quick initial review or to ask questions to assess learning throughout or at the end of the lesson. If needed it can be setup as quiz or longer assessment to comply with other formative assessment objectives, or even consider it for summative purposes. In our experience using the tool we created formative assessments to determine engagement at different points of the sessions.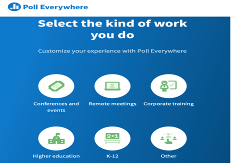 Tools for engagement
Nearpod is a very complete tool. It offers a wide array and a library of already done lessons in all subjects and for all grade levels. The tool offers not only engagement for learners but ready to use materials for teachers, relieving them of the workload of preparing their own and given them also the option to adapt to own context and needs. Lessons are accompanied by assessments and stop-and-check sections, additional materials for learning. For those teachers who are interested in creating their lessons, the option is also provided by adding own images, materials, and content. Truly effective for all ages and provides hours of engagement for individual and group learning. It also has multiple ways to access the tool: as a student, a teacher, or an admin. A positive aspect of the tool is that it provides an extensive array of tutorials and ways to use the platform to a teacher's advantage. Our experience using the tool was in the form of critical reflection and as a way to have a reflective journal of the training journey.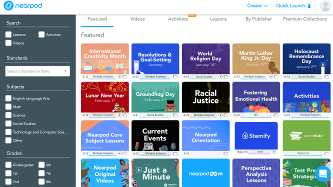 Online Video Games – Trace Effects this was one of the most effective online tools specifically because it offered opportunities for engagement, discussion, teaching grammar points and enhancing language skills. Trace Effects specifically also includes culture, as well as topics related to women empowerment, the arts and the environment among several. The key to engagement here is the way lessons are tailored. In our case we created speaking, writing, listening, and reading lessons around each chapter of the game using the game itself, but also the additional resources provided such as the comics. Sample activities can be provided upon request.
There are other online video games that have instructions that can be read, a sequence that can be followed, adventure that can entice learners. Several of them can be found on Facebook and can be easily played online, also in App or Android Stores. Our advice here is to make sure you explore the video games first to have the guarantee that it fits your purposes. If you are interested in given those participating in your sessions a choice, then make sure you select several and let them choose from there. That way they have a choice, but you also make sure it meets lesson objectives and goals. When choosing an online game that is not made for learning make sure it has things to read, things to listen to, a storyline and ways in which you can engage learners in a variety of activities. Those divided in chapters and that seek adventure are useful and usually are divided in chapters that can help you divide among your lessons.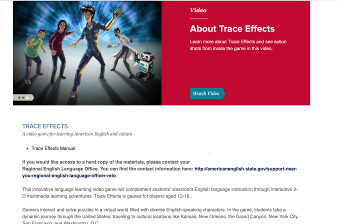 An alternative way to use these tools, and especially for young learners who might require more support from their parents are google slides where teachers can setup online games like tic tac toe, jeopardy, and others.
Tools for critical and analytical discussion
Flipgrid is a free platform that allows for video and audio recording, as well as comments. While it is a little bit more elaborate and requires planning, setup, and the use of a minimum of a cellphone to record audio and video; for us it proved magnificent to promote avid and engaging discussion. Participants recorded a video to reflect about the implementation of strategies and techniques, peers responded through a written comment. Responses can be also recorded through audio or video.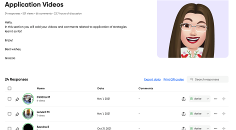 Padlet offers a creative, colorful place to engage learners online not only synchronously but asynchronously as well. It allows to create a wall of ideas where audiovisuals can be included, comments can be added, and engagement is evident at all times. It can be used alternatively as a learning portfolio for writing or speaking, and as a tool for online gallery walks, discussions, for group or individual tasks. The potential is high, and possibilities are endless, it is only a matter of planning its use within the lesson. For us it served several purposes: a) for introductions at the beginning of the course, for the specific development of a topic and for the final portfolio to reflect on the whole process of the training.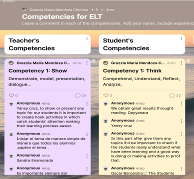 The alternative for low bandwidth settings would be setting a Whatsapp or Telegram group and allowing participants to record audio notes or send images with captions and promote direct replies to other learners' posts. This has been effective for classes we have taught with teachers in other countries like Panama and several in Africa as it does not require high bandwidth and Whatsapp is readily available in low-income countries. Even during this training course, the use of WhatsApp proved complimentary to many of the activities developed.
Other resources
TED Talks motivate not only reflection because of the vast array of topics, but it can also be a tool that prepares learners to hone their speaking skills by simulating/dramatizing or creating their own TED Talks in the online classroom. TED Talks allows learners to develop conciseness, specificity, engagement, interaction and why not even a sense of humor. An advantage for teachers is that TED Talks has created lessons to promote discussion, critical thinking, or the basic listening comprehension assessments. These exercises can be used as is or be customized for the teacher's own context. There is a variety of topics that cater to all needs and interests, and even the possibility of teachers and learners creating their own lessons.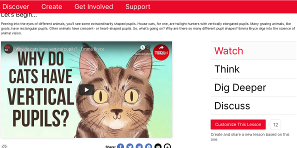 Conclusion
Here we have offered only part of the tools that we have found engaging and helpful in teaching online. We hope these are useful and motivate curiosity, that you try them out. Each teacher will have their own experience, and learning, these are just brief examples of tools and how they can be used. Consider, that there is a huge diversity of tools out there beyond the ones described in this article that are free and can provide alternative ways of engaging learners in the online classroom, ensuring learning while still allowing teachers to meet curriculum objectives. The key is to be creative, plan, get together with other teachers to validate the best tools for their own contexts and consider students thoughts and opinions. At the end of every lesson, check how students felt, what they thought of the tool, reflect on the level of difficulty, and adapt. By considering these we can almost guarantee an engaging, interactive, online classroom that will keep your learners interested in being there, motivate them to show up and even walk the extra mile in their learning adventure!
If you try any of these out, let us know how it went!
References
Maeroff, G. I. (2002). A classroom of one: how online learning is changing our schools and colleges. New York: Palgrave Macmillan.
Please check the Pilgrims f2f courses at Pilgrims website.
Please check the Pilgrims online courses at Pilgrims website.
Interaction and Engagement in Virtual Environments
Juana Espinoza de Ayestas, Honduras;Grazzia Maria Mendoza Chirinos, Honduras

Open Educational Resources for Language Learning and CLIL in Italy During the COVID 19 Pandemic
Letizia Cinganotto, Italy

The Challenges of Blended Learning During the Coronavirus Pandemic
Oskar Rozewicz, Poland