Short Book Reviews
Hanna Kryszewska is a teacher, teacher trainer, trainer of trainers. She is a senior lecturer at the University of Gdańsk, Poland. She is co-author of resource books: Learner Based Teaching, OUP, Towards Teaching, Heinemann, The Standby Book, CUP, Language Activities for Teenagers, CUP, The Company Words Keep, DELTA Publishing, and a course book series for secondary schools: ForMat, Macmillan. She is also co-author of a video based teacher training course: Observing English Lessons. Hania is a Pilgrims trainer and editor of HLT Magazine. E-mail: hania.kryszewska@pilgrims.co.uk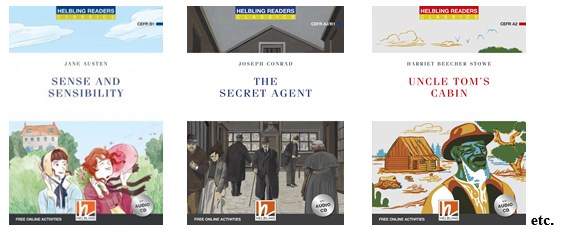 Helbling Readers Classics. Helbling Languages (2017). The new titles include:
The Secret Agent. Joseph Conrad. ISBN – 978-3-99045-689-7, pp 96,
Uncle Tom's Cabin. Harriet Becher Stowe. ISBN – 978-3-99045-688-0, pp 88,
King Arthur. Howard Pyle. ISBN- 978-3-99045-720-7, pp 84,
Sherlock Holmes and the Stolen Jewels. Arthur C. Doyle. ISBN – 978-3-99045-687-3, pp 96, The Wonderful Wizard of Oz. L. Frank Baum. ISBN- 978-3-99045-716-0, pp 100.
The Hound of the Baskervilles. Arthur Conan Doyle. ISBN- 978-3-99045-718-4, pp 92,
Five Children and It. Edith Nesbit. ISBN- 978-3-99045-683-6, pp 80.
The Happy Prince and The Nightingale and the Rose. O. Wilde. ISBN – 978-3-99045-722-1, pp 84.
Books in this series of graded reading materials for teenagers come at five levels – 3 KET levels (colour coded in red) and at two PET levels (colour coded in blue). The books are adaptations of well-loved classics, so obviously the stories are interesting and a good read. The learners first become familiar with the author and the story behind the book, and then they do some vocabulary activities in the pre-reading tasks. Also as they read the story they can see the new words marked with a dot (and explained at the bottom of the page). Readers can also listen to the whole story and do some activities available on an accompanying audio CD. As they read the story they can do some while reading mini tasks. Finally, there are some post-reading activities. The readers are pleasant to the eye thanks to good illustrations and careful page design; each book is illustrated in its own individual style. This series of graded readers is well-established and popular among language learners as additional reading and CLIL material. More free online activities are available from www.helbling-ezone.com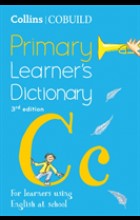 Primary Learner's Dictionary. 3d Edition. For Learners using English at school. Collins / COBUILD (2018). ISBN: 978-0-00-825319-6, pp 472+18. This dictionary is aimed at young learners aged roughly 7+ who are learning English as a foreign language at regular schools or in private language schools. It is also suitable for learners who follow CLIL programmes, i.e. programmes in which they learn in English content derived from other subjects. The dictionary contains around 8 000 entries including essential words, phrases, idioms and cross-curricular language; their meaning is illustrated by definitions, example sentences, and where possible in visual form, too. For example: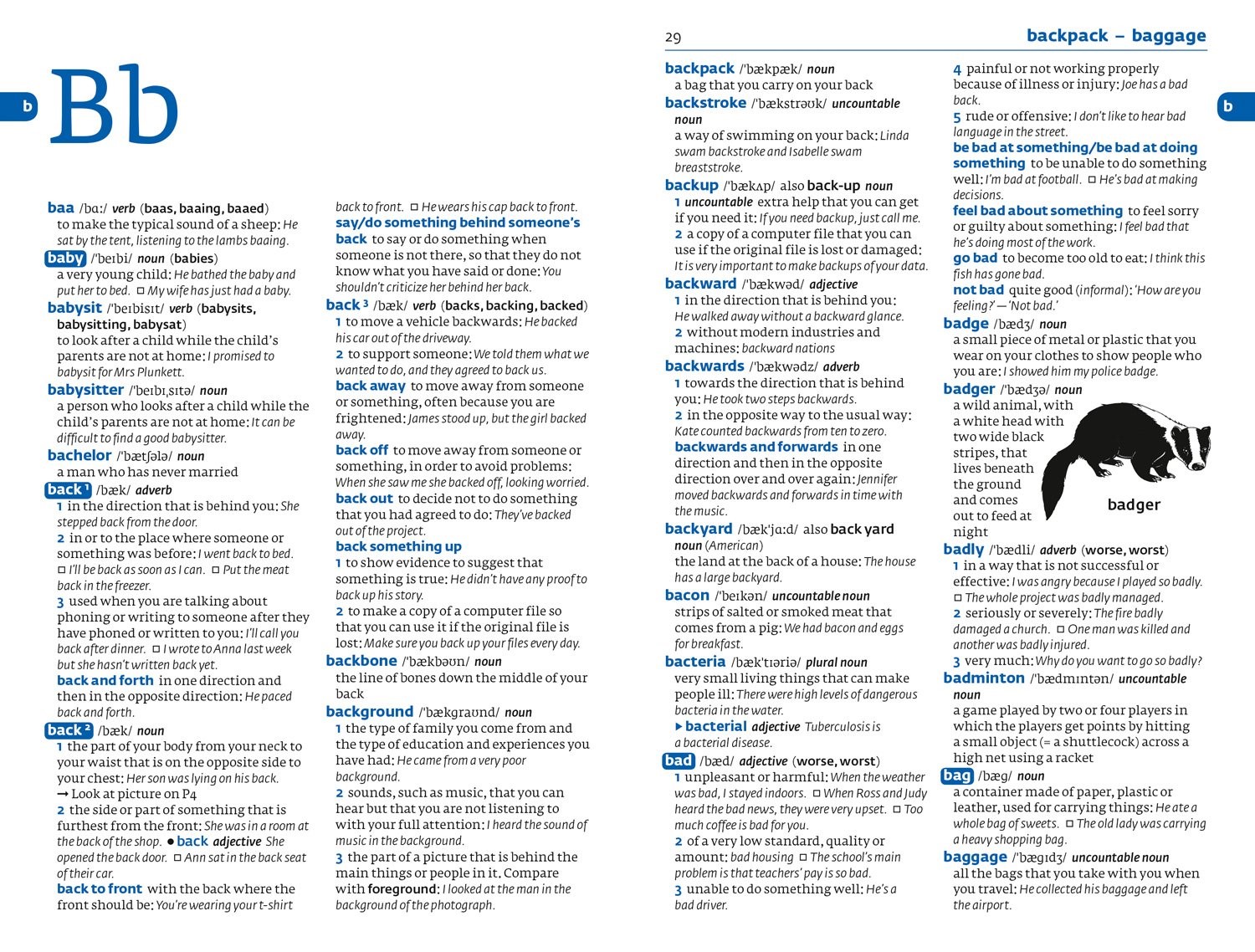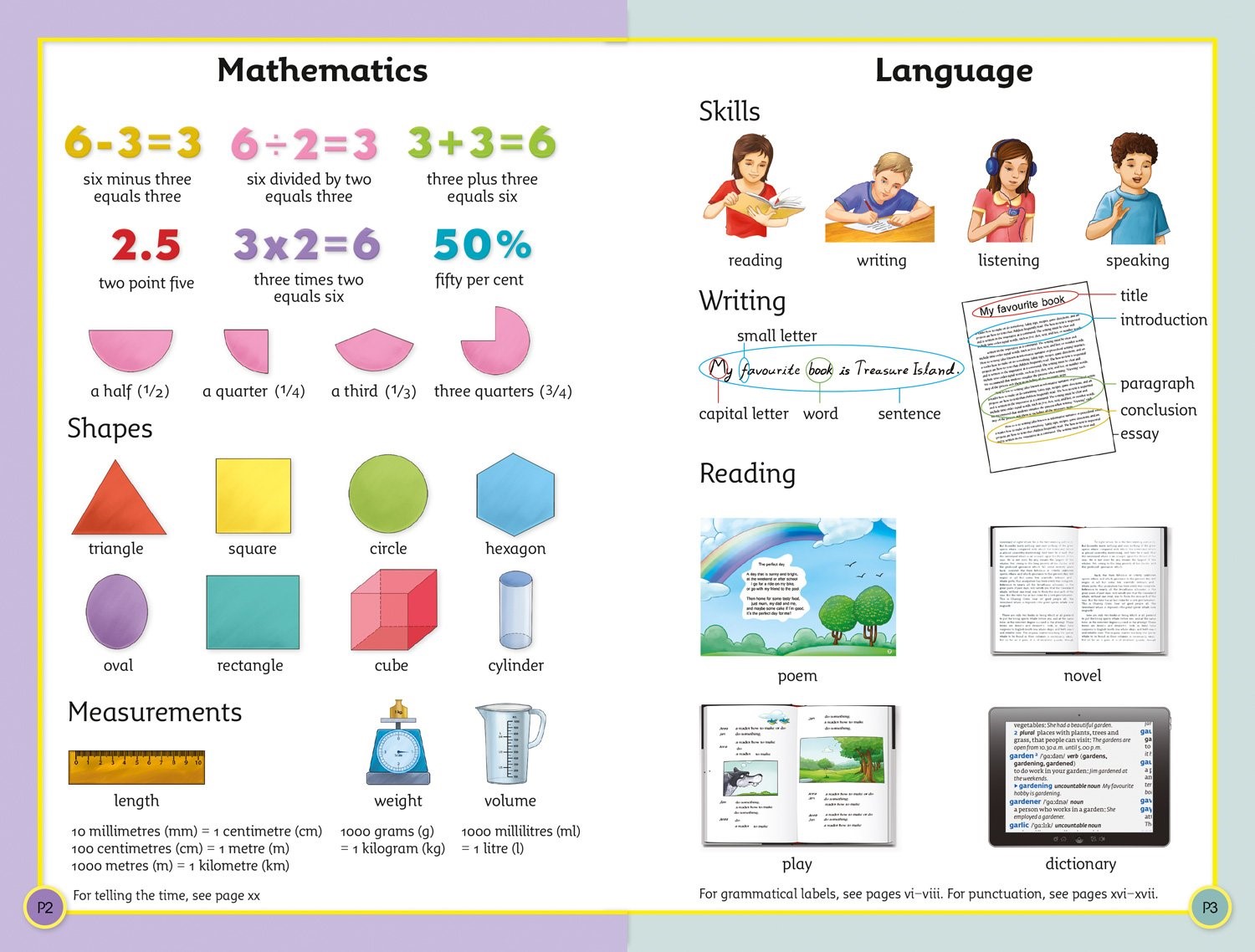 The dictionary also contains a full colour 16 page colour supplement on various subjects such as: school and study, science, geography, history and social studies, and technology.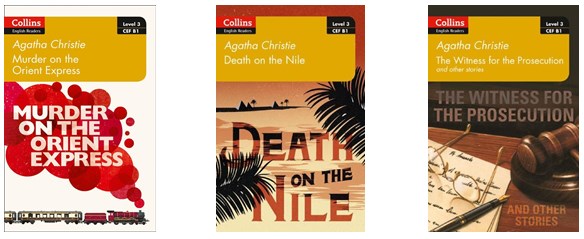 Collins English Readers. Level 3 CEF B1. Collins (2017). The new titles include adaptations of Agatha Christie's classics: Murder on the Orient Express. ISBN – 978-0-00-824967-0, pp 90, Death on the Nile. ISBN – 978-0-00-824968-7, pp 90, The Witness for the Prosecution and other stories. ISBN- 978-0-00-824971-7, pp 88. Collins brings old time murder classics by the dame of murder mysteries to language learners at intermediate level. Each reader apart from the story itself contains notes on the characters, elements of relevant history and culture, and a glossary of more difficult words with definitions and examples. Additionally there are online resources for students and teachers at https://collins.co.uk/pages/elt-english-readers and free online audio of the story at https://collins.co.uk/pages/elt-elt-audio-resources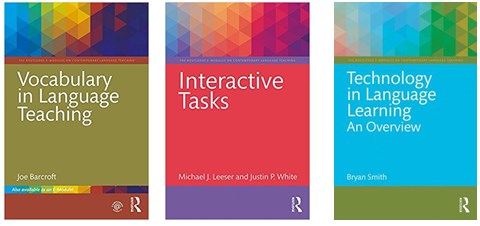 The Routledge E-Modules on Contemporary Language Teaching. (2016) Routledge. In the series: Vocabulary in Language Teaching. J. Barcroft. ISBN – 978-1-138-50088-4, pp 36,
Interactive Tasks. M. J. Leeser and J. P. White. ISBN – 978-1-138-50085-3, pp 29, Technology in Language Learning. An Overview. B. Smith. ISBN- 978-1-138-31037-7, pp 30. This is a new and innovative series aimed at pre-service language teachers or very inexperienced in-service language teachers. The books are available in paper form but above all they are accessible in e-format (If you do not have an e-reader, you can read directly on your computer using Kindle for PC or Mac:
https://www.amazon.com/gp/digital/fiona/kcp-landing-page?ie=UTF8&ref_=kcp_pc_mkt_lnd). The booklets have been written by specialists and experts in the given field who present the subject area in the form of an overview as well as the most recent updates and developments in the given field. Each module can stand on its own or can be part of a more comprehensive introductory course to language teaching; they can serve as introductory reading or back-up for self-study. The modules are accompanied by extensive bibliographies and reading lists. You can download a pre-view of one the books, at:
https://s3-eu-west-1.amazonaws.com/s3-euw1-ap-pe-ws4-cws-documents.ri-prod/9781315679594/5-Interactive-Tasks-Leeser-and-White.pdf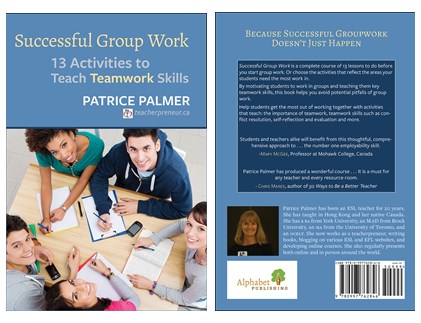 Successful Group Work. 13 Activities to Teach Teamwork Skills. P. Palmer. Alphabet Publishing. (2017). ISBN: 9780997762846, pp 56. This book is a comprehensive course of 13 activities / lessons which work best if they conducted before a given class starts group work. It will teach them about the benefits of teamwork, engage them in team building activities, enable them to practise teamwork skills and strategies, and, finally, help them reflect and evaluate. Alternatively, if the teacher has diagnosed an area the learners need to work on, a number of activities will be of use. The author who is an experienced teacher, teacher trainer and author shares her expertise and observations to help us improve our own teaching. You can read more at: http://www.alphabetpublishingbooks.com/book/successful-group-work/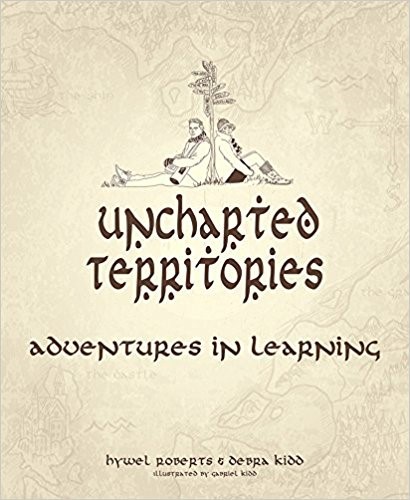 Unchartered Territories. Adventures in Learning. H. Roberts and D. Kidd. Independent Thinking Press. (2018) ISBN 978-178135295-3, pp.152. When you pick up this book, you can immediately sense that it is different from what teachers usually read; it is the typeset it uses, the dust cover that unfolds into a map, the illustrations and the kind of paper it has been printed on. It creates the atmosphere of magic and mystery, perhaps evocative of role playing manuals or fantasy fiction. In fact the aim of the book is a bit magical as it aims to develop creativity and passion about learning, a mysterious and magical process many will agree. The main question the book asks first is how to step back from quantitative teaching and learning, rote learning and the overpowering significance of testing. Then it looks at what to replace it with so that the learners start thinking for themselves, learn to evaluate information, make informed choices, or apply their newly gained knowledge in practice. The authors offer innovative paths through what may seem a fantastical approach but, in fact, are very practical and concrete. The magical aura, it seems, aims to emphasise the uniqueness and mystery of the transformation. Each chapter which corresponds to a different learning environment or context is set in a different location such as a remote castle, a mountain, a graveyard; an intriguing concept in itself. These landmarks signpost the learning landscape such as the curriculum, lines if inquiry, context-based teaching, literacy and numeracy. At the end of the book the authors also provide a list of drama techniques, relevant books and poems which can aid the learning journey they propose. The ideas presented in the book are transferrable can be applied to various educational contexts and different age groups.
You can read more at:
https://www.amazon.co.uk/Uncharted-Territories-Adventures-Hywel-Roberts/dp/178135295X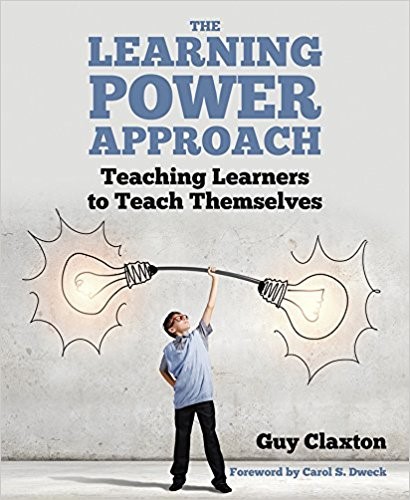 Learning Power Approach. Teaching Learners to Teach Themselves.. Guy Clacton. Foreword by Carol. S. Dweck. Crown House Publishing (2018). ISBN 978-178583245-1, pp 228. The aim of the book is to help teachers help their learners improve their independence, determination, self-directedness and develop their passion for learning, which in turn help to shape their characters and improve their well-being. In the book the author shares the outcome of his fifteen years of experience in teaching: a set of principles to help learners in the process as well as practical strategies. The book also gives examples of LPA in action and how results of research into mind-sets, metacognition and collaborative learning can be taken on board in practice. The book is very thought provoking, encourages and entices the reader/ teacher to implement change, and gives confidence that positive change can be initiated. The chapters among others cover the following areas: the origins of the LPA, the aims of LPA, LPA in action, design principles, and misconceptions. The book is suitable for teachers and leaders in all educational settings, and as the blurb promises it "lays the groundwork for a series of books to follow that are specifically tailored to primary teaching, secondary teaching, and school leadership".
Please check the Methodology & Language for Primary course at Pilgrims website.
Please check the Methodology & Language for Secondary course at Pilgrims website.
Please check the Creative Methodology for the Classroom course at Pilgrims website.
Please check the Practical uses of Mobile Technology in the English Classroom course at Pilgrims website.
Please check the Practical uses of Mobile Technology in the English Classroom course at Pilgrims website.
Please check the Teaching Advanced Students course at Pilgrims website.
Please check the Teaching English through NLP and Coaching course at Pilgrims website.
Please check the English Language course at Pilgrims website.
­­­­­­­­­Please check the How to be a Teacher Trainer course at Pilgrims website.
Authenticity in Materials Development for Language Learning, (eds)Alan Maley & Brian Tomlinson
reviewed by Rod Bolitho, UK

Short Book Reviews
Hanna Kryszewska, Poland

A Select Review of Some Popular ELT Coursebooks
Robin Usher, Saudi Arabia

Talking Images: Idioms by Lucy Holmes and Sharlene Matharu


Best Practices for Blended Learning by Pete Sharma and Barney Barrett, Pavilion Publishing


The Working Class. Poverty, Education and Alternative Voices, edited by Ian Gilbert, Independent Thinking Press