Pilgrims News
Desmond Rome Scholarship – Pilgrims Course 22nd July to 4th August 2018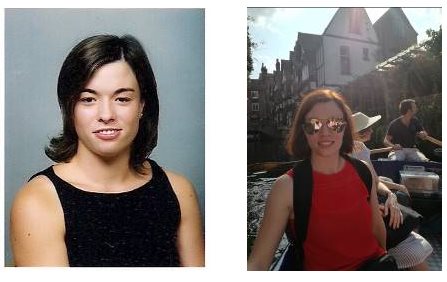 I had been daydreaming about a Pilgrims course all throughout the year. Therefore, when I got the call telling me I had won the Desmond Rome Scholarship, I was ecstatic, since this scholarship entitled me to take a 2 week-course at Pilgrims, Canterbury! This would be my first time at Pilgrims and I didn't really know what I was going to find. I guess I had high expectations, because of all the extremely positive reviews I had read. I was eager to see if Pilgrims' ethos - Pilgrims does not teach a method, but teaches people – was palpable and could be felt. Pilgrims claims to inspire thousands of children and teenagers, business professionals and teachers through its Humanistic Approach – a pedagogic philosophy which, among other aspects, puts the learner at the centre of the act of learning, believes that creativity, involvement and enjoyment are vital elements for lifelong learning and that effective teaching and learning must engage the person as a whole, including their mind, body and heart.
Bearing this in mind, I had been given the amazing opportunity to prove these claims (or not) and build my own opinion as I would be experiencing it in loco as a learner. As I am currently working with students in Years 3 and 4, I selected the course "Methodology and English Language for Primary Teachers". After the first couple of days, I came to realise that it was the perfect choice! I had an awe-inspiring Trainer – Magda Zamorska –, who had an unbelievable working rhythm at the age of 55 (I really hope I'll have the same energy when I reach this age)! There was never a dull moment with Magda. In just a few days, she managed to get us into her working rhythm and enhance our creativity, imagination and reasoning, always focusing our needs to motivate the students to learn. It was incredible how many contents and tasks we managed to cover in just 10 days. We would usually spend 4.5 hours together (from 9 am to 12:30 pm – with a 30' minute break in between; and from 2 pm to 3:30 pm) every day and we definitely got the most out of them! Our first activities were planned with specific purposes: getting to know each other better, creating a positive learning environment and bonding. We were 13 Teachers, from 6 very different European countries: Slovakia, Portugal, Turkey, Bulgaria, The Netherlands and Italy. Some of us were English Teachers and others were Primary Teachers. We were frequently encouraged to praise each other's qualities and highlight something good about each other. I felt that our Trainer achieved her goals brilliantly and by the end of the first few days we all saw her as our leader. Afterwards, our Trainer directed us to activities aimed at developing the four skills: reading, listening, writing and speaking. We approached teaching through movement, art and music (jazz chants and nursery rhymes) and drama techniques which make our life easier inside the classroom. We focused on pronunciation and grammar. We practised storytelling, designed our own materials, worked with puppets and found out how to use our creativity around the course book. We also dedicated our time to CLIL, to understanding how students learn and their multiple intelligences and spoke about effective classroom management skills. At the end, I felt that the harmony and the close ties established between the elements of our small group were the reflection of our leader – Magda.
I was struck by Magda's non-judgemental nature (she never criticized or overcorrected anyone – even when she had tons of reasons to do that – in fact, she was always able to figure out what people were trying to express and to find something valuable in their opinion), her generosity in sharing all her wisdom and nowledge, her ability to see only the bright side of every situation and bring out the best in each one of us. Moreover, Magda wasn't afraid of showing her emotions and that made us feel comfortable and confident, but also on the edge of our seats! I feel that this experience was crucial for me because it was very emotional. After only one week, we were all tearful as Mieke - the Dutch Teacher – had to leave to enjoy her holidays with her family. As suggested by our Trainer, we created a mini-book involving our recently built monster and Mieke. "Mieke's Adventures in Canterbury" (this was the title we came up with) was the perfect goodbye gift for our friend!
Our course's daily programme finished at 3:30 pm, but Pilgrims had also prepared other events specially for us: a walking tour through Canterbury with a local guide, a boat tour along the River Stour and several workshops on various themes, ranging from listening and speaking, verb tenses, teaching vocabulary/lexis, using short film, music, creative use of images, technology, improvisation, group dynamics, photography, joke telling, art, to meditation, yoga, the meaning of tea, coffee beans, Bollywood dancing, Scotland, etc. I was able get more insight into mindfulness (and its use with busy Teachers and students), the online tool Padlet and other web tools and augmented reality apps. Unbelievably, I also had the chance to attend a workshop on creative writing with a living legend: Mario Rinvolucri! I had read some of his books, trying to find writing activities for my students, and I had never imagined I would meet him at Pilgrims. I later found out he was one of the founders of Pilgrims back in 1974. It was such a privilege to be in the same room as Mario, to listen to him sharing his wisdom and experience, to interact and to perform different tasks suggested by him. I can clearly state that I came back with a wide range of activities and ideas to do with my children and I strongly believe that I will be capable of putting them into action.
I am also optimistic that I will be able to share them with other Teachers and develop other activities and projects in close cooperation with my colleagues, because I have witnessed what efficient team work can bring about. Besides everything that I have learnt, I know that from now onwards I can count on Magda for support whenever I have doubts or questions about what to do with my students. I feel I can count on all the Pilgrims' staff, because they make you feel at ease. Moreover, I now have the chance to exchange ideas, projects and activities with this fantastic group of Teachers, not only my 12 fellow colleagues, but also others outside our group. I made important connections and met likeminded Teachers from all over the world. As everyone on the Pilgrims' staff clearly states it: Pilgrims is not just a school, it's a family! I had the opportunity to improve my English, speaking it twenty-four seven, not only with my colleagues and my Trainer at the course (although there were other Portuguese Teachers, English was the only permitted language), but also at the campus and at "home", in Parkwood – a purpose built student village of houses and flats –, where I had my room in a house together with 5 other Teachers, coming from different countries: Slovakia, Serbia, Hungary and France. Living at the University of Kent's campus is like living in a village inside the city of Canterbury. There are shops, supermarkets, several places to eat or just to have a drink, a sports centre, a library, a theatre, a cinema and a concert hall. Everything you need is right there close at hand. Pilgrims' claims were proved: I can clearly say that as a learner I really felt that I was at the centre of the learning process. I felt I was being heard and that my contribution made a difference as our Trainer continuously asked for our feedback and took it into account when planning her lessons. This was definitely a valuable experience and one that I hope I will be able to repeat. This course at Pilgrims empowered me and gave me more confidence and motivation. Learning is an everlasting process and our students deserve passionate and determined Teachers who will do anything at their reach to improve their (teaching-) learning process! Thank you so much APPI for this unforgettable experience!
Fernanda Soares, Portugal
Pilgrims cooperation with Early Bird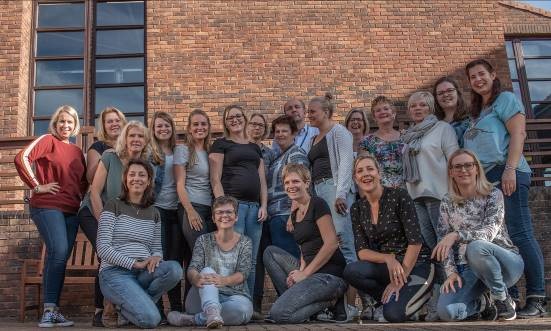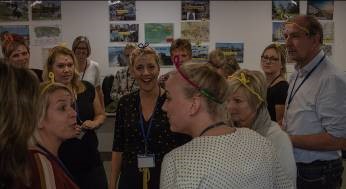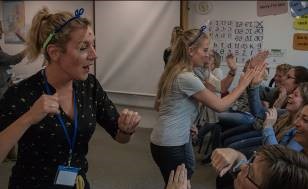 In October 2108 Pilgrims celebrated 10 years of working with Early Bird. Over these ten years, every year approx. 200 Dutch teachers worked with Pilgrims trainers within the Early Bird project. Here are some glimpses from autumn 2018
Marta is a professional, really inspired me. Couldn't have wished for more!
Ruby, Netherlands
Wonderful teacher and the content was inspiring. Thank you for an amazing week!
Anna, Netherlands
I learnt a lot, got inspired and want to use it at school.
Krista, Netherlands
I've had a really inspiring week!
Marloes, Netherlands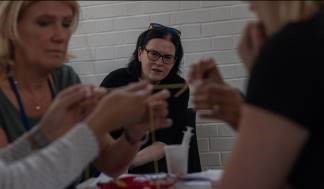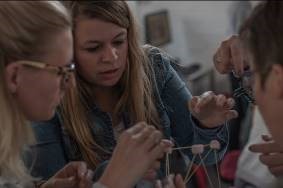 It is a really inspiring course and Canterbury is a lovely place!
Wynande, Netherlands
Nice course, you learn in an active way how to teach English in the Classroom.
Lisa, Netherlands
It has helped me to be more confident in communicating in English
Eva, Netherlands