Sunkeshari Rani: Sharing and Growing Together with Storytelling
David Heathfield is a freelance storyteller, teacher and teacher trainer. He is the author of Storytelling With Our Students: Techniques for Telling Tales from Around the World and Spontaneous Speaking: Drama Activities for Confidence and Fluency, both published by DELTA Publishing. He is a member of The Creativity Group.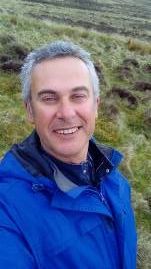 Sikha Gurung is an English Language Arts teacher in Ullens School, Laltipur Nepal and a visiting faculty in Kathmandu University School of Education for MEd (ELE) program. Academically, she is an ELE MPhil research scholar in Kathmandu University school of Education. She is an author of few articles in ELT Choutari, a digital ELT Magazine in Kathmandu. She is a happy winner of 'Creativity Group Scholarship' Brighton, 2018 which has helped her in her recent endeavours as a freelance teacher trainer and storytelling teacher.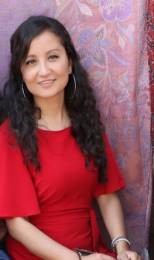 David
At the IATEFL 2018 conference in Brighton I participated in an enlightening session about how the creative arts are incorporated into the English language curriculum in schools in Kathmandu, Nepal. The speaker was Sikha Gurung and, after her talk, I asked her if she would be willing to share a folk tale from Nepal at that evening's Story Sharing event, which I co-host alongside Andrew Wright every year. The evening was, as always, a wonderful celebration of diversity and cultural heritages. Many conference-goers told personal stories, but Sikha chose to finish the evening by telling us a folk story she had been told by her grandmother, the story of Sunkeshari Rani, The Queen with the Golden Hair. The beauty, power and delicacy with which Sikha told this story testified to her own deep connection with it.
Sikha
Meeting a Storytelling Teacher in Person for the First Time
On 11th April, 2018 in the 52nd IATEFL Conference as a Creativity Group Scholar and among a few but avid audience, I began the presentation of my paper entitled, 'English Teachers of Nepal: Butterflies with Colourful Wings' with a nursery rhyme I Am a Little Teapot,' read, sung and performed; explained all the creative methods that the Nepali English teachers use which add colours to their wings; and ended with a request to the audience to write down each colour they had in their wings as English teachers. Everyone was extremely motivating and gave me wonderful ideas to make an English classroom creative. Among such an audience, one was Mr David Heathfield whose words I clearly remember, "Perhaps storytelling could be one of the colours to your wings." It was then when eventually I was introduced to 'storytelling' and a 'storyteller' in a formal way. Before that day, I was acquainted with storytelling as a culture in Nepal where grandparents carry on orally as a lullaby for their grandchildren. It was also recently in my MPhil classes in Kathmandu University School of Education back in Lalitpur, Nepal that I was pleasantly introduced to storytelling by my professor and research supervisor, Prof. Dr. Laxman Gnwali, Associate Dean of Kathmandu University School of Education. I had been surprised to know that storytelling could be a profession when I heard the storyteller Jan Blake online telling her stories in an engaging manner. With that knowledge, I had just started using them in my English classes as texts for listening tests.
Similarly, I was in search of some take home knowledge from IATEFL 2018 Brighton, when I met David for the second time. He gave me his book, 'Storytelling with our Students' signed with motivational note and also a warm invitation to his storytelling session that evening. Honestly, I felt honoured. However, the feeling was totally alien when I went into the hall because I had never been to such sessions where scholars spent their time listening to one another's stories so enthusiastically. There, David made me feel even more attended when he invited me to share any one of my stories. At first, I felt extremely nervous but later I told to myself that it was not only an opportunity to share my culture but I would also give recognition to my grandmother's folktale in an international platform. I was the last storyteller and I chose to tell my all time favourite childhood story, 'Sunkeshari Rani.' I was happy to see the audience listening to me and I continued with growing zeal. There was limited time, so I decided to stop it at a point when Sunkeshari Rani's brother drops the grains on the ground and their problems start.
Hence, in my first visit to the UK, David's welcoming gesture truly made me understand the British culture of sharing and growing together. He is a mentor, a colleague, a friend and an inspiration to me who has given me an elixir to teaching: 'Storytelling,' which has made my profession interesting and learner-friendly.
David
After that first meeting with Sikha we kept in touch because of our shared love of storytelling. I asked Sikha if she could send me an online link to the story Sunkeshari Rani, but she could not find one. It is possible that this Nepali story her grandmother herself had inherited had never been written down. Sikha took the time to retell the story in written form herself (see below) and gladly shared it with me, knowing that there was a possibility that I myself would add it to my repertoire of oral folk tales from around the world. This is precisely what happened. Reading the story that Sikha had told in Brighton, the beauty and singularity of the story came flooding back. The notion of Satya Yuga, the time of truthfulness in Hinduism when the story is set, transports the hearer to a magical and ancient age rooted in Nepal's history and spirituality.
Sikha
'Maternal home' which we call 'Mamaghar' in Nepali is everyone's favourite place and I loved to be in mine too: Dharan is a beautiful town known for its number of religious places holding great significance in Hindu mythology. It lies in Sunsari District of Nepal. While we three siblings lived with our parents in Darjeeling, a hilly district of West Bengal, India, we waited eagerly for our three months' long winter vacation to be spent in Dharan. I loved to be there particularly for three reasons: 'Hajurama's' cuddle (grand-mother in Nepali), 'Lakhe' dance ( a fascinatingly strange looking and colourful deity's dance in a festival of Nepal) and Sunkeshari Rani's story which I had heard for many times, yet always wanted to hear again. I remember, we were five of us with our uncle and aunt's two sons who used to take turns to sleep with Hajurama so that we could listen to Sunkeshari Rani's story. She used to tell the story with the same level of enthusiasm every time and we would get lost in the world of Sunkeshari Rani and waited for the next turn when we could cuddle in her lap and listen her continuing the story.
Therefore, Sunkeshari Rani is simply the vividness of my grandmother's love and care. The explanation and description of each and every detail of the story: golden hair, talking crow, tree to heaven, white and black chammar (yak's tail used for religious purpose) and prince are so vibrant that I can tell the story again and again without missing a single part. I told it to my son when he was a baby and I look forward to telling it to my grandchildren in the future too.
David
Sikha heartily encouraged me to retell her story and this I have done with children at UK primary schools, with adult UK residents who share my love of storytelling and with learners of English I teach in Exeter, UK. Most of the tales I tell in my teaching of English are shorter than Sunkeshari Raani for the simple reason that listening to an extended story being told demands a high degree of concentration. However, I felt motivated to experiment with telling this beautiful tale for these reasons:
I teach mainly young women in Exeter, most of whom are studying English as undergraduates in Japan and they are used to dealing with longer narratives, albeit written ones.
Japanese people generally know, feel connected to and are able to tell a number of traditional Japanese folk tales in Japanese. They generally show a lot of interest in learning about other traditional cultures.
I believed that these students would be able to relate the story to their own knowledge of traditional folk tales from Japan and listening to me telling it to them would inspire them to prepare and tell a favourite Japanese folk tale in English. The first student I told Sunkeshari Rani with was Akari Kusunoki, who I was teaching one to one. I introduced the story to her by telling her some of the information above about Sikha. Then, after I told her the story, I asked Akari to choose from a list of personal response questions and talk about her answers.
When people are told a story, very often they want to reciprocate by telling one of their own. Akari wanted to tell Sikha in Nepal a Japanese story which Sunkeshari Rani reminded her of, so she prepared and rehearsed and made an audio recording of herself telling the traditional Japanese story Hanasaka Jiisan (The old man who made flowers bloom). Next, she wrote this email to Sikha and attached the audio file of her own recording:
Dear Sikha
Hello, I'm Akari from Japan.
Thank you for telling me the beautiful story SUNKESHARI RAANI.
I like this story very much and would like to tell you my feelings about it.
I thought about colours of the story were yellow and gold. It is the brightness of heaven. And it is the colour of her hair.
The young brother made a strong impression on me. It is because he loves his sister and follows her. And If he was forgotten by his sister, he believes in her. And I imagined him as my young brother.
I was surprised about when the prince throws water at her. Because it was the first time they met.
I think this story is a children's story, because main characters are children. And it is easy to understand for children.
I'd like to tell you a story from Japan.
I knew the story from a book for children when I was a child. The story is very popular in Japan. And we can hear the story many times from books and TV programs for children. I love the story because the old man and old woman are so kind. And this story tells people some morals.
Sikha responded to Akari saying 'I loved your observation of colour in my story, that was something very important and that I had not noticed. I must say you have a wonderful capability of seeing and reflecting on the minute details.' She went on to congratulate Akari on her storytelling.
As a result, Akari was motivated to develop her storytelling skills further and a few weeks later she recorded another popular Japanese story 'The Crane Girl' on camera and was glad to share the recording publicly on YouTube https://www.youtube.com/watch?v=B7KX3GFaBFM
When I next told Sikha's story, I asked the students in the group I was teaching to each choose a moment from the story which made an impression on them. Each student drew a picture and, if they wished to, made some notes to represent what they imagined in that moment. I asked students to sit in a circle holding up their pictures, so that they were in sequential order and to show and talk about their picture – see me telling the story and students sharing their pictures here https://www.youtube.com/watch?v=eIJNqieQX4Y. In effect they were retelling the story through their visual imagination. They emailed these pictures and descriptions to Sikha in Nepal and were delighted to receive comments from her. Again the students were motivated to then prepare and share favourite traditional tales from their own cultural heritage in class.
Sikha
A cultural exchange with Japanese students
Each and every activity that David and I did together after the storytelling session in IATEFL, 2018 has had a creative and substantial impact in my professional as well as academic life. I was happy to receive Akari and other students' reflections on 'Sunkeshari Rani' through some creative ways of expression like drawing, audio and video. I felt good to listen to their stories in the youtube which told me that their and our cultures were similar in many ways.
Additionally, it was also a learning experience, particularly from the drawing activity that David had carried out with his students. At that time, coincidentally, I and my grade nine students were reading, 'The Old Man and the Sea' and in my MPhil research dissertation entitled, 'Becoming an Art-Based English Teacher', I was writing under a heading, 'Drawing as an Art-Based method.' I had already analyzed the data collected through the observation of my participants' classrooms. I was writing how drawings can be used in various ways to teach English: for comprehension, as a text and to motivate imagination in students. I was happy that I had gotten another interesting way of using drawing in English classroom from David and his students. So, I planned my four lessons for the activity. The activities were carried out as follows:
First day, I told my eleven students in Optional English class to list down three favourite moments from the story so far. Then, they shared a reason for each. When they finished, I told them to take one best from them and describe it. The students chose to describe moments like the boy getting food for the old man, physical appearance of the old man, the old man folding his trousers to make a pillow for himself and so on.
Second and third day, we decided to draw the moments like David's students had done. Some did it happily while some struggled as they thought they were not good in drawing. But I told them that it didn't really matter and to motivate them, I also sat with them to draw my favourite moment.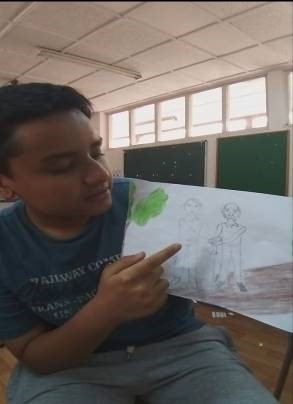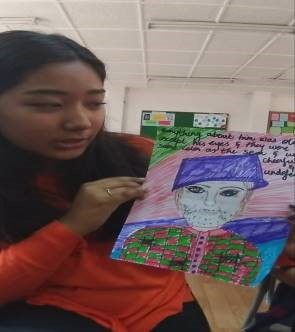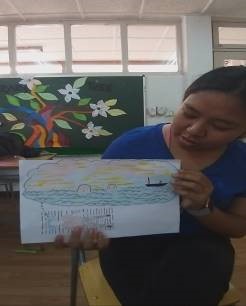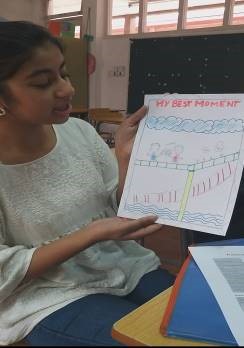 Pictures: Students sharing their best moments from 'Old Man and the Sea' through drawing
Fourth day, the students shared their drawing and retold the moments. We recorded and watched them for fun and learning, they did not want to go public though. But I informed and took their consent that I would use it as a data in my research.
Later, I included that class in my auto/ethnographic research's data analysis chapter as a way of becoming an art-based English teacher. I and my students also watched David's students' reflections on Sunkeshari Rani through their beautiful drawings in youtube. Students enjoyed comparing it with theirs and learned from them too.
A storytelling festival
It was in the month of September, 2018, after having learnt quite much from David about Storytelling that I decided to organize a storytelling session in my school. The overall plan can be divided into three parts:
Preparations
As the pre-session plans, I did a couple of important things. First, I wrote to our senior school coordinator and Principal, seeking permission, co-operation and suggestion to devise it. Simultaneously, I also emailed my MPhil Research Supervisor, Prof. Dr, Laxman Gnwali for mentorship, who is also my inspiration for doing creative events; he keeps on organising varieties of events at Kathmandu University School of Education and NELTA. As expected, I got a green signal from all of them. Then, considering all other things going on in the school including students and teachers' time, we scheduled the event on 20th October, 2018, 2-4 p.m in the auditorium hall of the school. Second thing I did was orienting the students of grade nine and ten about the session. I used my four English classes for four sections to tell them that as a speaking skill enhancing activity, we were having a storytelling session where they were to share Nepali folk tales from their own ethnicity which they might have heard from their grandparents or parents. After that, I informed them about registration deadline for name and title of the story, timing, venue, audience, guest speakers and so on. Similarly, when I shared this idea to my colleagues, Social Studies and Nepali teachers were interested to collaborate. So, I modified it as an 'English/Nepali speaking skill enhancing activity through the reflection of our culture, ethnicity, religion and civilization'. Next, was to book the auditorium and invite the concerned department, I did it via email. During this time, I was also meeting with Laxman sir, when he gave me the idea of having 10-15 stories for the continuous concentration of the audience and the stories' duration from5-7 minutes. Unlike my expectation, the students were excited to do creative things: in groups, individual, use props, sing, act and so on. So, I accepted their proposal and waited for their registration. Every day, the students came up with new ideas and kept on changing their story titles until they were satisfied. Then when I got the final name list with their respective story titles, I sent it to the communication department for the certificates of participation to be prepared. I also informed them and IT department about the need of sound system and camera on that day. We printed out the following list to be distributed to the students and later to the audience as well:
| | | | | |
| --- | --- | --- | --- | --- |
| S.N | STORY-TELLERS | Grade | Title | Language |
| 1 | Somikumar and Sundeep | IX A | The Tale of Sagarmatha | English |
| 2 | Akriti, Ritee, Prajeeta, Aditi | IX A | Kalo Jadu | Nepali |
| 3 | Khushi, Suniva, Upasana | IX B | My Own Life is Happy | English |
| 4 | Vaidehi and Ashtuti | X A & X B | Gai Jatra | Nepali |
| 5 | Avarika | X A | The Story behind Kumari Pratha | English |
| 6 | Harshika and Akriti | X A | Bisket Jatra | English |
| 7 | Nisha | X A | The Hunted Island of Povegila; la befana | English |
| 8 | Abhinav | X A | Surprise Title ??? | English |
| 9 | Ayam | X A | The White Walker | English |
| 10 | Pravani | X A | Dhol Cholecha | Nepali |
| 11 | Safal | X A | The Tale of Krishna & the old man | English |
| 12 | Riva | X A | Gurumapa ko Katha | Nepali |
| 13 | Anek | X B | Why Kumari Never Marries | English |
| 14 | Shreeja | X B | Selfishness | English |
| 15 | Aarogya | X B | Syal ra baagh ko Katha | Nepali |
| 16 | Praanshu | X B | Befriending a Yeti | English |
Furthermore, I collaborated with my coordinator and colleagues about the layout of the venue. I had gotten more or less idea from David, but I wanted to give it a Nepali touch, since it was the month of 'Dashain', Nepali's biggest and most important festival. So, we discussed and decided that we would make the storytellers and the audience sit on the floor where there would be placed cushions and traditional Nepali mats called 'sukul'; varieties of flower pots with colourful flowers, particularly, 'Sayapatri' (marigold) which blossoms during this time hinting us that Dashain is near, also used to decorate door and windows in the following festival, Tihar; and other typical Nepali things like 'doko', nanglo, 'dhaki' and some Nepali musical instruments like 'sarangi' 'madal' 'tabala' 'murali' for a rural folk outlook.
When we came closer to the scheduled date, I invited my friend Manuka Adhikari and Laxman sir again as the guest story tellers. Our principal was also excited to share one story from his side. I also mailed the senior school teachers to invite as well as inform them about the program date and timing so that they would be prepared accordingly. Our Social Studies teacher was also interested in sharing his self- written story. Then, as the days passed by, I took out some time from my daily schedule to listen to the stories of the participant students as a part of their preparations until we were ready for the day.
Execution
The main event would start from 2 pm of 20th October, 2018, but we were busy since the previous day because as a part of my department's program, I was responsible for everything. After taking the classes in the morning and lunchtime, we went to prepare the hall. The helper brothers and sisters helped clear out all the chairs that were already there and piled them up in the corners of the hall. The students helped in bringing the flower pots from the garden to the hall and placing them. We then set the instruments and other things. The IT and communication departments were ready. Some former students also came to listen to the stories their junior had to share and click pictures for the encouragement. We had the guest speakers arrived too.
We started the program right on time. Two students, who were MCs started it with a formal welcome to everyone. The audience sat relaxed on the cushions excited for their friends' stories. Some were lazy too. The guest speakers, principal and the Social Studies teacher, one by one shared their stories as invited by the MCs. Then the students came up with wonderful and expressive stories. I came to know for the first time that most of them were such good storytellers. They did just the way they wanted: told folk tales but in their generations' style with a pinch of their own novelty: acted out, sung, screamed, laughed, and mimicked and so on. Finally, we winded up the program with certificate distribution through the Principal and Laxman sir's hands. Then both of them gave their closing thoughts and congratulated for such an interesting event. The event has now been included as an annual event in the school calendar. The video clips can be found in the youtube under the Ullens School Nepali
Folktale session
https://www.youtube.com/results?search_query=Ullens+School+Nepali+Folktale+Session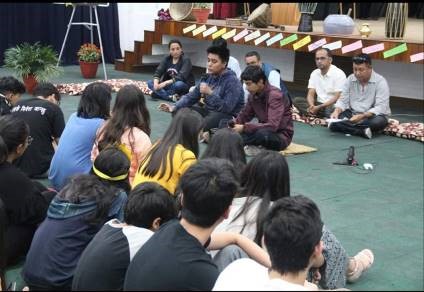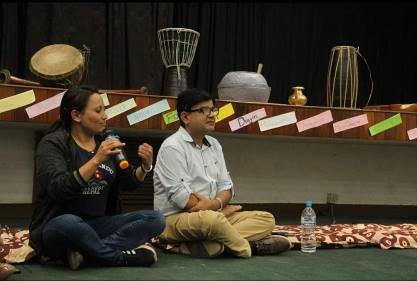 My friend Manuka Adhikari and Prof. Dr. Laxman Gnwali (left to right) as guest storytellers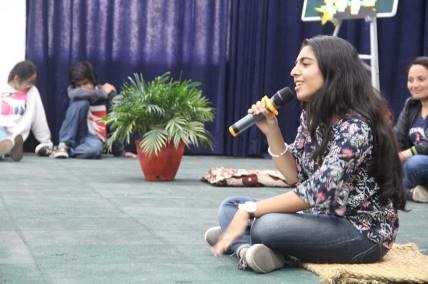 Shreeja, one of the most excited storytellers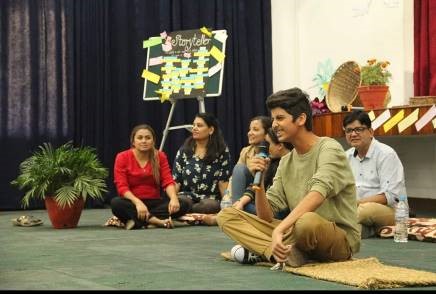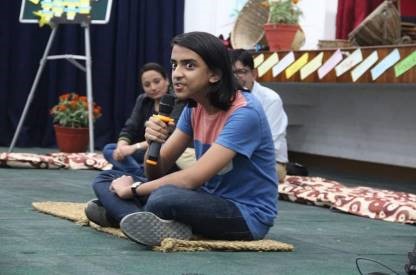 Aarogya and Safal, the expressive storytellers
Post-activities
I was happy that the long term plan had given us a fruitful output. As a post- session, I planned a lesson of reflection writing in the class. The students wrote their learning and experiences in sticky notes. Then we pasted all of them in a big chart paper to display it in our classroom wall as a memory to cherish forever. Furthermore, after the program's success, I wrote to David about the event and sent some pictures of the students telling stories. He was happy to hear about it and encouraged the students to write their stories and send to him. He replied to the students:
… I was excited to see photos from the storytelling event you have just had in your school. Please tell me your story.
Make a clear audio recording of yourself telling the story in English (not reading it aloud)
After making the recording, listen back to it and write the transcription using the exact words you used
Write about who you learned the story from and when and where you were told it. Also write about why you want to share this particular story.
Write your thoughts and feelings about sharing your cultural heritage through storytelling in English and in your mother tongue at your school event.
Email me the above and attach the audio file and, if possible, a photo of you.
I write a regular feature called 'Students' Stories' in the magazine English Teaching Professional. You never know - maybe in a future piece I'll include a story I learned from one of Sikha Gurung's students in Kathmandu.
All my best for now and keep telling stories!

David
I thought it was a wonderful idea. So, as soon as I got the email, I printed it out and photocopied for the students. The students were excited to write. I instructed them the process couple of times. Coincidentally, grade ten was having their pre-send-up examination and grade nine their second terminal examination. So, I had to postpone it for a while. Similarly, since most of the participants from grade ten would be away for some time due to their continuous upcoming examinations, I encouraged everyone from grade nine to send him the recording and transcriptions, whether or not they had participated in the program, because some of them had been regretting for not being able to participate due to limited place for storytellers. Then, I gave them David's email address and told them to do the needful. After sometime, I was informed by David that he liked one of my grade nine's student Lumana's story. That was the beginning of our storytelling journey which we look forward to giving continuation to learn, share and explore other creative activities keeping storytelling at the centre to enhance English language teaching and learning.
David
After the storytelling festival Sikha organised in her school in Kathmandu, her students made wonderful audio recordings of themselves telling stories and wrote transcriptions of these recordings and emailed both to me. In fact one fourteen-year-old student, Lumana Tamrakar gave me permission to tell Punthaku Maicha, the Newari story she learned from her grandmother, as part of my own repertoire. When she watched me retelling her story on YouTube , Lumana wrote 'I loved how you shared the story to other people. I actually felt my grandma retelling the story to me.' I found the idea of my storytelling reminding this young woman in Nepal of her own grandmother extraordinarily touching. I published Punthaku Maicha along with lesson ideas in Issue 123 of English Teaching Professional. You can watch a YouTube recording of a group of Dutch thirteen year olds being told Punthaku Maicha and creating their own second half of the story with me, David, at https://youtu.be/gBtisWpHeIk.
It is indeed great news that this first storytelling festival was such a success that it is to become an annual event at Sikha's school.
Storytelling has a big impact on all aspects of learning. When there is enthusiasm among teachers and learners to tell and be told stories across borders and from diverse heritages, the appetite for story sharing grows. This benefits students' language learning not simply in terms of skills, pronunciation and lexis. The learning goes beyond language and reveals that what we humans have in common is a love of stories which show us how to live.
Sikha
Growing with storytelling has been an amazing experience: professionally, academically and personally for me. After some works done on it in my place of work, I had been invited by some good schools' principals of Kathmandu to help their teachers learn about storytelling and eventually conduct sessions in their schools. In the month of April, 2018, coincidentally, right one year after my IATEFL scholarship, I got an opportunity to conduct three teacher training programs entitled, 'Art-Based Language Teaching: Stories in Our Classrooms' in schools like Brihaspati Vidyasadan, Times International and Little Angel's School respectively. Similarly, I participated in NELTA Regional Conference, 2019 held in Hetauda, Nepal where I put up a stall of storytelling to share and aware many other English teachers coming from various parts of the country about its significance in our classrooms. I was happy to receive quite an overwhelming flow of visitors who queried, examined and pondered on the issue. Some shared their contact details to later learn about it more.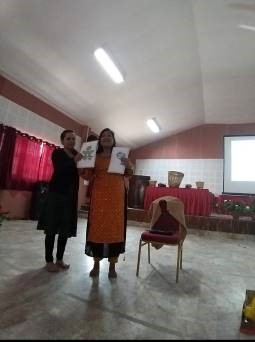 Teachers chose to tell story through pictures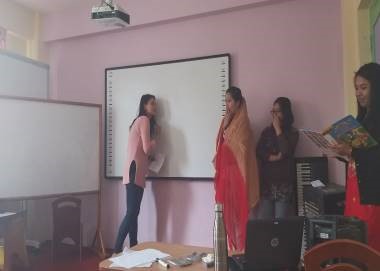 Teachers chose to tell stories through reading and role-play, Times International School, Kathmandu, Nepal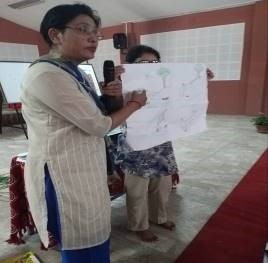 Teachers chose to tell stories through drawing, Little Angels' School, Lalitpur, Nepal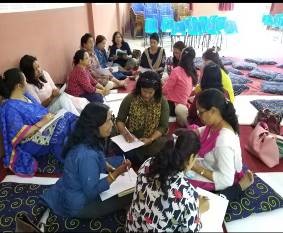 Discussing and creating stories, Little Angles' School, Lalitpur, Nepal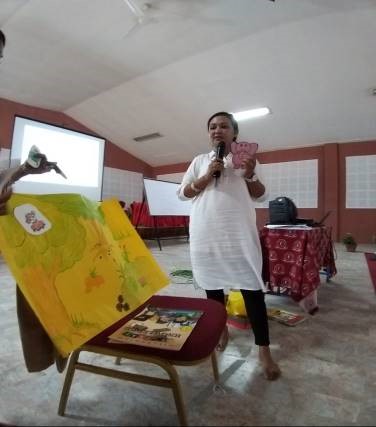 A teacher telling her story in a storytelling session, Little Angels' School, Lalitpur, Nepal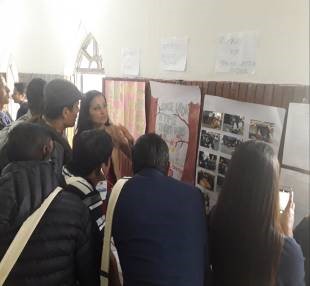 Sharing about storytelling with teachers in Interactive Language Fair (ILF), NELTA Regional Conference, Hetauda, Nepal
Furthermore, the motivating experience has triggered me to expand my endeavour. So, soon after I finish my MPhil research, I have planned to explore rich indigenous folk tales of Nepal from various ethnicities. First step would be to travel to various places of Nepal to listen to our older generation and record their oral stories with their consent.
Finally, I owe all this experience and future aspirations on storytelling to Prof. Dr Laxman Gnwali, David Heathfield, IATEFL, Creativity Group, my school coordinator, principal and most importantly, to my enthusiastic learners for their mentorship, motivation, opportunity and platform.
SUNKESHARI RAANI (THE QUEEN WITH GOLDEN HAIR)
retold by Sikha Gurung
It was the time of 'Satya Yuga', the age of truthfulness in Hinduism, when people had to keep a promise once it was made. Sunkeshari, a girl who had long, thick, beautiful golden hair lived in a small village in a family of five with her mother, her father, her foolish elder brother and her gentle younger brother. People in the village loved her hair and thought that she looked gorgeous. After oiling and combing her hair, Sunkeshari's mother always counted each hair and would be happy to find the same number every day. One early morning, after oiling and combing her daughter's hair, her mother found that one of her hairs was missing. Her mother was sad and so was the whole of the family. They looked for it here and there everywhere, but could not find it. They even searched inside and outside the house, but all in vain. They were sure that it had been lost somewhere in the village, when Sunkeshari was playing or doing one of her chores.
They looked for the hair day after day but without any success. They were upset as it was a misfortune for the family to lose such a precious hair. Finally they thought of another way of finding it. They declared, "Whoever finds our daughter Sunkeshari's missing hair will marry her." Every boy wanted to be the lucky one and immediately set out to find the missing golden hair. Her elder brother also began searching as he hardly understood the meaning of marriage. He thought it would be a very good reward. Eventually, he was the one who found the hair stuck in a closet in his sister's room. He took the hair to his parents and exclaimed with joy, "Ama! Mother! I have found Sunkeshari's hair. Now she should marry me."
It was an extremely difficult situation for the family. On the one hand they had to keep the promise they had made, but on the other hand it was Sunkeshari's own brother. But those days were the days when people had to keep their word above anything, no matter what. The villagers warned them not to defy fate and that they were already committed. It was their duty to abide by the law of truthfulness. So, with much dilemma and heavy hearts, they decided that Sunkeshari should get married to her own brother. All the arrangements for the wedding ceremony started at her home and in the village: relatives came to stay, neighbours came to help them, children ran here and there and her parents were busy making preparations. Everybody in the village knew who Sunkeshari was getting married to except for her. In those days, girls saw their husbands only after the wedding ceremony and they could not even utter the bridegroom's name. So, unaware that her future husband was her own brother, Sunkeshari had all the excitement of a would-be bride.
On the fine morning of her marriage, Sunkeshari was sitting on the verandah of her house getting her hair dressed by the village girls. Just then, a crow flew towards them and sat on the branch of a tree. It was very hungry and said, "Sunkeshari, if you give me a piece of food, I will tell you something you must know." But Sunkeshari paid no heed to the crow. Then the crow repeated, "Sunkeshari, if you give me the piece of the bread you are eating, I will tell you something you must know." But Sunkeshari shooed the crow away in irritation. However, the crow kept on repeating the same thing. Finally she decided to give the crow a piece just so that it would go away and she could concentrate on her wedding preparations. After eating the piece of bread quickly, the crow said, "Sadly I have to tell you that you are getting married to your own elder brother." At first, she was shocked to hear this. She could not believe her ears. She thought the crow was playing a trick on her for keeping it hungry for so long. But when the crow kept on repeating it again and again and said it was not lying, she went running to her mother, "Mother, I cannot believe that I am getting married to my own brother." Her mother replied sadly, "We are truly sorry dear, but as your brother found your hair, we have to do what we promised."
As soon as Sunkeshari heard that terrible news, she ran crying out of the house and then out of the village and into the forest. All her family members ran after her telling to stop but she would not listen. She ran and ran, deep into the forest and finally reached the tree which leads up to Swarga, heaven. She started climbing the tree when her father called, 'Chori, daughter , please get down. You have to get married to your brother as we are bound by the promise we made.' Please do not commit a sin by breaking the promise. She replied, "Dear Baba, father, rather than getting married to my own brother, it is better that I see you dead." After that utterance, her father immediately fell down dead. Seeing that, her mother was full of sorrow and pleaded with her to get down but she was told the same thing and her mother died too. Next, her foolish elder brother, who she was due to marry, shouted, "Sunkeshari, will you come down yourself or shall I cut down the tree?" Then she replied in extreme grief, "Dear Dai, elder brother, I would sooner see you dead than commit the sin of marrying my own blood." The brother fell and died as soon as those words were spoken. Now, only the younger brother was left. He cried at the death of his family and then pleaded, "Dear Didi, elder sister, please let me come with you, I have no one left with me here, I cannot live alone." Sunkeshari said, 'Dear Bhai, younger brother, I cannot take you with me up to Swarga, it is an unknown place to me, I cannot feed you there." But the brother insisted, "I promise that I won't ask you for anything there. Please don't leave me alone here." She kept on refusing while her brother kept on pleading. Then after much argument, Sunkeshari agreed to take him along with her but with a promise that he would not ask for anything to eat or drink in Swarga. Then, both of them started climbing up the tree that would take them to heavenly Swarga.
After a long climb, when they reached Swarga, they started looking around to find a place to rest. They were strolling through the forest when the brother said, 'Didi, Sister, I'm feeling hungry and thirsty.' Sunkeshari was annoyed to hear that, as she had warned him before climbing the tree. She scolded, "I told you earlier not to come with me as you would feel hungry. It's an unknown place. Where will I bring the food and water from?" So the boy kept quiet for a while. But after some time, again he started crying with hunger and thirst. It was then that Sunkeshari felt hopeless and pitied her brother as she loved him very much. Then she told her brother to stay there while she went to find food and water. In the meantime, he sat down under the shade of a tree. Sunkeshari went into the jungle in search of food and water. After about an hour, she came back with a handful of berries. She came happily and gave them to her brother but also warned him, "Be careful not to drop a single berry on the ground. If you do, we will be in big trouble. Now, I will bring some water for you." The brother started eating without paying any heed to his sister's warning. In his hunger, he ate the berries as quickly as possible. In his hurry, he suddenly dropped a small berry on the ground. It was then that something unexpected happened. As the berry touched the ground it fell on, there appeared a big house surrounded by a garden and farmland. The boy was still awestruck when Sunkeshari arrived with a leaf-cup full of water. As she saw what had happened there, she dropped the water on the ground in astonishment and there appeared a herd of cattle too. She started lamenting, "Oh dear! What have you done? I told you not to drop a single berry, now see what has happened." The brother got very scared and told his sister, "I am sorry, but I did not know that this would happen." Then he thought again and said, "However, it's a good thing Didi, sister. We can now live here together forever. But Sunkeshari disagreed, "With this house, farm and cattle, comes the responsibility to take care of them. We are too young. How will we manage everything?" The brother told her not to worry as they would share the chores of house and farm and live happily together.
Sunkeshari would cook food, wash clothes, clean the house and the brother would graze the cattle in the forest in the day time and bring them back in the evening. Every day, before leaving his house he would say to his sister, " Didi, sister, whenever a stranger comes to our house, put charcoal paste on your face and body so that they do not fall in love with you and take you away, or I would be left alone."
Every day, after leaving the cattle to graze in the forest and waiting for them until afternoon, he would sing a song, while swinging in a natural swing hanging from a banyan tree. He would sing 'chuchu hai chuchu hai, ma ta k ramro, haina haina, meri didi nai ramri' (in Nepali while swinging, people sing this song meaning 'he used to be told that he is very good looking but again he denied it and said his sister was more beautiful than him'). Every day he used to sing the same song in a cheerful tone.
One fine day, a prince of one of the heavenly kingdoms nearby was riding on a horse through the forest. While passing by, he overheard the song. He went to see the boy and heard him singing the song again and again. This made him think, "I wonder what this boy's sister looks like." Then he rode away. The next day, he heard the same song and finally decided, "I must see his sister who he says is so beautiful." So, he waited until the boy gathered all the cattle and went towards his home. He quietly followed the boy until he reached the house. On the verandah there was the most beautiful girl he had ever seen. He was mesmerized by Sunkeshari's beauty which was enhanced by her golden hair. He fell in love with her at the very first sight. The next day, when the boy left for the forest with the cattle, the prince came and called from outside, "Excuse me, I am thirsty, can somebody give me a glass of water?" Sunkeshari came out with her face covered with the darkness of charcoal paste, as her brother had warned her. Then without speaking a word, she passed him a glass of water. The prince then said, "I am the prince of this kingdom. So it is disrespectful to give me water that way. Give it to me in a karuwa, a copper vessel, or I will leave thirsty from your house." Sunkeshari got scared as it was a sin to send anyone thirsty from your house without quenching their thirst. So she came nearer and poured water into his anjuli, the cup he made by putting his two palms together. While the prince was drinking, he suddenly splashed the water on her face which washed away all the blackness of the charcoal. It was then that he saw her mesmerising beauty enhanced by her golden hair and immediately fell in love with her. Sunkeshari too fell in love with him. Then he took her hand, lifted her onto his horse and rode away to his palace. It was evening when the brother came back home. He took the cattle and tied them in their shed. He then rested on the verandah of the house. After a while, he called, "Didi, sister, please give me a glass of water, I will rest here for some time until dinner is ready." No one replied from inside. He called again, "Didi, sister, I am dying of thirst, please give me water now." Again no one replied. Finally, he went inside the house to find no one there. Everything inside the house seemed lifeless after the departure of his sister: the fire had on it a pot of burnt rice, the comb she combed her hair with lay on the ground, the broom she used every morning and evening was abandoned, the dishes to be done were scattered and the uncleaned cowshed was stank. The boy felt sad and lonely. He cried and cried and cried all night. He didn't feel like eating anything even though he was hungry after a day's work. He didn't know what to do.
Many days went by but Sunkeshari didn't return. Her brother looked after the house all alone. He cooked food, did the dishes, fed the cattle, cleaned the house and shed and also grazed the cattle. But all the time, he missed his sister and wished she would come home. One day, he decided that he would go to find his sister. He packed up some food and water for the journey. As he left, he turned back towards the house and wondered who would look after everything when he was away. Then he remembered Sunkeshari had once told him what they could do if they had to leave the house. He brought a 'white chammar' and a 'black chammar' (a tail of a yak used for holy purposes. They had the magical power to take away and reinstate living and non-living things respectively). He hit the cattle with the white chammar and the house and farmland with the black one which made them disappear just as they had appeared in the beginning. Then he set out to search for his sister.
He travelled through many forests and many villages for many days. When he got hungry, he would chop firewood for households and was given food in return. For thirst, he would drink from the river, spring water or village taps. And when he got tired and needed a shelter, he would look after people's cattle in the day time and would be allowed to sleep on the verandah of their house as payment. Many days went by and he travelled from one village to the other. On the seventh day, he reached a beautiful village. Coincidentally, it was the same village where Sunkeshari lived. He was walking along the village road when Sunkeshari saw him in the distance from the balcony of her palace where her dasi, her maid servant, was combing her hair. She said, "Who might that handsome boy be? He looks like my brother." When he came closer, she could see that it was her brother. She felt so happy and called him, "Oh dear Bhai, brother, please come here." But the brother without seeing her, replied, "Sorry Didi, sister, I do not talk to strangers." She called him again but he wouldn't come. At last Sunkeshari snatched the comb from the maid and dropped it from the verandah, saying, "Bhai, brother, can you please, pick up the comb for me?" But the brother refused to go inside the palace. Then again she said, "If it was my own brother, he would have immediately picked up the comb for me." So, he went into the palace and picked up the comb without looking at anybody. When he saw the comb, he saw a golden hair entangled in it.
Immediately he looked up and, to his huge relief, he saw his beautiful sister smiling at him affectionately. Sunkeshari and her brother ran to each other. They were so happy to see each other after such a long time that they cried in each other's arms. It was then that the Prince also arrived at the gate of the palace. He saw the lovely sight and came to warmly welcome his younger brother-in-law. He was delighted to meet him because this was the same boy who had given him such a gorgeous wife with golden hair, "Sunkeshari."
Please check the Creative Methodology for the Classroom course at Pilgrims website.
Please check the Methodology and Language for Primary course at Pilgrims website.
Please check the Methodology and Language for Secondary course at Pilgrims website.
Sunkeshari Rani: Sharing and Growing Together with Storytelling
David Heathfield, UK;Sikha Gurung, Nepal