Any Way the Wind Blows, Doesn't Really Matter to Me
Danny Singh, born and raised in London, but now based in Rome, gives creative English language lessons and teacher training courses all over Italy and abroad. He also offers stimulating monthly presentations on language related issues at Rome's biggest international bookshop and is visible on web TV, with a series of interactive English video lessons. He is author of two books, "I was a happy man... then one day I came across Laughter Yoga" and "Learning English through the mind and the body" and is currently working on his third book, "Life is full of surprises". He regularly attends Pilgrims TT summer courses as a Guest Speaker. www.laughnlearn.net
E-mail: singh_danny@hotmail.com
Note
This article was published in the Summer 2019 issue of IN mag (the Slovenian IATEFL mag).
The article covers the IATEFL Slovenia conference in March 2019.
This was my sixth IATEFL Slovenia conference in the last seven years, proof that I love the event and that my presence is appreciated. It all started back in 2013, when I thought it would be a one-off experience. It was the 20th anniversary conference, the surrounding area of Topolsica was freezing cold, as it had been snowing and a surprise guest, Prince William had turned up to make a speech. There was a hotly contested pub quiz and lots of free-flowing beer. That same evening, I had been approached by two Croatian ladies who convinced me to apply to their conference in Opatija in 2014 and that was the moment I entered this never-ending spiral, where not only do you keep going back to conferences, but you start trying out new ones too. The only one I missed was in 2015, as I was at a critical stage of finishing off my first book. On that occasion, the swimming-pool plenary was started, as was International evening, which incidentally has become my favourite event of the whole conference. Last year in 2018, there was the magnificent 25th anniversary conference with some huge plenary speakers such as David Crystal and Penny Ur. The International evening had been cancelled, as the Crystals gave an amazing interpretation of Shakespeare, lip sync had replaced the pub quiz and there was even a 70's party.
This year, the international evening was back and as always, there was an abundance of food and drink to sample. I took on the mantle of my Italian identity this time, so I brought some spicy Italian salami and cheese from the Calabrian region. There was plenty of food and drink from Hungary, Slovenia, Austria, Serbia and especially Croatia. As usual, I was in no condition by the end of the evening to go anywhere near a swimming pool, so instead I went straight to bed.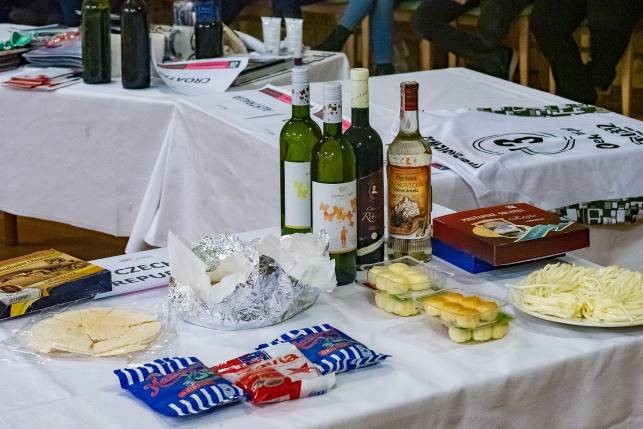 On Friday morning after a hearty breakfast, I rushed into Dorothy Zemach's plenary. I had heard a lot about this lady and she certainly lived up to expectations, with her dry sense of humour. Her talk was based on the use of metaphor to demonstrate a point. In her case, she used music, one of her great passions, to explain how important theory was for her appreciation of music and how beneficial it can be for students to understand language in a deeper way. After this, I went to Nada Dukic's short workshop on Critical Thinking, a popular subject at conferences these days. She chose a case study of a person in a very difficult situation and got us to discuss how we would try to resolve the issue. As is often the case, we all came up with a range of different solutions and non-solutions.
Sophia Mavridi then gave us some tools to make our own film in her workshop. We had to form groups and the person with the best phone was allocated to download the app and follow the procedure, as we all came up with ideas to make our videos stimulating and creative. Mojca Belak continued the technology theme in her workshop where we had a quiz, which we followed on our phones. Aside from the questions and me showing my competitive edge as usual, this exercise was also interesting from a statistical point of view, as at any time, we could all see which groups were doing well, who was in 1st and 2nd positions and how many groups got a particular answer right or wrong. After this session, it was time for a coffee and cake before the afternoon sessions.
I began the afternoon with a workshop on Educating the Heart. This was presented by Natasa Grcar, who explained that teaching is not simply a set of ideas, but a way of promoting appreciation, gratitude and love among people. It follows the famous Aristotle quote, "Educating the mind without educating the heart, is no education at all". After this session, I decided to skip the next slot, drink more coffee and chat to a few of my colleagues before heading to a session on Jazz Chants, which was given by Enghy Saron. This is a subject that I'd heard of, without really being clear what it was all about. This short session gave me the opportunity to find out and realise that I could integrate it perfectly into my lessons.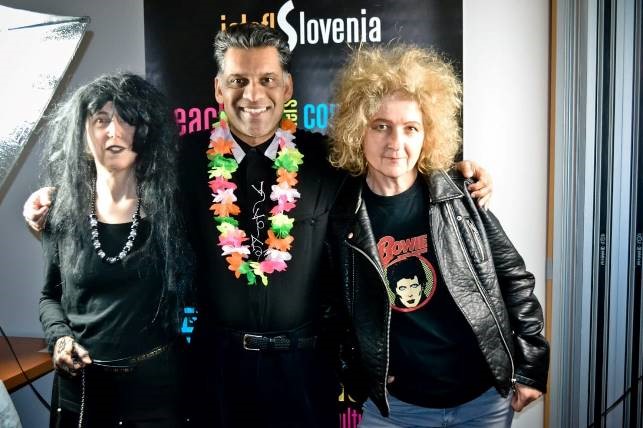 After the official coffee break, there was an extremely entertaining plenary given by Lynda Steyne, who showed us an abundance of slides, demonstrating the various obstacles and difficulties that teachers have to face on a day-to-day basis, but which no-one ever tells us before we become teachers or while we are doing our teacher-training courses. My final workshop of the day was by Petra Zerovnik and was on Learning Stations in the Classroom. This is a technique that I have recently started using in my lessons, as it gives the student the freedom to take the initiative for their own learning and encourages collaborative learning. After this, it was time for dinner and a chat with a few colleagues before preparing for the big evening event, the 80's party.
Having experienced the 70's party last year, I was expecting to see some great costumes and I did, and just like last year, I had people come up to me and say, "Hi Danny", I'd look at them and say, "Hi, but who the hell are you? Oh my God, it's you!" People were entering the party by the minute, with costumes becoming more and more colourful and creative. However, the best was still to come. At a certain point, I was sipping a glass of punch, when the 80's icon himself, yes, Freddie Mercury, danced his way in and I almost spilt my drink. I recognised him straight away as the Prince William of the IATEFL 2013 and staggered after him to see what would happen. At this point, the DJ started playing a series of Queen tracks and naturally Freddie moved as only Freddie can, while his screaming fans danced with him and around him. I just looked at my drink and asked the question, "Is this the real life, is this just fantasy?"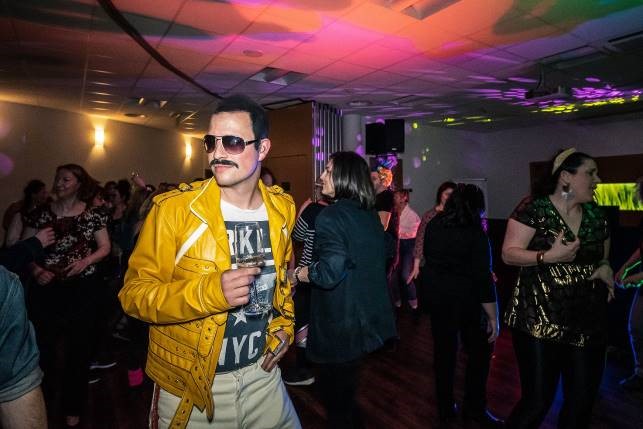 Saturday morning began with a plenary by Mojca Belak. She talked about behaviour and choice theory, whereby our behaviour is not random, but decided by us and that we have the power to take responsibility for our decisions and behaviour. Jen MacArthur then gave a workshop on how visual aids can help develop critical thinking skills. Dorothy Zemach gave a session in which she took us back to some of those old-fashioned techniques that nowadays are often ignored, as we tend to focus on 21st century skills. After this session, it was time for lunch and unlike the day before, I went for a more solid meal, as I needed some protein before my session.
Last year, I had done a workshop on team-building. This year, I took one of those elements, Gibberish and made that the subject of my session. Gibberish is essentially the language of non-sense, the language that babies use when they first try to make sounds to communicate. Despite the fact that they are not speaking a "real" language, their respective mothers never seem to have problems communicating with them or understanding their needs. We did a series of exercises to practise listening, intonation, creativity, body language and improvisation. Naturally, most of the participants while enthusiastic, were a little embarrassed, as often happens the first time they encounter this activity. However, there was one lady who happily volunteered for every activity and seemed to be quite at ease with all these activities. Afterwards, it transpired that she had in fact done a two-week drama course at Pilgrims with Peter Dyer a few years ago. As I did the same course in the summer of 2018, I can vouch for the fact, that once you've done a drama course with Peter Dyer, inhibitions is a word which no longer exists.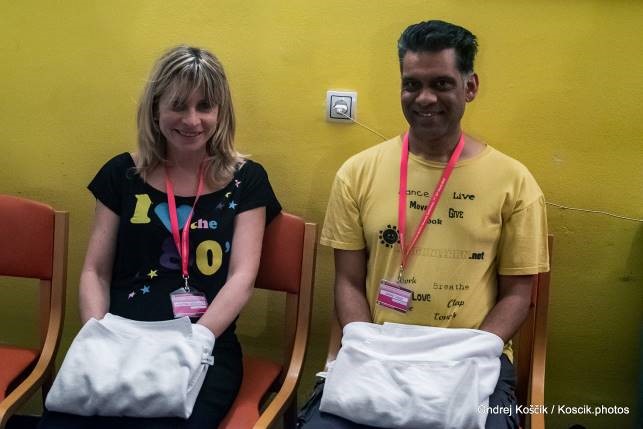 After talking gibberish, it was only natural that the next session I attended was a Silent Lesson, given by Daniel Starski. In this workshop, the only rule is that we weren't allowed to talk and communication was done in written form. We had an interesting follow-up discussion on the pros and cons of this kind of lesson. Although I have never done a specific silent lesson as such, I've noticed that when I do Creative Writing, students automatically tend to talk much less, as they are focused on what they have to do and the writing activities require a certain amount of reflection and deep thinking. The final workshop that I attended was on Movement and Art, similar in theory to much of the stuff that I do. This was given by Oksana Vakhil and was apparently a thirty-minute session, like the others in that slot. However, I hadn't read the small print, as my eyes were straining by now and this session did in fact last for fifty-five minutes. However, the workshop was so much fun, as we chugged around like trains, moved gracefully around the room and lay on the floor, that it satisfied all my kinaesthetic needs.
Sophie Mavridi gave a thought-provoking plenary on the digital divide that exists between those who are digitally literate and those who are not, after which, I was convinced to try the paraffin bath for my hands. This was the first time for me and I have to admit that I was initially a bit sceptical as I already have quite soft, tender hands, however, after the experience, I could certainly feel the difference, so it was well worth it. Dinner was next, followed by the lip sync battle. This year there were not so many performers, however, the quality of those who did was very high. The big surprise came from the winners, the amazing duo of Dorothy Zemach and Maureen McGarvey who did their renditions of some famous old songs such as Jolene by Dolly Parton. However, once they reached the final, they were told alongside the other finalists, that they had to perform, "I want to break free" by Queen. What followed left me even more speechless than when Freddie Mercury walked through the door and even the competing group stopped to admire the performance, it was that brilliant!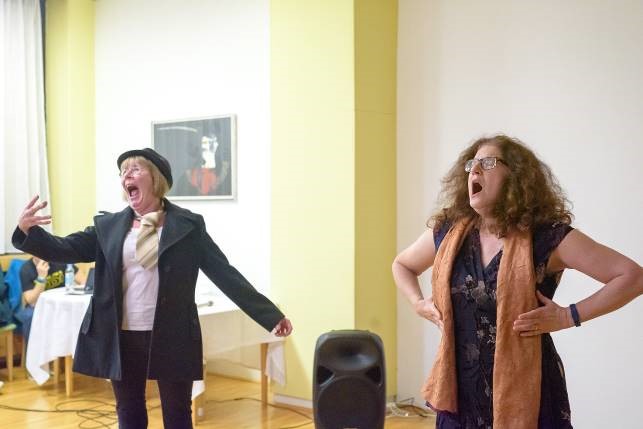 Sunday morning was a rush, as there was much to get through; packing luggage, checking out, pancakes for the last time at breakfast and managing to attend the final plenaries, not easy when the check-out time is 10am. Somehow I managed it, there was time for reflecting with the few remaining colleagues, the poetry competition which was won by guess who, yes Freddie Mercury and then it was time to say goodbye to as many people as I could before heading off. As is my custom, I headed off to nearby Trojane to pick up some fresh warm doughnuts for lunch, before moving on towards the coast, some meditation and the journey back home to Italy with some great memories.
Interview for the C Group Website
Jim Wright, late Principal of Pilgrims;Chaz Pugliese, France

Any Way the Wind Blows, Doesn't Really Matter to Me
Danny Singh, Italy

The Plague of Eyam Village: Writing and Illustrating for BBC TV 1966 to 1969
Andrew Wright, Hungary