CELTA in the Time of Covid – A Personal Experience
Yulianto Lukito has been an ELT educator (teacher/trainer/examiner) since 1997. He holds an MA in Applied Linguistics, MA TESOL, and Cambridge Diploma in Teaching English to Speakers of Other Languages (DELTA). In addition to teaching all levels and a wide range of English courses over the years, he has contributed to various professional development events such as conferences, webinars, and journals both locally and internationally. Besides ELT, he is passionate about elephant welfare and teaching others about the plight of these wonderful beings. Email: YLukito@ihsydney.com.au.

Jo Roberts holds a BA (Hons) in Modern Languages and Marketing, and a Post Graduate Certificate of Education (PGCE/ PCET) in TESOL. She has taught at private English schools, universities, Further Education colleges and community-based centres focussed on new migrants and refugees. She has been training on Teacher Training courses (CELTA, CERT IV, FE for ESOL subject specialists) since 2005. She is also a Cambridge CELTA assessor and IH World Inspector.

Introduction
In recent COVID times, more and more people have had to complete their CELTA courses online rather than through the traditional face-to-face delivery mode. Some in the industry have questioned the quality of the online mode, deeming online trainees to be somehow less employable than their face-to-face counterparts. It has even been suggested that CELTA certificates should indicate as to whether a course was completed face-to-face, online, or blended, thus allowing employers to presumably make recruitment decisions based on this very fact. Such a decision fails to see its potential and validity as a delivery mode. As CELTA trainers, we admit to initially being sceptical at the beginning of the pandemic, but having now completed 10 courses online, we have since revised our position. Besides sharing our own personal experiences as trainers delivering the CELTA course online, this article will argue that not only are the teaching skills learnt online by trainees transferable to the face-to-face mode, in some cases they hold distinct advantages over the traditional method. As such, we propose that future CELTA courses might take on a more hybrid format with both online and face-to-face components offered in the same course, thereby equipping trainees with the requisite skills and experience for what could be the new teaching reality of the future.
Our initial doubts and assumptions about training in the online context
Along with the rest of the industry, we were forced—virtually overnight—to start conducting CELTA courses online, something which immediately raised concerns in our minds as to how the quality of the course might be maintained and how we could ensure communicative teaching approaches, which are at the core of the CELTA course. Having never engaged in online teaching, this stemmed from a lack of experience and an inability to imagine alternative approaches to the face-to-face classroom. The following table outlines the specific aspects of ELT which we thought would be difficult to transfer to the online space.
| | | |
| --- | --- | --- |
| Teaching technique(s) | Purpose/ methodology | Our initial doubts/ assumptions |
| Rapport and classroom dynamics | To foster a two-way connection, build trust, and generate a vibrant teaching and learning environment | The lack of opportunity for the teacher to maintain eye contact, use gestures easily for non-verbal communication, respond to learners appropriately, alter the pace of the lesson, and deliver efficient and effective instructions could reduce the positive learning atmosphere in the classroom. |
| Monitoring, feedback, and error correction | To ensure purposeful information gathering, implement adjustable monitoring strategies, and ensure a direct correlation between effective monitoring and fully informed decisions in the feedback stage | The teacher's role as data collector could be significantly compromised in terms of diagnosing prior knowledge, learner performance and then determining feasible action points in the feedback stage. Moreover, their ability to monitor learners during individual work — e.g. a gap-fill task, helping weaker learners, and challenging strong ones — would be diminished. Ultimately, there would also be a limited variety of feedback techniques available to trainees. |
| Peer-checking | To provide learners with the opportunity to consolidate their answers orally and to allow peer-teaching, both of which assist the monitoring teacher in determining a subsequent course of action (e.g. who to nominate, what common issues to address, etc.) | Even a simple act of peer-checking with a partner would be challenging for learners who would be unable to immediately check with the person beside them. Often peer checking is used as a fast finisher task but unoccupied learners could be more difficult to identify in the online classroom. |
| Maximising student talking time (STT) | To promote the culture of collaborative learning, vary classroom activities, and maximise the opportunity to develop productive skills (oral and written) | Any kinaesthetic tasks that involve tactile collaboration and constant movement (mingling, gallery walks, etc.) would now be unfeasible. |
| Seating arrangements / variety of interactions | To build a chance for learners to move around and work with others, to diversify interaction patterns, and expose learners to different peers from various language backgrounds | Undoubtedly, the lack of fluidity and mobility in the virtual setting would limit the ways in which interaction diversification could be implemented. |
| Dealing with pronunciation | To demonstrate a logical and methodical procedure of clarifying pronunciation so as to help learners produce language accurately. | Owing to a lack of synchronicity, it would be difficult to conduct a visually clear and engaging manner of pronunciation modelling. |
| Pace, flow and technical issues | To ensure smooth transitioning between stages, maintain efficiency, and offer hands-on support as well as necessary assistance when issues arise in the classroom | A potentially slower pace was expected due to technical issues or unfamiliarity with online tools, both of which might impair a teacher's ability to keep students engaged and respond to their needs, not to mention achieving the lesson aims. |
Successful application of strategies online
As with everything in life, you learn best on the job. Having been thrown in the deep end and with no official training, we were under pressure not only to deliver the course online to the same standards required by Cambridge English, but also provide effective models for the trainees to follow in their own Teaching Practice (TP) lessons. We were similarly compelled to interpret and adjust the existing criteria so they were appropriate for the online teaching context while at the same time, reflecting the requirements and outcomes for a CELTA graduate.
To our surprise, we discovered that not only could many of the above concerns be addressed more than satisfactorily, some aspects could be reflected equally well, if not even better, in the online context and that online trainees were able to show all required CELTA criteria.
Teaching technique criteria that had to be shown

Workable strategies and quotes from trainees/ experienced teachers

Please note: we propose the following strategies based on delivering online lessons through Zoom only.

Rapport and classroom dynamics

Creating a community that trainees and learners feel comfortable in

Rapport is built in much the same way as in the classroom – smiles, name usage, ensuring all learners' involvement in class activities, etc.. Knowing learners' names immediately in the Zoom classroom is undoubtedly easier as Zoom requires participants to write their names to join a meeting.

However, because of external and technological distractions, effective visual support, clear instructions and well-adjusted teacher talk are vital components of teaching in the Zoom classroom. Since learners do not have the usual visual clues to rely upon, such strategies are important to ensure they know what is occurring throughout the lesson The ability to react and help needs to come from having an awareness of each learner that might be more difficult to spot than in the physical classroom.

Talking about his CELTA peers, Richard Lambert, an online CELTA graduate in July 2020, commented that "Initially I thought that not being in a physical classroom would mean the interaction between fellow students and relationship building opportunities might be far less. As it turns out, I feel the connections we formed were just as good as what the in-person environment would have been able to offer us and, perhaps gave us more connectability outside of class to help each other through the course."

In terms of building a positive, collaborative learning environment, Alex Neville, an experienced teacher at International House (IH) Sydney, added that he has now brought the idea of connecting digitally to his classrooms by forming a class What's App group to which they post messages and photos related to the lesson as well as social events. Alex said this "increases the bond between the learners as they feel more linked to a community".

Monitoring, feedback, and error correction

Varying monitoring strategies (discreet, active, and participatory)

Monitoring learners' performance during activities has proven to be easily achievable through switching between groups in different breakout rooms, ensuring a balanced manner of monitoring in terms of interaction and level of participation. The teacher can determine what type of monitoring should be implemented based on the task types. For example, the video may be stopped to conduct discreet monitoring, which seemed to encourage learners to speak at greater length. Similarly, the camera can be turned on at any time to conduct active and/or participatory monitoring (intervening, helping, prompting, or correcting).

Online learning may even be better suited to some learners' personality as it is less invasive. This is particularly true of monitoring as the possibility of being 'a fly on the wall' in a breakout room allows for more attentive listening due to a lack of background noises and learner self-consciousness.

Nathan Poulter (2020), one of the candidates in our very first full-time CELTA course delivered online, said, "I know I personally find it easier to check in and listen to students through virtual delivery than in face-to-face encounters where multiple students may be talking at once when engaged in an activity."

For purposeful, consistent monitoring of tasks, it is essential that breakout rooms are combined with other online applications (see below) and that one learner in each breakout room be instructed to share their screen, thereby allowing the trainee to monitor not only what the learners are saying but also what they are writing, and their progress and pace with completing the task.

Peer-checking

Use of the basic Zoom tools

We found the Zoom chat box to be very useful to allow learners to compare their answers.

If they write their answers in the group chat box, it becomes more of a group peer check which the teacher can monitor and take notes in preparation for feedback, and can even comment (visually or verbally) as they see the answers.

The private chat box can also be utilised well here by allocating pairs of learners to share their answers with each other. The teacher is certainly unable to see this, but upon returning to the group feedback stage, can ask questions such as "so (name), did you agree with (name's) answers? What did you have different?"

In the breakout rooms, learners can also peer check well and if one learner is encouraged to share their screens, it can lead to learners using leading questions like "What did you put? Do you agree with my answers? Why/ why not?"

As the teacher, one can ensure turn-taking in this by nominating who will play the leading role in the breakout room (if this is possible for the student in terms of technology limitations on their phone for example).

Maximising student talking time (STT)

Online tools to replicate physical classroom activities

Here are some recommended websites and applications, which we used during our input sessions as models and examples for the trainees to use in the Teaching Practice lessons:

Word wall - https://wordwall.net/

Quizlet - https://quizlet.com/

Liveworksheets - https://www.liveworksheets.com/

Socrative - https://www.socrative.com/

Quizalize - https://www.quizalize.com/

Padlet - https://padlet.com/

Kahoot - https://kahoot.it/

Google.Doc and Jamboard (part of Google Drive)

Along with the breakout rooms, these tools proved crucial in making the lessons sufficiently varied, engaging and interactive compared to those in the physical classroom. These go-to websites are user-friendly, free, practical, and workable as they can be used as a substitute for many tactile activities that are known to promote classroom engagement and dynamicity.

For instance, tools like Word wall, Liveworksheets, and Jamboard cleverly re-package common task types — multiple-choice, gap-fill, true or false, sentence completion, syntax (word ordering) — into visually-appealing applications and games, engaging learner in a way which taps into their doubtless familiarity with and day-to-day use of smartphones and other devices.

Moreover, tools such as Socrative, Quizalize, and Quizlet have shown themselves to be incredibly useful for diagnostics, and can also be used for assessments (formative and summative), as well as periodic out-of-class exercises to promote autonomous learning. Finally, most of these tools can be set up so that immediate feedback on student answers can be given.

Another experienced teacher at IH Sydney Kelly Mannix, added "student interaction is what is most important. It's important for students to co-create knowledge and collaborate with each other, sharing their knowledge and perspectives."

Seating arrangements / variety of interactions

Automatic vs manual allocation of group members

Being able to either randomly or manually allocate learners to breakout rooms has been key to varying interactions and partners.

The manual option allows the teacher to put together, or separate learners from different nationalities, varying abilities and weaknesses, and a range of personalities.

At any point, a decision can be made to assign learners to a new room, so with some forewarning in each breakout room, a pair can be merged with other members to form a larger group.

This option really allows the trainee teacher to think about partner allocations before the lesson and to respond to what is happening quickly and efficiently during the lesson. This can allow the teacher to change pairs and groups more frequently than in the physical classroom. Often, in the physical setting, it can be difficult for new trainees to do this due to some resistance from learners at times e.g. "Do we have to move?" "But she's my friend".

With this option, the peer checking stage could be tailored further by placing together learners with the same or different answers/opinions dependent upon the task at hand.

Dealing with pronunciation

Targeted individualised drilling

The teacher should be encouraged to prepare slides with stress/ phonemes/ intonation and audio files, while at the same time, they will need to develop a strategy for signalling the learners' attention, as well as the use of clear and directive gestures for drilling. Specific learner nomination must be employed when gesturing for learners to drill individually and has proved more successful than choral drilling at times. Circle drills, with the teacher and learner taking turns to lead, were also successful.

Pace, flow and technical issues

Contingency plans

Pace is most certainly affected in the online classroom. Should things go awry with technology, which often is the case, it can be severely slowed down, which can disengage learners and send the trainee into utter panic. As trainers, we tried to manage the trainees' expectations by warning them that technical hurdles are inevitable, and that contingency plans for such events are always needed. This encourages better anticipation of potential problems as well as realistic solutions.

To help new learners use the Zoom tools, trainees should be encouraged to prepare slides with instructions/screen shots of where the learners can find the Zoom tools, for example the annotation tools. This helps the learners find the tools required to participate in the lesson through a visual method rather than verbally.

Kelly Mannix, also acknowledged the fact that online teaching has made her a better teacher because "it forces you to be student-centred and you have to thoughtfully plan how learners are to interact and how to remove yourself from it. Visual support is key."
Online CELTA graduates are as employable as face-to-face graduates
We can see from the evidence above that, with some adaptation and careful planning, skills are clearly transferable between the face-to-face and the online contexts. To cross-reference this information, we asked a few Directors of Studies from local Sydney schools what they look for when recruiting new teachers. Here is a summary of what they said: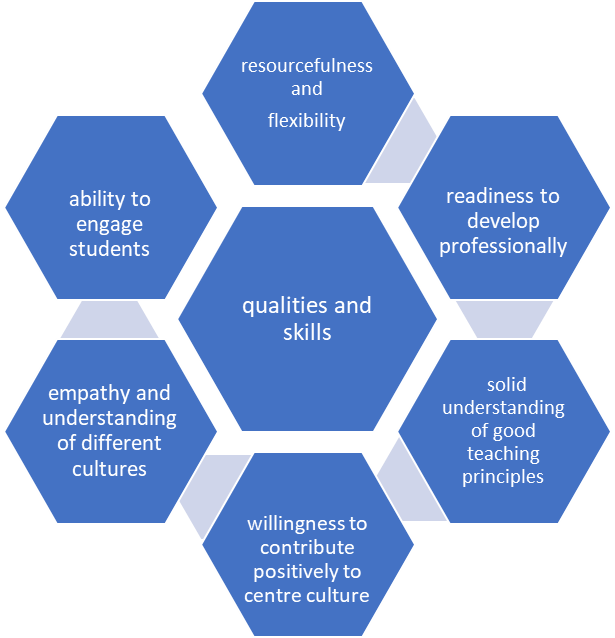 Although some in the industry will undoubtedly maintain the superiority of the face-to-face teaching environment, there is little doubt in our minds that the online mode boasts an abundance of possibilities for new teachers and the learners that they teach. Moreover, many of the characteristics of face-to-face teaching have their corresponding equivalents in the online context and the same ELT principles can be replicated, provided the teacher is able to exercise their own judgement and enhance their creativity, adaptability, and flexibility. Nathan Poulter (2020) stated, "Many of the other skills an individual develops through virtual delivery such as lesson pacing, careful listening, learner observation and related skills still transfer to face to face classes, albeit with some alteration based on the new context."
In our opinions as experienced trainers, online graduates are able to match the skills and qualities mentioned above and the main conclusions for this are drawn from the following points:
Potentially being exposed to more diverse backgrounds could expand knowledge of language systems and various linguistic issues typical to different languages.
The online classroom seems to make trainees more empathetic towards learners, perhaps due to their own struggles and inconsistencies with the use of technology.
Being able to anticipate learner problems became imperative to staying calm under pressure, while technology-related issues sometimes force learners to be practical and inventive on the spot.
To make lessons engaging for the learners, the trainees have to use and experiment with a variety of resources and websites.
As learner participation and engagement is often more difficult to judge in the online classroom, trainees need to have very good awareness of their learners
Online trainees show the same understanding of good teaching principles as face-to-face trainees
The future – hybrid courses
Many appear to be under the impression and have argued that the teaching skills apparent in non-virtual classroom settings cannot possibly be replicated in the online context. Having experienced both worlds first-hand, we can confidently refute this argument as evidenced in the above examples and first-hand personal experience of having transitioned swiftly from one context to the other. We believe that the future of language teaching including ESL should entail the consideration of hybrid courses. Rather than create two distinct environments requiring two separate qualifications focusing on either one or the other, teacher training course providers should embrace the opportunity to incorporate both, which is feasible as long as careful attention to syllabus design and planning are in place.
Teachers-in-training should have access to readily available methodologies and resources that enable them to polish and master versatile teaching skills in both contexts. It is a perfect opportunity for new teachers to broaden, deepen, and sharpen their eclectic teaching techniques as part of their constantly evolving repertoire of pedagogical tools. Brown (2001: p.426) emphatically argues that "one of the most invigorating things about teaching is that you never stop learning. The complexity of the dynamic interplay among teachers and learners and subject matter continually gives birth to an endless number of questions to answer, problems to solve, issues to ponder." He further elaborates by saying "your approach to language pedagogy is not a set of static principles "set in stone". It is, in fact, a dynamic composite of energies within you that change (or should change, if you are a growing teacher) with your experiences in your own teaching and learning." (2001: p. 40)
Here are three proposed benefits of hybrid courses:
Catering for various learning preferences and for the future
Nicole Couret (2020), also a trainee from the July 2020 online course, states that a hybrid course could further enhance learning and development of skills while on the CELTA course because "it exposes students to different mediums for teaching and therefore they may learn more than just in a face to face setting."
Possessing useful practical knowledge and skills that allow teachers to run both types of lessons as necessary.
The practical knowledge and skills obtained through the virtual delivery mode are essentially similar to, if not the same as, those of an in-person classroom environment. Nevertheless, having to speak to a relatively large live audience and demonstrate classroom control do require some exposure to the physical classroom in order to 'feel' the experience. Several points of consideration include voice projection, being able to control a noisy classroom, appropriate teacher positioning and performance anxiety management. A hybrid-course would allow a trainee to teach their lessons in both contexts.
Richard Lambert (2020), a trainee from the July 2020 online course, commented "To be able to focus specifically on how to teach online was excellent as the market is headed more and more in that direction and so taking CELTA in this way gives me confidence to be able to teach online moving ahead. In normal times, if this course were to be offered online / in person, then half the course based in the physical environment would be really beneficial just to get into the flow of things. This would really help to build confidence in teachers for physically being with students and how to handle the challenges / unexpected situations that inevitably come up."
Accommodating learners and teachers from various geographical locations who would otherwise not be able to travel due to restrictions and/or other reasons be they personal, financial, etc.
This increases the efficiency and convenience such as cost savings on location for all parties involved including the course providers (Nicole Couret 2020).
As Richard Lambert (2020), put it, "CELTA is such an intensive course that not having to commute to and from a training centre was a big plus as this would have cut into lesson preparation time at the end of already long days."
Thomas Roberts, another candidate who recently completed an online CELTA course also remarked, "A hybrid course would be hugely beneficial for trainees. Firstly, it allows trainees the luxury of working from home in a comfortable learning environment, from experience I would argue you feel just as connected to your peers learning online as you would in a physical space. By coupling the course with some face to face hours, this would give trainees the chance to practice skills needed in a physical setting as outlined earlier."
Carrie Wang (2020), a trainee from the September online course, summarised all these points well as a possible selling point and marketing strategy for course providers to broaden their market:
"Hybrid courses have a wider acceptability. From my experience, many English learners need to work, take care of the family and study at the same time. Studying English is a long-time commitment that is quite difficult to be guaranteed by those whose lives have already been occupied by their routines. So if it is a five days a week, several months a year, consecutive and face-to-face course, they will find it very difficult to manage. Coming to school every day is very natural for young students who haven't set up their family but not so easy for adult learners. But if it's a combined mode, the time they save on travelling, the fact that they can study anywhere as long as the internet is provided and only come to school when it's necessary to do face-to-face lessons can mean a lot to them."
Zoom CELTA, October 2020
Conclusion
Although it has been a huge change for the sector, we should see the positives in this change. Many of us, teachers, trainers or employers, have gained valuable insights and useful new skills which have probably lifted us out of our comfort zone. This is also true for the trainees. The majority of our trainees had zero experience of using Zoom on day one of the course but by the end of the 5 weeks, all trainees who finished the course showed incredible determination, curiosity, adaptability and resourcefulness faced with learning new skills and coping with the new online format. After running 10 fully online courses, we can say with confidence that online trainees should not be treated any differently from those who have completed the face-to-face course. To conclude, in order to continue this progression, hybrid courses are a pivotal platform to give trainees the diverse and multi-faceted skills they need in this ever-changing market and world as we know it.
Reference
Brown, H. Douglas. 2001. Teaching by Principles: An Interactive Approach to Language Pedagogy. New York: Pearson Education.
Please check the The Art and Skills of the Humanistic Teacher Trainer course at Pilgrims website.
CELTA in the Time of Covid – A Personal Experience
Jo Roberts, Australia;Yulianto Lukito, Australia