Splinters Poems by Alan Maley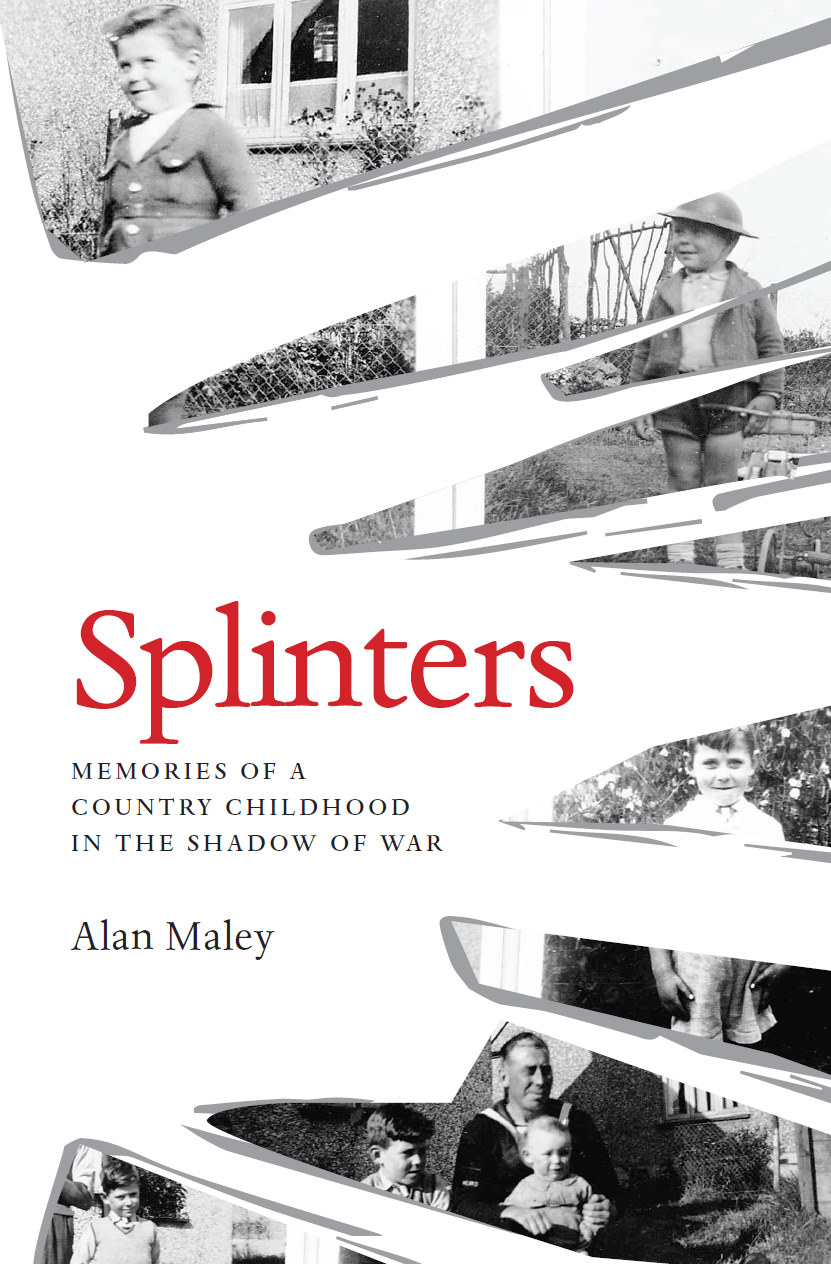 So many of us have seen this distinguished-looking man, Alan Maley, with white hair and a twinkle in his eye, come to the podium to give a talk. And over the years we have learned of the wide international respect given to him. He was the first British Council English Language Officer in China. He was a professor for many years in Singapore and Bangkok. The Queen awarded him an OBE and through his many resource books for teachers, Alan has inspired teachers and students to find belief in themselves and in their own creativity.
in this small book, 'Splinters', Alan, above all, simply shares with us the richness of his young life of 70 years ago before television and the Internet. Indeed radio was only in its infancy. This was the time of the Second World War and the very real threat of a German Invasion. The air battle, 'The Battle of Britain' was fought out above his head. As a boy he found shells and cartridges in the fields the next day.
In these story poems we see the young Alan, the son of a green- grocer working in the fields of Essex as well as going to school, during and after the second world war. Above all we meet the characters who Alan was so aware of, in his young life. We see and hear them and we come to know them after a few of his well-chosen lines. But we also get glimpses of the Second World War happening around his home and glimpses of everyday happenings in his school and the weather.
Did you know what a disastrous winter 1947 was?
The winter of 1947
when we walked to school
through snowdrifts six feet high -
the numbing sensation of snow sliding
down into our wellies.
That hard winter
when the school pipes froze
and there was no heating
and the radiators were colder
than even our bones.
(Page 4 Winter 1947)
And glimpses of the second World War?
The world was hostile.
It was the wartime.
Every day before leaving for school,
my mother would warn me:
'Listen out for the doodle bugs.
If you hear dive bombers coming.
jump straight in the ditch.
Don't touch any tins or packets you find
They might explode.'
The world was full of eerie menace
and German malice.
(Page 14 Dive in the ditch)
'In the fresh mornings
after air raids
we would scour the fields for shrapnel.
taking the bright shards
of sharply shattered jagged metal
to school to trade.
(P16 Shrapnel)
And the soldiers came home and were, for a young child, mysterious figures.
Cousin Jack came to call
on my grandmother after VJ Day.
He had been in the Burmese jungle
with mad Wingate and the Chindits,
fighting the Japanese.
He told us he had been a potato peeler in the kitchen,
nothing more.
But then Cousin Jack gives the young Alan an old Japanese wallet,
woven out of black cotton
with a mysterious character
in ochre-orange stitched on it
and a dark stain.
It smelt foreign, musty with old sweat,
and inside, a photograph of a young woman in a kimono
holding a small child and a fan.
Just a potato peeler?
But they eat rice in Burma.
(Page 62 Cousin Jack)
And so the young Alan wondered at the complexity of the grown up world!
And we learn about many other 'larger than life' figures who enriched Alan's life. There was 'Nitty Nora', the district nurse who came to the school.
Her warm, dry fingers tousled
our hair as she searched
for the offending nits –
no surgical rubber gloves
in those days!
(Page 18 Nitty Nora)
And Alan's headmaster and his cane for beating the children with!
His head was bald and polished
Not a hair in sight.
……………
He had no fingernails,
so his deathly white fingers
wrapped themselves around the pliant cane
like overfed, wrinkled maggots,
hungry for more.
(Page 24 Headmaster)
No wonder that Alan, in his professional life, travelling and working in many countries should feel at home meeting and working with a huge range of people from so many different cultures! And it is perhaps no surprise that Alan's books have helped us to make language learning come alive. In our ELT world, 'Drama Techniques in Language Learning' published by CUP and 'The Inward Ear' (two of my favourites) but there are many more.
In this small book of story poems we have a rich authentic view of country life at that time as well as a glimpse into the unlikely childhood experiences of one or our most famous and influential contributors to the world of English Language teaching. And it is a world which we can share with our pupils.
This book was not written specifically for language teaching and hence it has a very clear, authentic 'voice'. So the texts would be eminently suitable as language learning input.
In simple language we have vivid glimpses showing a young human life so close to nature and survival with nature. And showing for us teachers that every child in our care has the potential to become an international contributor to our enrichment and daily life.
By the way, 'Splinters'? The title is derived from the sharpness of Alan's memory of each of the happenings and people described. These stories are very real, not cooked up on an intellectual's Sunday afternoon.
A copy for you? Definitely, but copies for your students, too. Short, pithy, gripping, revealing, stories.
How to get copies? Simply write to Alan Maley at yelamoo@yahoo.co.uk
Splinters Poems by Alan Maley
Andrew Wright, Hungary

The Asia Teacher-Writers' Group: Recent Events
Alan Maley, UK