From Boring to Exploring: Utilising a Location Finder Website to Teach Minimal Pairs
Ronnakrit Rangsarittikun is an English lecturer at King Mongkut's University of Technology Thonburi, Bangkok, Thailand. His interests include innovations in English language teaching, strategies for language learning and language use, and innovative curriculum. He co-created the courses (the hobby course and the review course) within the languaging curriculum with his colleague. Email: ronnakrit.ran@mail.kmutt.ac.th
Introduction
At the beginning of each semester, I usually ask my students to write one metaphor for learning (as a class activity to build a rapport with them). Surprisingly, the metaphors the students come up with are usually witty and perhaps even thought-provoking (for example, "Learning is like taking a shower – you do it only when you feel like doing it"). Among the many interesting ones, my favourite is, "Learning is like riding a bike – you have to keep your balance to keep moving forward"). This is not only touching, but it also somewhat relates to the lesson idea presented in this article. If learning can be compared with biking, learning then should be playful, with the potential to encourage students to explore things outside the classroom, and involving the creative use of real-world resources. For these reasons, I decided to create a minimal pairs lesson with the use of the what3words website (a website which is obviously not designed for language teaching).
Using what3words to teach minimal pairs
What3words.com is a website that allows users to locate any place using three words. To get navigated to places from a three-word address, users enter any three words in a specific format (word1.word2.word3) in the search bar and click 'Navigate'. To view a three-word address of a certain place, enter the name of that place into the same search bar, and select one correct result from the suggestions.
To many language teachers, however, using a location-finding website may seem strange, and perhaps irrelevant to teaching pronunciation. But it should be noted that integrating technology into language lessons does not necessarily involve a complete shift in the teaching of pronunciation (and, of course, minimal pairs). In fact, teachers will still need to read the words (pairs) out loud, but rather than asking our students to circle the words they hear on a piece of paper, as tradition dictates, they must find places on the map based on the three words and pairs they hear. The fun begins when students get to travel to different places as they hear the words differently.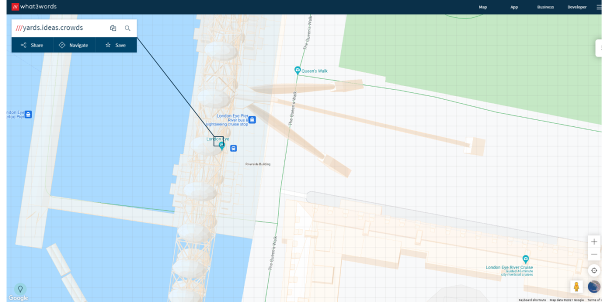 Materials and steps
Teaching minimal pairs in English through what3words.com requires only basic technology skills. Though lacking a solid technology background myself, it took me no more than 15 minutes to get used to the website. So, to do this, you merely need to prepare a list of minimal pairs, and you should be good to go!
Step 1: Get to know what3words.com
Explain that students will explore different places based on the given words.
Ask students to open https://what3words.com, let them enter any three words that either they like the most or that best describe them, and tell them that the result is the place they actually belong to.
Pick some students to share their results.
Ask students to select one favourite place, or a place that they have never visited but want to go to. Students then share the three-word address of the selected location.
Step 2: Listen to the pairs, pack your bags, and go!
Teacher reads the minimal pairs at least twice (depending on the level and English proficiency of your students). Some minimal pairs examples:

bind pine pens
sheep ship cheat

Ask students to share the places they are navigated to, based on the words they hear (expect to see various places as students will hear the words differently).
Give them an opportunity to discuss the pronunciation of the words they hear and how the words are pronounced differently from the correct answers
Show them the correct answers (and places).
Ask students to share the strategies or techniques that they used while doing this activity.
Step 3: Wrap up
Explain the importance of minimal pairs in English and give them further resources with examples of English minimal pairs (e.g. https://www.englishbix.com/minimal-pairs-list-with-examples/).
Ask students to share how they can make use of the website for other purposes.
Discuss what they have learnt from this activity.
Conclusion
Similar to the metaphor about learning and riding a bike, the use of what3words.com will allow learning to be more playful, getting students to explore the world outside the classroom, and creatively making use of the existing real-world resources. Given the situation while online teaching is compulsory, I am certain that this pronunciation activity will engage your students with the lessons, and you will actually find yourself having fun teaching online.
Please check the Pilgrims f2f courses at Pilgrims website.
Please check the Pilgrims online courses at Pilgrims website.
From Boring to Exploring: Utilising a Location Finder Website to Teach Minimal Pairs
Ronnakrit Rangsarittikun, Thailand

Flag Chain Game
Pak Man Au, Canada

Presentation Classes on Zoom
Pak Man Au, Canada