Game in Teaching of Russian as a Foreign Language. Exploration of Game as an Educational Phenomenon
This page is currently awaiting content
Zhivka Ilieva is an associate professor at Dobrich College, Shumen University. She has a PhD in Methodology of English Language Teaching. As part of her research she has classes at primary schools and at kindergartens. She presentsat conferences dedicated to language teaching and teacher training in Bulgaria and abroad.E-mail: zh.ilieva.bg@gmail.com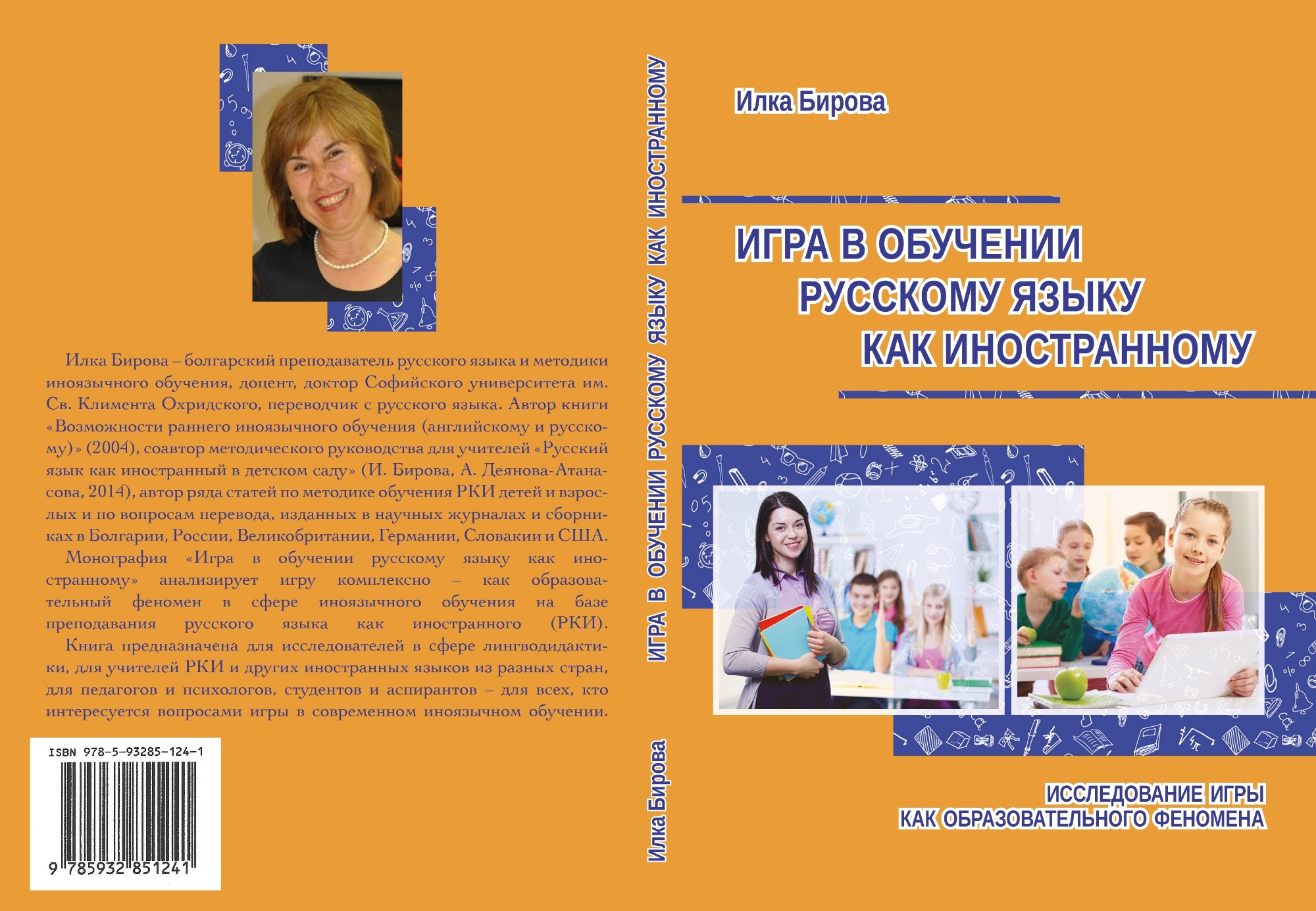 Author: Ilka Birova
Moscow, Evroshkola, 2017
267 p.
Russian publishing house "Evroshkola" (Moscow) is specialized in publishing monographs and books in the sphere of language education, including Russian as a second language. Reviewers of this monograph are prof. V.Safonova, Moscow state University M. Lomonosov and prof. G. Shamonina, University Chernorizets Hrabar, Varna. The preface to the book is written by professor E. Passov, who is a leading specialist in commumicative approach in Russian language education theory. In prof. Passov' opinion the book of Ilka Birova is innovative with its game conception and has a great educational value for the contemporary learning practice.
Ilka Birova is a Bulgarian teacher and methodologist of foreign (second/third) language education, she is an associated professor at Sofia University St. Kl. Ohridski. She takes part in different projects in the sphere of foreign language teaching, among them is a topical and useful international project Erasmus+ "Learning Games. Exchange of good practices in adult education"(www.learninggames.eu).The research presented in the book is dedicated to the game as an educational phenomenon in foreign language education on the basis of Russian language.
The book consists of four chapters. The first chapter views the game as an educational phenomenonin the sphere of language teaching.The author presents her own conception about educational game and gives a complex definition of itin the context of humanities: philosophy, psychology, linguistics, psycholinguistics, pedagogy outlining its characteristics and functions. The author shows differences between traditional teaching methods and game activities, underlines specificity of the last ones.In the author's opinion it is necessary to keep an adequate combination between traditional teaching methods and learning games in order to have an efficient teaching process. This combination depends on the age of the students, stage of study, character of education.According to this conception active use of game activities (30% of learning time in adult education, 50% and more in children education) in combination with other learning methods is of key importance for improving the quality of language education.
Chapter Two presents an analysis of leading practices in using game technologies in foreign/ second language learning in Bulgaria, Germany, Russia, Poland, Georgia. It includes R. Steiner's conception in language education and the practice of Waldorf Schools, Sh. Amonashvili's human – person pedagogy (game technologies in teaching Russian as a second language in Georgia), Suggestopedia (common characteristics, principles, game technologies, practice in Bulgaria and abroad).
Chapter Three describes and presents the results of an investigation into attitude of foreign/ second language teachers from different countries to game and its use in language learning and teaching. In this chapter Ilka Birova views the place of game in textbooks of Russian as a foreign and as a second language.
Chapter Four presents Ilka Birova's conception about Russian language education with active use of game in combination with traditional learning methods. In this chapter the author gives her methodological recommendations for using educational games in elementary, basic, middle and advanced levels in children and adult education. She also suggests a variety of useful and easily applicable games:associograms and clusters, language puzzles, purposeful reading and listening, interviews, quizes, riddles, pantomime, gestures andd rama, didactical language games, digital resources and on-line games for learning Russian, discussion games, simulative games (business games), playful exercises. Ilka Birova provides ideas for transforming language and speech exercises into playful activities. She gives clues how to organize games in the educational process; how to choose game activities and to prepare for them. She points some weaknesses in game activity organization and shows examples of game lessons of Russian on different levels and educational contexts (preschool, elementary school, adult beginners (A1), adults on a middle level (B1-B2), advanced level at secondary and tertiary education.
On the basis of the rich teaching and research experience presented in her monograph Ilka Birova proves that game as an educational phenomenon has a great potential which has to be realized in language education. Game is not an additional but an obligatory component in every learning system both for children and adult language learners.
This monograph is useful for teachers of Russian and other languages, for methodologists of language education and language acquisition, for teachers and psychologists, students and post-graduate students and for everyone who is interested in game as a phenomenon in language education. Very useful for the teaching and learning practice are the presented recommendations and examples of using game technologies in different stages of children and adult Russian language teaching.
Please check the Creative Methodology for the Classroom course at Pilgrims website.
Game in Teaching of Russian as a Foreign Language. Exploration of Game as an Educational Phenomenon
reviewed by Zhivka Ilieva, Bulgaria

Short Book Reviews
Hanna Kryszewska, Poland

Teaching English through Drama
Shaun MacLoughlin, United Kingdom

My Child's Different: The lessons learned from one family's struggle to unlock their son's potential
by Elaine Halligan, Crown House Publishing

The Purrfect Pawse. A little book to help children pause, stretch and be grateful
from Crown House Publishing