My Child's Different: The lessons learned from one family's struggle to unlock their son's potential
How positive parenting techniques saved my family – and how it could save yours too!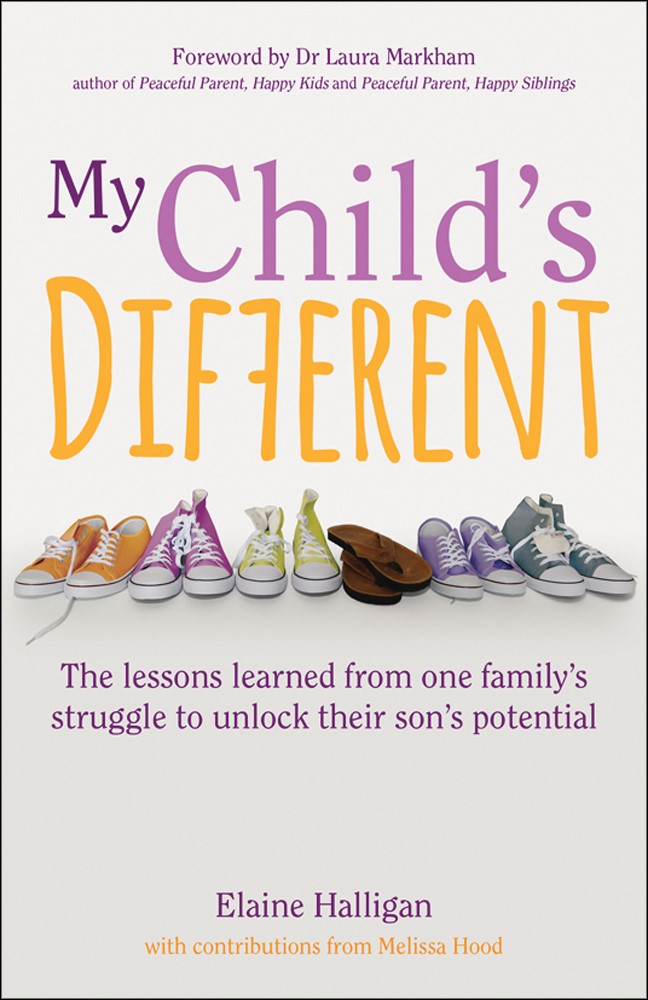 £12.99
ISBN 9781785833281
Elaine Halligan, parenting expert and mum to a 'different' child, shares her life lessons to help you find the holy grail of parenting: keeping calm and bringing out the best in your children
Elaine Halligan is a director at The Parent Practice and has been a parenting specialist since 2006, helping parents both in the UK and overseas to raise competent and confident children. But, as she recounts, things haven't always been so easy ...
One cold evening, Sam and I were returning home from the centre after another long day, running to catch the rush-hour train. The 16:58 service must have been one of the busiest trains in the country. It was truly unpleasant and, at times, felt dangerously overcrowded. Sam was stressed, exhausted, hungry and overwhelmed. We were lucky enough to grab a couple of seats before everyone else piled onto the train. Soon the carriage became a solid mass of bodies pressed up against each other, everyone tired and tetchy and wanting to get home.
Sam started kicking one of the passengers standing beside him. I asked him to stop, but he continued. Suddenly I started to feel overwhelmed too. I was in a crowded carriage and it was obvious I could not control my little boy. He was clearly aggressive and dysfunctional and I was unable to stop him. I reprimanded him. I threatened him. I nagged him, and begged him, but his behaviour got worse. Understandably, the lady who was under attack from Sam was getting increasingly upset, her tuts and huffs getting louder and more hostile until suddenly, at full volume: 'What your boy needs is discipline – a darned good smack will sort him out.'
I felt hopeless, embarrassed, and completely out of control. I didn't know what to do and then out of nowhere, on this packed London train (where so much as engaging eye contact with other passengers is frowned upon), I heard myself making a speech: 'My child is autistic. I need your support, not judgement, as I am dealing with a disabled child.' I went on, now channelling Bonnie Harris, author of When Your Kids Push Your Buttons: 'He is not being a problem, but having a problem. As you can see, I am not coping well, but the last thing in the world I am going to do is to smack my child for having a problem. Will you all please stop judging me and will someone help me to leave the train at the next station.'
The silence was excruciating.
Then another passenger spoke out. 'Yeah, leave that poor lady alone – she's doing the best job she can.' And in an instant, the whole carriage descended into a heated argument about how to discipline a child, whether I was doing it right or wrong, how little we understand about autism, and whether or not smacking is an effective form of discipline. Sam sat wide-eyed and silent as he observed all the adults around him behave like they were having a playground slanging match.
We got off the train at the next station. I realised we were still miles from home. I sat on a bench on the platform and I wept. Sam was quiet, meek as a lamb, and comforted me as he realised the impact of his own behaviour on others around him. This was my lowest parenting moment.
Throughout her new book, My Child's Different, Elaine shares lessons from Sam's transformational journey from difficult child to budding entrepreneur. She offers hope and encouragement to parents who may be concerned about what the future might hold, and demonstrates how – with the right support and positive parenting skills – their children can grow up to surprise and delight them. Also includes practical advice on how parents can support their children.
Elaine Halligan is a director at The Parent Practice and has been a parenting specialist since 2006, helping parents raise competent and confident children through parenting classes, private coaching and keynote speaking in schools and corporate settings both in the UK and overseas. She is frequently quoted in the broadsheet press and regularly appears on Sky News, BBC world news and BBC local radio. Her mission is to help parents find the holy grail of parenting: keeping calm and bringing out the best in their children.
Game in Teaching of Russian as a Foreign Language. Exploration of Game as an Educational Phenomenon
reviewed by Zhivka Ilieva, Bulgaria

Short Book Reviews
Hanna Kryszewska, Poland

Teaching English through Drama
Shaun MacLoughlin, United Kingdom

My Child's Different: The lessons learned from one family's struggle to unlock their son's potential
by Elaine Halligan, Crown House Publishing

The Purrfect Pawse. A little book to help children pause, stretch and be grateful
from Crown House Publishing