Hacking Creativity, a New Book by Nik Peachey - Co-Founder Peachey Publications Ltd
I'm delighted to announce that after months of hard work I have just published my latest book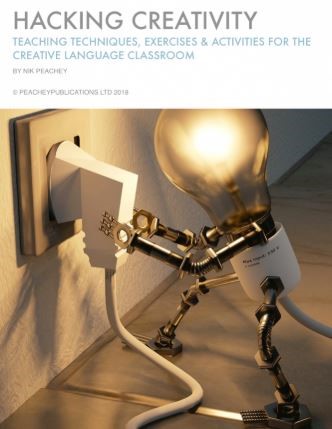 The book is in two parts.
The first part focuses on 10 different techniques and practices that you can use to help develop your students' creative skills and potential.
* This includes visualisation, doodling, brainstorming and fusing and has suggestions for simple classroom exercises that use these techniques.
* You can combine these techniques with many common classroom practices to add a new dimension to your lessons and help to deepen your students learning and build habits that will encourage them to be more aware and open minded.
The second part of the book has a collection 30 activities that you can use in the classroom to develop specific language points.
* These activities have example materials that include video, audio and beautiful images.
* You can either use these materials with your students and save some preparation time or you can adapt the ideas to the age, level and culture of your students.
* This is an example of one of the digital worksheets from the activities: https://view.genial.ly/5cb0b586bcfaf90f54789a75
* The activities all have simple clear step by step instructions to help make them quick to use in the classroom.
You can download the book from: https://payhip.com/b/HDeb
Please check the Creative Methodology for the Classroom course at Pilgrims website
Short Book Reviews
Hania Kryszewska, Poland

Coaching For Language Learning, reviewed by the author
Emmanuelle Betham, UK

Review of Harmer and Puchta Story Telling Book
Mario Rinvolucri, UK

The Park
Amy Humphreys, UK

Hacking Creativity, a New Book by Nik Peachey - Co-Founder Peachey Publications Ltd
Nik Peachey, UK

A Book to Look Out For – Coming Your Way Soon
Alan Maley, UK

New Titles from DELTA