Creativity Through Constraints – Writing 2
Hanna Kryszewska is a teacher, teacher trainer, trainer of trainers. She is a senior lecturer at the University of Gdańsk, Poland. She is co-author of resource books: Learner Based Teaching, OUP, Towards Teaching, Heinemann, The Standby Book, CUP, Language Activities for Teenagers, CUP, The Company Words Keep, DELTA Publishing, and a course book series for secondary schools: ForMat, Macmillan. She is also co-author of a video based teacher training course: Observing English Lessons. Hania is a Pilgrims trainer and editor of HLT Magazine.
E-mail: hania.kryszewska@pilgrimsteachertraining.eu
Introduction
In the June issue of HLT I shared one of my favourite ideas for writing: Creativity Through Constraints – Writing 1. Constraints are not an obstacle to speaking or writing. When it comes to constraints in writing I don't have in mind sophisticated forms like haiku, tanka or sijo. In a language class we may want to use simpler ideas before we branch out into such kinds of poetry.
Introduction
This idea is inspired by Postcard Biographies. You can find more details here:
https://www.independent.co.uk/arts-entertainment/books/art-life-postcard-biographies-from-the-national-portrait-gallery-1257438.html
https://www.independent.co.uk/arts-entertainment/art-life-postcard-biographies-from-the-national-portrait-gallery-1291760.html
Here is an example of a winning entry I had saved (this is the original newspaper clipping I have kept):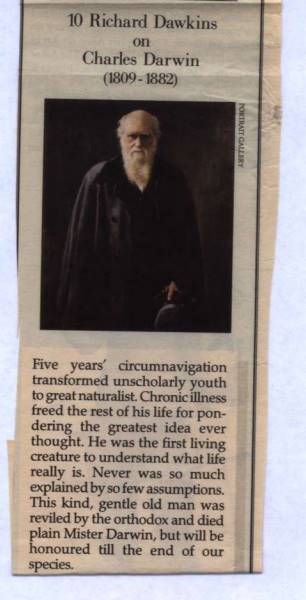 Preparation
Select a text or a listening to work with. My favourite is a ten-minute presentation about Franz Liszt at https://www.youtube.com/watch?v=goeOUTRy2es . It is so because it is in relatively simple English (approx. B2), it uses a lot of visuals (visual slides alternate with text based ones), the life of Franc Liszt is not presented in chronological order, the text mixes facts and opinions, and the background music to the slide show is the Hungarian Rhapsody by Franz Liszt. Here are some sample screenshots of the slides.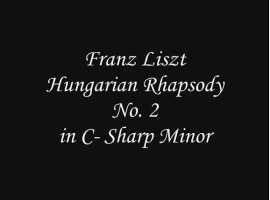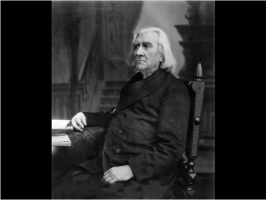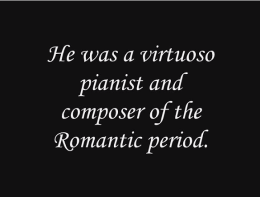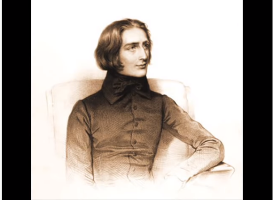 Activity
1 Students watch the whole slide show and take no notes.
2 Then in pairs they compare what they remember.
3 Introduce the idea of postcard biographies.
4 In pairs students produce their 70 word summaries, no more no fewer words.
5 Display the summaries for all to see and judge.
Sample texts
1
Liszt was considered a child prodigy and later an embodiment of a Romantic pianist. He was inspired by such extraordinary musicians as Chopin and Paganini. Despite being a prolific composer, Liszt spent his life happily with a beloved wife and charming children. He was adored by audience, musicians and Kings. However, not only was he a gifted artist but he also dedicated himself to passing his skills to next generations.
2
Called a prodigy at the age of six, performed since the age of nine and taught by the great Antonio Salieri. A world famous virtuoso considered the greatest pianist with his personal experience put into his works. His style theatrical and showy would leave everyone in awe of his brilliant technique. His etudes were praised by Schumann. He remained active as a teacher and a performer until the very end.
3
Franz Liszt was acknowledged as a child prodigy at the age of six. His father, Adam taught him how to play the piano. He travelled back and forth between Austria and Italy. He was discovered by the local aristocrats, who enabled him to discover his true talent. He had three children out of whom two daughters died. During giving music lessons he developed feelings towards his student, who became his future wife. He was a very prolific artist.
4
His talent was recognised when he was 6 and his first performance happened three years later. A word famous pianist virtuoso ripped from his childhood by the ripe age of 15 when his father died, came from Raiding, Hungary. Franz Liszt fathered three children to his love and piano student. Remaining active as a teacher and performer until his death he created a plethora of masterpieces, making piano resemble orchestra.
Please check the Pilgrims f2f courses at Pilgrims website.
Please check the Pilgrims online courses at Pilgrims website.
Creativity Through Constraints – Writing 2
Hanna Kryszewska, Poland