Teaching a Classic American Short Story for Christmas: O. Henry's "The Gift of the Magi"
Editorial
This is a revised and substantially expanded version of an article published originally in BETA E-Newsletter, #14, Nov.-Dec 2014, 106-110 (http://goo.gl/me5P8B) and also in a revised version in IN (IATEFL Slovenia Magazine), #72, Winter 2017, 12-15.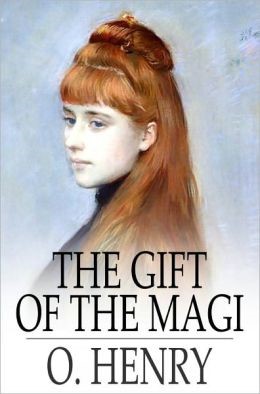 Bill Templer is a Chicago-born educator with research interests in English as a lingua franca, critical pedagogy, minority studies and social justice issues in the EFL classroom. He has taught at universities in the U.S., Ireland, Germany, Iran, Israel, Bulgaria, Nepal, Thailand, Laos and Malaysia. Bill is active on the IATEFL Global Issues SIG Committee and within BETA in Bulgaria. Bill is based as an independent researcher in eastern Bulgaria. templerbill@gmail.com
Introduction
A classic Christmas story in American English fiction, and one of my favorites for learners aged 10 or older (including adults), is O. Henry's famous short story, "The Gift of the Magi" (1905). Here it is in simplified VOA Special English, with an MP3 reading, 1,565 words; here as pdf. Even for more advanced students, it is a very pleasurable, comprehensible tale in this simplified, downshifted version. Here the original story. It is 2,070 words, ⅓ longer and a lot more difficult. As Current-Garcia (1993: 79) notes: "O. Henry wrote few stories of average family life that approach in tenderness and popular appeal the action and upbeat tone of 'The Gift of the Magi.'" It is a 'love story' as well. Learn about William Sidney Porter (1862-1910), alias O. Henry. He was one of the most prolific major U.S. short story writers in the early 20th cent.
Della and her husband Jim are simple working people. Christmas for the poor ― that is central in the story. This is highlighted from the very first sentence: "ONE DOLLAR AND EIGHTY-SEVEN CENTS. That was all. She had put it aside, one cent and then another and then another, in her careful buying of meat and other food. Della counted it three times. One dollar and eighty-seven cents. And the next day would be Christmas" (VOA). Iconically, Della's life has more "little cries than smiles." The story was later published in O. Henry's book of 25 stories, The Four Million (1906). These are stories about ordinary working-class people, the 'four million' who lived in New York in 1905, with the huge inequality in income common during the 'Gilded Age,' many from immigrant backgrounds. By 1910, New York's population had increased to 4,760,000, growing very fast, a classic era in mass immigration across the Atlantic from Europe. Nearly 40% were immigrants. Jim & Della's family is probably English, Dillingham a very British name, stressed in a humorous way in the original story.
O. Henry, immersed in New York life 110 years ago, is a challenging writer. The easier VOA version is at Flesch-Kincaid Grade Level 4.4, Flesch-Kincaid Reading Ease 84 (on a scale from 1 [extremely difficult] to 100 [very easy]). The original tale is Flesch-Kincaid Grade Level 5.9, Reading Ease 75.9. Students at (A2) and B1 level can readily read the story in its simpler version. You can test Flesch-Kincaid readability here.You can also test for vocabulary levels: the original version has over 11% vocabulary above the 2000-basic word level (K-2), 113 lexemes K-4 level and above [!]. By contrast, the simpler VOA version has only 16 words K-3 level and above. The first 150 words in the original story have quite difficult lexis: imputation, parsimony, instigate, flop, bulldoze, subside, beggar (vb.), mendicancy. O. Henry also had great fondness for figurative language and humorous 'literary' phrasing, which renders his original tales, often brilliant in style, harder in lexis for learners. Ask students to test the two versions in vocabprofile and compare. There are several online tools at www.lextutor.ca to explore the difficulty of English lexis. It is an excellent site for students (and teachers) to learn to use with a great variety of texts. Readability research continues. There are various readability formulas.
Lesson plans / activities
Here (1) a lesson plan from ESL Voices, (2) a rich range of teaching ideas and resources, and (3) a focus on vocabulary activities. Here the Wikipedia entry on the story. Here a summary and analysis of the story as an animated video and a plot analysis. Here a set of summaries, homework questions. Here another study guide, many online. Learners can also compare parts of the simplified story and the original: what has been changed? An excellent exercise for both students and teachers, sharpening their sense for style and more complex lexis. Teachers can also experiment with 'flipped learning' approaches to dealing with the story, its theme and associated social issues, assigning a range of preliminary readings, viewings and activities.
Discussion points abound
What is Della thinking as Mne. Sofronie cuts her long hair? Do you know anyone who sells her hair nowadays? What is the surprising 'twist-ending' of the tale, its soft 'irony'? Consider also the element of the 'unpredictable' here (discussion below), as Jim never expects Della to sell her beautiful hair, and Della thinks Jim's pocket watch is his most cherished object. The original describes their simple apartment: "It did not exactly beggar description, but it certainly had that word on the lookout for the mendicancy squad." What does 'beggar' mean here? A common idiom is: 'it beggars belief.' A mendicant is a beggar; but what is a police 'mendicancy squad,' then common in New York? O. Henry wishes to stress how very poor the couple is. Students can explore how poverty is made a theme in this Xmas story. What problems have your learners had in struggling over money? As Peter McLaren (2016: 252) notes: "We need to remember that our students are complex historical agents, and they need to be able to read the multiple texts of their own lives. That is, they need to read the languages and discourses in which they find themselves in order to reinvent themselves." Their lives matter, and should be brought sensitively into the classroom. They can learn to identify/empathize with 'Others' like Jim & Della. In interview, Kieran Donaghy stresses how reading fiction can teach us all to empathize better in our lives, social awareness, why empathy is so central in ELT, both for students and teachers to develop.

Do we learn how long Jim and Della have been married? Students can imagine how the new year to come turns out for them. Maybe it brought unexpected surprises: a baby, a better job for Jim or even for Della (why is she unemployed?). Activity: write a letter by Jim or Della to a friend, or a persona poem, assuming Della or Jim's identity. In another personal variation: "Pull the main character out, and insert yourself. Use your personality, your history, and everything about you to decide how the story might change with you in it instead" (IN 2017: 11).
Magi and the Nativity
Who were the 'Magi,' coming to the indigent Jewish couple and infant Yeshu ben Yosef (ישו בן יוסף – Jesus) in Bethlehem on Twelfth Night? Students can describe what they see in this classic painting 'The Adoration of the Magi.' This legend is the core basis of gift-giving at Christmas. Students can discuss in groups what kind of gifts they want or give at Xmas, how they celebrate Christmas Eve or the last week of the year in their family. What do students think about today's commercialization of Christmas everywhere, as Monbiot reminds us.? There is no Santa Claus here, but students can explore this traditional figure historically. In Bulgaria he is called Дядо Коледа (Grandfather Christmas) or Дядо Мраз (Grandfather Frost). Students can discuss Xmas customs in their own country, such as Advent calendars. In Bulgaria, for example, there is the tradition of koledari Christmas carolers, also a tradition in Romania. How do students see such indigenous practices? The story ends: "Being wise, their gifts were wise ones. And here I have told you the story of two young people who most unwisely gave for each other the greatest treasures of their house. But in a last word to the wise of these days, let it be said that of all who give gifts, these two were the wisest. Everywhere they are wisest. They are the magi" (VOA). How can that be interpreted? What was "unwisely" given by "the wisest" (an oxymoron)?
New Year's Eve, in socialist times the major year-end festival, remains today in Bulgaria a key family holiday, with traditional survakane January 1st. Everyone, whatever their religion, can celebrate the end of the Western civil calendar year, a festive turn soon after winter solstice in the northern hemisphere, Roman Saturnalia. In Thailand New Year's Eve is a major holiday. The Jewish Festival of Lights Hanukkah generally falls in December (2 Dec. 2018), a special holiday also for children, traditionally with gift-giving ― and perhaps also a 'winter solstice holiday' (8 days of candles), anchored in Jewish tradition. But was Jesus really born 25 Dec.?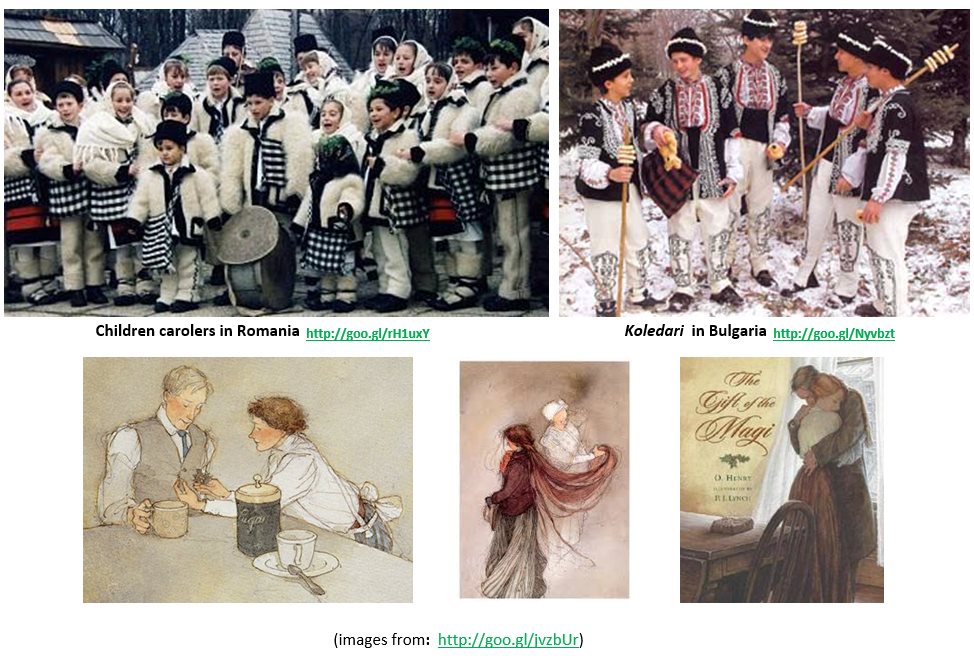 Images, drama and song
Students can compare and discuss the multitude of images relating to the story online. They can hone visual literacy skills, inspiring students to draw diverse images from the tale, like their poor apartment. On using visuals, see the 2018 GISIG IATEFL PCE, and VAC.They can act out the simple tale, its characters and scenes, creating mini-skits. Teaching multi-modally, the teacher can introduce popular Christmas songs and carols that students can learn, enjoy, sing in class.
Video
There are numerous video adaptations of the O. Henry story on YouTube, all based on the original, such as this. Here an illustrated reading, and a reading with video acting. Here a simple retelling of the tale (first 8 minutes). A famous Hollywood movie, O. Henry's Full House (1952), included a 23-minute dramatization of the story. This video can also be watched after the learners have tried to dramatize the tale in their own way. There are many additions here: try to spot them, a good exercise with B1/B2-level students. The movie stars Jeanne Crain as Della, Farley Granger as Jim, both popular actors in the 1950s. Students can follow the story easily.
Spotlighting O. Henry's work
A number of O. Henry's stories are available in VOA Special English. He is still a popular writer, and his stories are read in many school syllabi in the U.S. Most have a 'twist-ending,' a surprise. Another popular tale by O. Henry (also about money) is "One Thousand Dollars," here in a VOA simpler version. The book The Four Million is on the Gutenberg site. Students can download it easily for further exploration. The Complete Works of O. Henry are online, start browsing. Here is another site with 100s of the author's stories. A standard study is Current-Garcia (1993). Two other O. Henry stories you can explore and teach are discussed in Templer (2017; 2017a). Templer (2016) centers on "Kin," a Christmas mini-tale about New York's poor ca. 1890 by the writer and social activist Jacob Riis, a touching street-scene story with song.
Free voluntary reading
Encourage your students to read freely in English (and their L1 and maybe L3), esp. simpler texts, including picture books. More generally, here are many classic very short stories for American high school students. They can whet students' appetites for fictional brevity. Many authors' works are available here. Extensive Reading of self-selected short stories, including many by a single author, like O. Henry, is an excellent individualized approach (Bamford & Day 2004); see also Maley (2018). Jeff McQuillan (2017) stresses that what is needed for most ordinary learners, especially from low-income strata, is lots of free voluntary reading and hands-on school library access to books, plus books at home in L1/L2. In that context, Bookbag Ireland is a great idea for sharing, a suggestive paradigm for basic literacy initiatives in many societies.
Unpredictability in our own lives
O. Henry was very interested in 'unpredictability' in everyday life, what seems 'random,' highly improbable,' how it occurs; 100s of his stories hinge on an unexpected'fortuitous' turn of events, a surprise 'twist-ending,' as in the case of Jim and Della. Templer (2017a: 9-11) explores that commenting on O. Henry's tale "The Last Leaf." It is also a fascinating factor in our own daily lives, and in human history. As N. N. Taleb (2010: xxiii) stresses: "Look into your own personal life, to your choice of profession, say, or meeting your mate […] How often did these things occur according to plan?" On a larger scale, daily news is full of what Taleb terms 'Black Swan Events': from hurricanes, destructive wildfires, terrible floods, wars, terrorist attacks, to political events galore, on & on in our times of the digital 'society of the spectacle' (Debord 1990), exponential in our virtual world of endless images. Encourage students to discuss & write about how the unexpected, unpredictable (and 'serendipity') have played a key even existential role for them. As Taleb (ibid.) contends: "Black Swan logic makes what you don't know far more relevant than what you do know." A view O. Henry might well have agreed with.
Christmas and the abyss of poverty
Many families everywhere face the same economic problem as Della & Jim throughout the year, within the dynamics of inequality and class stratification in most societies. Here in Bulgaria, this is especially stark, a perplexing picture of poverty for a multitude. Among EU countries, children in Bulgaria are most at risk of indigence and social exclusion. Roma in Bulgaria often struggle in extreme poverty. In the U.S., many citizens still live in relative poverty, even employed full-time, the working poor (like Jim) and those in job insecurity. Some analysts call this a 'Gilded Age 2.0,' a good topic for class discussion. Millions of refugee children across the world are celebrating the Christmas season in dire hardship in 2018, Human Flow. How do students view migrants in their own country or town? What are the roots of such mass exodus in our chaotic times? "Some 65 million people have been displaced from their homes, 21.3 million of them refugees for whom flight is virtually compulsory – involuntary victims of politics, war or natural catastrophe." If you teach Roma kids in Bulgaria or elsewhere, most are from subaltern socioeconomic backgrounds. This VOA article on Roma education across Europe is well worth discussing with students at B1/2 level, the real situation many Roma kids face today.
From a Christmas story about social class to social justice pedagogy
If you work with learners from low-income families, from marginalized ethnic minorities, refugees in your own town, Christmas is an excellent festive time to think about ways to better integrate and respect these children, strengthen their self-esteem, autonomy and agency. In part also through PAL, peer-assisted learning at school. Empowering your own local community, bottom-up. McLaren (2015: 53ff.) also sees Jesus as a proto-typical revolutionary figure for a world of radical equality and equity. Encourage students to discuss & develop a project 'Getting to Better Know Our Neighbors, Their Life Worlds' where you teach. Explore Derber (2017) on what ails our System and how to teach/act/move toward greater social & economic justice – here an interiew on his new book and the systemic transformative alternatives we all need. Victor Wallis discusses the need for an ecosocialist future, a classless, ecological society & economy.
A focus on 'Bottom-up connection consciousness' (Kall 2019) and honing social empathy (Krznaric 2012) for tolerance–galvanizing awareness of the real situation of people like Della and Jim, their life worlds marked by economic struggle–is central to concerns of IATEFL GISIG. GISIG is summed up nicely in Alan Maley's prolog poem 'Teacher' (Maley & Peachey 2017: i). Discover the discussion in GISIG Issues Month (Oct. 2017) on 'Neighbours & Borders.' Teachers and students can explore the 40+ posts, including ideas for teaching about migrants, diversity, otherness, neighbors new & old; Issues Month Human Rights (Oct. 2018) is likewise very relevant; see also Templer (2012). One can use short stories, lyric poetry (Templer 2018) as components of a 'critical pedagogy,' bringing the world's crisis-ridden realities into the EFL classroom (Pohl & Szesztay 2015). An A-1 video presentation is Pohl & Szesztay (2017); see also A-Z of Global Issues, Ruas (2017; 2017a) and the excellent NI Easier English wiki.
Bethlehem today
Returning in 2018 to Bethlehem where Jesus was born, listen to Vera Baboun, the mayor of Bethlehem (2012-2017); she taught English at Bethlehem University for 20 years, one of us. Here Vera speaking about Palestine; and see her new autobiography. Vera's Christmas message of peace 2015. Today a huge 'Security Wall' built by the Israeli Occupation surrounds much of the city, an icon of political repression−a population resilient in defiance, their children at special risk. Here a tour of the Bethlehem Old City. International students can volunteer at the Palestine Institute for Biodiversity and Sustainability at Bethlehem University, a unique learning experience. The Institute is headed by Prof. Mazin Qumsiyeh, a key peace-education activist.
Moving beyond
♫ For an inspiring way to end 2018 – teach a classic Xmas song about the urgent need for world peace – John Lennon's 'Happy Christmas (War is Over),' plus this fine Lennon video.
References
Bamford, Julian & Day, Richard, R., eds. (2004). Extensive Reading Activities for Teaching Language. Cambridge: Cambridge UP. http://goo.gl/ybi1Gi
Current-Garcia, Eugene. (1993). O. Henry: A Study of the Short Fiction. New York: Twayne.
Debord, Guy. (1990). Comments on the Society of the Spectacle. London: Verso. http://www.notbored.org/commentaires.html
Derber, Charles. (2017). Welcome to the Revolution: Universalizing Resistance for Social Justice and Democracy in Perilous Times. New York: Routledge. http://goo.gl/uNVK6w
IN. (2017). Things to Write About. IATEFL Slovenia Magazine, no. 71. http://goo.gl/a7j26J
Kall, Rob. (2019). Bottom-Up: Tapping the Power of the Connection Revolution. New York: SelectBooks. http://goo.gl/k8R1uy
Krznaric, Roman. (2012). The Power of Outrospection. Video, RSA. http://goo.gl/GXwv8F
Maley, Alan. (2018). Extensive Reading: Why it is Good for Our Students … And for Us. TeachingEnglish, British Council. https://tinyurl.com/hdndjxx
Maley, Alan & Peachey, Nik. (2017). Integrating Global Issues in the Creative English Language Classroom. London: British Council. http://goo.gl/CfgqzH
McLaren, Peter. (2015). Pedagogy of Insurrection: From Resurrection to Revolution. New York: Peter Lang. http://goo.gl/tMh8Et
McLaren, Peter. (2016). Life in Schools: An Introduction to Critical Pedagogy in the Foundations of Education. 6th ed. New York: Routledge. http://goo.gl/mGkPYX
McQuillan, Jeff. (2017). Books Before Bytes: Why We Don't Need More Computers in the Classroom. Language Magazine: The Journal of Communication & Education, 17(2), 38-40. https://tinyurl.com/ybltqaus
Pohl, Uwe, & Szesztay, Margit. (2015). Bringing Creative, Critical and Compassionate Thinking into ELT. Humanising Language Teaching, 17(2), April. https://tinyurl.com/y9szngja
Pohl, Uwe, & Szesztay, Margit. (2017). Zooming IN and Zooming OUT. Workshop talk. IATEFL Hungary conference, 7 Oct. http://goo.gl/hwtLBp
Ruas, Linda. (2017). Why Global Issues? UK: Academic Study Kit. http://goo.gl/zBTd6p
Ruas, Linda. (2017a). The Classroom in the World: The World in the Classroom. IATEFL-Hungary, 8 Oct. http://goo.gl/GuZSed [from min. 8:30]
Taleb, Nassim Nicholas. (2010). The Black Swan: The Impact of the Highly Improbable. 2nd ed. New York: Random House. http://goo.gl/h6PfsD
Templer, Bill. (2012). Changing the World, Walking the Talk: Global Issues Hands-on in the EFL Classroom. Presentation, 21st BETA-IATEFL Annual Conference, Ruse, 1 April. http://goo.gl/eMy6Kq
Templer, Bill. (2016). "Kin": A Christmas Story about New York's Poor. BETA E-Newsletter, #25, Sept.-Oct., 25-42. http://goo.gl/KDfBZt
Templer, Bill. (2017). Teaching a Memorable Classic Short Story: O. Henry's 'The Romance of a Busy Broker' (1906). Humanising Language Teaching, 19(5) Oct. https://tinyurl.com/y9fvzjn8
Templer, Bill. (2017a). Teaching a Touching Tale about Three Artists: O. Henry's 'The Last Leaf' (1907). BETA E-Newsletter, #31, Sept.-Oct., 5-21. http://goo.gl/AjxZB7
Templer, Bill. (2018). 'Poetry in Motion': Teaching a Poem about Hiroshima August 1945. BETA E-Newsletter, #33, Jan-Feb., 5-22. https://tinyurl.com/y7zz7e9q

Please check the Methodology and Language for Secondary course at Pilgrims website.
Please check the Teaching Advanced Students course at Pilgrims website.
Please check the British Life, Language and Culture course at Pilgrims website.
Please check the CLIL for Secondary course at Pilgrims website
Fairytale of New York – A Christmas Activity
Jamie Keddie, Spain

10 Tips and Ideas for Your 'Christmas' Lessons, from ETpedia


Teaching a Classic American Short Story for Christmas: O. Henry's "The Gift of the Magi"
Bill Templer, Bulgaria