Tales of Strays ACTION!
Margarita Kosior is an educator, conference presenter, materials writer, but also a storyteller and a children's author. She has written ELT materials dealing with all kinds of social issues. In recent years, she has concentrated her efforts on building and expanding her Tales of Strays Campaign, which uses storytelling, materials writing and English language teaching to talk about our responsibilities towards companion animals and about the bond between people and dogs and cats in order to prevent instances of future neglect, abuse and abandonment.
E-mail: margaritakosior@gmail.com and talesofstrays@margaritakosior.com
Introduction
The treatment and prevention of abuse of companion animals is a critical social issue. Over the years, educators and students involved in the Tales of Strays Campaign have been dedicated to improving the welfare of these animals, with the belief that this will ultimately lead to a better future for all. That is because teaching children about kindness and respect for these animals has the potential to extend its impact to their interactions with fellow humans, cultivating a sense of empathy and compassion.
You can learn more about the campaign, its aims and activities by reading a previous publication titled Teaching for a Better Tomorrow with Tales of Strays. This article is dedicated solely to a project completed within the scope of the campaign during the school year 2022-23.
Tales of Strays ACTION 2022-23
At the beginning of the 2022-23 school year, twelve teachers answered the call and enthusiastically joined the Tales of Strays ACTION project. Throughout the year, they worked with their students on a variety of projects and initiatives related to companion animals. They also took part in the Change Makers' Conference during which the students presented their work to the other participants. Additionally, these dedicated educators agreed to share their valuable insights with a wider audience during an open online event for colleagues and by writing a report for a compilation available here.
More specifically, in September-October 2022, each teacher selected a group of students of any age of English language proficiency level to be involved in the project. Together with their chosen groups, they decided on the focus of their projects. These topics were either based on a lesson plan from one of the Tales of Strays Compilations or were entirely original ideas crafted by the teachers and students involved. A list of sample topics including dog/cat domestication, responsible companion animal care, understanding dog/cat body language, puppy mills and pet store puppies, service dogs or the role of companion animals in enhancing human well-being, to mention just a few, was available for consideration on the website.
Between October and January, teachers and students worked on their project at their own pace. The students were working towards a collaborative outcome in the form of a group project, e.g. a poster, a video, or a collection of poems.
Following the completion of their projects, the students began preparations for the Change Makers' Conference held at the beginning of March, while the teachers started working on their written reports for the compilation and on their presentations for the forthcoming open online event which would reach educators across the globe.
Tales of Strays ACTION 2022-23 - work samples
As mentioned earlier, a total of twelve teachers and their students participated in the 2022-23 Tales of Strays ACTION! Project.
Maria Alatzidou (Project Foreign Language School) worked with her B1 and C2 students on the topic of stray animals. The lesson was adapted from a plan by Erëza Mehmeti included in Tales of Strays Compilation: Volume 3, and centred around an exciting escape game.
Following this activity, the students conducted interviews with two volunteers working with local strays, aiming to learn more about these animals and the challenges faced by volunteers.
Lia Bezanidou's B1-B2 students created captivating stories which would not only entertain the reader but also stress the importance of caring for stray animals. The aim of those short stories was to emphasise that dogs and cats do not belong in the streets. Inspired by the Tales of Strays Campaign, Lia's students made amazing graffiti and recorded the creation of it in a video. Screenshots from the video are presented below: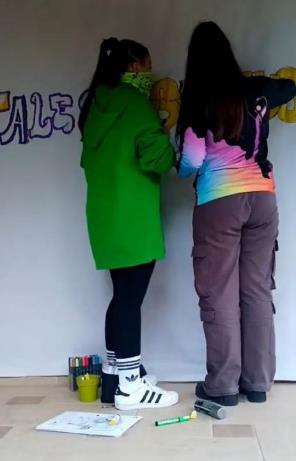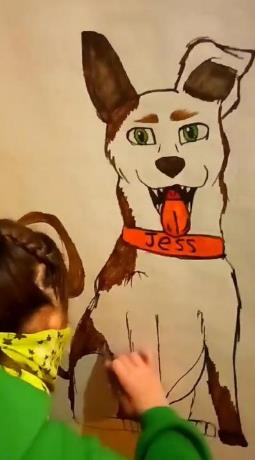 Sophia Dima (Europoint – Petala Foreign Language School) worked with A1-A2 students. Their project was based on Madalina Atanasov's lesson plan titled "Reading in their eyes" included in Tales of Strays Compilation: Volume 3. The book Toby to the rescue was also used in the preparatory phase of the project. The outcome was a beautifully animated story.