Exam Literacy by Jake Hunton, from Crown House Publishing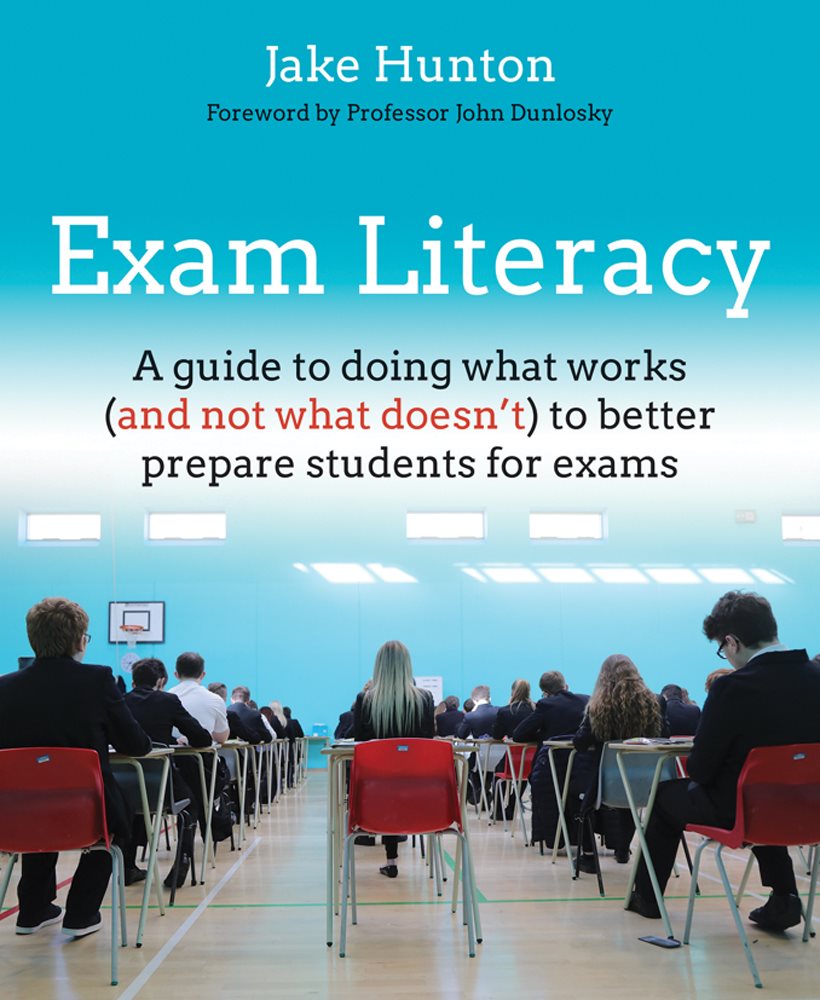 Exam Literacy: A guide to doing what works (and not what doesn't) to better prepare students for exams
by Jake Hunton
£18.99
ISBN 9781785831980
published 24th August 2018
Jake Hunton is head of modern foreign languages at Heart of England School in Solihull and believes in combining passionate, engaging and fast-paced teaching with a focus on the highest achievement for all students. Jake tweets as @jakehuntonMFL. #ExamLiteracy
'Read, highlight, reread, repeat' …
It doesn't matter how many times they do it, it won't help!
Sadly this revision cycle is all too wearily familiar – but, believe it or not, there is a much better route to exam success.
In light of the recent decision to make all subjects at GCSE linear, it is more important than ever that all students are well equipped to acquire and recall key content ahead of their exams.
That's easier said than done. Learning is not an easy thing to do. Or rather, the effective learning of complex ideas and concepts is not easy. There really is no fast route to knowledge – it is not something which can be aquired lightly, it takes time and effort. If you learn something quickly it is very likely that you will forget it just as quickly. There must be a process to the learning and retention of information.
All too often teachers fall into the trap of looking for an easy route to exam success for their students. Fast and easy progress certainly does not guarantee actual learning success. An over-reliance on these ineffective techniques usually results in students (and teachers) inadvertently making it more difficult to reach their learning goals.
This is all very frustrating, both for teachers who seek to help their students retain what they have learned and for students who want to succeed but too often find themselves struggling.
So, how do we reduce these frustrations and ultimately improve student achievement? How do good teachers teach and how can students guide their own learning and revision?
If you find yourself asking these same questions, you are not alone. After spending many years experiencing the same frustrations while teaching students foreign languages, Jake Hunton realised he needed to make some changes, and in order to do so he turned to empirical evidence (the hardcore research that indicates what really works) about which learning and revision techniques are most effective and how to use them with fidelity.
In fact, you will probably find much of what he learned rather surprising. Some of the most effective learning and revision techniques can be implemented in any classroom, yet many teachers do not know about these techniques and they certainly don't know how to use them effectively.
Sharing is caring, as they say. So, to spread the word, Jake put together a user's guide in the form of his new book, Exam Literacy. In it he shares some of the most effective techniques for learning and revision, and he does so in a humorous and engaging manner that makes them accessible to any interested reader. He shares real insight into how to improve your students' learning (or even your own), and provides a comprehensive resource for anyone who embraces lifelong learning in school and beyond.
Please check the Assessment for the 21st Century English Classroom course at Pilgrims website.
Exam Literacy by Jake Hunton, from Crown House Publishing


Out of your seats by Anette Igel and James Thomas, from VERSATILE


Teaching on a Shoestring: An A–Z of everyday objects to enthuse and engage children and extend learning in the early years, by Russell Grigg and Helen Lewis, from Crown House Publishing


Tune into English October 2018
Fergal Kavanagh

ELT Lesson Observation & Feedback Handbook by Jeanette Barsdell