Out of your seats by Anette Igel and James Thomas, from VERSATILE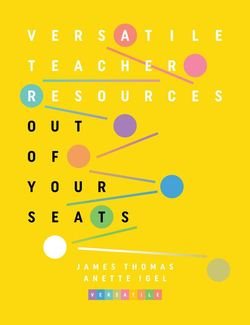 Distributed by https://www.lulu.com/
Can be ordered from their Versatile page
Out of Your Seats is a book of practical, interactive and creative teaching activities for all levels and ages that get learners, well, out of their seats. It offers a wide range of productive and receptive language experiences that enrich the learning in English as a Foreign Language classrooms. Teachers may adapt any of the activities or lessons with their own content as they also function as templates.
​The Resources section contains photocopiable pages and useful lists of language exponents.
The detailed Index helps teachers find what they need when planning lessons.
Activities
Through short, reassuring, collaborative activities, learners subconsciously develop a wide range of competences. The activities provide teachers with content, procedures, examples and functional language.
​
Lessons
Full lessons take activities as their core and integrate skills and systems. The learners engage in language exploration and consolidation through creative, confidence-building, interactive and reflective activity.
More for resources go to http://www.versatile.pub/resources.html
Please check the Creative Methodology for the Classroom course at Pilgrims website.
Exam Literacy by Jake Hunton, from Crown House Publishing


Out of your seats by Anette Igel and James Thomas, from VERSATILE


Teaching on a Shoestring: An A–Z of everyday objects to enthuse and engage children and extend learning in the early years, by Russell Grigg and Helen Lewis, from Crown House Publishing


Tune into English October 2018
Fergal Kavanagh

ELT Lesson Observation & Feedback Handbook by Jeanette Barsdell