Chatting-up a Girl: Intralingual Mediation Tongue-in- Cheek
Hanna Kryszewska is a teacher, teacher trainer, trainer of trainers. She is a senior lecturer at the University of Gdańsk, Poland. She is co-author of resource books: Learner Based Teaching, OUP, Towards Teaching, Heinemann, The Standby Book, CUP, Language Activities for Teenagers, CUP, The Company Words Keep, DELTA Publishing, and a course book series for secondary schools: ForMat, Macmillan. She is also co-author of a video based teacher training course: Observing English Lessons. Hania is a Pilgrims trainer and editor of HLT Magazine.
E-mail: hania.kryszewska@pilgrimsteachertraining.eu
Background
Mediation is one of the buzz words in language education both foreign language as well as overall mother tongue competence. CEFR fosters the use of mediation in our classes, materials development and testing.
There are increasingly more materials available on the market as well as teacher training courses for teachers (also at Pilgrims TT). The mediation levels we need to work on are:
intralingual mediation – within one language, register and lexical transfer,
interlingual mediation – translation and near translation,
cultural mediation – between cultures, including national, international and global,
social mediation – between people, including reaching consensus and conflict resolution.
When we test the various mediation competences the tone and the tasks tend to be on the serious side. But when we address various aspects of mediation in class it can be more tongue-in-cheek, at the same time offering sound mediation work and understanding of the spirit of mediation. Here is a lesson to this effect.
The lesson
1 Brainstorm different ways to chat somebody up f2f. 1-2 minutes
2 Pool ideas what to say and/or what to do.
3 Discuss if sending an e-mail is a good idea. Why yes? Why not?
4 Ask the students to read this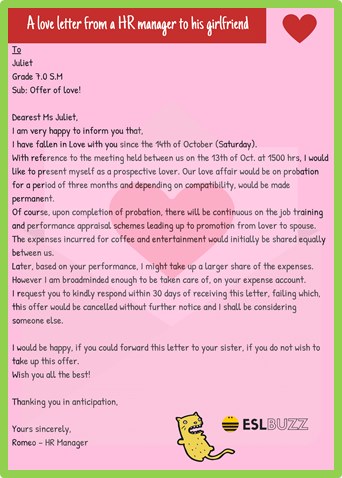 5 Discuss reactions. Discuss the language.
6 Invite suggestions what to do instead of sending such a mail? Pick on sending a text message, when the students mention it. If not introduce it yourself.
7 Discuss the main points the e-mail makes.
8 The students work in pairs and rewrite the text as a text message. They use this word file to do lexical and grammar work, as well as all the editing. You may want to set a word limit.
To, Juliet Grade 7.0 S.M Sub: Offer of love!
Dearest Ms Juliet, I am very happy to inform you that I have fallen in Love with you since the 14th of October (Saturday). With reference to the meeting held between us on the 13th of Oct. at 1500 hrs, I would like to present myself as prospective lover. Our love affair would be on probation for a period of three months and depending on compatibility, would be made permanent. Of course, upon completion of probation, there will be continuous on the job training and performance appraisal schemes leading up to promotion from lover to spouse. The expenses incurred for coffee and entertainment would initially be shared equally between us. Later, based on your performance, I might take up a larger! share of the expenses. However I am broadminded enough to be taken care of, on your expense account. I request you to kindly respond within 30 days of receiving this letter, failing which, this offer would be cancelled without further notice and I shall be considering someone else. I would be happy, if you could forward this letter to your sister, if you do not wish to take up this offer. Wish you all the best!!!! Thanking you in anticipation, Regards,
8 Students display and compare their informal versions.
9 Then in pairs they pick up somebody else's text and write an informal reply.
10 Then the texts are circulated again and redistributed. Pairs rewrite the informal reply in a formal way, in the style of the original mail.
11 The response text messages and formal e-mail versions are all displayed on the baord in random order. Students try to match the two that go together.
12 Discuss with the whole class what they have learaned in this activity.
Note As the students work monitor their progress and offer ample language suport or point them towards a good (online) dictionary or a thesaurus.
Please check the Mediation in the Language Classroom course at Pilgrims website.
Please check the Practical Methodology and English Language Development for Secondary Teachers course at Pilgrims website.
Please check the Practical Ideas for Teaching Advanced (C1-C2) Students course at Pilgrims website
Chatting-up a Girl: Intralingual Mediation Tongue-in- Cheek
Hanna Kryszewska, Poland