The Play as a Living, Breathing, Ever-evolving Entity
Hanaa Mansour is a teacher of English at Beit Hanoun Elm. Co-ed "D" UNRWA School, Gaza, Palestine. She has been teaching English for 4 years and is very interested in Drama and Remote theatre. She runs a very successful Hands up project drama club in her school, giving her students opportunities to foster their talents, get out of their comfort zones, and share their ideas with confidence. She's also extremely interested in supporting her students in establishing connections and friendships with teachers and students around the world. Email: hanaam932@gmail.com
Nick Bilbrough is a teacher, teacher trainer and ELT author. He's written many books for teachers and is currently working on the Remote Theatre Handbook. He holds an MA in Drama in Education and is particularly interested in the role of drama and storytelling techniques in second language learning. He now devotes all his energy to the registered charity he founded https://handsupproject.org/, providing learning opportunities for young people, mostly in Palestine, through online conversation, storytelling and drama activities. Email: info@handsupproject.org
Hands up Project's work with creating plays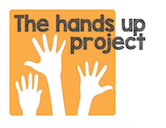 One of the things we do in the Hands up Project is encourage young people in Palestine to create and perform their own short plays in English. We do this for two main reasons. Firstly, because it's probably the richest integrated language learning activity we know of. It has the potential to develop all four skills (reading, writing, speaking and listening) and promotes cyclical links between the skills so that what is written is then read, then spoken, then listened to, then potentially rewritten again etc. It also provides the perfect balance between accuracy (having to write and pronounce the lines in the best possible way to make meanings clear) and fluency (all of the free discussion that happens around brainstorming ideas, staging the play and feedback on rehearsals etc).
A second reason for encouraging and supporting young people in Palestine to create plays is that it enables them to become authors and actors with their own distinct voices, which may be heard loudly and clearly in the wider world (a world which generally seems to ignore them or have forgotten about them). By creating and performing a play young people are using English not just to complete an exercise in a coursebook, to please their teacher or their parents, or to pass an exam; they are doing it to tell their stories and to be heard. As Scott Thornbury put it in his introduction to our first collection, 'Toothbrush and other plays' (HUP 2018), "By construing their lives as narratives that can be performed and shared, drama eloquently affirms their identity as Palestinians and as global citizens"
Creating and Performing 'Live your life'
Many of those plays in that first book have been read and re-read, shown and re-shown, performed and re-performed in different contexts all over the world. Let's look at one specific example. In the Autumn of 2017, a 12 year old girl called Shaza in Beit Hanoun, Gaza had an idea for a play to submit for the first Hands Up Project playwriting competition. The play was called "Live your life" and it's a powerful declaration of the rights of girls to make their own decisions in life. It's been shown in conference talks all over the world as an example of the power of drama for learning. You can watch the original version here. https://youtu.be/PeofGSQet3I. Here's what Shaza says now when she reflects on the experience.
Shaza says...
"Finding the idea of the play that we will participate in the competition was the most important and interesting part. I was thinking about a topic that can introduce Palestinian problems and can fit with many other countries. Moreover, I thought that this play is a big chance so why should we discuss only one topic? So I decided to write a play that have a general idea, and many sub ideas. I noticed that people unfortunately have forgotten the way to live, so I wanted to present the idea of living in a right way, and when I say in a right way I mean not losing your life during planning and thinking also not being without an aim in your life because this can lead you to depress. Also the idea of the parental attention and care and how it can be in a negative way. The unusual careers for girls and the abilities of them have to be focused on and even if the situation is not easy to cope with girls have to be strong to face all the difficulties to make their dreams real. And the last one is how having a supportive person in your life can change it. You can notice that all these ideas were supported by the characters. I tried to make a character that create a family mood so it can be closer to the real life and all the characters supported the ideas and the topic of the play"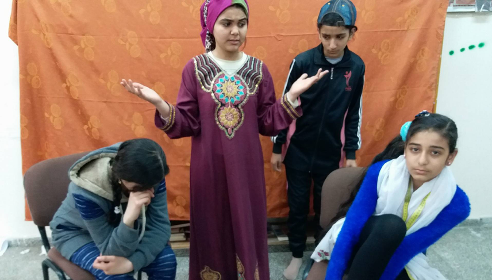 The play was very highly regarded by the judges of the first competition and ended up coming third overall, out of 88 plays. It was later performed live and remotely through Zoom at a conference for English teachers in Split, Croatia. Here's what the organiser of the conference, Josip Sobin, the director of Jantar – International House Split
who watched it had to say..
Josip Sobin says…
In November 2018, Jantar – International House Split organized the second Adriatic Education Development Research & Innovation Symposium (ADRIES). Nick Bilbrough gave an excellent talk on Remote Theatre but the actual climax of it all, was the "Live your life" play, performed live and remotely from Gaza. The cast: five teenage girls halfway across the world. The audience: 100+ teachers, teacher trainers, academic managers and school directors from the ELT world. As the lights went out, no one expected that some 10 minutes later every member of that audience would be left speechless and in tears. In fact, neither one of us liked Nick very much at that moment, for he did not give us a fair warning about how emotional the experience would really be. The play left its mark on us all, and as a result of seeing the play and hearing the actors talk with such passion about the experience, we later decided to put in a proposal for a European Union grant to create remote theatre materials. This was in conjunction with the Hands up Project and schools in Romania, Italy, and Spain and we're very pleased to tell you that that project is now well underway!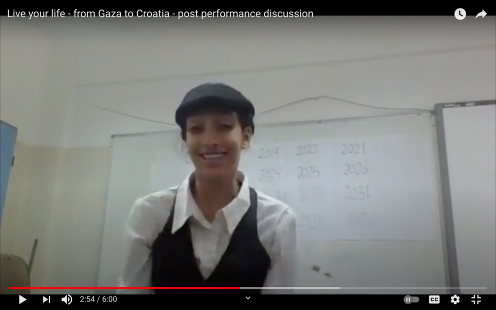 You can see the post-performance discussion with the actors (and the audience's reaction!) here. https://www.youtube.com/watch?v=Gj2YfEroszU. Later we managed to get permits for the girls and their teacher to leave Gaza (for the first time) and to travel to the other half of their homeland to perform their plays in theatres in the West Bank. It was performed in front of very enthusiastic and appreciative audiences face to face in Alrowad Cultural Centre in Bethlehem, and the freedom theatre in Jenin.
Here's what Sally, the girl who played the mother character said about this experience..
Sally says…
"In Bethlehem , we performed the play at AL_Rowwad Cultural Saciety , followed with a rich discussion of the play with the audience, we talked about our roles and how we made the play. We were all excited of having that experience. Thanks to the HUP and Nick Bilbrough, our dreams came true and since then I realized the importance of drama in revealing the inner and the outer feelings"
And Rinan, the teacher..
Rinan says…
"Live your Life", the best universal play as the judges said. I am proud to be part of this play. which gave us the golden chance to travel outside Gaza. Winning the third place in the HUP playwriting competition in 2017, allowed us to travel to the West Bank. You can imagine what it meant to me and students to visit Jerusalem, to act our play on the famous Freedom Theatre in Jenin, where it was the first time to face a real audience who interacted happily with the play and showed their admiration of it. My students were stars on a real stage. Wow! They did it!
and Razan, the girl who wanted to be a fashion designer...
Razan says…
"East or West, home is the best. However, as a girl from Gaza Strip, I can't even dare to imagine visiting the West Bank. Thanks to the Hands-Up project, the dream came true, I visited the other side of Palestine for the first time in my entire life. Moreover, I enjoyed doing something I love during my journey, which is playing my role as a dreamer designer girl in my favorite language, English. I really loved the story of Live your Life play, because it was a mirror of our life, it presented how our parents can be the obstacle in front of achieving our ambitious, just because we are different, arguing they care and know the best for us"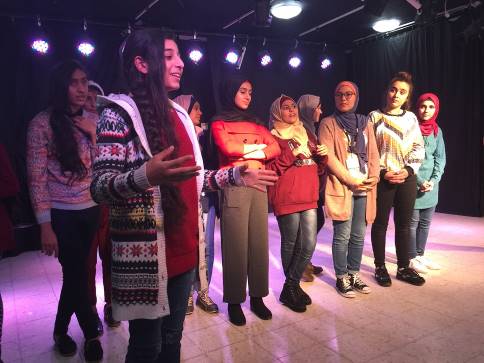 The play goes international
As the play had been published in our first book of plays, we started hearing about teachers using it in their classes. A teacher in a secondary school in the UK decided to make it part of their citizenship curriculum, and lots of other learners of English around the world started working on their own performances of it as part of their English classes. If you would like to buy a copy to support our work, and perhaps prepare a version of it with your own students, it can be bought at https://handsupproject.org/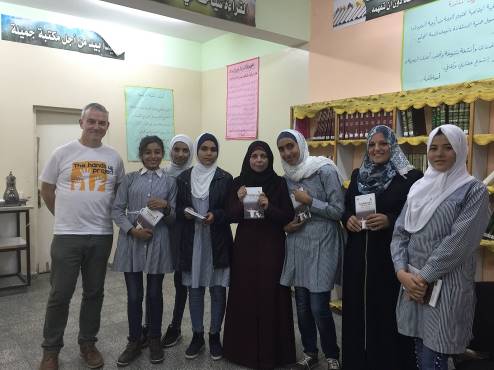 David Heathfield, who knew the play well as he'd been one of the judges for the competition, directed this performance with his adult learners of English at Exeter University: https://youtu.be/R4A6xZQ74iY.
Here's what one of the actors in the play, KC from South Korea, had to say about the experience...
An actor says…
"Frankly speaking, before David showed us the play which was performed by the students in Gaza, I didn't have any idea about Gaza because I wasn't interested in current events in the world, even in South Korea's. So, I didn't know exactly what people in Gaza were going through and how hard people in Gaza were at that time. The only thing I knew about Gaza was that the place was a troubled region. After watching it, I searched on the Internet to find more information about Gaza. And I was surprised about the fact how tough it must had been for people in Gaza on the other hand, how positive content the play, I heard that the play was written by the students in Gaza who performed it, had. Anyway, David said that we were going to perform it during our class. At first, when I prepared the play, I was more of in panic than nervous, because I wasn't good at speaking English and I didn't like speaking, even in Korean, in front of people. Letting me perform play was an adventure in itself. Anyway, David wanted to record our play and send it to the students in Gaza. We agreed on that. After several days, David showed us an email from the students in Gaza. They just wanted to express their gratitude about our play. And we made a video call with them. They spoke English very well and I could see their sincere passion about their dream. They were just like ordinary girls whom I saw everywhere and they have more positive thought compare to me or others, even though they were in over their head. Even though I felt very nervous about performing the play, it was a good experience for me after all. It made me lead to deep reflection and I learned to be grateful for small things. When I have a hard time at work, I am trying to remind their positive outlook on their lives. And I try to find positive things among the situation"
At the end of 2020, with another lockdown imposed on Palestine because of the pandemic, it became impossible to run our playwriting competition in the normal way. So we decided to ask students to take an existing play from the Toothbrush book, and rework it as a piece of lockdown theatre (one student per webcam). We ended up having three different versions of 'Live your life" submitted, as well as many other plays. This version https://youtu.be/lWii6oHwtrk?list=PLwTmDrk314J4ptiGrGPNBOetVeVFjpAlP
organised by Hanaa in Gaza and acted by young people learning English in Argentina, Palestine, Romania and Spain came second in the competition.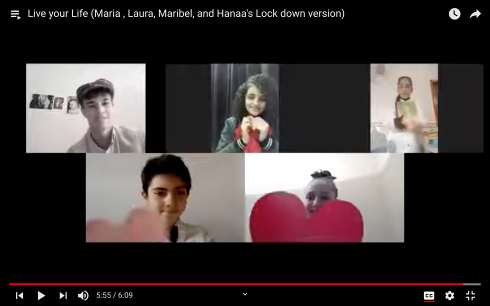 Laura, the Romanian teacher involved says…
For adolescents, coming out of their shell has never been an easy challenge. Expressing who you are and dealing with strong emotions can be hard but it gets easier when there are open minded and warm-hearted people around you and this is what we all felt during our experience with remote theatre. Students and teachers alike expressed great emotional and mental patience and empathy and our worlds changed. We started off shy and unsure, but we encouraged and tried our best every step of the way and we came out of the experience stronger and happier. Personally, I felt so inspired to see our students trying and trying and overcoming their fears. Empowering students is also challenging for teachers but education can have such great results if we all learn how to open up, to be transparent, kind and positive. Empower your students and they will grow beautifully.

Tere, the Argentinian teacher involved says…
"If you talk to a man in a language he understands, that goes to his head. If you talk to him in his language that goes to his heart"
Nelson Mandela
We were four teachers and students sharing different mother tongues, different cultures, living in different countries and having really different schedules, but having something in common: a language and the same passion for learning and teaching.
We spent time together through the screen not only performing a play, but also meeting each other, having fun and enjoying the pleasure to meet wonderful people.
So, maybe we talked a language which is not ours by birth, but I could find out by doing it that that language, English made us go into our hearts forever.
Thanks to the Hands up Project and my lovely friends Hanaa from Palestine, Laura from Romania, Maribel from Spain and their special and devoted students, Naya, Dina, Dariana and Alejandro.
I am also grateful for the commitment and love by Santi, my Argentinian student.
I believe we have grown a lot as teachers and human beings.
And the final word goes to Dariana, from Romania, who played the part of the mother.


Dariana says…
"When I first saw my colleagues and my teachers I was very happy! I realized that I was able to be part of a play and that I can meet new people! On my first day meeting my colleagues, something made me think that we are only going to do the play, but we will never be friends. That made me sad, but as time passed, I discovered that my assumption was wrong. We started being very good friends, and even though we don't have another play to do together we still talk and this makes me very happy!
The teachers were all very happy, energetic, understanding, kind and supportive! They are the best teachers I have ever met! When I didn't know something, I could ask them without any problems. They taught me and my friends from the play how to act very well! We met almost every day for 2 hours to rehears the play. They are the most amazing people I have ever met, and they deserve all the luck in the world and only happy people in their lives!
I didn't realize that someone can do a lockdown theatre play. Our work was amazing, that we could meet at different hours from different countries. I met a lot of interesting people, and my first play was great! This play helped me be more open to people, express my opinion louder and believe in myself that when people think is impossible, I can make it happen! A huge thank you, for all the teachers that supported me and for my new friends around the world! Don't forget to "Live your life" as you want it to be! No one can change who you are!"
Hats off to Shaza and her friends in Beit Hanoun, Gaza for creating a play that has touched and inspired so many people in so many different ways around the world. It's inspired teachers to experiment more with drama in their classes, encouraged children to have a go at writing and acting and using their English to say what they want to say, fostered friendships between teachers and students in three different continents, made parents question how much control they should have over their children's futures etc etc.
Conclusion
At the end of the day though, the message is very simple. Lots of people might advise you on how to live your life; they'll draw roads for you to walk down and direct you in ways that might not fit you properly. Though she wrote them in the small town of Beit Hanoun Gaza, never having travelled to any other country, Shaza's personal thoughts turned out to be universal and appeal to people all around the world. There's no particular recipe to live your life. You can listen to many people and benefit from their experience but at the end of the day you're the boss and it's up to you to decide what's best for you!
Live your life, wherever you are and whoever you may be
Please check the Improvisation Techniques for the English Classroom course at Pilgrims website.
Please check the Acting Skills for the English Classroom course at Pilgrims website.
The Play as a Living, Breathing, Ever-evolving Entity
Hanaa Mansour, Palestine;Nick Bilbrough, UK

Writing Based on an Improvisiation
Peter Dyer, France