The Tune Into English
February 2021 – John Keats, 200th Anniversary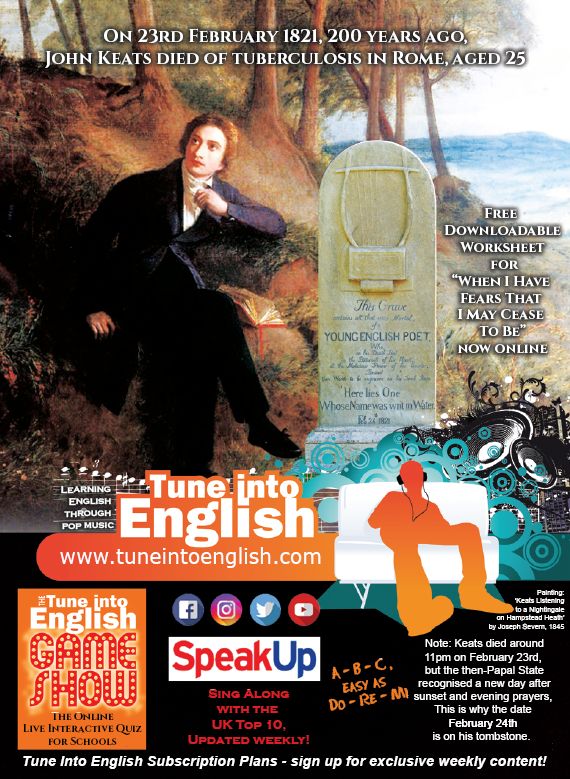 John Keats – When I Have Fears That I May Cease To Be
The 23rd February is the 200th anniversary of the death of English Romantic Poet John Keats. ELT guru Roy Boardman has prepared a worksheet on Keats' sonnet which explores the fear of death, based on a musical version by John Webster.
Keats famously wrote his own epitaph – you can hear a lovely musical interpretation of this here.
The Inauguration Songs
Undivided – Tim McGraw & Tyler Hubbard
This was performed for the first time on 20th January as part of USA President Joe Biden's inauguration celebrations and is a call for unity. Regular contributor Maria Gulczynska, Ancona, has prepared a worksheet focussing on vocabulary.
Also, Jennifer Lopez performed 'This Land Is Your Land' at the ceremony, omitting the two original verses.
May 2021 – Bob Dylan's 80th Birthday
In the May issue of, to celebrate Bob Dylan's 80th birthday, Tune's monthly column looks at the story behind and the language used in Blowing In The Wind. You can read April's look at Adele's Someone Like You, as well as nine other songs from the previous series, here.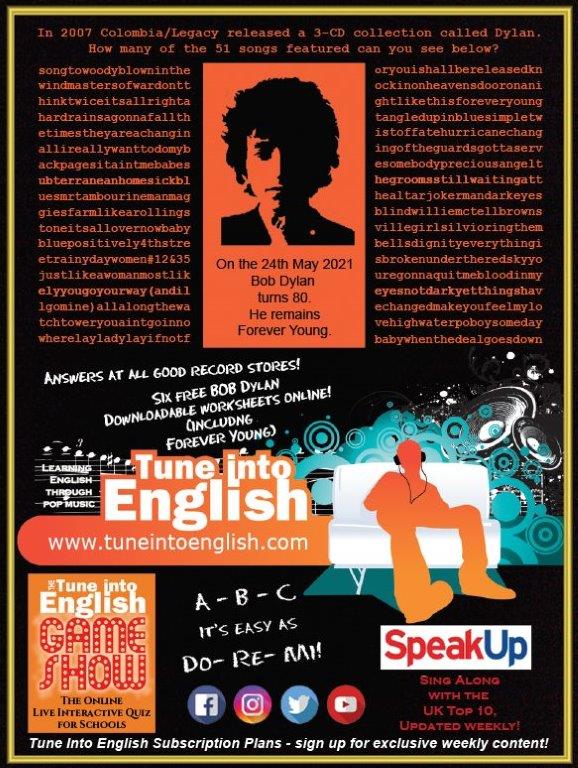 Lockdown song
This Australian hip hop group wrote this fun, quirky song in lockdown, donating all proceeds to a fund to help unemployed music workers. First-time contributor Barbara Eckert-Wagner from Germany has prepared a worksheet which encourages students to discuss their feelings during lockdown.
Humans in the Classroom by Haili Hughes


News from Pavilion


Short Book Reviews
Hanna Kryszewska, Poland

Talking to Learn Learning to Talk by Margit Szesztay, reviewed by Sharon Hartle, Italy


The Tune Into English
Fergal Kavanagh, Italy