Short Book Reviews
Hanna Kryszewska is a teacher, teacher trainer, trainer of trainers. She is a senior lecturer at the University of Gdańsk, Poland. She is co-author of resource books: Learner Based Teaching, OUP, Towards Teaching, Heinemann, The Standby Book, CUP, Language Activities for Teenagers, CUP, The Company Words Keep, DELTA Publishing, and a course book series for secondary schools: ForMat, Macmillan. She is also co-author of a video based teacher training course: Observing English Lessons. Hania is a Pilgrims trainer and editor of HLT Magazine. E-mail: hania.kryszewska@pilgrims.co.uk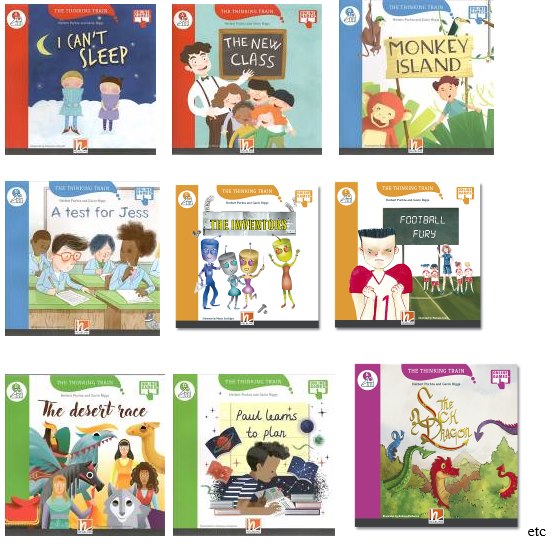 The Thinking Train. H. Puchta and G. Biggs (2019) Helbling Languages. I can't sleep. ISBN 978-3-99045-846-4, pp 32, The new class ISBN 978-3-99045-847-1, pp32, Monkey island. ISBN 978-3-99045-849-5, pp32, A test for Jess. ISBN 978-3-99045-848-8, pp32, The inventors. ISBN 978-3-99045-851-8, pp32. Football fury. ISBN 978-3-99045-850-41 pp32. The desert race. ISBN 978-3-99045-853-2, pp 32, Paul learns to plan ISBN 978-3-99045-852-5, pp32, The sick dragon. ISBN 978-3-99045-8854-9, pp32, Deborah's dream. ISBN 978-3-99045-855-6, pp32. The titles analysed in this review belong to The Thinking Train series of readers for young learners available at the five levels of the YLE Cambridge Exam; they get progressively longer and more complex grammatically and lexically. The aim of the books is to supplement a YL course by providing extra language practice, as well as by developing children's thinking skills. Each book has the same structure; first pre-reading tasks which introduce or activate some of the language used in the story. Then the actual story told through text and pictures, and after the reading there are activities which involve elements of writing or drawing, and finally a 'make and do' section with ideas for projects like make a bedroom in a box, make a flag, make a flip book, or make a sand timer. As the children listen or read the story they have to interact by pointing to particular pictures, miming, answering personal questions relating to the story, commenting on the story, speaking to a classmate, acting out, thinking or drawing. The stories are interesting, and beautifully illustrated. I am sure the series will be very popular with teachers and learners. Additional resources for the readers are available online. The Teacher's Guide gives further ideas how to develop thinking skills in a young learners' class and gives the reasons for doing so. It also explores the learners' and the teacher's role in teaching thinking, and the role of errors. Finally it gives a photcopiable checklist for teachers, a teacher self-appraisal check-list, and a teacher's guide.

Helbling Readers Classics. Books with Audio CD and Online Access Code Helbling Languages (2019). The titles include: (A1) The Adventures of Doctor Doolittle. Hugh Lofting. ISBN- 978-3-99045-934-8, pp 80, (A1/A2) A Connecticut Yankee in King Arthur's Court. Mark Twain. ISBN – 978-3-99045-9362-2, pp 88, (A2) Kim. R. Kipling ISBN –978-3-99045-938-6, pp.92, (A2/B1) The Invisible Man. H.G. Wells. ISBN – 978-3-99045-940-9, pp 96, (B1), Age of Innocence. W. Wharton. ISBN – 978-3-99045-942-3, pp 100. Books in this series of graded reading materials come at five levels – 3 KET levels (colour coded in red) and at two PET levels (colour coded in blue). In this selection of five titles, some are aimed at younger learners, and some at more mature ones. The books are adaptations of well-loved classics which are popular among native speakers, so obviously the stories are interesting and a good read. First language learners become familiar with the author, the story behind the book, and then the characters. Next they do some vocabulary activities which introduce key lexis in the book. Then as they read the story they can see the new words marked with a dot (and explained at the bottom of the page). They can also listen to the whole story and do activities available on an accompanying audio CD. As they read the story they can do some short while-reading mini tasks which usually involve answering some content related questions or require interpretation of the story or events. Finally, after the readers have finished reading of the story, they can do some post-reading activities referring to the content, the learning experience, and elements of grammar and lexis present in the book. The readers are pleasant to the eye thanks to good illustrations and careful page design, and each book is illustrated in its own individual style so it has a feeling of uniqueness about it. This series of graded readers is well-established and popular among language learners as additional reading and CLIL material. More free online activities are available from www.helbling-ezone.com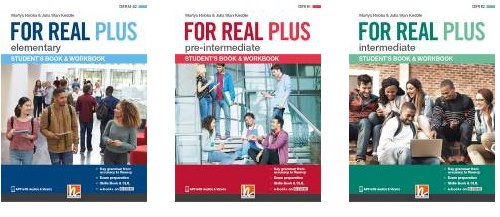 For Real Plus – elementary. Student's Book and Workbook, For Real Plus - elemenary Starter Book, and For Real Plus – elementary Skills Book. M. Hobbs and J. Starr Keddie (2019) Helbling Languages. ISBN 978-3-99045-881-5 pp.240, 978-3-99045-881-5, pp 40, and ISBN 978-3-99045-881-5 pp 64, respectively. For Real Plus – pre-intermediate. Student's Book and Workbook, For Real Plus – pre-intermediate Starter Book, and For Real Plus – pre-intermediate Skills Book. M. Hobbs and J. Starr Keddie (2019) Helbling Languages. ISBN 978-3-99045-882-2 pp.240, 978-3-99045-882-2, pp 40 and ISBN 978-3-99045-882-2 pp 64, respectively. For Real Plus – intermediate. Student's Book and Workbook, For Real Plus –intermediate Starter Book, and For Real Plus – intermediate Skills Book. M. Hobbs and J. Starr Keddie (2019) Helbling Languages. ISBN 978-3-99045-883-9 pp.240, 978-3-99045-883-9, pp 40 and ISBN 978-3-99045-883-9 pp 64, respectively. This is a four level course for teenagers and young adults which is based on the For Real course, which was reviewed in HLT in http://old.hltmag.co.uk/dec12/pubs01.htm. This new course is an updated version and takes on board the language objectives currently set by the Common European Framework of Reference for levels A1-B2. The choice of topics is motivating, engaging and well suited to introduce or practise given grammar structures or communication skills. Additionally the Real talk boxes teach the learners up-to-date teenage interaction and the so called Vox Pops Interviews make it possible for the learners to meet inspiring young speakers and to observe how they use language. Teaching and presenting vocabulary is a strong feature of the book, and the process of learning is also aided by the Word Expander boxes. The integrated workbook contains a grammar reference section, language practice and develops language skills. The separate Skills Book focuses on general language skills, exam skills and life skills. The course is accompanied by a digital component with ideas for fast finishers, extra pronunciation practice, cyber homework, CLIL projects and an exam bank.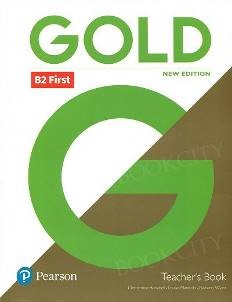 Gold. B2 First Student's Book. New edition. J. Bell and A. Thomas. Pearson (2018.) ISBN 978-1-292-20227-3, pp.226. The Gold series is a well-established exam preparation course preparing learners for the Cambridge Exams. The books in the series combine general language development and language learning with specific exam skills. This book prepares for the First exam and covers all of the exam syllabus. A strong feature of the course is emphasis on learning new vocabulary and on improving the learners' use of lexis in speaking and writing. It also offers a thorough preparation for the written part of the exam including a reference section and a bank of sample answers. Grammar is presented and practised in a communicative way, but there are also grammar reference sections which sum up grammar in a more formal and structured way. The new edition when compared with the previous one features updated and new reading and listening texts, more tests, audio scripts at the end of the book, and speaking videos with worksheets. The digital components include a digital version of the coursebook with integrated audio, My English Lab with additional practice, teacher's online resources and interactive whiteboard software.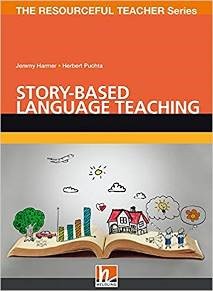 Story-Based Language Teaching. J. Harmer and H. Puchta. Helbling Languages (2018). ISBN 978-3-99045-769-6, pp. 147. This book is published in The Resourceful Teacher series which established its reputation as a series which combines classroom routines with innovative and creative techniques. It addresses various issues and presents how new developments in linguistics, pedagogy and cognitive psychology can be practically implemented to enrich and deepen classroom practice. The authors of this book are well known award-winning ELT authors of coursebooks, resource books and in case of Jeremy Harmer – also ELT methodology books. Readers who are used to Helbling resource books jam packed with practical ideas, may notice that this book is different. It is mainly about story telling rather than giving practical ideas for using or creating stories in the classroom. This resource book starts by looking at the role of early stories in the history of mankind, and the role of stories in the evolution of our species. The titles in the section reflect the development of this theme: From sabre-toothed tigers to the classroom, Learning without being asked to learn, and Our brain is 'Wired for Story'. Then the authors go on to discuss the relationship between neuroscience and educational philosophy: how the brain creates images, curiosity about a story, brain's own criterial for story relevance. My favourite in this section is the summary of the stages of development of the human brain (after Kieran Egan) and how they overlap with certain types of stories: mythic, romantic, philosophic and ironic. The following sections are quite predictable (especially if you are familiar with the wealth of texts published by Andrew Wright and David Heathfield on this subject) as they look at the role and usefulness of storytelling in the classroom, what makes a good story and how to find one, how to tell stories and finally how to use them in language teaching. There are only 6 sample stories that the teacher can take from the book and use in class, and 8 ideas for creating stories for and with the students. What is also pretty unusual in this resource book is that the authors suggest we start working with the book on page 128 by watching videos of interviews with storytellers Amy Sutton and Jon Mason) and that you can watch nine stories being told to students, but to do so you need an access code. This may a bit tricky as if a group of teachers want to share this resource book.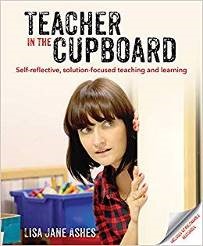 Teacher in the Cupboard. Self-reflective, solution-focused teaching and learning. Lisa Jane Ashes. Independent Thinking Press. (2019). ISBN: 978-178135296-0, pp 194. The title may need some explaining first. It does not refer to 'a skeleton in the cupboard', even though the person in the cover photograph looks a bit scared and puzzled, but to a situation when you step back, remove yourself form the actual situation, hide in the cupboard and objectively observe, diagnose and evaluate what is going on. In some way the author experienced this shift when from being a teacher she moved, of her own choice, to the post of a supply teacher in which she had much more opportunity to observe and reflect. This 'external' position or perception of 'watching from a cupboard' helps us come up with lateral or creative solutions to day-to-day problems (which in fact the author more aptly calls challenges) which in turn can positively affect and transform not only what is going on in the classroom, but also other relationships we experience in life. Basically the author gives a lot of ideas for how to get a fresh perspective on the situations we experience, how to self-reflect, and finally how the bring about change. The book is divided into two parts: viewing students and viewing teachers from an objective perspective. The methods or techniques of observing students suggest that you stop, look and listen, observe and find solutions through what the author calls solution-focused questions, then you test the solution, and finally review your initial opinions. This kind of observation is about gaining insight and trying to understand a situation 'we' – the teachers and 'they' – the students are in together. But when it comes to observing teachers the situation demands leaving the familiar 'us' group and looking at your colleagues objectively, diagnosing and proposing solutions. This second part of the book also promotes a lot of self-observation and self-discovery. All the ideas are very inspiring and I just wish there was a section on watching the learners' parents from a cupboard. The book is suitable for experienced teachers, newly qualified teachers (NQT's), educators and school administrators.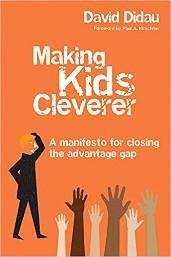 Making Kids Cleverer. A manifesto for closing the advantage gap. D. Didau. Forewords by P.A. Kirschner. Crown House Publishing. (2019). ISBN: 978-178583366-3, pp 328. In a nutshell this book addresses the 'nature versus nurture' issue, in other words what is more important the intelligence we are born with or inherit, or what we do or is done to the intelligence we are born with during schooling. The author admits that he wanted to start writing the book with summing up what various authors have considered intelligence and how they proposed it should be measured. However, he gave up on the idea, realising that this was really irrelevant to his considerations. He came to believe that it is not important how we define or measure intelligence, but what we do with the potential our brains have got and how we do away with the misconceptions of an intelligent person such as a geek, a nerd and the like. The book first looks at the aims of education, how evolution has shaped our brains to learn and think, misconceptions about intelligence, and how much we can or cannot trust research data, where intelligence comes from and how intelligence is shaped by the environment. The author also looks at research and the views he presents are well chosen and look at how cognitive science can help us understand learning processes and how we can help children succeed. He emphasises the importance of memory and how its capacity can be exhausted (crystallised memory) or made more fluid (fluid memory). Finally he looks at knowledge versus intellectual capacity, and possible solutions which can be summed up by the quote 'everything works somewhere but nothing works everywhere'. The book is a very good read and very inspirational.
Please check the Methodology & Language for Primary course at Pilgrims website.
Please check the Methodology & Language for Secondary course at Pilgrims website.
Please check the English Course for Teachers and School Staff at Pilgrims website.
Please check the Teaching Advanced Students course at Pilgrims website.
Please check the English Language course at Pilgrims website.
Please check the Creative Methodology for the Classroom course at Pilgrims website.
Please check the How to be a Teacher Trainer course at Pilgrims website.
Short Book Reviews
Hania Kryszewska, Poland

'Poetry and Art for Creativity – Inspirations' - A Book Awarded European Language Label 2016 for Innovation in Language Teaching
Sylwia Zabor-Zakowska, Poland

The Language Teacher's Golden Companion by Erik L. Dostal


New Titles from Routledge


New Titles from Crown House Publishing, An Award-Winning Independent Publisher


New Downloadable Worksheets
Fergal Kavanagh