Cooperative Learning and the Sustainable Development Goals from Peachey Publications
Have you been searching for new ways to create a more student-centered learning environment for your students? If so, Cooperative Learning and the SDGs, a free online book about the interface between cooperative learning and the UN's Sustainable Development Goals, may provide you and your students with new communicative activities that incorporate the SDGs.
Although many ministries of education are appealing to teachers to incorporate the SDGs, few road maps are provided to teachers on how to implement sustainability content. Cooperative Learning and the SDGs provides sustainability-related lesson activities that have been adapted from an assortment of authors who have published lesson materials related to sustainability.
In the spirit of cooperative learning, the authors of Cooperative Learning and the SDGs felt that drawing inspiration from outside authors' material would broaden the overall scope of the textbook. A book written by teachers (seven of them) for teachers; please navigate to the Peachey Publication website and discover a cornucopia of educational materials, including our textbook, Cooperative Learning and the SDGs.
Download the full text from: https://payhip.com/b/obOwr
You will get a PDF (37MB) file
Written by:
Lim, S., Reidak, J., Chau, M. H., Zhu, C., Guo, Q., Brooks, T. A.,Roe, J. and Jacobs, G. M.
Published by PeacheyPublications Ltd UK 2023
186 Pages (PDF)
Contact: Jesse Reidak, jesse.reidak@gmail.com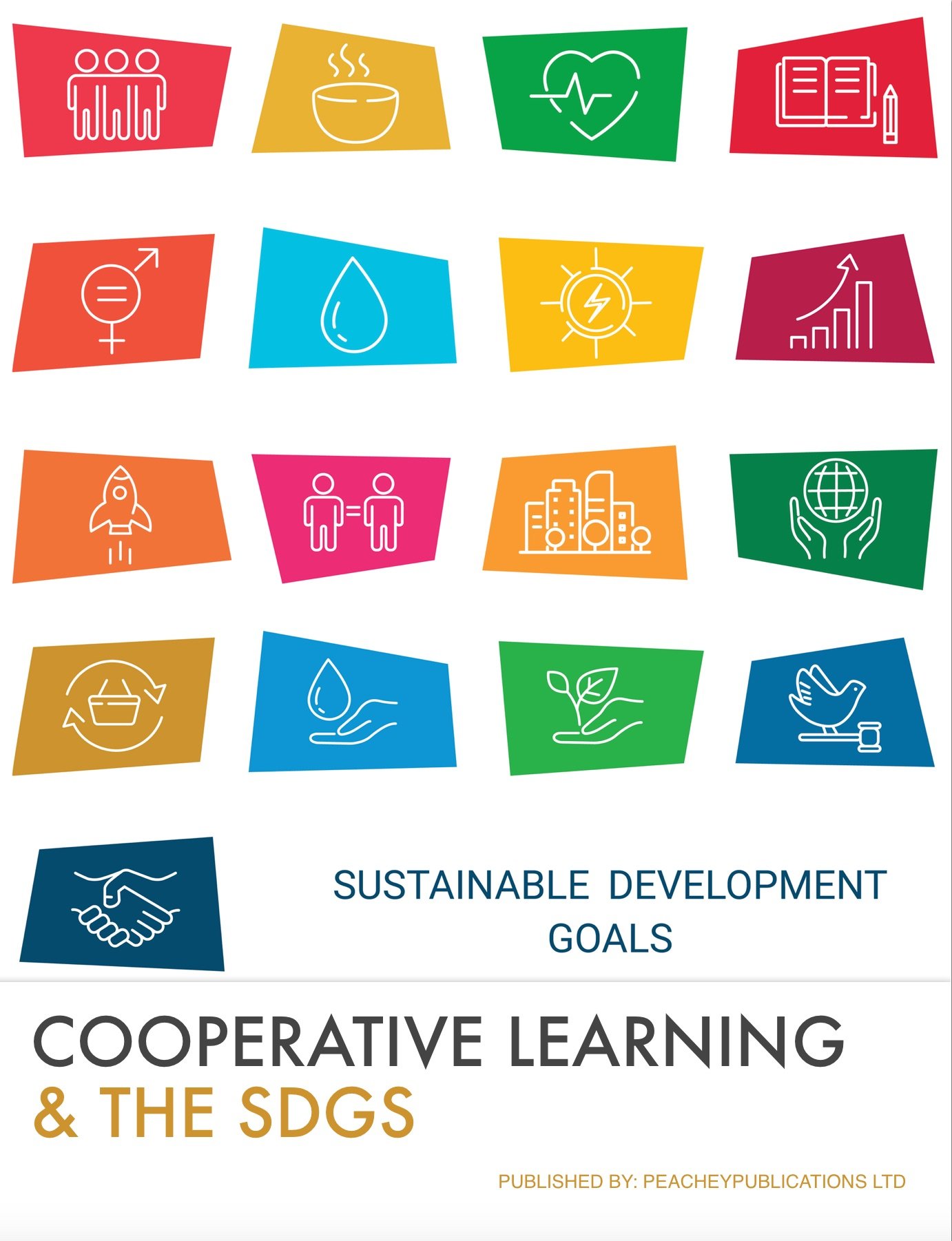 Cooperative Learning and the Sustainable Development Goals is a comprehensive guidebook designed exclusively for English language teachers. This invaluable resource is packed with a diverse collection of lesson plans, expert tips, and innovative teaching techniques, empowering educators to seamlessly integrate cooperative learning strategies into their classrooms while nurturing students' deep understanding of the Sustainable Development Goals (SDGs).
With its practical approach and rich content, this book equips teachers with the tools they need to foster collaborative environments, enhance language proficiency, and cultivate global citizenship through engaging and impactful lessons. Whether you're a seasoned educator or just starting your teaching journey, this book is an indispensable companion for weaving together cooperative learning and the transformative power of the SDGs in your classroom.
From the Introduction
The Earth contains more than eight billion humans. That means we have more than eight billion brains to think and understand, and more than eight billion hearts to understand and care. This book is about helping all those wonderful brains, and sincere hearts cooperate to improve the Earth for everyone.
One map for improving the Earth is the United Nations' Sustainable Development Goals (SDGs). Many of us already know about the SDGs, and we may have different opinions about the SDGs, just as we have different opinions on many matters. Nevertheless, perhaps we can agree for the sake of this book that the SDGs can be a flexible starting point for seeking improvement.
Just as there are different opinions about the SDGs, there also exist different views on how to attempt to achieve the SDGs. In this book, we focus on education, and within education, we focus on a method known as cooperative learning (CL). It goes by other names, such as collaborative learning, but for the sake of simplicity, we will call it cooperative learning. With CL, students of all ages work together with peers and others to achieve learning and other goals.
An inclusive book
In this book on using cooperative learning to achieve the SDGs, we, the authors, try to be inclusive in several ways. First, we try to write without jargon, in reasonably simple terms, using many examples to explain the ideas we are sharing. By the way, many of the concepts and ideas in this book have been inspired by a wide variety of sources and authors. We share these ideas with you and hope you will share them with many others.
Another way we try to be inclusive with this book is by making the book available for free online. Many books can be expensive, and the costs go even higher with shipping fees. Free online books can be obtained by anyone with access to the internet and shared readily. However, we do realize that too many of us, eight billion humans, do not have easy Wi-Fi access or do not speak English, the language of this book. We need to improve.
One more way that we hope to make this book inclusive is by having examples of all the 17 SDGs, and examples that work for many different students and teachers, regardless of age and other background factors, including where people live. Of course, we cannot provide examples that work for everyone. This is where we need your help. We need you, and those with whom you learn and strive, to develop more examples.
Cooperative Learning and the Sustainable Development Goals from Peachey Publications


Short Book Reviews
Hanna Kryszewska, Poland

Three New Titles from Crown House Publishing


Tune Into English
Fergal Kavanagh, Italy