Short Book Reviews
Hanna Kryszewska is a teacher, teacher trainer, trainer of trainers. She is a senior lecturer at the University of Gdańsk, Poland. She is co-author of resource books: Learner Based Teaching, OUP, Towards Teaching, Heinemann, The Standby Book, CUP, Language Activities for Teenagers, CUP, The Company Words Keep, DELTA Publishing, and a course book series for secondary schools: ForMat, Macmillan. She is also co-author of a video-based teacher training course: Observing English Lessons, and online course for Orient Black Swan on 21st Century Skills and Teaching the whole person: Humanising language teaching. Hania is a Pilgrims trainer and editor of HLT Magazine.
E-mail: hania.kryszewska@pilgrimsteachertrainig.eu
Marbles is a new six-part coursebook series for young learners from Helbling (2023)
Marbles 1 Pupil's Book ISBN-978-3-99089-755-3, pp 104
Marbles 2 Pupil's Book ISBN-978-3-99089-756-0, pp 104
Marbles 3 Pupil's Book ISBN-978-3-99089-757-7, pp 104
Marbles 3 Activity Book ISBN-978-3-99089-763-8, pp 88
Marbles 3 Teacher's Book ISBN-978-3-99089-769-0, pp 104
Marbles 3 Flashcards ISBN-978-3-7114-0125-0,
Marbles 4 Pupil's Book Pupil's Book ISBN-978-3-99089-758-4, pp 104
Marbles 5 Pupil's Book ISBN-978-3-99089-759-1, pp 112
Marbles 6 Pupil's Book ISBN-978-3-99089-760-7, pp 112
(I have listed the components I have got access to.)
The course offers a comprehensive approach to teaching English to young learners. It contains topics which are addressed through a blend of stories/ the fictional world and real-life topics and illustrations. The learners develop language skills and competences along with life skills and attitudes, confidence being the trop priority. The 4 languages skills – reading, listening, speaking and writing are developed systematically and harmoniously with frequent recycling of the input. As for language systems - vocabulary is introduced through images, including video, chants, songs, language chunks and memory activities, pronunciation and spelling through phonics, chants and song videos, and finally, grammar is presented in a covert way and made memorable through repetition and recycling.
Other important features that make the course stand out are activities which "spark children's natural imagination and curiosity", content relating to the surrounding world, learning about the world in CLIL formula, regular introduction of values or citizenship, emotional and social aspects, and creativity and collaboration among others through project work.
I have full physical access to Marbles 3 – Pupil's book, Activity Book, Teacher's Book and Flashcards. These are supported by Pupil's e-book, Activity e-book, Digital flashcards, Teacher's resources, full assessment package with audio and Online Practice. What stands out is a very informative Teacher's Book with a comprehensive introduction, clear teaching notes, lesson objectives, video and audio scripts, suggestions for warm-up activities, extra reinforcement and extension activities, and reviews and exam practice notes.
Basically, it is what the slogan says: MARBLES…Ready to roll!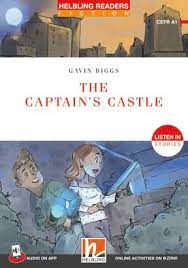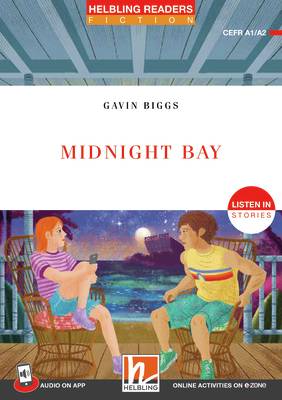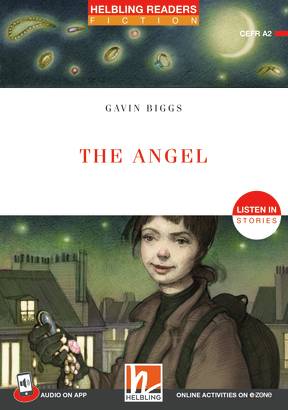 Helbling Readers Fiction. The Captain's Castle. (A1) G. Biggs (2023) Helbling Languages. ISBN-978-3-7114-0044-4, pp 84. Midnight Bay. (A1/A2) G. Biggs (2023) Helbling Languages. ISBN-978-3-7141-0042-0, pp 84. The Angel (A2) G. Biggs. (2023) Helbling Languages. ISBN-978-3-7114-0043-7, pp. 84. Here come some more new Helbling readers in the Fiction series; this time they are at lower-level learners. Each story is a good read around the theme of discovery; a story about a hidden pirate treasure, mysterious marine creatures and the adventure of an about-to-retire thief.
As for the language input, the learners first become familiar with some lexis in the pre-reading tasks and make friends with the main characters. Then as they read the story they can see the new words marked with a dot (and explained at the bottom of the page). They can also listen to the whole story and do some activities available on an accompanying audio CD. Finally, there are some additional after reading activities and other activities can be found at http://www.helbling-ezone.com/. In each of the books the illustrations are in different style and are pleasant to the eye. I am sure the new titles like the other ones in the series will be popular among young learners as additional reading material and extra language practice.
In conversation B1 2nd edition. P. Lewis-Janes, J. Richardson-Schlotter, J. Stranks, K. Tranter, V. Clark. (2022) DELTA Publishing. ISBN-978-3-12-501558-6, pp 88. (It is the first in the series of 3 books aimed at B1, B2 and B2/C1 levels.) This book is aimed at young adult learners aged 16+ who want to improve their speaking skills including fluency, communicative skills and social skills. The springboard for speaking activities are short reading or listening texts and additional online material. This is an ideal solution and extra speaking practice can easily supplement coursebook material by adding a new angle to the topics covered in the coursesbook at the same time not requiring too much input time. Additionally, there are lists of phrases and key words and audio flashcards for pronunciation practice and for natural delivery. The appendix contains transcripts, files and homework tasks. The book contains 20 activities which could be used in any order. The topics include happiness, music, modern life, shopping and many others.
Independent Thinking on…
This is a series presenting the voices of the Independent Thinking Associates. It is part of the movement's way to rethink the aims and essence of education and the challenges it faces. The authors are among the most inspiring and erudite thinkers, educators and practitioners in the UK. The handy pocket size of the books makes them ideal for carrying around and reading whenever you have a free moment.
Nature-Based Learning. A. Barrable. (2022) Independent Thinking Press. ISBN 978-178135408-7, pp 144. First of all, let us clarify what Nature-Based Learning (NBL) is. It takes place in natural setting or in settings where elements of the natural environment have been included. It is to do with learning about the natural world as well as studying any subject while immersed in the natural environment. It is the most natural way of learning and the way we all learn since the moment we are born, often setting our own objectives that meet our needs or satisfy our curiosity. It has been the way humanity was learning about the world and the planet. However, in the times when so many of us grow up in artificial urban environments and the environment outside cities is scarred and in a plight, we need to help children to connect with our planet, with other people and within themselves.
The author of the book grew up with Greek nature and in the Greek natural environment. After moving to the UK and qualifying as a teacher and educator, she carried on with her passion for nature and included it in her teaching and educational approach. She believes that the benefits of nature are manifold, both in and out of the classroom. Her belief is supported by evidence from "psychology, environmental science and education." Her aim and the aim of the book is to inspire teachers, to stimulate and encourage to take action and find new solutions to create a NBL curriculum. The book is a mix of theory and practice and looks at areas such as: What is nature for, Behaviour, Relationships, Attainment, and Inclusion. Other interesting ideas included in the six appendices that follow.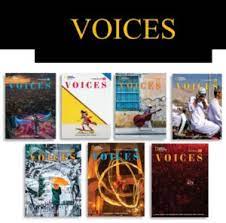 Voice Advanced C1. D. Barber, C. C. Chong, M. Kiczkowiak and L. Landsford. (2022). National Geographic Learning. ISBN-978-0-357-44345-3, pp 187. This coursebook is part of a seven-level course for young adults and adults. The title Voices does not actually mean to listen to people's voices in English, but instead to fin your own voice when speaking English. Also, the meaning of the phrase 'finding your voice' is not just about using grammar and vocabulary (actually lexis thanks to extensive work on lexical chunking) or being fluent and competent user of English. It is also to mean that you find your voice in global communication, connect with other people from various backgrounds and cultures to share ideas in English. The course achieves its aims among others by engaging with National Geographic resources, accessing online or personal voices of people who share their individual experiences, learning and perfecting mediation skills to navigate social interaction in English, and systematic work on pronunciation to foster clarity and comprehensibility when communicating.
The authors describe their course as 'integrated-skills programme (…) which enables instructors to teach with confidence (…) who are supported with common sense lesson progression". The topics in Voices Advanced C1 include 10 areas, among others Encounters, Fresh ideas, On the move, The arts, and Sciences. A recurrent feature of the book are the characters of explorers, a kind of in-house characters, presented at the beginning of the book, and who then appear in the videos. The texts are interesting and varied, the activities are motivating and engaging, and the artwork and visual materials are modern, varied and tasteful. The innovative sections include communication skills, critical thinking and useful language skills like adapting to different personality types, supporting other through skills or using humour in conversations. For learners who would like extra practice, there are Vocabulary Reference and Grammar Reference at the end of the coursebook.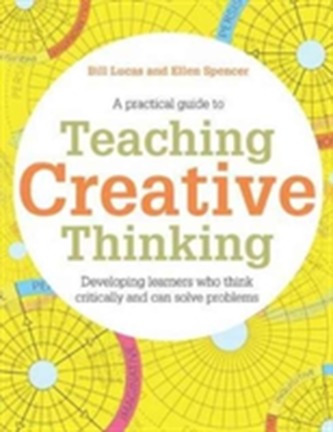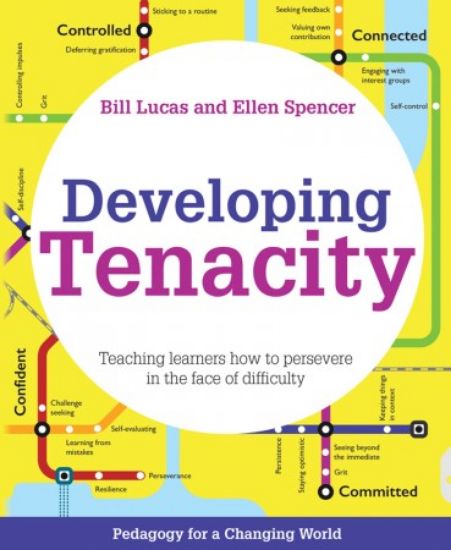 Teaching Creative Thinking. Developing learners who generate ideas and can think critically. B. Lucas and E. Spencer. (2018) Crown House Publishing Limited. ISBN- 978-178583236-9 pp 204.
Developing Tenacity. Teaching Learners how to persevere in the face of difficulty. B. Lucas and E. Spencer. (2018) Crown House Publishing Limited. ISBN- 978-178583303-8 pp 218.
The two books are publications which come from beyond our EFL realm, yet they will be more than welcome by EFL teachers. They have appeared in the three-part series called Pedagogy for a Changing World. Zest for Learning (the third in the series, was reviewed in HLT earlier this year Feb 2023), and all three books have been written by the same authors.
The books in the series are the outcome of 'action oriented and research led' approach and belong constituting Pedagogy for a Changing World. This is a much needed in this day and age and will be a timely resource for teachers and school leaders 'in both primary and secondary settings '. The idea is that the school nurtures and develops the students' natural talents, so that they reap the benefits of the approach in next stages of education and in later life. The books provide theoretical background as well as practical suggestions, which are convincing and inspire confidence. All the three books share the same series introduction chapter. Then they go their separate ways and focus on their main theme.
Teaching Creative Thinking looks at creative thinking, cultivating creative thinkers. Getting going, going deeper, promising practices, signs of success, and creative challenges. It ends with and appendix of A-Z Teaching and learning methods for developing creative thinkers.
Developing Tenacity looks at tenacity and its components such as resilience, persistence, perseverance, grit, self-control and self-discipline, cultivating tenacity, getting going, going deeper, promising practices, signs of success, and tenacity challenges.
The trio of the books is a fascinating read and should be sitting together on the shelf of every forward-thinking teacher.
Please check the Pilgrims f2f courses at Pilgrims website.
Please check the Pilgrims online courses at Pilgrims website.
Cooperative Learning and the Sustainable Development Goals from Peachey Publications


Short Book Reviews
Hanna Kryszewska, Poland

Three New Titles from Crown House Publishing


Tune Into English
Fergal Kavanagh, Italy