IATEFL Poland's National Speaking Contest: Runner-up - Amelia Kędziora, Poland
About the contest
The National Speaking contest is held by IATEFL PL every year. Regional rounds are held before the Grand Final at the Conference. The next edition will take place at IATEFL Łódź 2020.
For more go to https://iatefl.org.pl/konkurs-krasomowczy-public-speaking-contest-2020/
About Amelia Kędziora
Amelia is from Kraków where she is a high school student. She is taking extended biology and chemistry classes, and is currently preparing for her school-leaving exams in spring 2020. She hopes to get into a "great medical university". Her passions in life include: travelling and learning foreign languages, as well as theatre and music. This very talented young lady both sings and plays the piano. Amelia's biggest dream in life, is to organise a voluntary work project in Africa whose aim will be to educate children.
In the contest she was speaking about her ideal educational world. The article is a transcript of her speech. Amelia Kędziora came second in the Grand Final of IATEFL Poland's National Speaking Contest held at IATEFL Gdańsk 2019.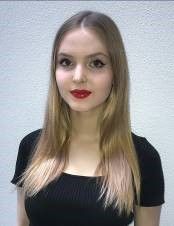 'Do not mend the boneshaker! Build a new model!'
Ladies and Gentlemen,
I'm grateful for the opportunity to perform my speech in front of you today. I'm amazingly happy that finally somebody gave us, students, the real chance to express our opinions about the education system, and is actually willing to listen to our ideas on what it might look like.
Education used to be referred to as enlightenment, bringing the light into the darkness. Yet, nowadays, the form and condition we see it in, rather resembles the darkness we should be escaping from. It might be compared to the obsolete technology of the steam engine being desperately resuscitated into use in the era of aeroplanes. It simply does not keep up with the changing world. Unfortunately, the only changes called 'reforms', which have been introduced to the system, focus on repairing the out-dated model, instead of switching to the new technology. That is what I'm going to ponder on in my speech: is our education system in need of a thorough reconstruction, and maybe even a revolution?
To begin with, school should be enabling students to self-realise and self-educate, giving them opportunities to think unconventionally, and develop creativity.
Luckily, though, we are being taught only useful things, like: how to calculate the angular acceleration of the sphere, or what is the hybridisation of atomic orbitals of particular molecules?
Yes, the curriculum is over-loaded with theoretical knowledge that, unfortunately, is usually only appropriate, and of any value, on the final exam, and perhaps at university.
Secondly, we all see education as a career track starting in a kindergarten, and ending in a university. If you do everything right in this linear model, you will set yourself up for the rest of your life. However, you will rather endure than enjoy, what you do for a living. We cannot imagine the system to be different. Innovation is hard as we are held prisoners to everlasting schemes and beliefs.
Although I know little about American history, and in what circumstances these words were said, I would like to quote Abraham Lincoln at this point, because it seems relevant to the topic and, more importantly, it will make me sound more professional.
Thus: "The dogmas of the quiet past are inadequate to the stormy present. The occasion is piled high with difficulty, and we must rise with the occasion. As our case is new, we must think anew and act anew".
We could start by implementing Lincoln's idea of 'acting anew' in the form of changing the syllabus and curriculum at schools. I believe that compulsory subjects should include life skills, indispensable in modern society, such as: critical thinking, sophisticated communication skills, and creativity.
The first one - critical thinking. This is the ability to think clearly and rationally about what to do or what to believe. Having acquired those skills, you will even be able to see who is your honest, true friend, and who is not. It is important that we support our emotions with critical thinking, instead of just making decisions based on our intuition.
Next, but equally important as a skill, is simply the act of transforming information from one place, group, or a person, to another, and involves a sender, a message, and a recipient. Accurate, effective, and unambiguous communication is actually extremely hard. Complex difficulties connected to communication are being observed, and the art of self-presentation at a high level has become a rarity. That is why those skills are considered so desirable by employers all around the world.
The contemporaneous marketplace is more competitive than ever. Employers are willing to hire only the most valuable workers. They need open-minded people, who can 'think out of the box', to be part of their companies. They crave creative people. Ultimately, creativity is a common language with which we can all learn to communicate our passions and ideas.
As little children, we are not afraid of being wrong, but in school, there is no worse thing than being wrong. Yet, if you are not prepared to make mistakes, how can you come up with something original?
One of the most vivid examples of killing students' creativity at school, is the fact that there is only one correct, or shall I say "approved", answer, while interpreting poems! We are sometimes being punished with a bad grade simply for thinking in a different way. What does it teach us? That being different or independent is a disgrace?
School should help children develop their personalities, and find their vocations, instead of just setting the limits and high expectations for them.
My contention is that all kids have immense hidden talents, which schools squander, pretty mercilessly. Children are being educated out of their creativity, out of their potential. We have to re-think the fundamental principles on which we are educating the youth. A new conception is exactly what we need.
Ending my speech, I would like to appeal to all those in power: please do not repair the broken and obsolete 19th century model. Create a new one, answering the needs of the 21st century society we live in. Think anew, act anew!
Please check the Methodology and Language for Secondary course at Pilgrims website.
Please check the Teaching Advanced Students course at Pilgrims website.
28th International IATEFL Poland Conference: Extracts from the Post-conference E-bulletin
Peter Whiley, Poland

PASE - Polish Association for Standards in Language Education PASE, or the Standards of Language Teaching in Practice


DOS-ELTea


'A Day in the Life of …': An International Competition


IATEFL Poland's National Speaking Contest: Runner-up - Amelia Kędziora, Poland


Spotlight on English Sopot 2020: 1st English Language Competition for Secondary Schools: A 21st Century Competition with Linguistic Mediation at Heart
Hanna Kryszewska, Poland

Face To Face With the World: Education That Changes the World
Joanna Perkowska-Whiley, Poland