PASE - Polish Association for Standards in Language Education PASE, or the Standards of Language Teaching in Practice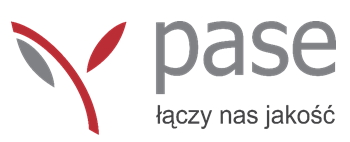 Polish Association for Standards in Language Education PASE is a dynamically developing non-governmental organisation, which has been operating in the language teaching market for 27 years.
PASE follows its mission, which is to
Oversee and promote high standards in foreign language teaching in Poland;
Provide a precise and versatile audit system for language schools;
Award best language schools in the Polish language teaching market a top quality mark;
Work with educational institutions on mutual activities for the quality of foreign language teaching;
Launch and support vital debates for all language education circles;
Organise congresses, seminars and conferences for professionals representing all areas of language education in Poland and abroad, including teachers in both state and non-state schools, academics, methodology consultants, language school owners, agents of publishing houses and in-service teacher training centres, and school executives;
Hold trainings for the whole personnel of language schools: owners, methodology consultants, teachers and office staff;
Facilitate the choice of a high quality language school for all those willing to learn foreign languages.
Sixteen PASE certified language schools from across Poland are currently affiliated with the Association. Hailing both from large cities and small towns, teaching one or several languages and employing from several to 300 teachers, these schools run courses based around general themes or tailored to the needs of corporate customers. Many of the PASE member schools have been operating in the language courses market for over 30 years. They all share extraordinary diligence in maintaining high standards in language teaching and customer service, as well as in developing teachers' and methodological consultants' competences, which is validated by the PASE auditors during regular and reliable audits.
The programme of audits and accreditation of language schools was introduced by the Association in 1993. The language schools which meet advanced teaching standards and ensure high quality foreign language teaching are awarded the PASE top quality mark. The PASE audit is performed by experienced methodology consultants and academic managers from various Polish universities. Apart from teaching methods and conditions in a language school, the auditors investigate its management method as a factor which also has an effect on the quality of provided linguistic services. The audit also includes class observation, checking school records and documents, and interviews with teachers and school executives. As a result of a two- or one-day audit, the school receives instructions and indications for areas to be improved. Passing the audit is followed by awarding the prestigious PASE quality certificate.
The PASE Association community also comprises 18 supporting institutions, with the largest and most renowned publishing houses, which offer foreign language books and textbooks and collaborate with best experts in language teaching methodology, as well as companies offering a wide range of teaching resources. Foreign institutes of culture and language, HEIs, e.g. the University of Warsaw (UW), embassies and international organisations, e.g. European Language Council, are also PASE partners. Non-institutional members and the schools registered within the PASE Partnership for Quality programme are also welcome to work with the Association.
PASE is advised on its foreign language teaching activities by the Programme Council, members of which are expert authorities on language education and pedagogy, including: Prof. Hanna Komorowska (SWPS University), Prof. Jacek Pyzalski (AMU), Prof. Małgorzata Pamuła-Behrens (Pedagogical University of Krakow), Dr Grzegorz Śpiewak and Jolanta Urbanikowa of UW. The Council members share their experience to support the Association executives in setting the main objectives of its activities and ensuring the high level of its conferences.
The conferences, seminars and trainings, which are offered to all language professionals and enthusiasts in Poland, comprise a major area of the PASE activity. The Association's range of trainings is intended for teachers of all foreign languages from both state and independent schools, methodology consultants, students in preparatory stages to the foreign language teaching profession, owners, executives of both state and independent language schools who want to provide high standards of foreign language teaching in their institutions, and all those seeking personal development.
PASE offers opportunities to participate on an annual basis in such major events as: Personal Development, sPASE for Customer Service, sPASe for Managers, and the Young Learners Conference which, with over 300 attendees, is addressed to both state and independent school teachers who teach preschool to end-of-primary-school children. The objective of the Young Learners Conference is to present latest trends in young learners' language education, modern methods and practical examples of how to motivate youngest pupils effectively in order for them to learn a foreign language. The PASE experts and speakers invited by publishers and conference sponsors host sessions on a variety of fields, e.g. how to work with SEN and MA students, foreign students, how to deal with difficult classes or mixed ability classes, or how to talk to parents. To see the film on this year Young Learners Conference, click here: https://www.facebook.com/pase.stowarzyszenie/videos/201675607819735/
Similarly organised and taking place in autumn is the Kapelusze Lektora PASE conference, which is ideal for state and non-state school teachers who teach varied language groups. Among the topics on the agenda of 30 open sessions and workshops are: methods for developing learners' creativity, teaching the skill of critical thinking, teaching effective communication which supports the skill of cooperation, and learning to use the media for educational purposes etc.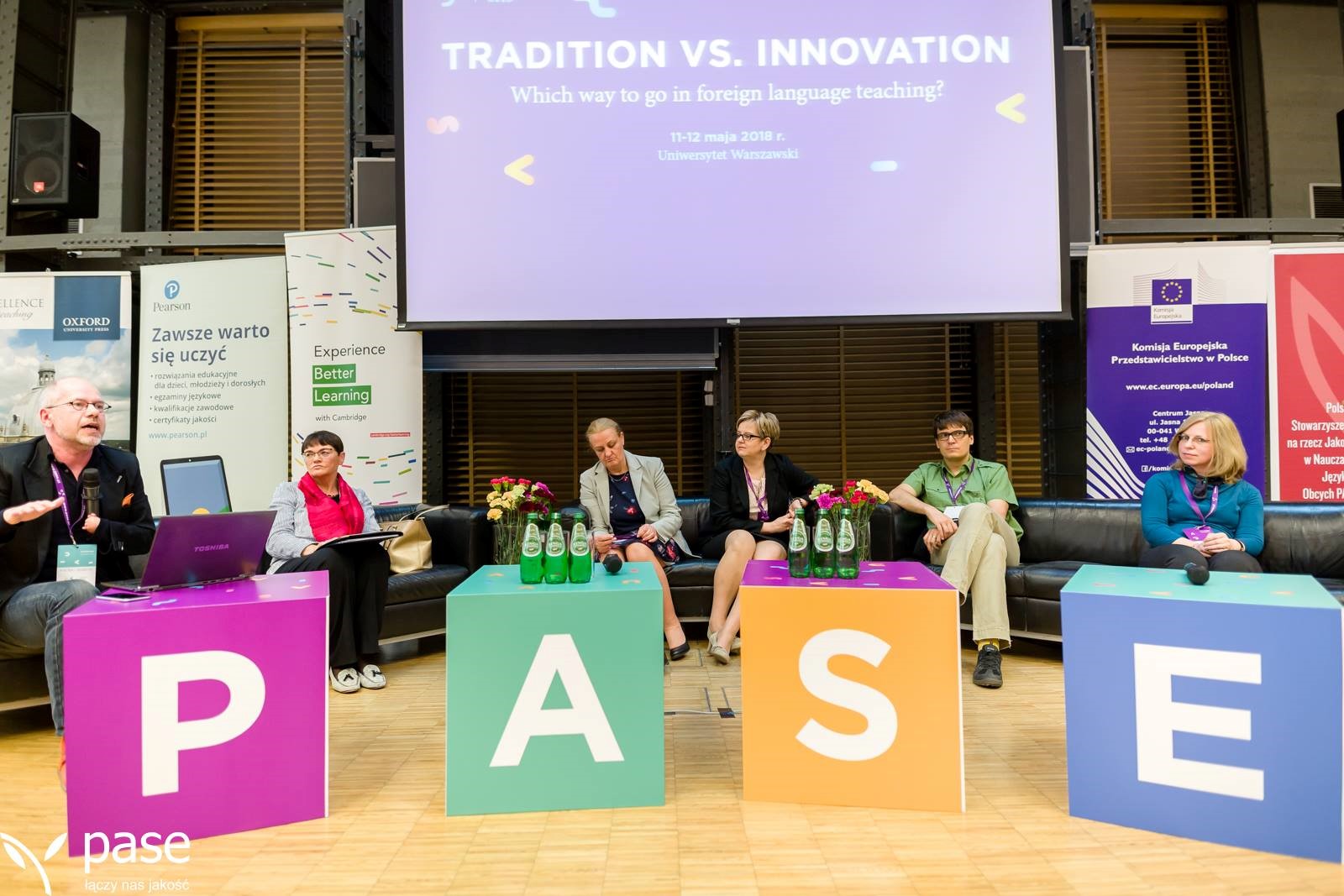 The most important and largest event held by PASE is the European PASE Congress which takes place in May. The Congress programme is varied and encompasses ideas related to every domain of language education from practical language learning, to its theoretical bases, to such areas as managing a language school and in-service teacher trainings. The Congress is a great opportunity to share experience and a place where one meets educational enthusiasts, best Polish and foreign experts in language education, business and personal development. With over 30 exhibitors and partners, it gives the visitors access to latest publications. Both business and methodology sessions are multilingual, as they are held in Polish, English, Russian and German. The sixth edition has been planned to take place this year under the motto "Communication First!" – communication construed as the principal aim of language education, but also as an intercultural, extra-verbal and business communication, mediation, written and ICT communication, and post-truth communication. Find more about this year's Congress on https://e-kongres.pase.pl/
To see the film on the V PASE congress in 2019, please go to:
https://www.youtube.com/watch?v=OnLU3lSDqNs&t=14s
Why is it beneficial to be a PASE member?
We are innovation-driven, creative and we care for the high quality of language education;
We promote high standards in language courses and help language schools teach foreign languages even better;
We organise trainings and conferences for teachers, methodology consultants and language school owners and staff;
We promote learning of all foreign languages;
We collaborate with experts in language education in Poland and abroad;
We create educational and experience-sharing space for all foreign language professionals and enthusiasts;
For more information on PASE go to www.pase.pl or join us at: https://www.facebook.com/pase.stowarzyszenie
28th International IATEFL Poland Conference: Extracts from the Post-conference E-bulletin
Peter Whiley, Poland

PASE - Polish Association for Standards in Language Education PASE, or the Standards of Language Teaching in Practice


DOS-ELTea


'A Day in the Life of …': An International Competition


IATEFL Poland's National Speaking Contest: Runner-up - Amelia Kędziora, Poland


Spotlight on English Sopot 2020: 1st English Language Competition for Secondary Schools: A 21st Century Competition with Linguistic Mediation at Heart
Hanna Kryszewska, Poland

Face To Face With the World: Education That Changes the World
Joanna Perkowska-Whiley, Poland