Short Book Reviews
Hanna Kryszewska is a teacher, teacher trainer, trainer of trainers. She is a senior lecturer at the University of Gdańsk, Poland. She is co-author of resource books: Learner Based Teaching, OUP, Towards Teaching, Heinemann, The Standby Book, CUP, Language Activities for Teenagers, CUP, The Company Words Keep, DELTA Publishing, and a course book series for secondary schools: ForMat, Macmillan. She is also co-author of a video based teacher training course: Observing English Lessons. Hania is a Pilgrims trainer and editor of HLT Magazine. E-mail: hania.kryszewska@pilgrims.co.uk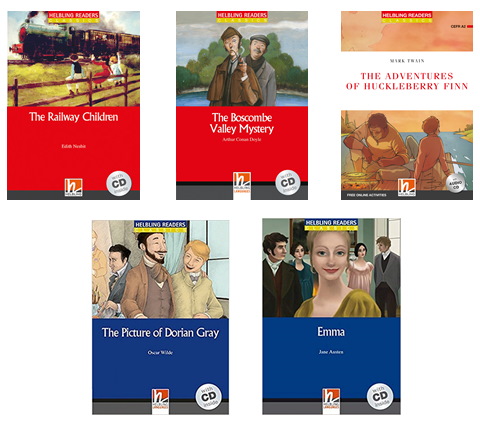 Helbling Readers Classics. Books with Audio CD and Online Access Code Helbling Languages (2019). The titles include: (A1) The Railway Children. Edith Nesbit. ISBN- 978-3-99089-116-2, pp 84, (A1/A2) The Boscombe Valley Mystery. Arthur Conan Doyle. ISBN – 978-3-99089-119-3, pp 80, (A2) The Adventures of Huckelberry Finn. Mark Twain. ISBN –978-3-99089-114-8, pp.96, (A2/B1) The Picture of Dorian Gray. Oscar Wilde. ISBN – 978-3-99089-111-7, pp 100, (B1), Emma. Jane Austen. ISBN – 978-3-99089-121-6, pp 96.. Books in this series of graded reading materials come at five levels – 3 KET levels (colour coded in red) and at two PET levels (colour coded in blue). In this selection of five titles, some are aimed at younger learners, and some at more mature ones. The books are adaptations of well-loved classics which are popular among native speakers, so obviously the stories are interesting and a good read. First language learners become familiar with the author, the story behind the book, and then the characters. Next they do some vocabulary activities which introduce key lexis in the book. Then as they read the story they can see the new words marked with a dot (and explained at the bottom of the page). They can also listen to the whole story and do activities available on an accompanying audio CD. As they read the story they can do some short while-reading mini tasks which usually involve answering some content related questions or require interpretation of the story or events. Finally, after the readers have finished reading of the story, they can do some post-reading activities referring to the content, the learning experience, and elements of grammar and lexis present in the book. The readers are pleasant to the eye thanks to good illustrations and careful page design, and each book is illustrated in its own individual style so it has a feeling of uniqueness about it. This series of graded readers is well-established and popular among language learners as additional reading and CLIL material. More free online activities are available from www.helbling-ezone.com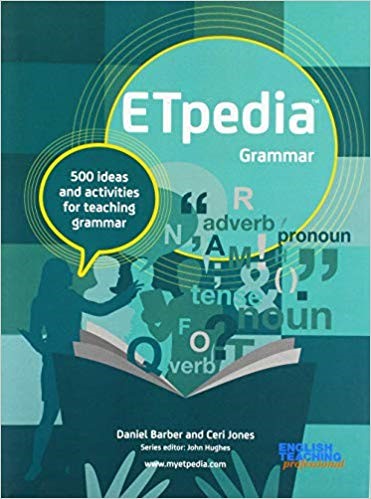 ETpedia. Grammar. 500 ideas and activities for teaching grammar. D. Barber and C. Jones (2018) Pavilion Publishing and Media. ISBN 978-1-912755-02-9, pp 242. This book is one of the titles in the new Pavilion and Media / English Teaching Professional series called ETpedia, a series of supplementary resources which contain a wealth of teaching ideas, ready activities and useful tips. The series is growing fast and each and every title is noteworthy. The Grammar ETpedia is as extensive and rich in content as most of the other titles in the series. The contents page for the first section lists 10 tips on using ETpedia Grammar, 10 facts about the authors, 10 techniques for teaching grammar and two sections on 10 types of activities and games you'll find in ETpedia Grammar, which is clearly a mistake as there is just one. However, I love the facts about the authors like: We both live in the same southwestern corner of Spain, Neither of us has climbed Mount Everest but we've both dabbled with rock climbing, etc. I find the section 10 types of activities and games you'll find in ETpedia Grammar a bit confusing as it lists 'Bingo', 'Rock, paper and scissors', 'Twenty questions', "I went to market…", "Kim's game", 'Pelmanism', 'Snakes and ladders', 'Grammar casino', 'Swap seats if…', and 'Table tennis'. It would suggest that there are only these activities used with different bits of grammar, but rest assured the authors list these as examples of popular games native children play, which can be adopted to the ELT class. But rest assured there is much more in the book. The activities in the book are divided into nine sections which suggest the level of difficulty but nowhere in the books can you find information on the age or level of language learners the activity is recommended for. The sections are: the basics, pronouns and clauses, adjectives and adverbs, present forms, modal verbs, past forms, future forms, conditionals and other verb forms, which in turn are subdivided and always give 10 ideas for activities on for example the Past Perfect, or Indirect questions. Some teachers used to grammar books and resource books using different kinds of terminology may be a bit confused by what the authors mean by the terms 'past forms', 'future forms'or the fact that 'love, like, hate+ing" is classified as 'present form'. The extensive appendix contains around 50 photocopiable pages for many of the activities in the book. It is a very inspiring book which will inspire both a novice and a more experienced secondary teacher, and will make grammar teaching and learning fun, but, as an editor and resource book writer, what I miss and would expect to see with such an extensive publication is a bibliography and acknowledgements where appropriate.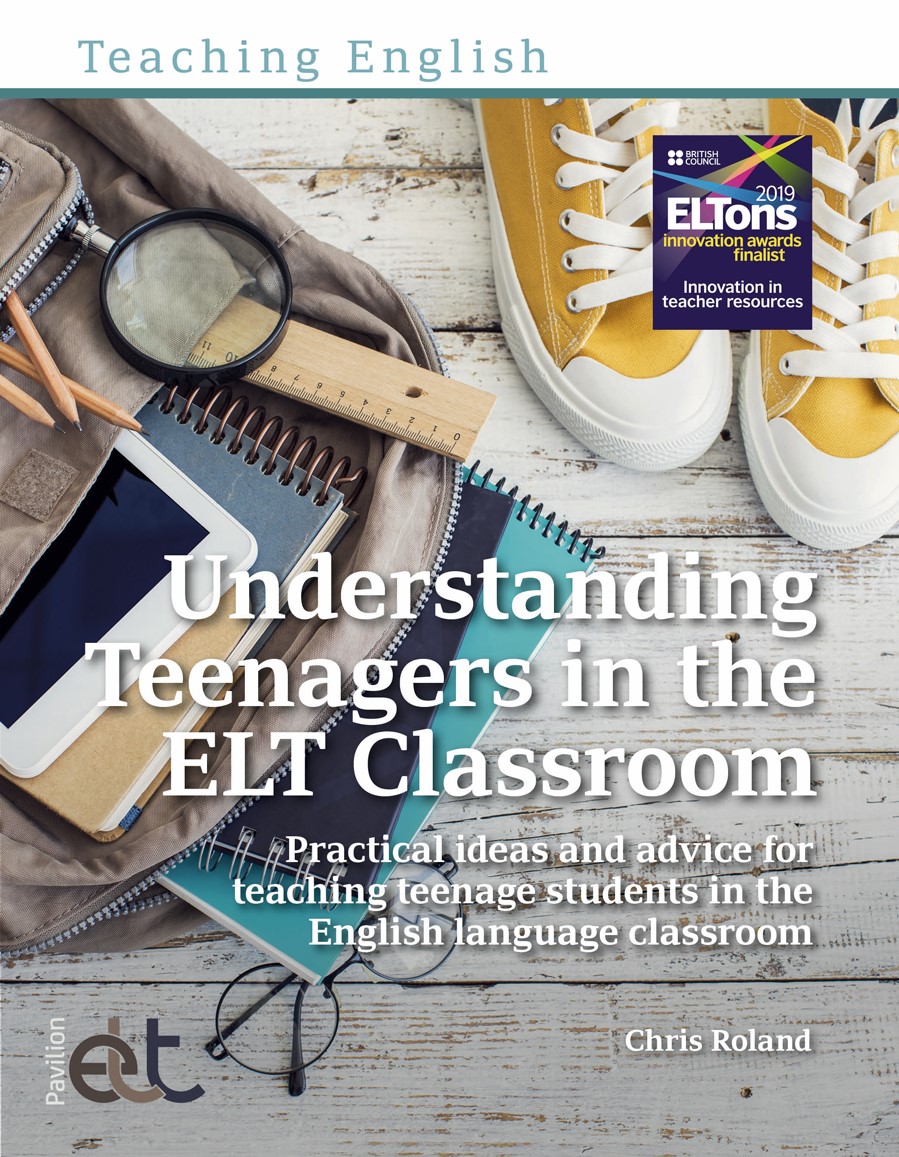 Understanding Teenagers in the ELT Classroom. Practical ideas and advice for teaching teenage students in the English language classroom. C. Roland. (first published 2018) Pavilion ELT. ISBN 9781912755004, pp 30. The book was first published in 2018 and then reprinted in 2019 surely due to its popularity which is reflected by the act that it was nominated for the ELTons award in 2019. The aim of the book is to help language teachers cope with teaching teenagers. Generally speaking when getting ready for the teaching profession, pre-service teachers do not get much psychological insight into teaching teenagers nor practical tips how to go about teaching this age group. Also we observe that teenagers seem to change every few years, in other words every new generation is different from the previous one. This in turn means teachers need new insights and more tips. In other words every book about teaching the 'impossible teens' is bound to raise interest. The book not only offers activities, which is always a welcome feature, but it also offers the rationale and underlying principles of the activities. It also offers tools for reflection when planning or analysing the lessons which have already been taught. The book consists of 24 chapters which for example focus on such areas as: task design and instructions, teenagers and technology, differentiation, personalisation control class and classroom management techniques. The structure of each chapter is similar: discussion, followed by practical applications and, where necessary, references. Those who pick up the book and read through it to be inspired are the teachers who care. So when you get to the final word: Why teach teens? you will recognize their own motivation and will to develop and learn for the sake of their teenage students; the quotes from, teenage learners sum it up why motivated and caring teachers bother. I believe the book should be a must for every teacher who teaches teenagers.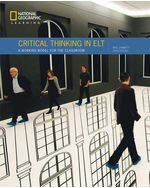 Critical Thinking in ELT. A working model for the classroom. P. Dummett and J. Hughes. National Geographic Learning. (2109) ISBN- 978-0-357-04472-8, pp.158. I have been aware of John Hughes' and Paul Dummett's interest in critical thinking since 2013-2104 when they were involved in writing the "Life" coursebook series for National Geographic Learning https://www.ngllife.com/ . To the best of my knowledge it was the first or one of the first courses which included critical thinking; then followed the Cambridge University Press "Unlock" course with critical thinking components. Also in 2014 John Hughes published a booklet which should have been developed into a book, see https://cdn.ettoi.pl/pdf/resources/Critical_ThinkingENG.pdf. So I am happy to see a more extensive publication on the subject coming from both the authors. I couldn't agree more with Donald Freeman, University of Michigan, who said: "This book presents a useful treatment of how broad ideas about critical thinking can be translated into particular classroom practices. The book brings together the authors' views of critical thinking with their experiences working with teachers on these ideas. Paul Dummett and John Hughes have done a wonderful job of creating a text that bridges these important ideas with various ways of implementing them." The book consists of seven chapters on: the working model for critical thinking, reasons to promote critical thinking, critical thinking and grammar, critical thinking and the receptive and productive skills, critical thinking and the 21st century skills, and integrating critical thinking into English language lessons. The book is very practical with ready-to-use classroom activities with a key. For more inspiration, information or just to meet the authors go to
https://www.youtube.com/watch?v=QZxIaVyVBhE
or
https://www.youtube.com/watch?v=GbksZmoVUvk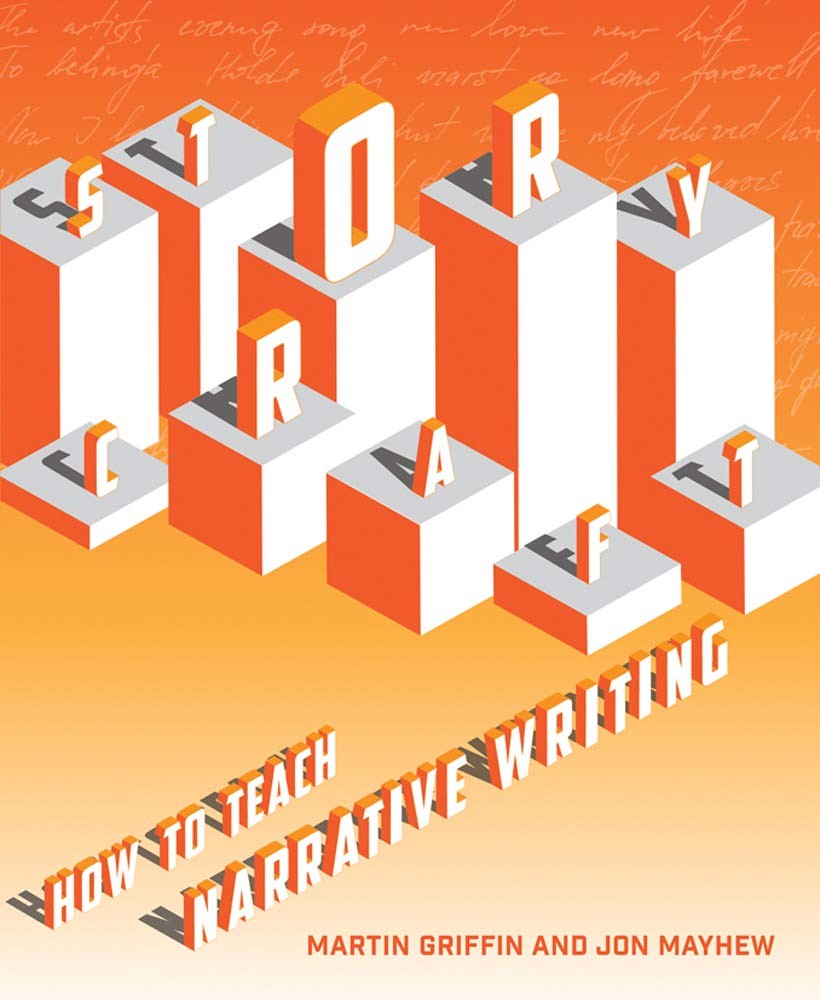 Story Craft. How to teach narrative writing. M. Griffin and J. Mayhew (2019) Crown House Publishing. ISBN 978-178583402-8, pp.218. The book is not intended for aspiring authors and literary wannabes. There are many books and courses that cater for such needs. This book is about the English language classes and language classes in general which need to take on board the genre of narrative writing. In the present day and age one might wonder how important is teaching narrative writing; perhaps transactional letters, reports or proposal deserve priority. True, but fiction writing is a way to develop creativity, experiment with style and language – much more than when writing in the more restrictive genres. The authors are a perfect combination of both fiction writer and English teachers – so they offer the best of the two worlds – language teaching and developing creative writing. The book is full of guidance and ready-made ideas to be used in class or to be adapted for the needs of your class. The important thing is that story writing needs to happen on a regular basis to have impact and an upward curve of progress. The seven chapters in the book deal with strategies in writing a narrative, crafting characters, crafting settings, crafting shape and structure, editing and writing for exams. The book is very clearly structured and easy to follow. When following the procedures even novice teachers in teaching their learners how to write a narrative will feel confident in delivering lessons, while more seasoned ones will find more inspiration and food for thought.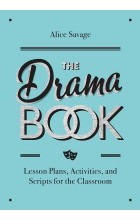 The Drama Book. Lesson Plans, Activities, and Scripts for the Classroom. A. Savage (2019) Alphabet Publishing ISBN 9781948492324, pp.258. Alice Savage like Ken Wilson (who wrote the foreword) have theatrical background which obviously helps a lot when introducing drama to learners learning English. Drama is a dimension in language teaching often underestimated by language teachers who do not trust their theatrical talents or doubt the pedagogical justification for drama in language classes. In her introduction, Alice remembers her modest beginnings when experiencing drama – 30 years earlier acting an utterly passive dead body in a Halloween-themed vampire scene. The memory is vivid and so it is to show how powerful a drama experience is for those involved, even if they don't utter a word; yet she remembers very well what the actors said. One of the advantages of drama is the collaborative experience of all the parties involved, another one is the cultural / cognitive experience, especially if the play is set in a setting different from the one the learners experience on a regular basis. The most important thing about introducing drama to ELT classes is taking baby steps; it is important for the learners and the teacher. Another important thing is creating an atmosphere of fun, creativity and improvisation, not that of accuracy and perfection. The book looks at a number of areas and practical activities, for example: games, warmers, pronunciation work, monologues, role-plays, sketches or producing plays. Issues like writing own materials, assessment and giving content are also taken on board. The book also contains some scripts, sketches and a short pay which the teachers can use, before they select or produce their own. The book is very accessible and the procedures are easy to follow. Personally, I can't wait to try out the activities presented in the book.
Please check the Methodology and Language for Primary course at Pilgrims website.
Please check the Methodology & Language for Secondary course at Pilgrims website.
Please check the Teaching Advanced Students course at Pilgrims website.
Please check the 21st Century Thinking Skills course at Pilgrims website.
Please check the Drama Techniques for the English Classroom course at Pilgrims website.
Please check the Advanced Drama and Improvisation Techniques for the English Classroom course at Pilgrims website.
Please check the Creative Methodology for the Classroom course at Pilgrims website.
The Elements of Language Curriculum: A Systematic Approach to Program Development by James Dean Brown
Todd Hull, South Korea

Short Book Reviews
Hania Kryszewska, Poland

Putting the Human Centre Stage by Mark Almond
Mario Rinvolucri, UK

Tune into English
Fergal Kavanagh, Italy

News from Delta Publishing


New Titles form Crown House Publishing