Authentic Topical Texts for Advanced Secondary Learners
Anže Perne teaches English at Gimnazija Vič in Ljubljana, Slovenia. He has been the coordinator of several European projects (especially Erasmus+) at his school and has attended numerous teacher professional development courses abroad. In his teaching, he especially focuses on ICT and culture. His email is anze.perne@gimvic.org.
Note
The photo in the article is published under the Creative Commons Zero (CC0) license.
The template is published with the student's consent.
The best way to start this article seems to be the following question: What is authenticity? This perpetual question has been the subject of numerous debates, articles, studies, etc., all trying to answer it. This article will not presume to give you an exact answer, but will merely present my view on the matter. It seems to me that all the texts on this topic have one thing in common – authenticity is a matter of interpretation. Tatsuki (2006) argues that it is a social construct and that it is through our social use of language that we create our own sense of authenticity. This seems reasonable, but there should be some basic framework as to what it actually is. If we did not have something like that, interpretations might vary (too) greatly.
Authentic material or authentic text is usually the code word for material not produced for teaching purposes. If you are convinced by that, it may open even more questions, e.g. Is it better to have a fully authentic text (i.e. non-adapted, written by a native speaker) or an authentic activity? It almost goes without saying that authentic materials can be used in an inauthentic manner. My view on this is that there should be a proper balance between authentic activities and materials. Another question to answer is whether authentic means real-life. The latter is a facet of authenticity. Chavez (1998), however, argues that any text that has been taken out of its original context and away from its intended audience ipso facto becomes inauthentic, thus even the "realia" that we import into the classroom is inauthentic. If we were to completely agree with Chavez, it would imply that everything we do in our classrooms is inauthentic. But then again, we could argue that this claim does not hold water since what we understand as "real" is often experienced through the mediation of language, so in this sense we can deal with authentic texts and tasks. Tatsuki (2006) sums it up nicely: "We cannot and do not experience reality 'raw' – much of our experience of reality is mediated by language." For the purposes of this article, let us therefore assume that an authentic text is one written (possibly translated into English) by a native speaker, non-adapted for learning purposes, using "real" English (i.e. not using obsolete vocabulary, using genuine collocations and other idiomatic expressions – something that our learners will be able to use when using English in real life).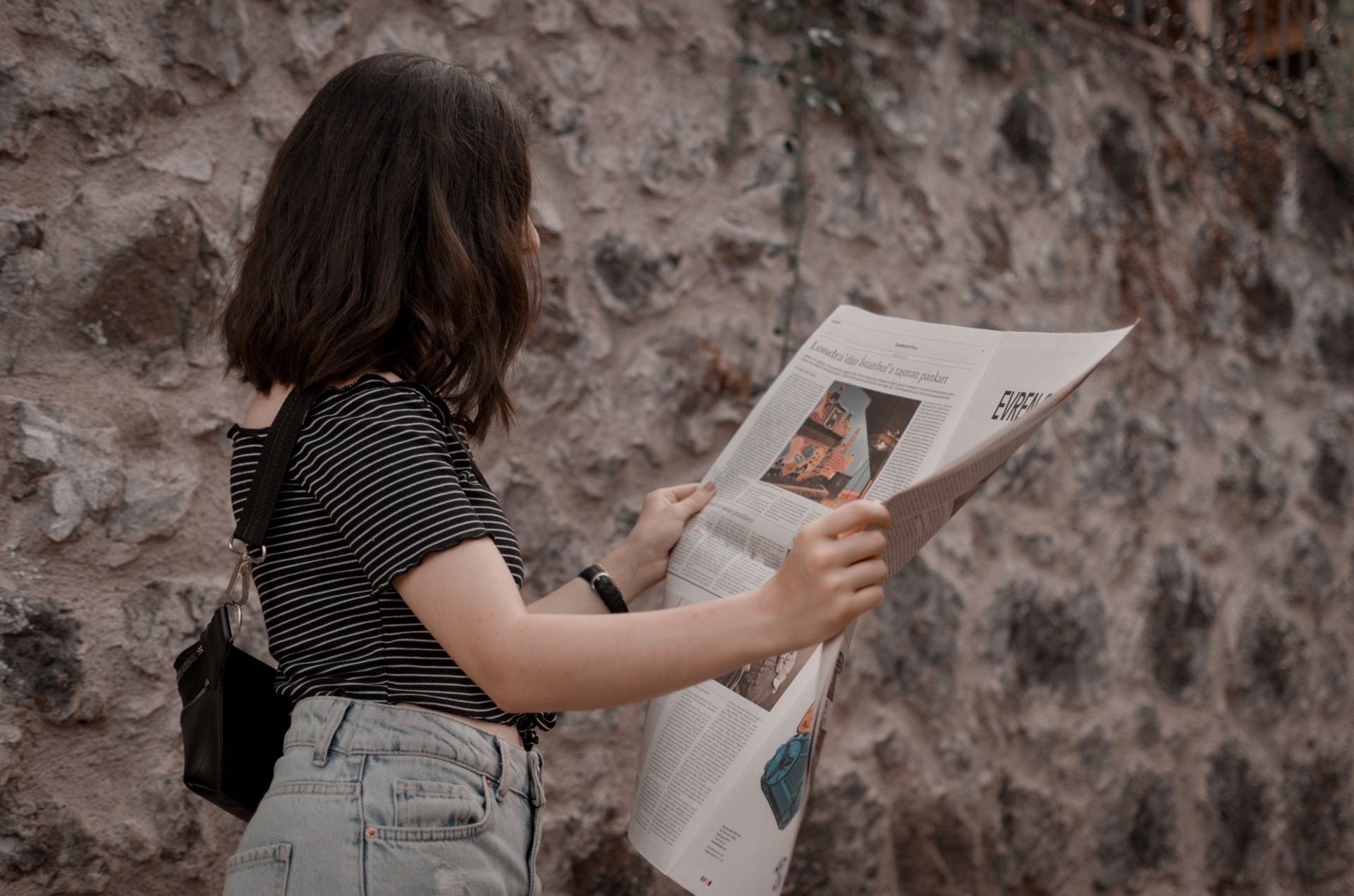 The present article describes a reading activity my students are involved in. I see it as an authentic one and it provides an opportunity for grading, which is not often the case with very authentic tasks. The reasons for reading can be divided into two broad categories: instrumental and pleasurable. Most of my students see reading as instrumental – it will help them achieve an aim (to learn something they are required to, to help them get a good mark, etc.). There is no doubt that instrumental reading can be pleasurable to a certain extent, but my goal with the activity we call Media Analysis – Articles is for (most) them to read for pleasure and not see this task as something they have to do to get a mark. The latter is quite simply their reward for reading and then discussing the text with their teacher.
At the beginning of the school year, the students are given access to a special e-classroom, where articles will be uploaded. These articles are topical, hence they cannot be uploaded at the beginning of the year and they are selected every week. The articles are uploaded into sets of four. The students are given a list with their names, corresponding sets, and the dates for the oral assessment. They are required to read the articles and prepare for the discussion/assessment by filling in a template they can download in the e-classroom.
Here is an example: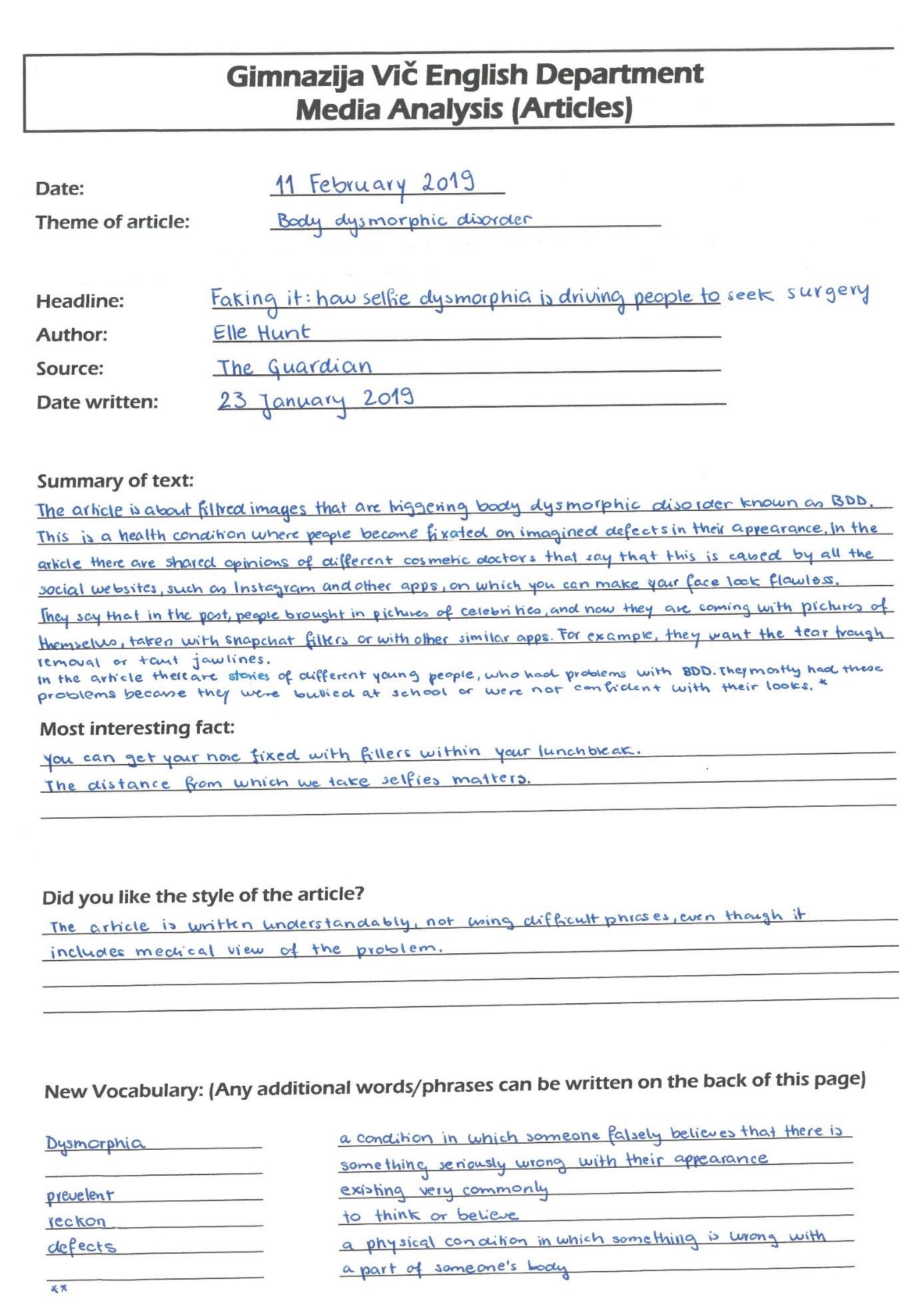 The students are encouraged not to memorise what they have written down, but to say what they remember about the text. I typically ask them some follow-up questions and discuss some of the vocabulary items with them. Here I encourage them not to provide dictionary-type definitions (even if they used a dictionary when preparing for the assessment), but to explain the items using their own words or to use them in example sentences. They are then marked based on the descriptors for this specific oral assessment (preparation, vocabulary, pronunciation, engagement in conversation, grammar). They are not assessed on the content as it is not problematic if their views on an aspect of the text differ from mine, but that does not mean they can digress. Should this happen, I intervene and shift the discussion into the original direction. In this way, the content also matters.
80-90 % of the students enjoy this activity as it means they read authentic texts. As most of them are advanced students (B2-C1), they typically find coursebook texts uninteresting. By designing such an activity, I have successfully motivated them to read and to enjoy English classes even more. By exposing the students to such texts, I have moved away from the "traditional" coursebook texts and made their English classes more authentic. The activity does, of course, require more time compared to simply following the coursebook texts, but I firmly believe authenticity in language is something all EFL teachers should (try to) strive for, making it a core part of their EFL teaching.
Bibliography
Chavez M. T. 1998 Learner's perspectives on authenticity. IRAL 36 (4), 277-306.
Tatsuki, D. 2006 What is Authenticity. The Japan Association for language teaching. [Online] Available: http://hosted.jalt.org/pansig/2006/HTML/Tatsuki.htm (accessed on 15 August 2019).
Please check the Methodology and Language for Secondary course at Pilgrims website.
Please check the Teaching Advanced Students course at Pilgrims website.
Didactic Activities to Develop Linguistic Abilities in English Language for Accounting and Finance Professionals
Yoana Rodríguez Rodríguez, Cuba

The Three Sisters: Storytelling for Very Young Learners
Andreyana Kirova Tsoneva, Bulgaria

Authentic Topical Texts for Advanced Secondary Learners
Anže Perne, Slovenia

Everything is a Collocation, Believe Me!
William Godoy De La Rosa, Chile

Creating Material for a Conversation Course
Ana Paula Brito, Brazil

Understanding Epidemics Through CLIL
Y.L. Teresa Ting, Italy

What Can ESL/EFL Teachers Do With COVID-19?
Corsica S. L. Kong, Hong Kong

Activities Inspired by FB Posts in the Times of Coronavirus
Hanna Kryszewska, Poland