The Three Sisters: Storytelling for Very Young Learners
Andreyana Tsoneva is the author and illustrator of three books for children. She writes stories and poems both for children and adults. She presents at kindergartens, libraries and bookstores. At present she is a student teacher at Dobrich College, Shumen University. She is studying Pre-School Pedagogy and Foreign Language and is experimenting with writing and presenting materials for teaching English as a foreign language to very young learners.
Email: siaina_6@abv.bg
Note
This article is part of Project 08-126/03.02.2020 of Dobrich College, Shumen University, Bulgaria
Introduction
Storytelling is a mighty technique for language teaching and language learning with very young learners. Brewster et al (2002) mention it among the other methods suitable for work with young learners. Ilieva (2009) views it as a preparation for extensive reading and as a means of realizing lexical approach with young and very young learners (Ilieva 2014, 2015).
Stories are an important source of chunks and provide a context in which children can use chunks. These two aspects (chunks and context for applying them) are of crucial importance for language learning (see Davis and Kryszewska 2012).
There are stories on every topic in the curriculum. They are a rich context for a variety of activities and a basis for work on all language teaching approaches (Ilieva and Templer 2015) and especially for teaching language across the curriculum (Ellis and Brewster 2014).
We try to outline activities for very young learners that unite storytelling with work on Mathematics and Natural Sciences at the kindergarten.
The Adventure of the Three Sisters, a story by Andreyana Tsoneva
Once upon a time there was, and there still is, a wonderful family. They have three daughters: Annie, Betty and Vicky. At that time Annie, the eldest, was seven, Betty was five, and Vicky – the youngest – was three years old. They were independent and did everything with joint efforts – games and mischief.
The day, in which Vicky was going to the kindergarten for the first time, was approaching. Their mother bought wonderful white dresses for them. The day came at last.
Annie kindly asked her mother:
"Mum, may I take my sisters to the kindergarten? May we come back on our own? I am the eldest! I can do it!"
"OK," said Mum. "Keep them safe!" And she told the younger ones to be good girls, to behave well and after the feast for the first day at the kindergarten to go straight home.
The three girls went to the kindergarten with joy. They were so happy. They looked like princesses in their snow-white dresses. The feast was so exciting! There were songs, poems. They met new people: new teachers and friends.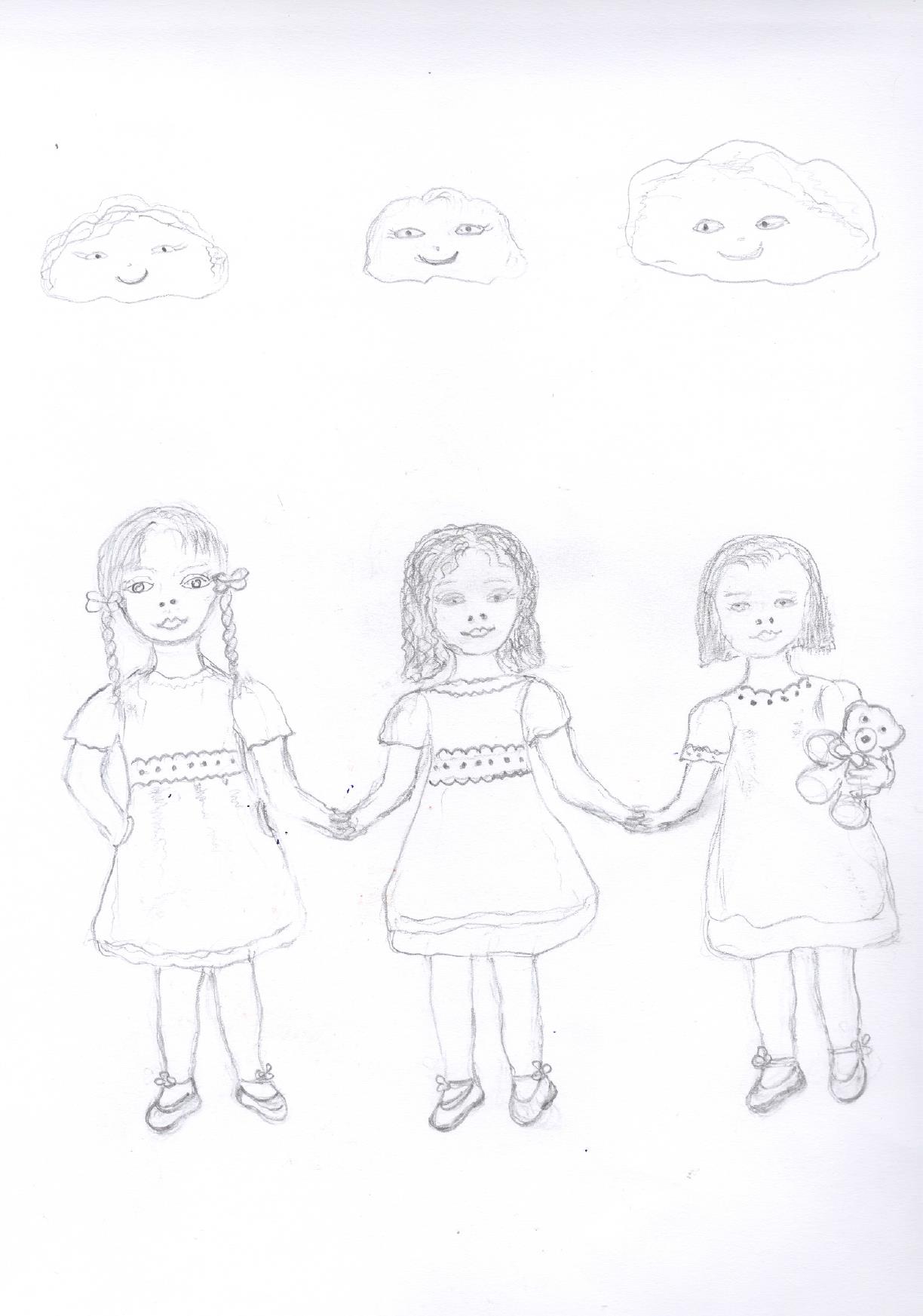 After the feast the three sisters went home. They wanted to keep their promise to go straight home. BUT on their way home some strange things, some wonders, happened! In a moment the sky got darker, a storm started. Then the storm ended. The sun smiled again. The three sisters looked at the sky and they saw three colourful clouds floating in the sky: a pink one, a blue one and a yellow one. While they were enjoying the sight of these three clouds, it started raining. It was not an ordinary rain. It was colourful rain! This colourful rain painted their white dresses in pink, blue and yellow.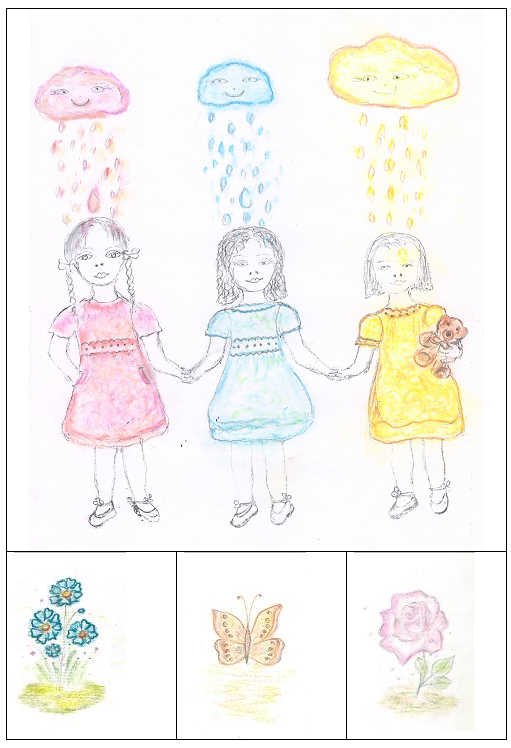 Their joy was beyond description! They held their hands, made a circle and danced like fairies, like flower fairies. They even sang while dancing:
Thank you so much, dear colourful clouds
For painting our white dresses
In the colours of the rainbow
And made us look like real flowers
After rain in the fields
With golden rain drops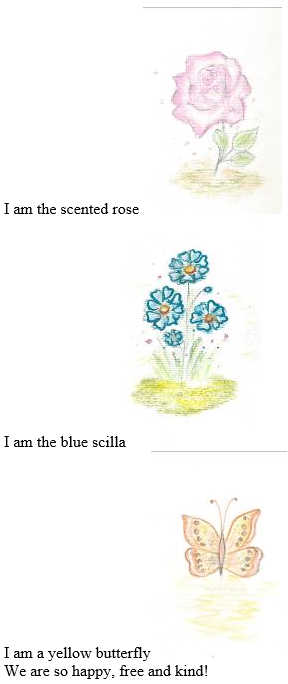 It stopped raining and the three sisters remembered their mum's words (to go straight home). They wanted to go home as fast as possible to show how beautiful they became after the colourful rain. They walked and walked and walked and saw a big big puddle in the distance.
They rushed into the puddle without much thinking. They became dirty and muddy. The three colourful fairies turned into three brown girls. They looked at the sky looking for their colourful clouds, but the clouds were not there any more. The magic ended.
They were walking home sadly. People who saw them said:
"Ha-ha look at these little monkeys! They must have run away of the zoo."
The three little monkeys went on their way. They reached a big walnut tree. The tree dropped three little walnuts for them. The walnuts were just like the girls: a small one, a smaller one and one smallest.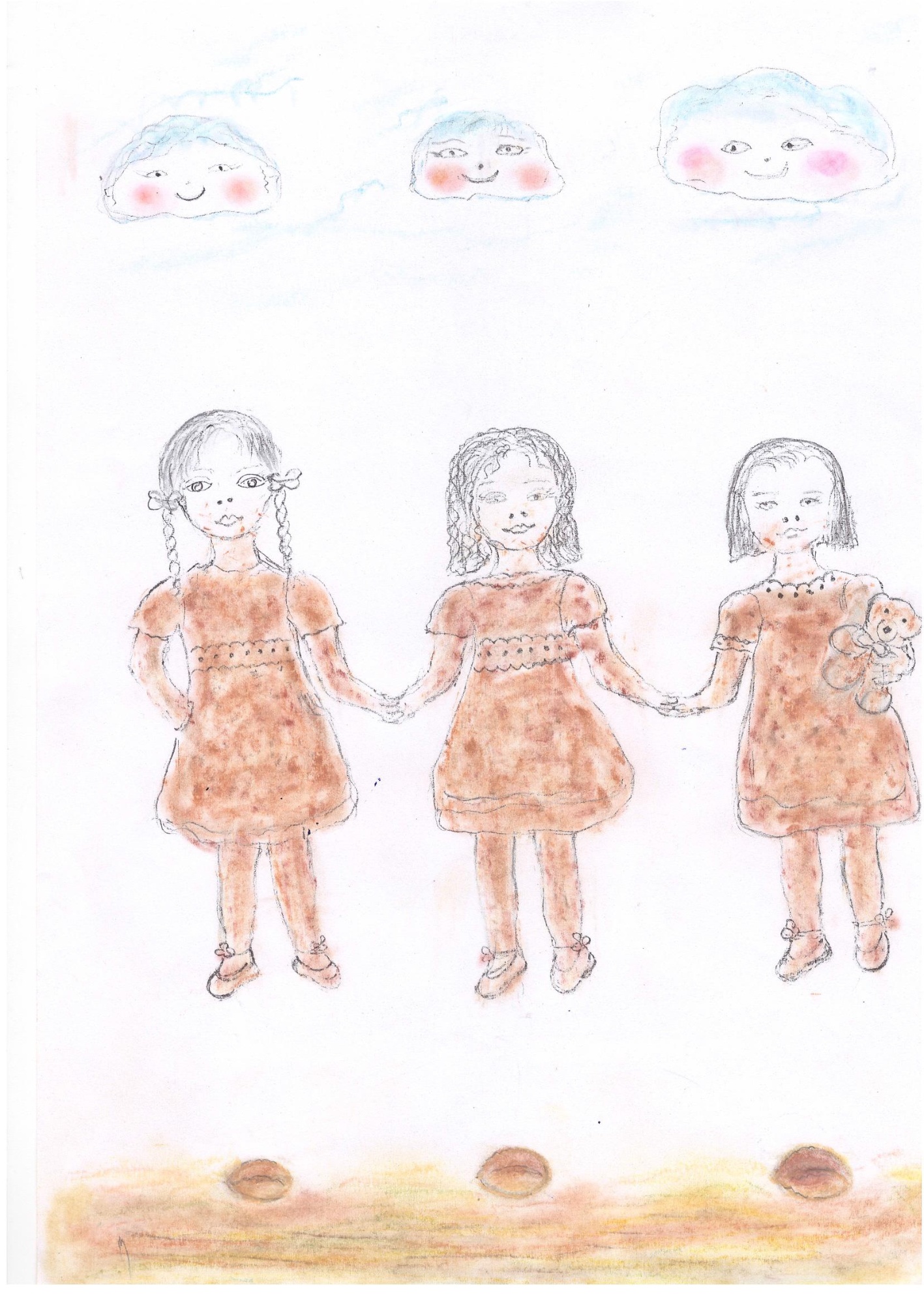 Maybe the walnut tree made this wonder in order to give them joy again and to make them think, because those who eat walnuts become smarter. Or it could have been a bird hiding among the branches of the tree. I don't know. I only know that in the first day at kindergarten Annie, Betty and Vicky received presents from the sky.
When they finally went home, their parents burst out laughing. The girls told them that people called them little monkeys and they all laughed a lot because they really looked like monkeys and it was very funny.
The three children told about their colourful dresses, they told about the walnut wonder and showed the three little walnuts. The walnuts started singing in their hands:
If you eat walnuts, you will grow up smart and strong,
You will be so wise and a little bit naughty and a little bit noisy.
This is how the fantastic adventure of the three sisters Annie, Betty and Vicki ended. There might be other adventures. We'll keep an eye on them.
On the basis of the story we offer the following
Activities
Storytelling 1
Storytelling 2. We interrupt the story in order to fulfil the activities.
Activity 1 (Handout 1)
Name the three girls. Describe them.
Match the clouds and the girls (keep size in mind: small, medium and big) (integration with mathematics).
Find the differences in the dresses. There is one GREAT difference (the teddybear).
Activity 2 (Handout 2)
Describe the clouds, the rain and the dresses (practise colours). What is the colour of the teddybear? Is it small or big? Whose toy is it?
Match the girls with the flowers (pay attention to the colours).
Activity 3 (Handout 3)
Compare and match the clouds and the girls (big, small and medium).
Compare and match the walnuts and the girls. What colour are the walnuts, the dresses and the teddybear?
Name the girls and describe them. Describe the walnuts (size).
Activity set 4
Play the conversation between mum and the girls:
Useful expressions:
Mum, may I take my sisters to the kindergarten?
May we come back on our own?
I am the eldest!
I can do it!
OK
Be good girls.
Behave yourselves.
Come straight home.
Goodbye, girls. Have a nice day!
Goodbye, mum.
Play conversations at the kindergarten:
Useful expressions:
Good morning, girls!
Good morning, teacher!
Hello, children!
Hello, what's your name?
My name is ...
Let's play together.
Goodbye.
Have a nice day.
Go straight home.
Play conversations on the way home:
Useful expressions:
We promised to go straight home.
We promised to be good girls.
Look at the sky / those clouds / your dress / these walnuts / this puddle / these little monkeys
Oh, what a rain! / a puddle etc.
Hello, girls!
Hello, little monkeys!
Hello!
The smallest / the small one is for me!
The biggest / the big one is for me!
The medium is for me!
Play the conversation at home in the evening:
Useful expressions:
Hello, mum! Hello, dad!
Hello, children!
How was your day?
Oh, it was wonderful! We...
Conclusions
Through this story we realize cross-curricular activities: comparing and matching according to size is a typical mathematical pre-school activity. Talking about colours realizes links to arts. Discussing rain, sunshine and puddles; nuts, flowers, butterflies and which food what stimulates (walnuts and healthy food) realizes links to natural sciences.
References
Brewster, J., Ellis, G., Girard, D., (2002). The Primary English Teacher's Guide. London: Penguin.
Davis, P., Kryszewska, H., (2012). The Company Words Keep. Peaslake: Delta Publishing.
Ellis, G., Brewster, J., (2014). Tell it again! The storytelling handbook for primary English language teachers. London: British Council.
Ilieva, Zh., (2009). Storytelling as a preparation for extensive reading, CATS, 1/2009, pp 16-17.
Ilieva, Zh., (2014). 4.6. Lexical approach with young learners. In T. Pattison (ed), IATEFL 2014 Harrogate Conference Selections. 48th International Conference, Harrogate, 2-5 April 2014. Editorial Committee E. de Chazal, C. Lima, A. Paran, ISBN 1-901095-64-9, IATEFL: Faversham, pp 86-87.
Ilieva, Zh., (2015). Acquiring Expressions through Texts for Children: Lexical Approach with Young and Very Young Learners. Humanizing Language Teaching, 17:6, Dec 2015, http://old.hltmag.co.uk/dec15/index.htm, http://old.hltmag.co.uk/dec15/idea.htm.
Ilieva, Zh., Templer, B. (2015). Using stories and picture books to improve communicative competence among young EFL learners in Bulgaria: an empirical study. In C.N. Giannikas, L. McLaughlin, G. Fanning, N.D. Muller (eds) Children Learning English: From Research to Practice. Garnet Educaton, pp 97-114.
Please check the Methodology and Language for Primary course at Pilgrims website.
Didactic Activities to Develop Linguistic Abilities in English Language for Accounting and Finance Professionals
Yoana Rodríguez Rodríguez, Cuba

The Three Sisters: Storytelling for Very Young Learners
Andreyana Kirova Tsoneva, Bulgaria

Authentic Topical Texts for Advanced Secondary Learners
Anže Perne, Slovenia

Everything is a Collocation, Believe Me!
William Godoy De La Rosa, Chile

Creating Material for a Conversation Course
Ana Paula Brito, Brazil

Understanding Epidemics Through CLIL
Y.L. Teresa Ting, Italy

What Can ESL/EFL Teachers Do With COVID-19?
Corsica S. L. Kong, Hong Kong

Activities Inspired by FB Posts in the Times of Coronavirus
Hanna Kryszewska, Poland