New Books from Crown House Publishing
Curriculum by Martin Robinson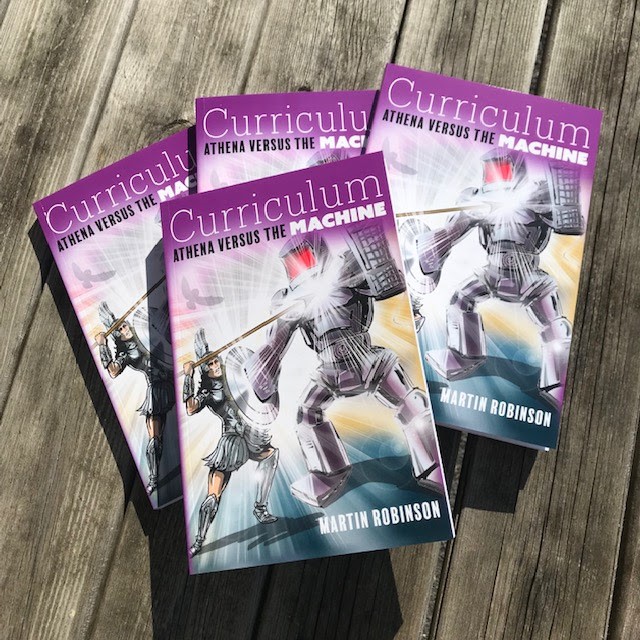 Should we put an end to the data-driven, policy-led schools of today?
Martin Robinson argues that it's time we embraced a
more human-centric model of education
At a time when the curriculum is subject to constant change and accountability Martin Robinson characterises the system as being a slave to the Machine: a data-obsessed, narrow-minded version of education, where statistics are valued far more than wisdom.
"The 'great narrative' of too many of our schools is mundane, with the merely measurable as the pinnacle of meaning. Counting them in, counting them out; these schools employ mechanical metaphors. Each child is set on a 'flight path', and data and targets are worshipped rather than the symbolic, spiritual power of a god. Perhaps this is inevitable in a secular world, but is it wise?
"These schools bypass the quality of knowing something and replace it with destination data – knowledge is a means to an end rather than an end in itself. The focus is on the grade and not on the knowing.
"Knowing is essential, it is the stuff of education, but what to know, why to know it and how to know it are not only essential questions, they are also impossible to answer fully with any degree of certainty. Yet there are those who search for objective answers to these questions by allying education to the instrumentalism that is extant in large numbers of schools.
"In many schools, pupils have gone from being potential citizens to being consumers of an educational product, and now find themselves reduced to data points with a need to perform beyond expectations for their 'type'. Is this a meaningful pursuit? Whichever method is used to justify the content of a curriculum, can utilitarian/utopian aims (or their proxies) justify 13 years or so of full-time education?"
In his new book, Curriculum, Martin argues for the study of knowledge for its own sake whilst accepting that knowledge, alone, is not enough. Schools need to be set up for the individual and communal pursuit of wisdom. He characterises this pursuit as a god, Athena, whilst the overly mechanistic approach is represented by the Machine.
"While it is essential to provide a knowledge-rich curriculum, it is the quality of the knowledge that matters, and therefore it is within this subjective realm – where individual taste and thought is understood and nurtured, and the way we make meaning in the world matters – that the arguments in my book are made."
As Carl Hendrick summises in his review of the book: "Martin Robinson's Curriculum is an impassioned call to arms for educators to throw off the shackles of the Machine with its data-driven approaches and embrace a more human vision of education which puts the curriculum at its core."
What else can a teacher do? by David Hodgson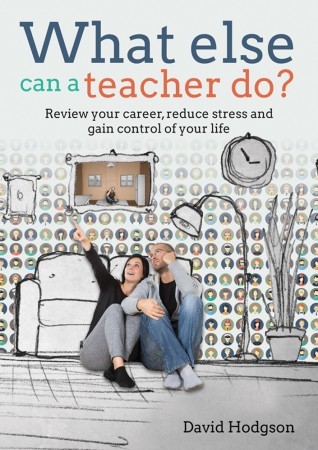 In What Else Can a Teacher Do? Review Your Career, Reduce Stress and Gain Control of Your Life, David Hodgson surveys and suggests a diverse range of alternative career options suited to teachers' transferable skill sets.
Some teachers reach a point where they question their role in the classroom; they want to consider something different, but don't know where to start. In this practical handbook, David combines expert careers guidance with a carefully compiled list of over one hundred job profiles in order to help teachers find clarity on their career path, and presents numerous case studies of teachers and education professionals who have already successfully done so. So whether you're tentatively weighing up career alternatives, actively planning your route out of the school environment, or simply assessing where you are in teaching – possibly eyeing a change of class, key stage, sector, working hours, or even country – What Else Can a Teacher Do? helps guide you through your options.
David feels passionately that everyone should be supported to find a rewarding career that suits their unique mix of skills, qualities and experience, and in this book he has distilled his specialist careers advice and extensive research in order to address the most frequently asked questions that weigh upon teachers' minds. What Else Can a Teacher Do? presents a measured approach to career evaluation to help you gain a better perspective on your work satisfaction at present before moving on to explore how your contextual experience and in-demand skill set can be transferred to a multitude of other professional roles and environments.
Split into three interactive and user-friendly parts, What Else Can a Teacher Do? features a variety of self-reflective checklists, charts and activities to engage with; an exploratory range of at least thirty education-based career moves to consider; and a comprehensive list of around 120 job profiles providing details on the key roles, entry routes, salaries and tasks involved in each profession to both inform and inspire. Plus, in order to help you accurately compare your current position with these realistic career alternatives, all of the jobs listed have some overlap with the skills and interests teachers develop in the classroom and each job profile is complemented with a select listing of reliable websites for more detailed information and sources of vacancies.
This book is not intended to serve as a survival guide or as an escape manual. A survival guide implies you'll do just enough frenetic gasping and paddling to keep your head above the turbulent water, while an escape manual is an equally dangerous proposition as it implies that change is easy. It is not. Rather, What Else Can a Teacher Do? provides a wealth of suggestions in order to help you move on in your teaching journey, and lays out some alternatives to teaching so that you can take a peek with a dispassionate and critical eye if you are contemplating making a bigger change in your working life.
What else can a teacher do? David Hodgson has the answers. Essential reading for teachers who are 'stuck in a rut' and want to explore other options.
Contents include:
Part 1: Where are you now?
Part 2: What are your job options?
Section 1: Job options based around teaching skills
Section 2: Job options for recent graduates
Section 3: Job options for school leaders
Part 3: Job profiles
Leadership For Tomorrow. Beyond The School Improvement Horizon by
Presents school leaders with a vision-led analysis of what needs to change if schools are really to equip children and young people to thrive in our ever-changing world.
In Leadership for Tomorrow: Beyond the School Improvement Horizon Malcolm Groves, Andrew Hobbs, and John West-Burnham present a vision-led analysis of what needs to change if schools are really to equip children and young people to thrive in our ever-changing world.
Continually adding improvements to existing models of schooling isn't enough: we need a more radical reconceptualisation of schooling's function and purpose. We need school leaders who can look beyond the horizon and lead on the strength of lessons learned from the here and now. In Leadership for Tomorrow Groves, Hobbs, and West-Burnham expertly examine what needs to change if we are to lead our schools beyond today's limited school improvement horizon, and explore the nature of the change leadership which can make this happen.
Rooted in the direct experience of innovative and successful school leaders, Leadership for Tomorrow presents a wide range of strategies and case studies that will enable and inspire leaders to future-proof their school improvement approach and to fashion better futures for the children and young people in their care. Furthermore, by sharing their research-informed insight into – and vision for – the evolving nature of education, the authors hope to encourage leaders to go further in building both their own and their school's capacity to live, learn, and grow successfully.
Split into three parts that interweave both theory and practice, Leadership for Tomorrow poses a number of questions throughout to stimulate thinking about current and emerging issues in education and argue that consequent responses will vary in different contexts. Part One sets out and justifies theoretically the principles and values that underpin the authors' vision for education, and signposts the evidence which highlights the limitations of short-term thinking and the reasons for why it is destined to fail. In Part Two the authors focus on more practical matters by presenting case studies of five school leaders to examine their work through the lens of the four-quadrant Schools of Tomorrow Framework, which depicts the 'beyond outstanding' school as one that delivers highly effective family and community engagement and preparation for the future, as well as the highest levels of achievement and of well-being and involvement. Part Three then blends theory and practice with an in-depth analysis of what these leaders' experiences can tell us about developing new understandings of leading change and school improvement for the future, which are at one and the same time values based and evidence informed.
Leadership for Tomorrow is the result of nearly a decade of thinking, research, and observation of leadership practice which Groves, Hobbs, and West-Burnham have undertaken in a range of settings; the authors have written up some of this experience previously for Schools of Tomorrow (SoTo) – a small research and development group made up of school leaders working together to shape a better future for their schools.
Whilst Leadership for Tomorrow is primarily focused on changes within the English educational system, the authors hope that the lessons derived from the book's content will be of interest to leaders in other school systems too.
Suitable for school leaders, those preparing for leadership, and those with an interest in leadership development and policy.
Contents include:
Part One: The Case for Change
1. Values and Principles: Four Propositions
2. Tensions and Contradictions: Five Major Challenges School Leaders Face Today
3. A World of Change: Ten Major Global Trends That Challenge Our Conceptions of Education and Learning
Part Two: Towards Tomorrow
4. The Achievement Quadrant
5. The Well-being Quadrant
6. The Preparation for the Future Quadrant
7. The Family and Community Engagement Quadrant
Part Three: Leading for Tomorrow Today
8. Understanding and Leading Change: Six Defining Characteristics of Leadership for Tomorrow
9. Connected Leadership: Two Areas of Focus for Thinking Differently about School Improvement
10. Leading Oneself Futureword
'Leadership for tomorrow' is featured in Volume 8.4 of School Leadership Today - Click here and check out pages 57-64 for more information!
Please check the Leadership Skills for Teachers course at Pilgrims website.
Please check the English Course for Teachers and School Staff at Pilgrims website.
Please check the Teaching English through NLP and Coaching course at Pilgrims website.
Please check the Advanced NLP and Coaching course at Pilgrims website.
Please check the How to be a Teacher Trainer course at Pilgrims website.
Short Book Reviews
Hania Kryszewska, Poland

Out of Your Seats by James Thomas and Anette Igel
Sharon Hartle, Italy

Tune Into English
Fergal Kavanagh, Italy

New Books from Crown House Publishing