Short Book Reviews
Hanna Kryszewska is a teacher, teacher trainer, trainer of trainers. She is a senior lecturer at the University of Gdańsk, Poland. She is co-author of resource books: Learner Based Teaching, OUP, Towards Teaching, Heinemann, The Standby Book, CUP, Language Activities for Teenagers, CUP, The Company Words Keep, DELTA Publishing, and a course book series for secondary schools: ForMat, Macmillan. She is also co-author of a video based teacher training course: Observing English Lessons. Hania is a Pilgrims trainer and editor of HLT Magazine. E-mail: hania.kryszewska@pilgrims.co.uk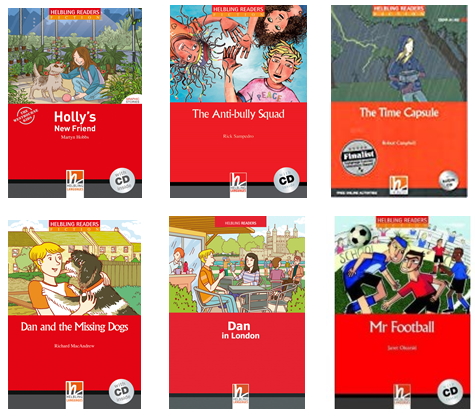 Helbling Readers Fiction. Holly's New Friend. M. Hobbs.(2019) Helbling Languages. ISBN-978-3-99089-100-1, pp 64. The Anti-bully Squad. R. Sampedro. (2019) Helbling Languages. ISBN-978-3-99089-096-9, pp 76, The Time Capsule. R. Campbell. (2017) Helbling Languages. ISBN-978-3-99045-726-9, pp 100. Dan in London. R. MacAndrew. (2019) Helbling Languages. ISBN-978-3-99089-094-3, pp 76, Dan and the Missing Dogs. R. MacAndrew. (2019) Helbling Languages. ISBN-978-3-99089-118-6, pp 76, Mr Football. J. Olearski. (2019) Helbling Languages. ISBN-978-3-99089-097-4, pp 100. Books in this series of graded reading materials for younger teenagers come at five levels, for example Holly's New Friend is pitched at level 1 (A1), while Mr Football at level 3 (A2). Each story has a message for the readers and promotes different values like friendship, looking after pets, dealing with personal conflict or resilience and endurance in testing times. As for the language input, the learners first become familiar with some lexis in the pre-reading tasks. Then as they read the story they can see the new words marked with a dot (and explained at the bottom of the page). They can also listen to the whole story and do some activities available on an accompanying audio CD. Finally, there are some additional after reading activities and other activities can be found at http://www.helbling-ezone.com/. The illustrations are pleasant to the eye, and I am sure the new titles like the other ones in the series will be popular among young learners as additional reading material.
Studio Elementary. Student's book. R. Campbell and R. Metcalf. (2019) Helbling Languages. ISBN-978-3-99045-905-81, pp 158. Studio Pre-Intermediate. Student's book. R. Campbell and L. Clandfield. (2019) Helbling Languages. ISBN-978-3-99045-907-2, pp 158, Studio Intermediate. Student's book. L. Clandfield and P. Kerr. (2019) Helbling Languages. ISBN-978-3-99045-909-6, pp 158. This is a new six level course for adult learners but it would also be suitable for more mature young adults. The topics are predictable: the arts, entertainment, people, life stories and food. The innovative approach lies in the recurrence of the topics e.g. life stories in unit 1c, 2c, 3c, or people in 4c and 8a. (These recurrent topics are called 'channels' and are labelled with relevant icons in the contents page and throughout the whole book). The book gradually develops all four language skills but offers extensive opportunities for developing listening skills through audio and video recordings. The productive skills and receptive skills are grouped together while vocabulary is introduced and recycled throughout the whole book. The course is supported by on-line resources: Studio Digital Zone (extra listening and reading, student's workbook vocabulary practice and videos), e-online practice (cyber homework, projects and exam bank) and Helbling Media App (audio and video, pair work activities and vocabulary practice). This is a truly modern course making use of the potential of learning online and mobile technology; the authors and publishing house have clearly made sure of that. It is a great shame though that the course does not take on board recent developments in teaching in Europe, especially implementing mediation as defined by CEFR (2018). More information about the course at https://www.helbling.com/studio/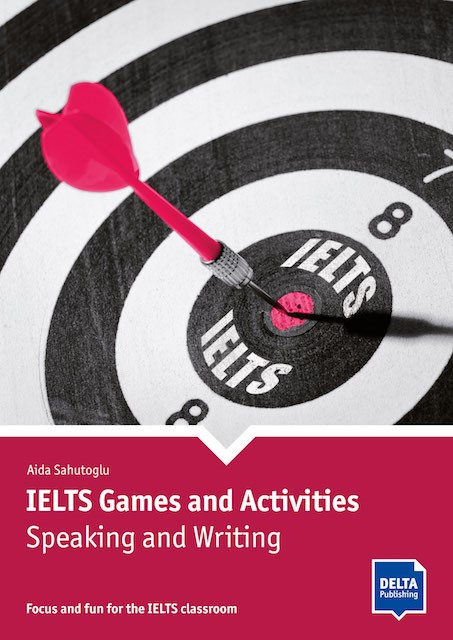 IELTS Games and Activities. Speaking and Writing. A. Sahatoglu (2018) Delta Publishing ISBN 978-3-12-501570-8, pp.144. The book is a stand-alone publication but it could easily be part of the Ideas in Action series, a new DELTA publishing initiative which has a hands-on practical approach which addresses the vital issues ELT of the 21st century. This resource book is aimed at learners preparing for the IAELTS exam, so roughly aged 16+ and whose language level is at least at IELTS level 5 and above. Just as the title states the book is a resource of language games (where necessary with photocopiable materials) practising the IELTS productive skills - speaking and writing. These activities are not just fun; they have a strong exam focus and motivate the learners to develop their language skills (lexical resources, grammatical range, accuracy, fluency, cohesion and coherence), and improve exam performance and confidence in exam situation. The 46 activities in the books are divided into 6 sections: familiarisation with IALTS exam, expressing your ideas, writing 1, writing 2, speaking tasks and additional material like a feedback sheet for evaluation of language production, IELTS topic pool, IELTS essay and interview question and exam phrases. The book is a great resource which supplements the relatively dry IELTS coursebooks and test papers.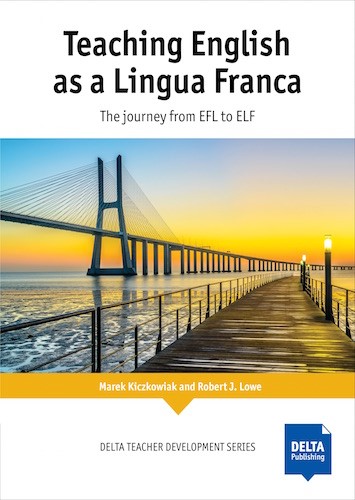 Teaching English as a Lingua Franca. M. Kiczkowiak and R. A. Lowe. DELTA Publishing. (2018). ISBN 978-3-12-501735-1, pp118. This book has been published in the well-established DELTA Teacher Development Series. The aim of the book is to raise the issue of ownership of the English language and to some extent the issues of the native versus non-native debate. The book, like all other books in the series, is divided into three sections –A, B and C. Part A gives a historical overview and modern definitions of a lingua franca, case studies to illustrate key issues of the native versus non-native user of the language, and especially the issue of native versus non-native teachers of the English language. It also proposes some ways to move forward, but more on the subject can be found in section C. Section B contains activities to be used in class, generally called Developing an EFL skillset (NB the authors use the abbreviation EFL here which normally stands for English as a Foreign Language, and I would say that using ELF in the title, English as Lingua Franca would have been more appropriate). The activities in the section are grouped around the following subjects: listening and pronunciation, grammar and lexis, intercultural competence and communication strategies. The activities usually contain some focus questions or problem, materials to read, listen or watch to deepen the insight or modify the initial answers, then followed up by discussion and reflection. Some of the materials for discussion are available in the book, some have to be found by the teacher, while others according to the note in the book can be downloaded or printed. However, on page 34 it says: "all the texts and worksheets can be found at xxxxxxxx leave for Klett to add URL", and the link to the Delta Publishing website is missing. I am not sure who the book is for as the activities as they stand are too detailed to be used with language learners or future / pre-service teachers or practising / in-service teachers. I cannot think of a one week or two week teacher training course built solely around the issue of ELF. However, it is a good dip-in book to select some ideas for training sessions. Sections A and C will be of great interest to trainers and trainers of trainers as the issue of native versus non-native teachers, trainers and materials developers are discussed in depth. For more information on the book and downloadable sample pages of the book go to: https://www.deltapublishing.co.uk/titles/methodology/teaching-english-as-a-lingua-franca-the-journey-from-efl-to-elf and for an interview with one of the authors go to https://www.youtube.com/watch?v=OHWgOB0O6Nc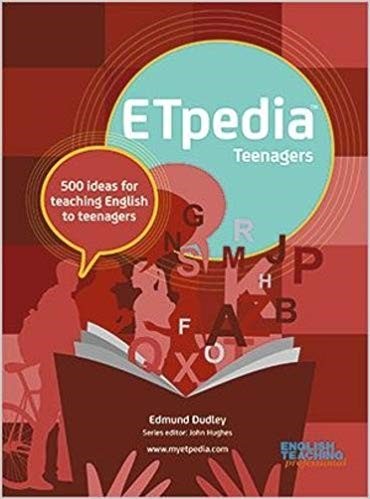 ETpedia. Teenagers. 500 ideas for teaching English to teenagers. E. Dudley (2018) Pavilion Publishing and Media. ISBN 978-1-911028-43-7, pp 153. This book is one of the titles in the new Pavilion and Media / English Teaching Professional series called ETpedia, a series of supplementary resources which contain a wealth of teaching ideas, ready activities and useful tips. The series is growing fast and each and every title is noteworthy. One could say that, if we look at age groups, this book is a natural continuation of the book on teaching at primary level published in the series. The Teenagers Etpedia is not as extensive and rich in content as the other titles in the series, yet all the activities are very relevant to teaching a secondary class and teachers will surely be inspired. The book starts with an introduction giving ten reasons for using the book, ten ways to use the book and some facts about the author. My favourite reasons for using the book are: you read on the run, you haven't much time to prepare lessons, and you are curious about other teachers' experiences with teens. The activities or tips in the book fall into 5 sections called: preparation and planning, in the classroom, developing skills, developing language awareness (grammar, vocabulary, pronunciation), and keeping it real with additional lesson topics and activities. Within each section there are from eight to ten units devoted to a given area, for example 10 ways to begin lessons with teenagers, 10 ways to end lessons, or 10 things to avoid when working with teenagers. Some topic areas are predictable some less so… My favourite units are: 10 ways of dealing with the students, 10 ways to get teens to think critically, 10 ideas for projects with teenagers, 10 more ways to use mobile phones, and 10 tips for building confident pronunciation. The appendix contains 12 photocopiable pages, and two pages to write down more tips, this time your own ones, which you can then share on the ETpedia blog https://www.myetpedia.com/. It is a very inspiring book which leaves both a novice and a more experienced secondary teachers who I am sure will be wishing for more. However, as an editor and resource book writer, what I miss and would expect to see with such an extensive publication is a bibliography and acknowledgements where appropriate.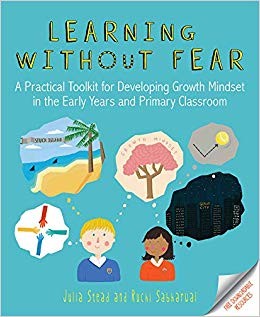 Learning without Fear: A practical toolkit for developing growth mindset in the early years and primary classroom J. Stead and R. Sabharwal. Crown House Publishing Limited.(2109) ISBN-978-178583305-2, pp 260. In a nutshell this book is about instilling a growth mindset in children. The authors are well established practitioners who are sharing their experience with other teachers. They have forged their successes into a series of lesson plans, questionnaires and examples of successful classroom practice. The book is divided into twelve chapters devoted to general considerations about, among others, mindset versus intelligence, how to teach success, dealing with fear, creating supportive learning environments, recognizing the role of displays, fostering self-regulation and autonomy in children, giving feedback, praise and assessment, and engaging parents. The chapter that stands out is Chapter 10 which contains forty lesson ideas. My favourites are A Pride of Puppets, Brain Hats, Survival Kit and Flipping Out. What I find charming and endearing are the comments included by the authors of the children who experienced the lessons or who found a connection between the lesson and their out-of-class experience. Also the book is a joy to read due to its exceptionally beautiful design and artwork, much of which is by small kids in the form of their own illustrations of the outcome of activities. Also the chapters are colour coded and each chapter has its own pastel colour coding which is a treat to the reader's eyes. For a look inside the book go to
https://www.amazon.co.uk/Learning-without-Fear-practical-developing/dp/1785833057
The book is highly recommended to all teachers including ELT teachers who work with kindergarten and early primary kids.
Please check the Methodology and Language for Kindergarten course at Pilgrims website.
Please check the Methodology and Language for Primary course at Pilgrims website.
Please check the Methodology & Language for Secondary course at Pilgrims website.
Please check the Teaching Advanced Students course at Pilgrims website.
Please check the English Language course at Pilgrims website.
Please check the English Course for Teachers and School Staff at Pilgrims website.
Please check the How to be a Teacher Trainer course at Pilgrims website.
Short Book Reviews
Hania Kryszewska, Poland

Out of Your Seats by James Thomas and Anette Igel
Sharon Hartle, Italy

Tune Into English
Fergal Kavanagh, Italy

New Books from Crown House Publishing