Out of Your Seats by James Thomas and Anette Igel
A Versatile Teachers' Resource book, published in 2018 by Versatile, Brno Czechia.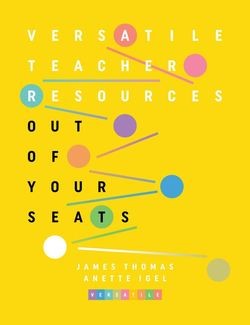 This teachers' resource book revisits and extends many well-loved humanistic English language teaching activities, such as mime, describing things to a partner who cannot see them, or running dictations to mention just a few. The authors weave together a tapestry of movement and drama sequences, to 'experience the music, poetry and drama of language' as they say in their promotional information and the title of the book itself 'Out of your Seats' hints at this as we imagine learners actively moving around their classrooms while practising language. The materials have been developed based on knowledge gleaned from years of teaching experience and they have also been piloted in class by secondary English teachers in Suzhou, China
The book contains an informative introduction, which explains that it was originally intended to be based on Total Physical Response (TPR) techniques since both authors had experience in successfully using TPR in the classroom, but they also wanted to extend and personalise those techniques including language discovery activities, so that although many of the tasks are influenced by it, TPR is no longer at the centre of their approach. The book is divided into two main parts: activities and lessons, in which the 24 activities are shorter and can be used as warmers, short creative practice tasks or closers in lessons. The 20 lessons, on the other hand, are more involved and include a series of activities which may take one or more of the activities in the first section as a central pillar of the lesson, taking that activity and then developing it with other activities to create a whole cohesive lesson plan.
There is also a useful 'How to Use this Book' section and a companion website that teachers can access freely to extend the work in the book. It is written in an accessible way and the overviews of the activities and lessons are organised according to teaching aims which helpfully provides a guide for teachers who can choose the activities that fit in with their own particular teaching aims. The authors are only too well aware of the time constraints that many teachers labour under and have designed these activities to enhance the work that teachers are already doing, rather than creating more time-consuming work.
Anette Igel worked for IH ILC Brno as a teacher and now works for IH Hamburg and does short term training in various countries. Anette was a social worker and drama teacher before moving into English teaching. She is particularly interested in the use of drama and movement in the language classroom and is keen to point out that such activities are not only suitable for teaching young learners – she has found them effective for learners of all ages.
James Thomas is based in the Czech Republic, where he taught for IH ILC Brno and at Masaryk University. Nowadays he trains teachers in various countries, mostly for the British Council. He is, as he says, particularly interested in the 'L' in ELT and also writes and publishes ELT books. In 2010, in fact, he co-authored 'Global Issues in ELT, which won the British Council ELTon for Innovation in ELT publishing that year. James is well known for his interest in corpora and the language patterns that searching such databases of texts can reveal. He has had some involvement in the development of SkeLL and is a firm believer in helping learners to improve their knowledge of English by exploring language in context, which is reflected in several of the language discovery, grammar-based activities in the book.
Both experienced teachers and teacher trainers, the authors combine their love of language with a practical approach to making that language come alive in the classroom. Teachers and learners alike can benefit from this book as teachers apply innovative movement, drama and language discovery activities to classroom language learning. Activities such as running dictations, which was mentioned above, for instance, and which are often already part of many teachers' repertoires, are provided with an extra slant here as the authors suggest omitting a word or phrase at the end of the text to provide work for those who finish early, for instance, and they even advise teachers to make sure that learners are not cheating by looking the text up on their smart phones.
The book is full of useful tips and techniques which range from 'tried and tested movement or drama activities with a new slant' to language discovery activities that supplement and extend these movement tasks. Lesson One, for instance, builds on mime activities to practice continuous forms and then introduces investigative work in SKeLL (Sketch Engine for Language Learning), an interface where both teachers and learners can easily search a corpus for language patterns, phrases and single words with their collocates.
For tired teachers looking for inspiration this book is a breath of fresh air. Even the most experienced teachers can benefit from approaching their work from new perspectives at times and this is what this practical book helps us all to do.
Please check the Creative Methodology for the Classroom course at Pilgrims website.
Please check the How to be a Teacher Trainer course at Pilgrims website.
Short Book Reviews
Hania Kryszewska, Poland

Out of Your Seats by James Thomas and Anette Igel
Sharon Hartle, Italy

Tune Into English
Fergal Kavanagh, Italy

New Books from Crown House Publishing