Tune Into English
Worksheet Appeal
Dear Teacher,
If you find yourself with a little time on your hands we would be delighted to receive a worksheet for the site. Tune Into English is the web's largest free resource for learning English through pop music - this would not have been possible without all the high quality contributions submitted by 70 teachers from 11 different countries. Thanks! Perhaps you will be the author of a worksheet, too?
The Michael Jackson Diary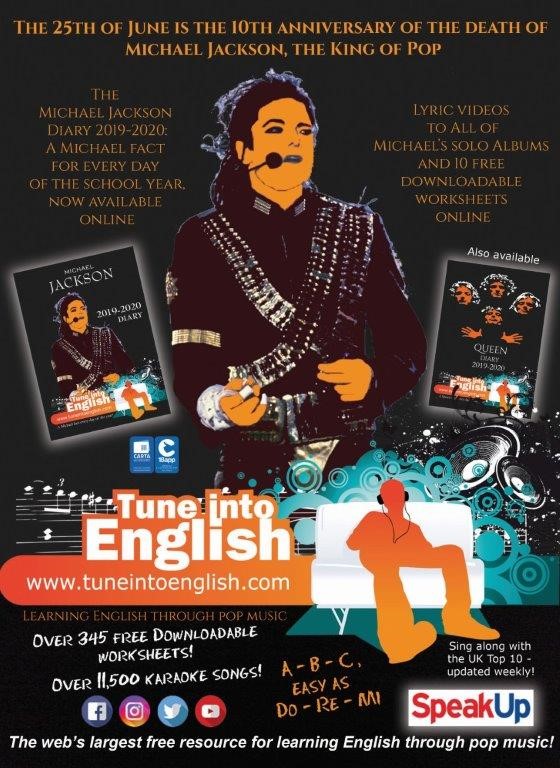 To commemorate the tenth anniversary of his death, on the 25th June, Tune Into English has published the Michael Jackson Diary, with a Michael fact every day of the year. Note, this project was completed before recent allegations against Michael, and focuses on the man's achievements and humanitarian work, as well as his music.
Tune Into English School Diaries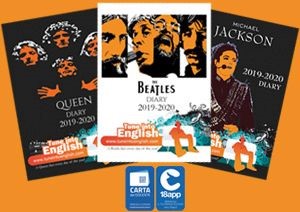 School editions of the 2019-2020 Queen, Beatles and Michael Jackson Diaries are now available on Amazon, with a fact for every day as well as a full discography and touring history. This is the ideal companion for you and your students every day of the academic year!
September's New Downloadable Worksheet
I Don't Care – Ed Sheeran & Justin Bieber
One of this year's biggest hits, and featuring in the new Roadshow, this song deals with the theme of social anxiety.
Please check the Methodology and Language for Secondary course at Pilgrims website.
Please check the Teaching English Through Multiple Intelligences course at Pilgrims website.
Please check the How to Motivate Your Students course at Pilgrims website.
Short Book Reviews
Hania Kryszewska, Poland

Out of Your Seats by James Thomas and Anette Igel
Sharon Hartle, Italy

Tune Into English
Fergal Kavanagh, Italy

New Books from Crown House Publishing